Nha Trang is one of the most beautiful coastal cities in the country, so what is the experience of going to Nha Trang to make the trip more perfect?
With many beautiful beaches, Nha Trang is always one of the top destinations for domestic and foreign tourists. However, visitors need to carefully prepare for useful experiences in Nha Trang such as what to eat.? Where? What places to visit?…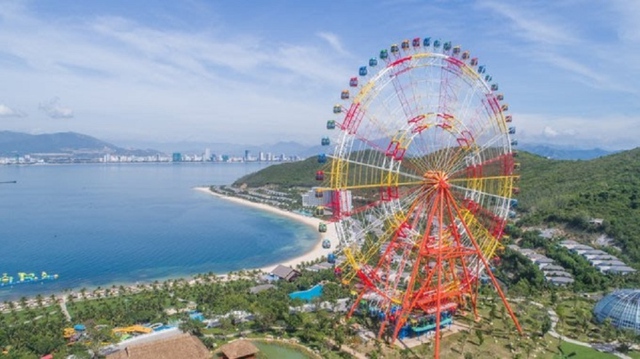 Visitors can come to Nha Trang in any season of the year.(Illustration)
When is the best season to travel to Nha Trang?
You can travel to Nha Trang in all seasons of the year because there is no cold season here. However, in September, October and November, your travel plans may be hindered by heavy rains or even heavy storms.
It is best to go to Nha Trang in the period from January to August. In which, June, July, and August are the peak months of Nha Trang tourism because coincide with the summer vacation, this time the weather is beautiful. and many interesting entertainment activities will take place. The period from January to May of the year is a cheap time to travel to Nha Trang, and enjoy playing, swimming and eating seafood freely.
From October to December, it rains more, possibly accompanied by cold air. This is no longer the peak season for domestic tourism in Nha Trang, so it is suitable for tourists who want a quiet vacation.
Moving to Nha Trang
To move to Nha Trang, visitors can choose either plane or car or train depending on their preferences and travel time.
Currently, Vietnamese airlines such as Vietnam Airlines, Vietjet Air, Jetstar, all operate flights from Hanoi, Ho Chi Minh City to Nha Trang, via Cam Ranh airport. Bamboo Airways has a flight from Hanoi. Ticket prices range from 1.4 VND to 2.5 VND/person.
Cam Ranh Airport is about 35 km from the city center. There are taxi companies to pick up passengers for about 300,000 VND a trip. In addition, visitors can use the bus, route 18, cost 50,000 VND one way.($1=24,000 VND)
If you choose a train to go to Nha Trang, from Hanoi will take the trains SE1, SE3, SE5, SE7, TN1; When you return, go: SE2, SE4, SE6, SE8, TN2. Train fares are usually about 350,000 VND (soft seats), 600,000 VND bunk beds with air conditioning. 5-star train costs 650,000 VND.
From Saigon to Nha Trang take SN4 and SNT2 trains, return by SNT3 train, with the same fare.
Staying in Nha Trang
As a famous coastal city, always attracting a large number of tourists, Nha Trang owns many types of accommodation from cheap to high-class depending on the needs of each customer.
On Tran Phu Street, the road that runs along the beach, there are many hotels for visitors to choose from. Some suggested hotels are Muong Thanh, Novotel, InterContinental Nha Trang, Sheraton Nha Trang, Lodge… With the advantage of being close to the sea, near the center, hotels on this street cost from 900,000 VND per night. More advanced is 2 – 3 million VND per night. To save costs, visitors can find hotels and homestays after Tran Phu. Specifically, Nguyen Thi Minh Khai, Hung Vuong or Nguyen Thien Thuat streets.
For tourists who love resort travel, with private space, not close to the center, Amiana resort on Pham Van Dong street; Vinpearl Resort, Hon Tre or MerPerle are suitable choices.
One thing you should note is that resorts in Nha Trang are often far from the center, because they are located on islands. Therefore, you should consider carefully before booking. Besides, if you go to Nha Trang in the high season (weekends, holidays or Tet…), the room price may increase, so visitors should book a room in advance to get the best price.
Attractions in Nha Trang
As the second hottest tourist destination in the Central region, Nha Trang attracts tourists with many attractions, famous landscapes and top entertainment areas.
Some outstanding attractions of Nha Trang can be mentioned such as: Vinpearl Land, Hon Mun, Hon Tam, Ninh Van Bay, Institute of Oceanography, Ponagar Tower, Husband-wife island, Dai Lanh beach, Dam Market… .
In particular, Vinwonders Nha Trang (Vinpearl Land) is an entertainment and resort area located on Hon Tre island, with a total area of ​​200,000 m2, connected to the mainland by a modern cable car system. The amusement park is divided into indoor, outdoor, water park, aquarium, performing arts area, ocean movie castle and food court.
Here, visitors have many options to have fun at the water park or experience thrills with games such as free-falling towers, thrilling swings, roller coasters… 2-way cable car for adults is 880,000 VND, children from 1 m to 1.4 m have a ticket price of 660,000 VND. Customers over 60 years old are entitled to a discount of VND 530,000.
Besides, Ninh Van Bay has bold wild features, this beautiful Nha Trang landscape is very suitable for tourists who like quiet, rest and relaxation. In addition, here you can also experience services such as: scuba diving, coral viewing, surfing, windsurfing, kayaking…
Tourists also often choose to visit the Oceanographic Museum , which is part of Nha Trang Institute of Oceanography, established in 1923, located at 1 Cau Da. The museum includes a marine species taming area, a natural disaster area, an artificial mangrove forest, a large marine sample area, marine research equipment and intangible resources.
Here, visitors will admire more than 20,000 specimens of marine and freshwater species. Some creatures are reared in glass tanks such as devil face fish, lionfish, tube anemone… showing the diversity of Vietnam's marine ecosystem. In particular, the museum also displays an 18-meter-long whale skeleton and a specimen of Dugong sea cow, caught in a fisherman's net in Phu Quoc in 2003.
Admission to the museum is 40,000 VND per adult, 20,000 VND for students and 10,000 VND for students.
Coming to Dai Lanh beach , visitors can rent a motorboat to visit the villages of Khai Luong, Dam Mon, Vung Ro port, … and enjoy or buy fresh seafood in these fishing villages at extremely cheap prices.
In addition, Hon Mot Island is also one of the places in Nha Trang that attracts tourists by the peaceful beauty of the fishing village on the sea, with green moss-covered tile houses and boats bobbing on the sea. Here, visitors will enjoy the fresh sea air and observe the pace of life of the fishermen. On the island, there are also many other activities such as shallow diving to see corals, water motor games, glass bottom baskets, parachute canoes…
Tourists traveling in large groups can rent a canoe for about 1,300,000 VND to visit the islands here. Some islands have an entrance fee such as Hon Mun for 22,000 VND, Monkey Island for 144,000 VND for adults and 72,000 VND for children.($1=24,000 VND)
However, to save money and time, visitors should book island tours. Beach tour and games at Hon Mun – Tranh beach , or Hon Tam cost 450,000 – 600,000 VND. Mun island diving tour costs 600,000 VND. In addition to visiting the island, the tours often combine mud bathing, lunch at a fishing village…
In addition, the landmark of Ba Ponagar tower is one of the most wonderful architectural works of the Cham people. This is a Cham Pa temple located on top of a hill about 10 m high above sea level, at the mouth of Cai river, now in Vinh Phuoc ward. This is one of the largest Champa cultural heritages in the country.
The architecture consists of 3 floors, going from bottom to top according to stone steps. In particular, the gate tower area is no longer there. In the middle floor or Mandapa's pre-top area is a place for guests to rest and prepare offerings. There are 4 rows of octagonal columns, including 12 small columns outside and 10 large columns inside.
Moreover, after visiting Thap Ba, you can go to the hot mineral water area to experience the mud bath service.
What to eat in Nha Trang?
Coming to a coastal city, visitors certainly cannot ignore the fresh seafood dishes. However, Nha Trang is also famous for a lot of local dishes that visitors should enjoy.
Fish noodle soup: This is a special dish of Nha Trang that you should enjoy. With a special taste, thin, chewy vermicelli noodles are made from mackerel and delicious broth. To enjoy this dish, you can go to the address: Bun Ca Ba Nam Beo Apartment B2 Phan Boi Chau, Nha Trang and Quan Ca Loan noodle shop located on Ngo Gia Tu street (Trinh Phong junction).
Jellyfish vermicelli becomes an authentic specialty of Nha Trang, with a clear, sweet broth simmered from critters with chunks of milky, thick, crunchy jellyfish. The taste is sweet, cool and rich. Address for you to eat delicious jellyfish noodles in Nha Trang: Bun Ca Ba Nam Beo Apartment B2 Phan Boi Chau, Nha Trang and 23 Yet Kieu Restaurant. Prices range from 20-30k/bowl.
Nem Ninh Hoa has become a famous snack in Nha Trang, when you come to Nha Trang, you should not ignore this dish. There are two types of spring rolls and grilled spring rolls, each with its own distinct flavor. The address to enjoy is at 15 Le Loi.
Some suggestions for restaurants selling delicious food in Nha Trang:
Pho Bac Hai – 76 Quang Trung;
Nam Beo jellyfish noodle soup – B2 Phan Boi Chau apartment building;
Jellyfish noodle soup: 170 Bach Dang;
Hue beef noodle soup 100 – 100 Ngo Gia Tu;
Vermicelli with grilled meat – 163 Hoang Van Thu;
Grilled spring rolls Ngoc Tien – 59 Le Thanh Phuong;
Co Loc soup cake – 30 Phan Chu Trinh;
Seafood porridge – 6 Ngo Si Lien;
Trung broken rice – April 10, Ly Tu Trong;
Chieu Anh Seafood – 86 Tran Phu;
snail shop 24 – 24 Ngo Duc Ke;
Pineapple Bridge Duck Restaurant – at the foot of Pineapple Bridge, October 23rd;
Dry noodle shop – 30 Bach Dang;
Banh dam shop – 16A Hong Linh.
Photo: Internet (Vinlove.net)