Phu Quoc attracts hundreds of thousands of tourists every year because of the pristine beauty of the sea and islands, and rich ecosystems, so what should be paid attention to when going to Phu Quoc?
Located in Kien Giang province, located in the Gulf of Thailand, Phu Quoc island has long been famous for tourists from all over the country and international visitors. Not only is it a beautiful island with peaceful and unspoiled natural scenery, and a favorable climate for recreation and relaxation activities, but Phu Quoc is also an ideal destination for many interesting nature exploration activities.
However, visitors need to pocket some experience to go to Phu Quoc to have a complete trip.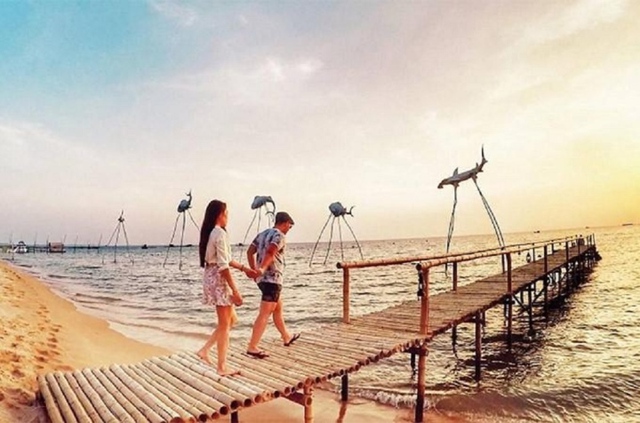 Phu Quoc Island has long been famous for tourists from all over the country and international visitors.(Illustration)
In which season should you go to Phu Quoc?
The best time to travel to Phu Quoc is from October to April next year because this is the dry season of the island. At this time, the weather is not too sunny, the temperature is only about 27 degrees Celsius, the sea is calm, suitable for fun activities. This is also the peak season for airfares to Phu Quoc.
From May to September is the rainy season in Phu Quoc. Although the island is located in the Gulf of Thailand, it does not directly receive storms, but this is the season of rains and floods, which can limit some activities such as night squid fishing, diving to see corals. But you can still travel to Phu Quoc for your summer vacation if you know how to arrange your schedule and monitor the weather accordingly.
From November is the time of changing seasons, so the rain is relatively erratic, the temperature is about 25 to 28 degrees Celsius. Therefore, visitors should monitor the weather carefully to prepare things and plan travel. suitable when coming to Phu Quoc.
How to move to Phu Quoc?
There are two ways to travel to Phu Quoc, visitors can choose either plane or passenger car combined with ferry, speedboat. However, most tourists often choose air transport to save time and be more convenient. The option of traveling by passenger car in combination with ferries and high-speed ships is suitable for localities close to the Kien Giang coast.
Phu Quoc's airport is about 15 minutes away from the center of the island. Some luxury hotels and resorts often have a free shuttle service from the airport. You should ask more about this service when booking in Phu Quoc.
If you have plenty of time and are looking for a way to experience more, you can take a bus to Rach Gia or Ha Tien and then catch a ferry or speedboat to Phu Quoc. This way will be suitable for you coming from Ho Chi Minh City or the western provinces.
There are two routes to Phu Quoc, the journey from Rach Gia is about 120 km and takes 2 hours and 30 minutes, and the journey from Ha Tien is about 50 km and takes 1 hour and 30 minutes. You should depart from Ha Tien to shorten the travel time on the sea and the ticket price is also cheaper. Please call the station in advance to buy tickets, and make sure the schedule is on schedule.
If you take a bus, you can start from the center of Ho Chi Minh City. There are many high-quality trips to Ha Tien, and the fare is about 150,000 VND to 230,000 VND per person, depending on the bus operator.($1=24,000 VND)
Staying in Phu Quoc
In Phu Quoc, there are many accommodation facilities of various types from budget rooms, homestays, hotels and high-class resorts… at different prices, to suit the needs of each visitor.
Most mid-range 2-3-star Phu Quoc hotels and homestays and motels will be concentrated in the Duong Dong town area, convenient to go to other places on the island but also more bustling in the evening. If you want to choose more advanced 4-5 star resorts and hotels in Phu Quoc, you need to go away from Duong Dong about 8km, in a somewhat quieter area in Duong Bao, Duong To …
Besides, you can choose a beautiful resort by location, the room price ranges from 1.8 to 7 million VND per night. In the North Island, there are Vinpearl Phu Quoc Resort, Nam Nghi Coral Peninsula Phu Quoc, Fusion Resort Phu Quoc. On the east side of the island, there is Rocks Beach Boutique Phu Quoc, in Ham Ninh commune, which has just opened in early 2022, which is likened to "miniature Maldives".
In the middle of the North Island and the center are Movenpick Resort Waverly Phu Quoc and Mango Bay Resort on Ong Lang beach. In the middle of Duong Dong town are Lahana Resort Phu Quoc, L'Azure Resort & Spa Phu Quoc, Anja Beach Resort, Pullman Phu Quoc or InterContinental Phu Quoc Long Beach Resort. JW Marriott Phu Quoc Emerald Bay located on Khem beach or Premier Village Phu Quoc is the outstanding accommodation in the South of the island.
What to visit in Phu Quoc?
Phu Quoc has a lot of beautiful attractions from natural landscapes to other entertainment areas, if you have a not too long travel schedule, visitors need to plan in detail for their attractions.
Phu Quoc is usually divided into 3 main areas: North Island, South Island and Indochina Town. With the North Island area, the highlight is unspoiled nature, tourists often come to Khu Tuong Pepper Garden, about 15km north of Duong Dong town, Ganh Dau Cape, Tranh Stream, Da Ban Stream, Bai Dai. .. of which the most prominent is the VinWonder Phu Quoc entertainment area including many attractive entertainment places such as: Water Park, Aquarium, Outdoor Play Area, Cinema, Food Street and In addition, you will have a great experience at Vinpearl Safari, the largest open zoo model in Vietnam with an area of ​​about 500 hectares, gathering about 130 species with more than 2,200 animals. rare.
The southern area of ​​Phu Quoc island is a lowland area with secondary forests, where the population of the island is concentrated. Beautiful beaches that attract people's hearts such as Truong beach, Sao beach, Khem beach, Gieng Ngu are mentioned as a separate charm of Phu Quoc island.
In particular, Hon Thom island cluster is located south of Phu Quoc. Here you can experience Hon Thom cable car – the world's longest 3-wire cable car across the sea with Aquatopia water park, participate in interesting sea activities such as snorkeling and watching corals, watching the aquaculture areas of Vietnam. fisherman, pearl farm…
Location: From Phu Quoc pier, it takes 30 minutes to go to Hon Thom island. Or go straight in the direction of An Thoi to An Thoi Station and travel by Hon Thom cable car. Ticket price: 450,000 VND/person (including 2-way cable car ticket and entrance ticket to Aquatopia water park)
Finally, there is Duong Dong town area, with famous attractions such as Dinh Cau Night Market, Ham Ninh Fishing Village, An Thoi Islands, Fish sauce factory, especially the beach area.
Sunset Sanato Beach Club: Located in Bai Truong, famous as the most unique beach in Phu Quoc with impressive art works, you will be comfortable living virtual with elephants, jellyfish or a bridge looking straight towards you. sunset side. Where you will see the sun like a salted egg, radiating light that makes the sunset sky a characteristic pink color. The entrance fee is 100,000 VND/person, excluding drinking water. Besides, the relic of Phu Quoc Prison located in Cay Dua hamlet, An Thoi commune is also a favorite destination of many tourists. The relic is a tourist attraction that attracts tourists. Some scenes have been restored to recreate history; Open from 7am to 5pm daily and free tickets.
What to eat in Phu Quoc?
If you are a fan of real food, you should go to Phu Quoc around May to November. This is the beach season for locals, so there will be a lot of fresh seafood, the price will also be cheaper.
Herring salad: The first dish on the culinary list you must try in Phu Quoc is herring salad. This dish is sold throughout the restaurants and eateries from high-end to popular. Herring is preliminarily processed, rolled with vegetables and rice paper, dipped with fish sauce, absolutely no fishy smell.
Ham Ninh crabs: The crabs here are not big but are rated by diners as delicious, sweet and fresh. Depending on the time, the price of crabs will range from 200,000 VND to 500,000 VND/kg. You should choose 6 to 7 fish per kilogram, if you like to eat egg crabs, you can choose females, if you eat meat, choose male crabs. The best way to prepare it is boiled crabs with salt, pepper, and lemon.
Grilled Bien Mai Whistle: Connoisseurs often love grilled chili with salt and pepper. The salty taste of salt, the spiciness of chili and the sweetness of the bien mai horn mix to create a very special flavor. Compared with stir-fried and boiled dishes, grilled bien mai still retains its crispy and chewy texture, so it is the most loved by locals.
Sea cucumber: is one of the famous specialties in Phu Quoc. This dish is popular with diners because of its high nutritional value and is considered a high-class food. Fresh sea cucumber is often processed into stir-fried dishes with bitter melon, sweet peppers or stewed with goat meat, pork. Many people also use sea cucumber to cook porridge, improve health. Because it is a high-class food, the price of sea cucumber is also quite expensive, about one million VND/kg.
Bun Ken: Not all places have bun trumpet, not only the name but also the taste of this type of vermicelli is also very strange. Bun trumpet usually uses rice vermicelli, small fibers served with herbs, laksa leaves, cucumber, grated papaya… The reference address is vermicelli Ken Ut Luom sugar 30/4.
Melaleuca mushroom: This fungus usually grows after the first rains of the season in the Melaleuca forests in Phu Quoc. Mushroom season lasts just over a month, so visitors are not always able to enjoy this dish. The delicious dishes you should try are boiled chicken with mushroom soup or fish balls cooked with mushrooms.
Sea urchin: In the Central region, fishermen often take meat and eggs with spices and then stir-fry it before putting it in the porridge pot. In Phu Quoc, the sea urchin that has just been caught will be cut, split in half, washed, and placed on a charcoal grill, adding onion fat to be eaten. In addition, visitors can also enjoy some other dishes such as lemon urchin, grilled urchin, porridge.
In addition, Phu Quoc also has many attractive specialties such as sim honey, sim wine, pepper, fish sauce, king crab… These dishes can be easily found in restaurants from popular to high-class. .
According VTC News