Fall in Ha Giang is said to be the most suitable time to explore the northernmost land of the country when buckwheat flowers bloom under the deep blue sky…
The journey to explore the Ha Giang Loop (Ha Giang loop) starts from the Km0 milestone to Quan Ba, Dong Van, Meo Vac and vice versa. From Km0, visitors will pass one of the most spectacular and majestic passes in Vietnam.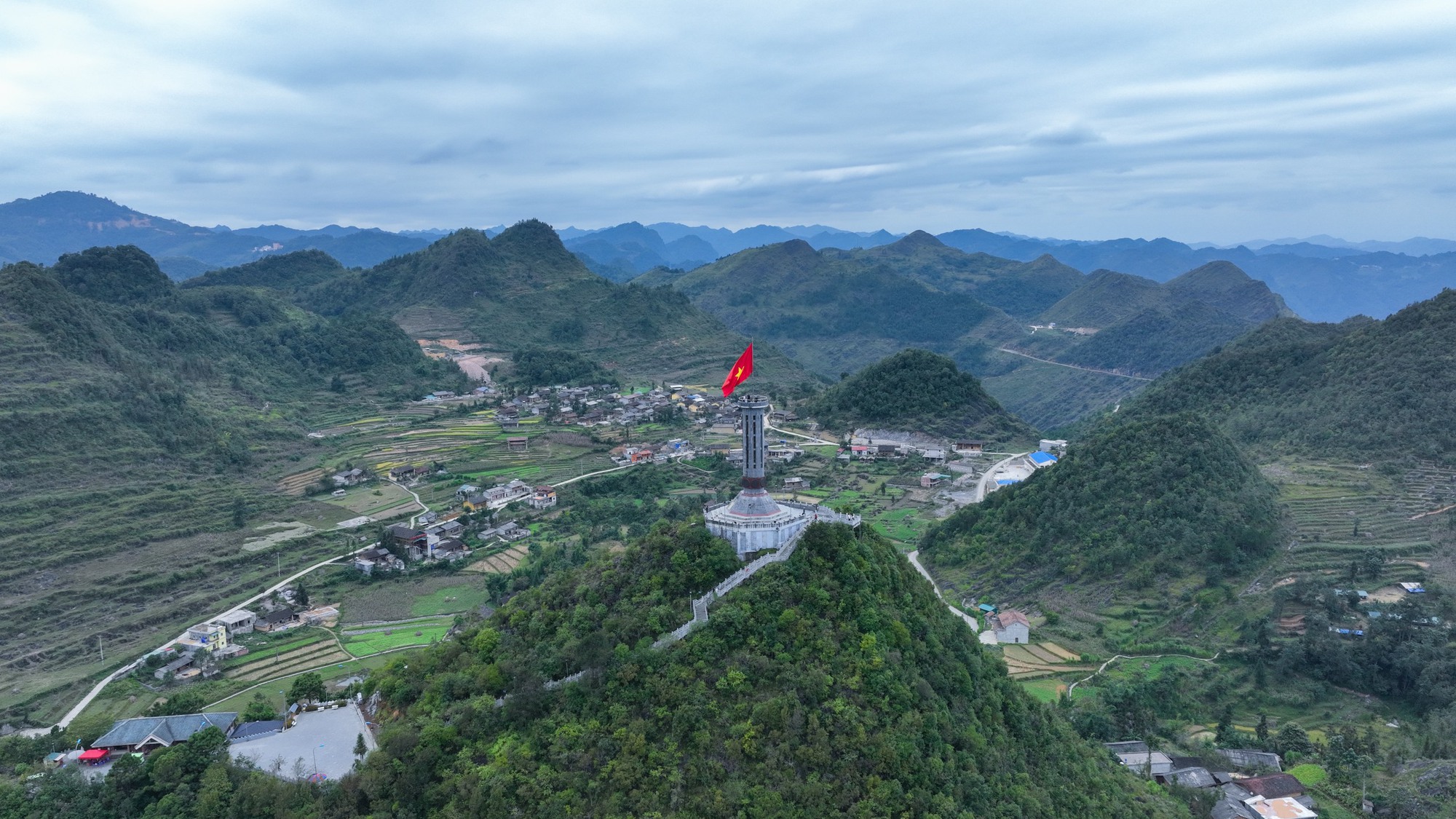 Move
There are many options to get to Ha Giang. If you come from the southern provinces, you can rent a car in advance in Hanoi, pick up from Noi Bai airport and go straight to Ha Giang (applies to early flights). From Noi Bai to Ha Giang it takes about 6 hours, if you stop to rest and have lunch it can take 8 hours. In the case of departing from the center of Hanoi at 7 am, following Highway 2C through Tuyen Quang, visitors can have lunch in Ha Giang City.
Renting a car in Hanoi, if traveling in a small group of 4-5 people, you can choose a 7-seat car with a driver who has experience running the Ha Giang route. If traveling by bus, you can depart from My Dinh, Luong Yen, Yen Nghia, Gia Lam bus stations with high quality buses, ticket prices from 200,000 – 300,000 VND/person/trip. Coming to Ha Giang, you can rent a motorbike (from 150,000 VND/day) or hire someone to drive you throughout the journey. This is the option many Western tourists choose.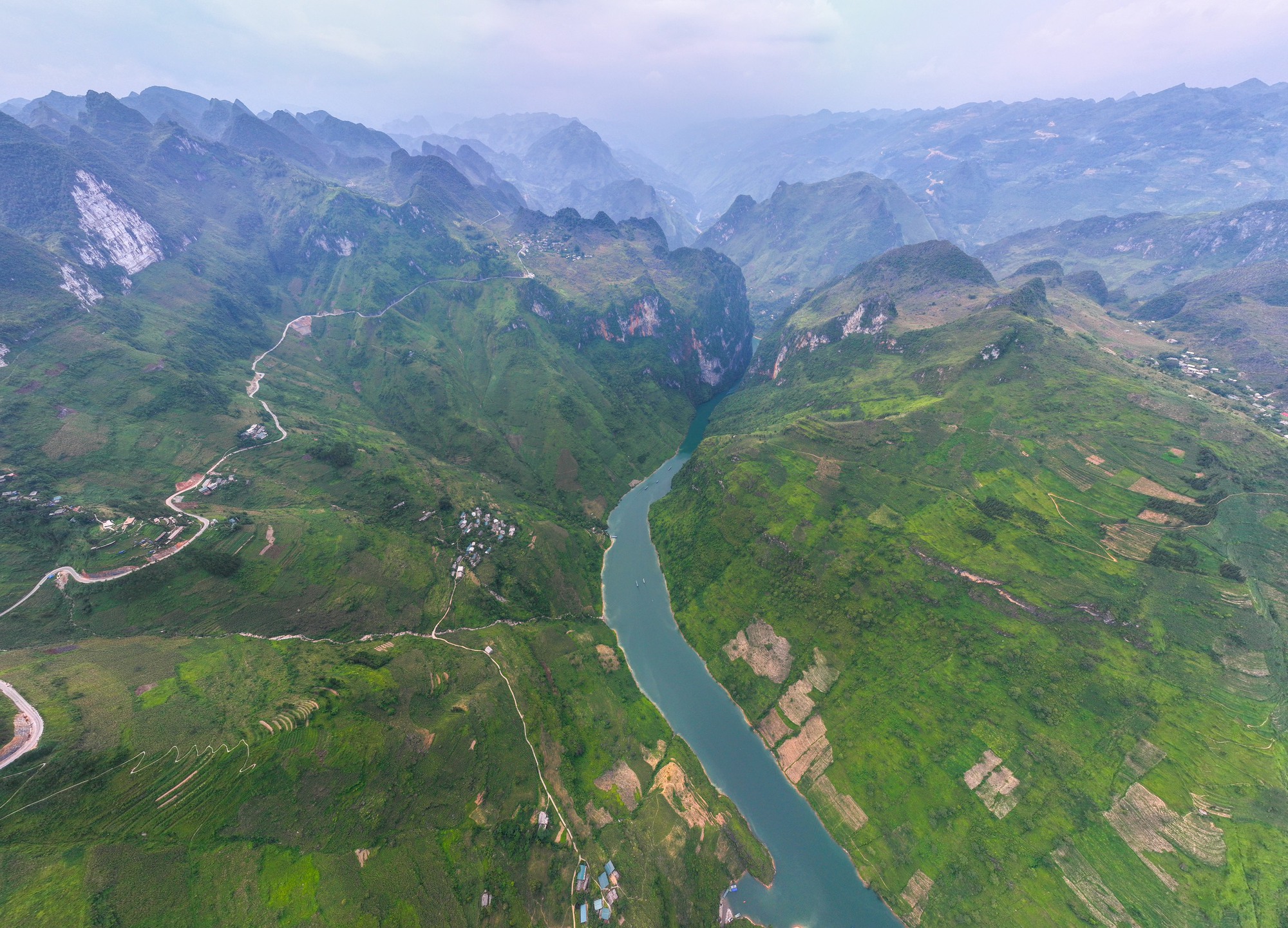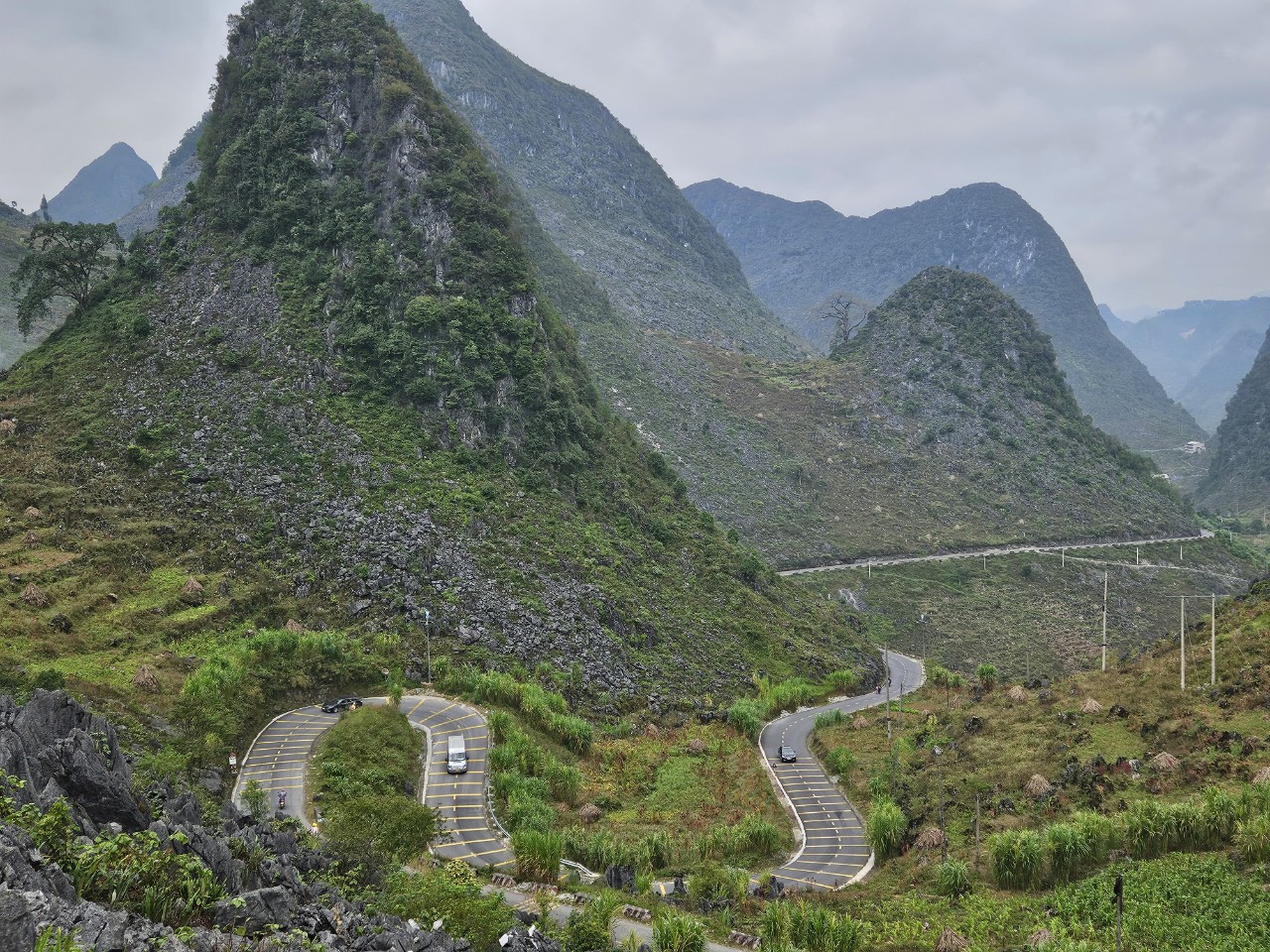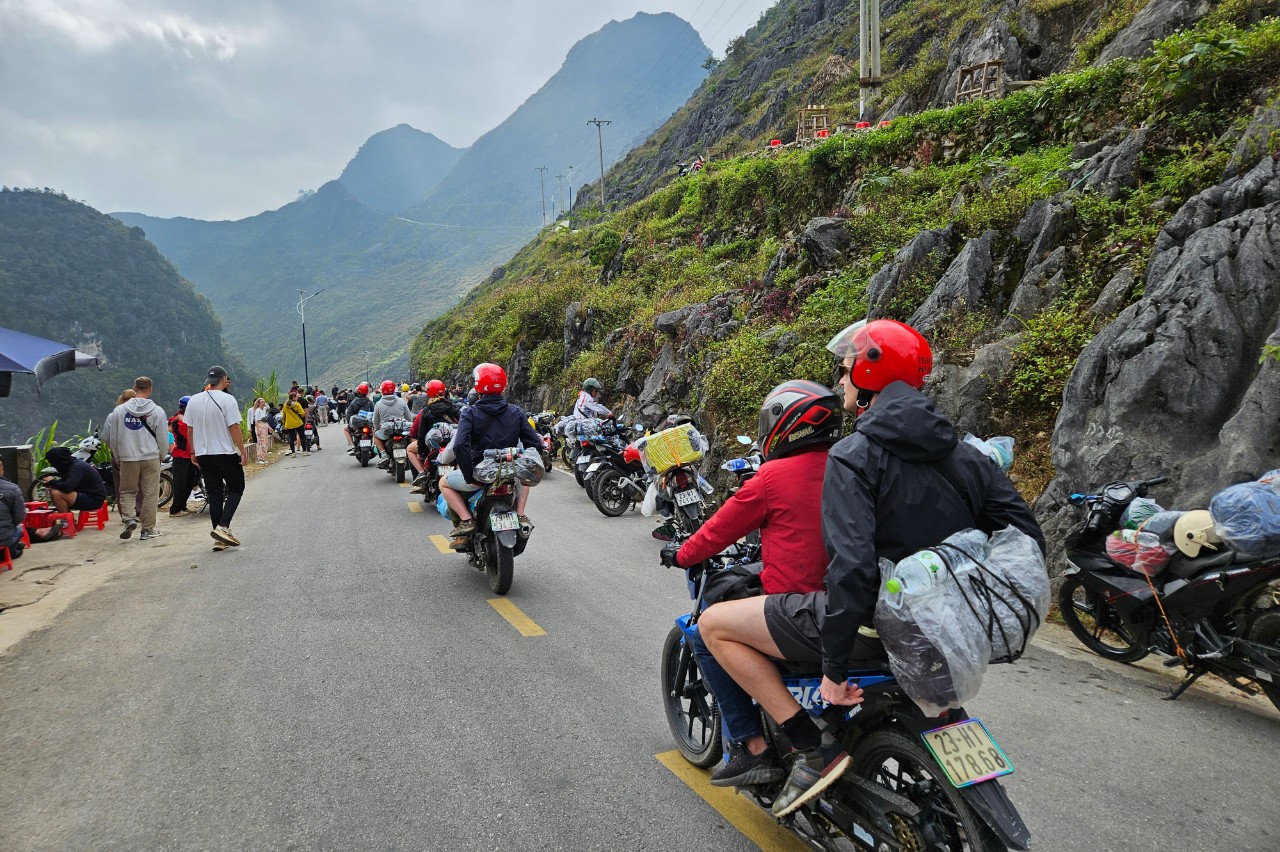 Ha Giang is in the beautiful season, when the buckwheat flowers bloom, the weather is cool, there is no rain and it is also the season that attracts many backpackers.
Ha Giang road passes through many passes and throughout the journey lasting more than 300 km (out and back), there are many sections under construction. Therefore, you must make sure to arrive before dark because the construction unit may block it to destroy mountains, move rocks, and the vehicle will have to wait for a long time, affecting the journey.
Which season is best to travel to Ha Giang?
Please tell me that all four seasons, spring, summer, fall and winter, are suitable to visit Ha Giang. Each season has its own beauty. In spring, apricot and plum blossoms bloom along with exciting and colorful festivals. Late summer is the season when water is poured on terraced fields to prepare for the planting season. Autumn is the season of ripe golden rice, the season of buckwheat flowers spreading evenly across the gardens and foothills…
Among them, buckwheat flower season attracts the most tourists, lasting from October to December. At this time, on weekends, it is difficult for tourists to book accommodation in homestays with beautiful landscapes. Therefore, if you decide to come to Ha Giang in the fall, you need to book early.
Every year, at the end of October, Ha Giang organizes the buckwheat flower festival in the central area of ​​Dong Van town. At this place, the locality organizes a buckwheat flower road, tourists visit and shop at stalls displaying local products…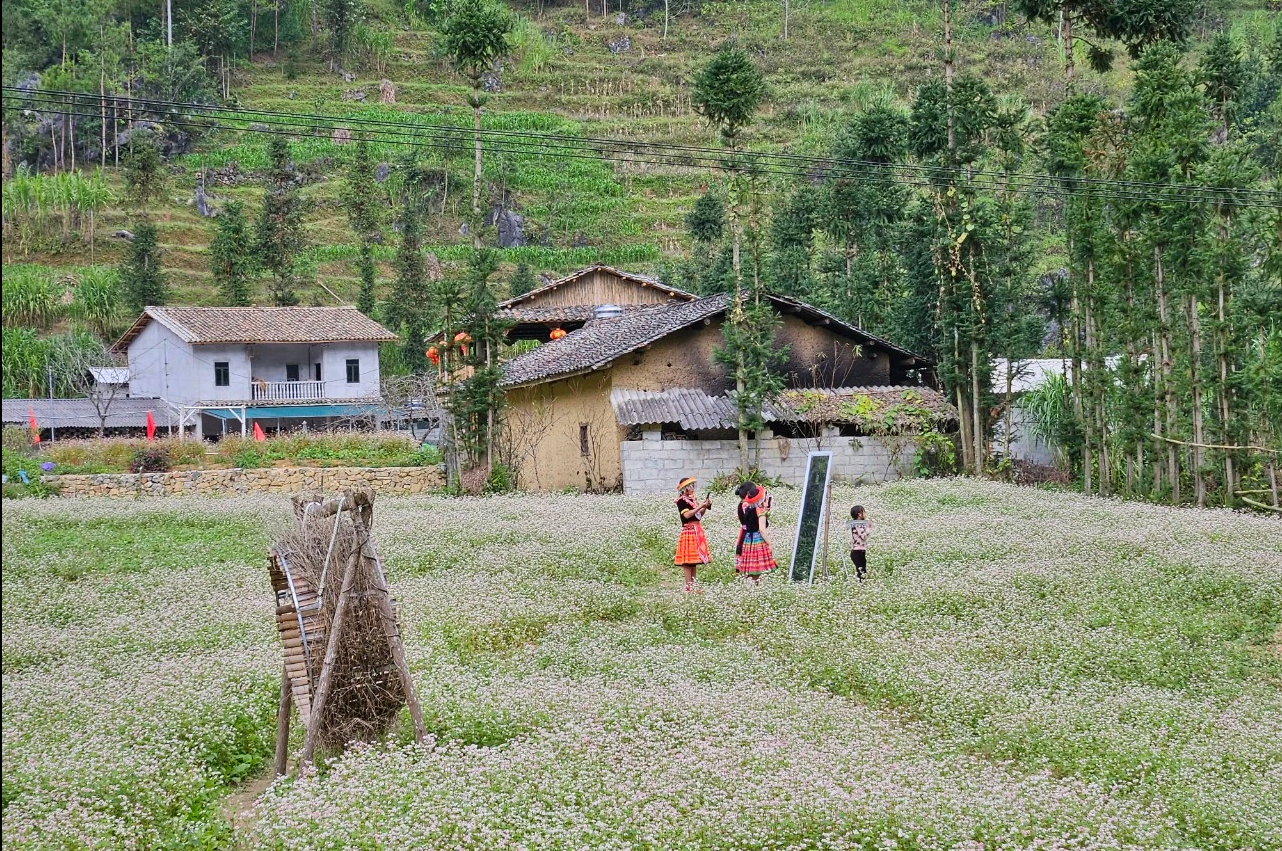 When newly hatched, buckwheat is white and pale pink. After that, the flowers will change to purple or dark pink. If standing alone, it may not attract viewers, but when it forms a field, in the space of dark brown cliffs, the buckwheat triangle becomes a special highlight, making it irresistible to visitors.
In the past, buckwheat was mainly grown for seeds and food. Today, buckwheat also has another mission: serving tourists. Vast flower fields become check-in points, buckwheat seeds are baked to sell to tourists… The name buckwheat simply comes from the triangular shape of the seeds. This is also an Oriental medicine, clearing heat and detoxifying… Buckwheat seeds are exported to Japan by the Japan – Vietnam Culinary Culture Association to make soba noodles.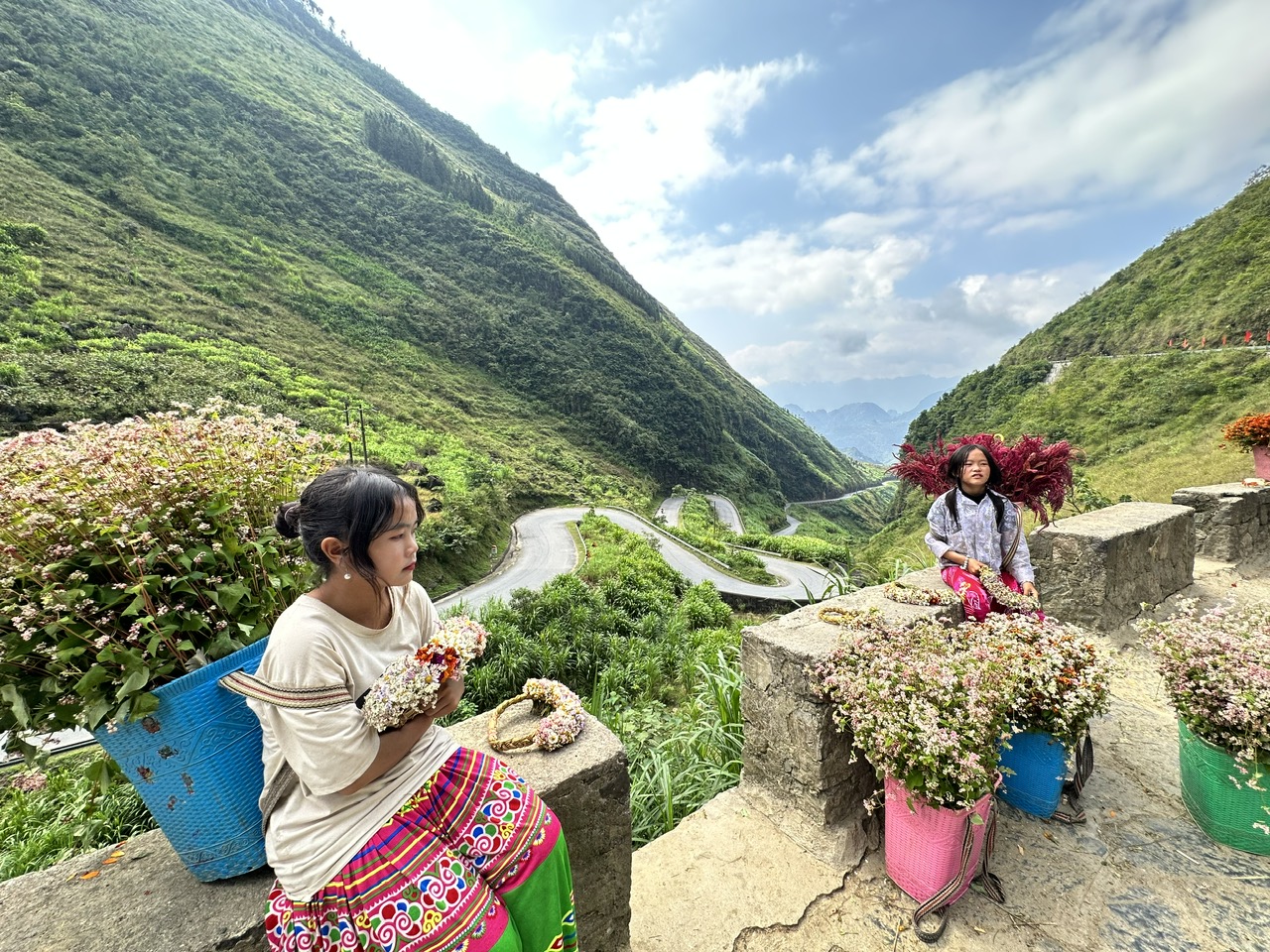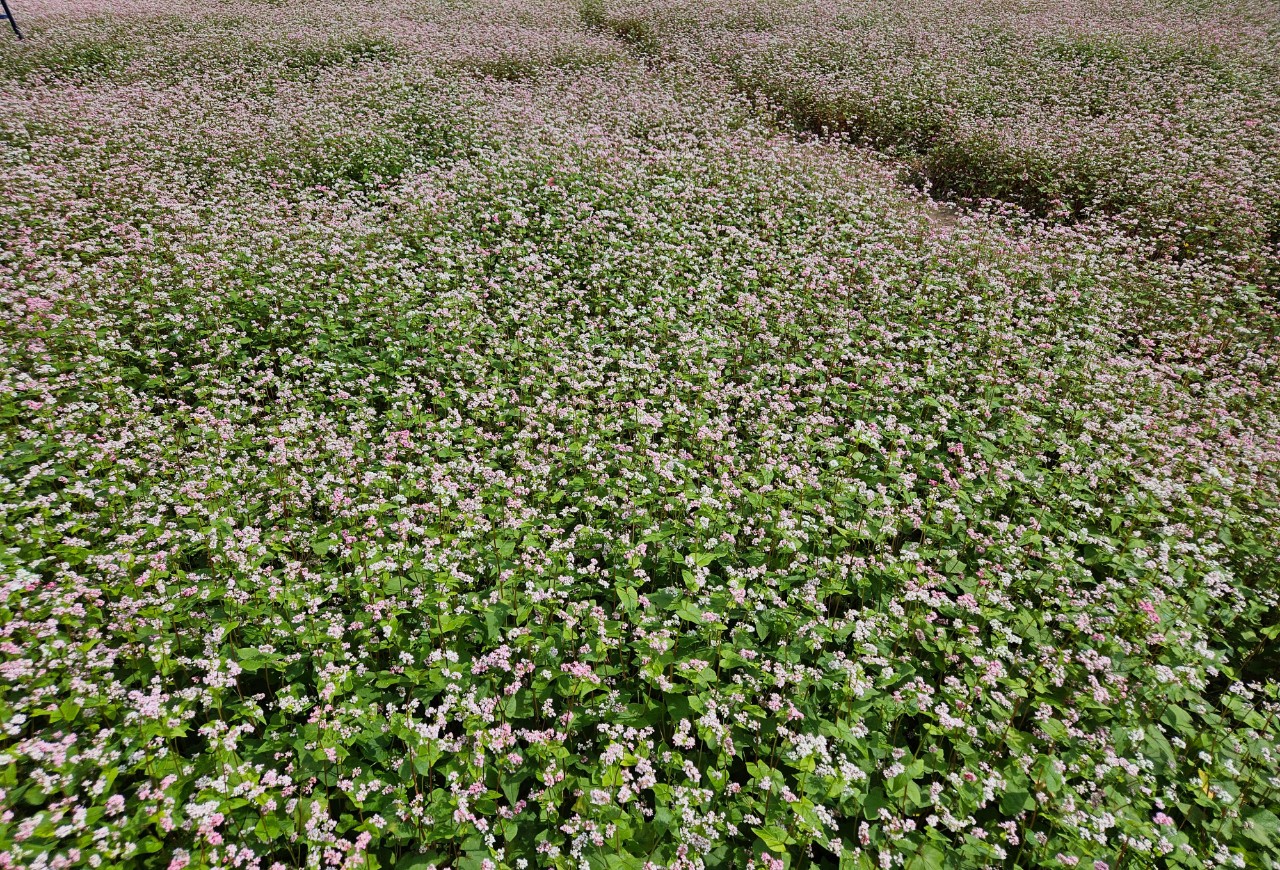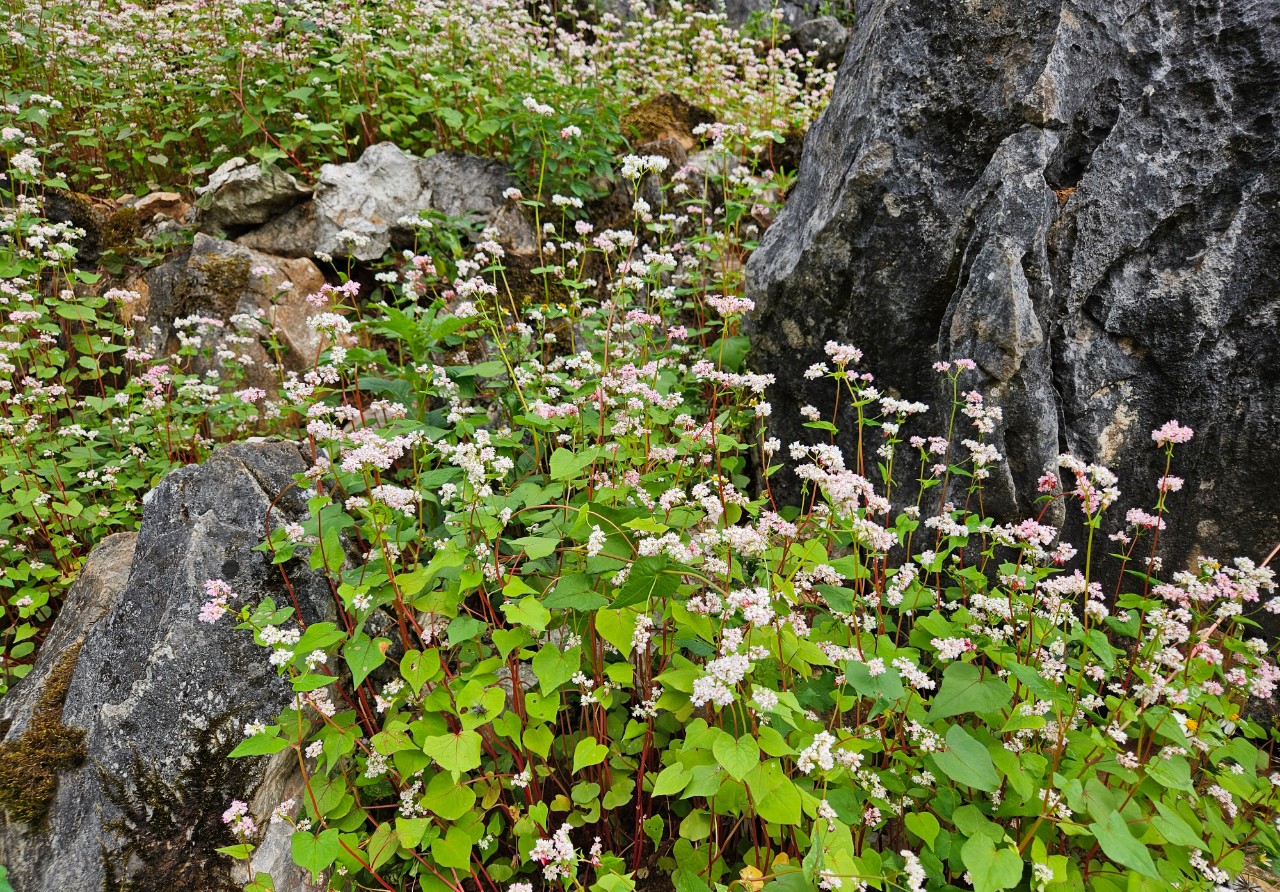 Buckwheat can be grown in gardens or fields, but there are also clusters growing wild on rocky shores
Eat and drink
Ha Giang cuisine with highland characteristics, typical of ethnic minorities, is becoming a specialty that any tourist wants to try such as thang co, men men, five-color sticky rice, hanging meat, underarm pig, Au Tau porridge, upland sticky rice, buckwheat cake, stream fish and corn wine.
The most special of which is Thang Co. This is a traditional dish of the H'Mong people, cooked from horse meat with a unique flavor. On cold nights, gathering around a steaming pan of thang co is an unforgettable experience. Thang co can be eaten with men men. Men men is a typical dish of the H'Mong people made from corn flour. Or after a long journey, eating a bowl of Au Tau porridge at a night shop in Ha Giang City is rumored by tourists to be able to forget all the tiredness…
A typical menu for a meal in Ha Giang will include: Boiled Meo cabbage (a type of cabbage with a sweet taste, like green mustard, best when enjoyed in Ha Giang itself), fried stream fish, village duck meat ( ducks raised in areas with lots of water), stream fish soup, Ban pork… Or dinner is black chicken hotpot – a famous specialty of highland people, enjoyed with wild vegetables like five gia bi .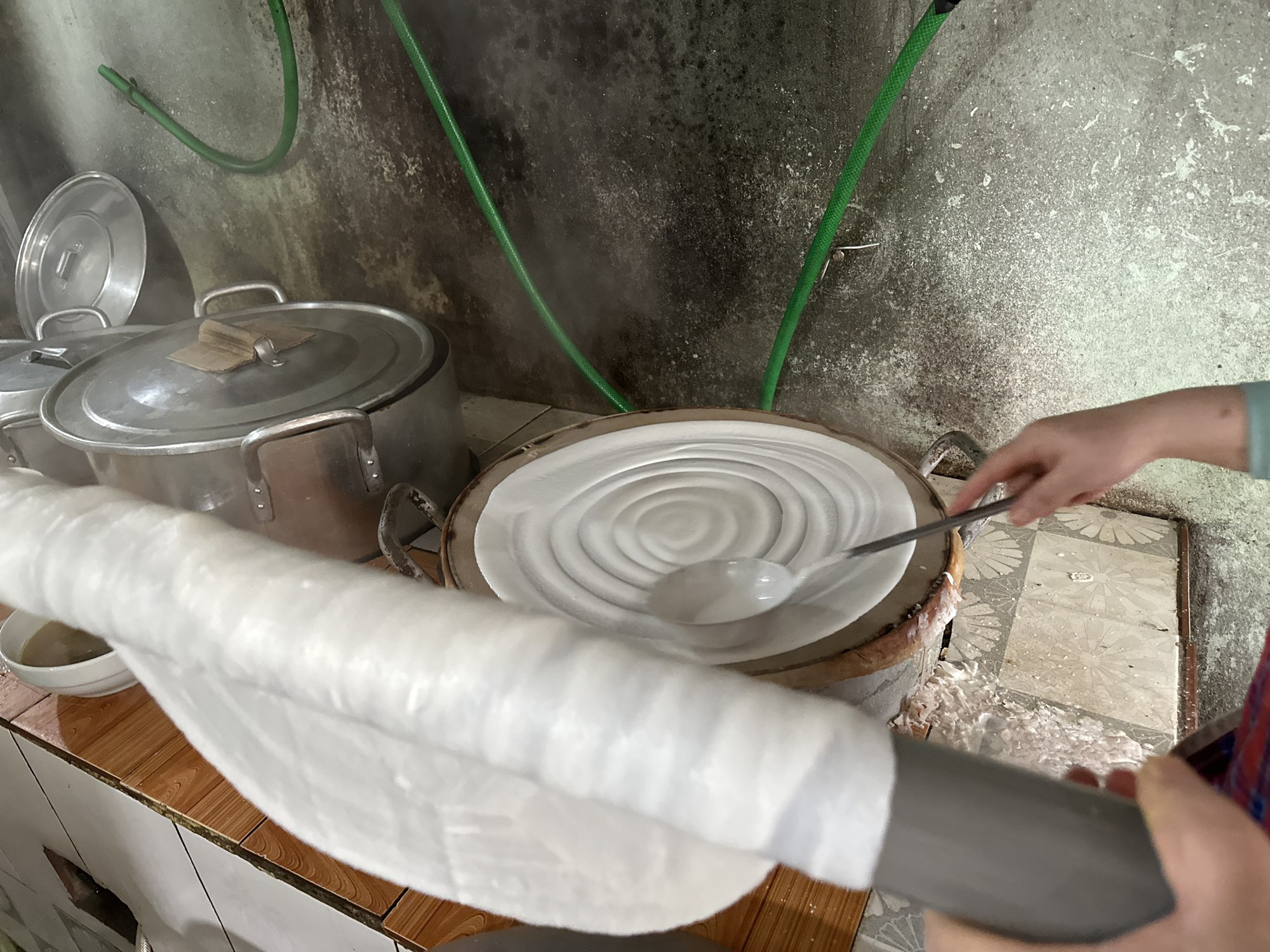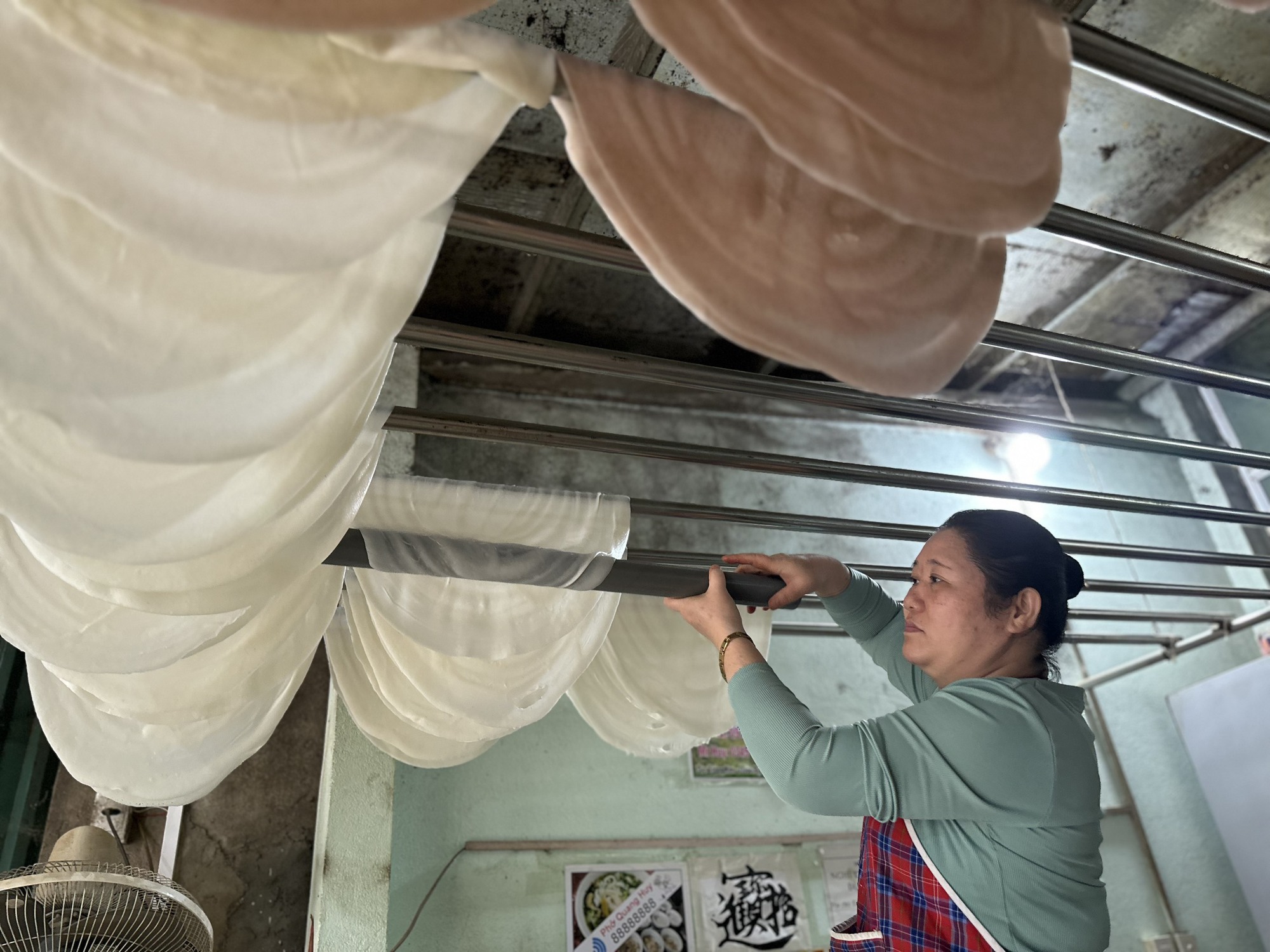 Trang Kim noodle cake that every tourist coming to Ha Giang should try at least once
A breakfast dish not to be missed in Quan Ba ​​is Pho Trang Kim, a place located along the road from Quan Ba ​​to Yen Minh. Trang Kim pho noodles are made by hand, from grinding the flour to coating the cake… After being coated by hand on the spot, the pho noodles (like rice paper) will dry evenly on the bamboo trees right at the shop's door. When guests come in to eat, the restaurant owner brings them down and cuts them into pieces. The taste of Trang Kim pho is light and delicious, enjoyed with impeccably delicious highland chicken.
Prices in Ha Giang are quite cheap and there is no "cutting and cutting" situation…
Accommodation
Tourists have many options, but the most suitable is homestay. In Quan Ba, you can stay in homestays in Nam Dam or Trang Kim villages. H'Mong homestays are large and can accommodate groups of dozens of people. The homestay called Toong that we stayed in Nam Dam has separate bungalow-style houses. The interior is minimalist, with no appliances such as a refrigerator or television, but the surrounding scenery is beautiful in the valley. In the morning, tourists often wake up early to welcome the dawn that gradually appears behind the misty mountain peaks, watching children start to go to school…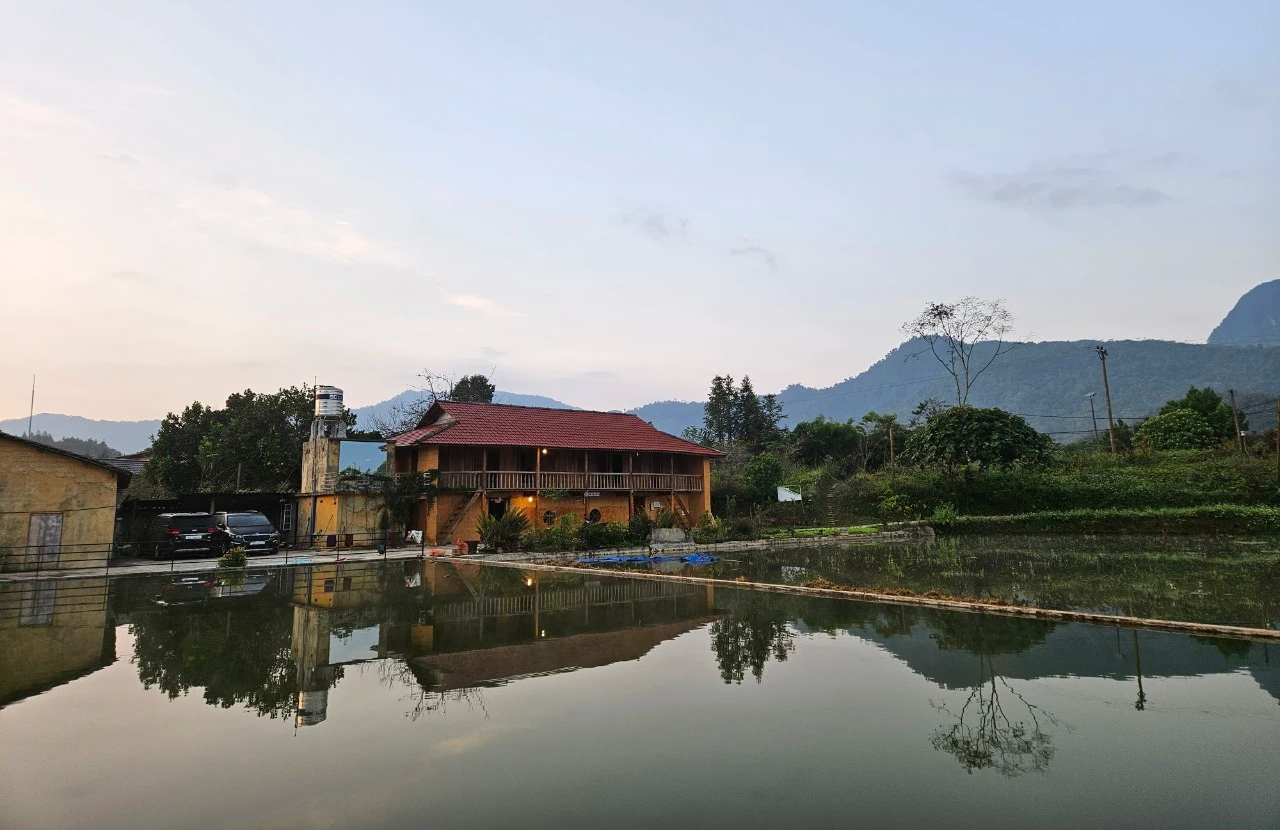 In Dong Van, visitors can also stay in homestays away from the old town but can also choose hotels in the center. However, if you stay near the old town, it will be convenient to move around and at night it will be crowded and bustling with tourists. Here, you can discover many types of attractive Ha Giang cuisine such as won amaranth. This is a sweet dish that resembles sweet soup, but the amaranth ball is only as big and round as a finger. This hot dish is suitable for cold nights, sitting on the side of the road and enjoying a cup of hot amaranth…
In Dong Van, we spent the night at Dong Van Eco Stone homestay, just a few steps from Dong Van old town. This boarding house located along the rice fields, in addition to providing a place to sleep, also serves delicious meals. For example, black chicken hot pot or breakfast with strange rolls filled with water. This is a dish filled with minced meat, served with an omelet, and served with fried pork broth.
Journey through the mountain peaks
Ha Giang Loop tour goes through a long and deep pass, with steep cliffs on one side and a deep abyss on the other. The Ha Giang Pass journey can be 3 days and 2 nights but the most suitable is 4 days and 3 nights, which can be divided as follows:
Day 1: Hanoi – Ha Giang (270 km) – Quan Ba ​​(40 km)
From Hanoi to the center of Ha Giang city, it is about 270 km, on the way to rest on the side of Highway 2C passing through Tuyen Quang. Arriving in Ha Giang City on time for lunch, you can choose the Ethnic Restaurant along the Lo River to enjoy Ha Giang's specialties such as stream fish, Meo cabbage…
After that, go to Km0 in the center of Ha Giang to take commemorative photos. Milestone Km0 is a destination not to be missed when visitors set foot in Ha Giang. From this Km0, visitors will spread out in different directions. There are two Km0 milestones, one for traffic guidance, the other with the function of marking territory, located inside the park with a larger size, opposite square 26.3.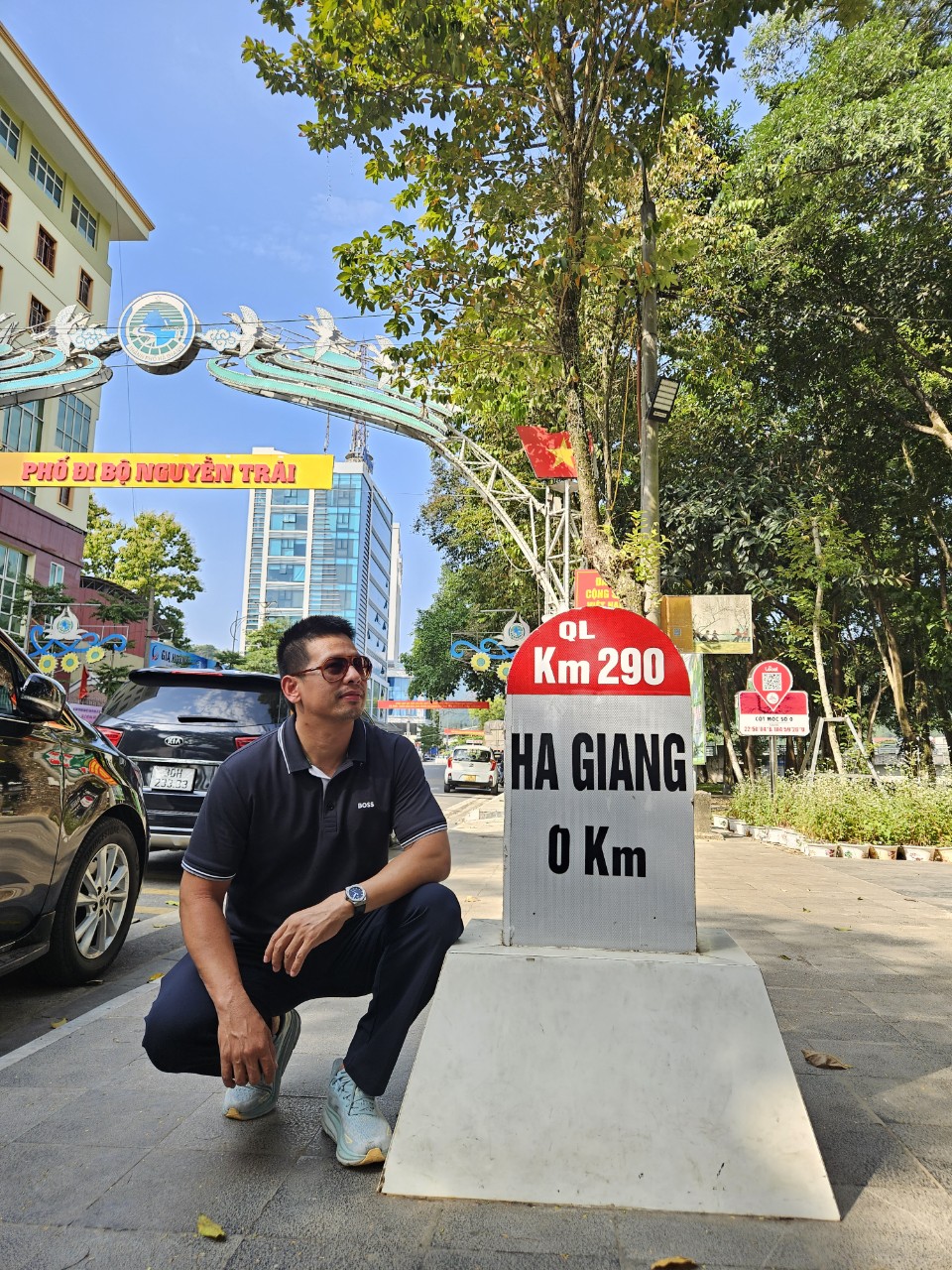 From Km0, visitors will begin the journey through the most beautiful passes in the Northwest
NTT
After checking in at the Km0 milestone, you can choose a nearby cafe to watch the Lo River and rest before leaving for Quan Ba.
Also from here, visitors begin the journey of continuous steep passes. The first pass before entering Quan Ba ​​has sections under repair, so you may have to stop and wait for a long time for cars to pass one by one because there is only 1 lane of travel.
Before arriving at Quan Ba, visitors can check-in at Quan Ba ​​Heaven Gate, from the top of the pass to see the beautiful small town located in the valley, next to the beautiful cone-shaped mountains, the most typical of which are the mountains. Pair.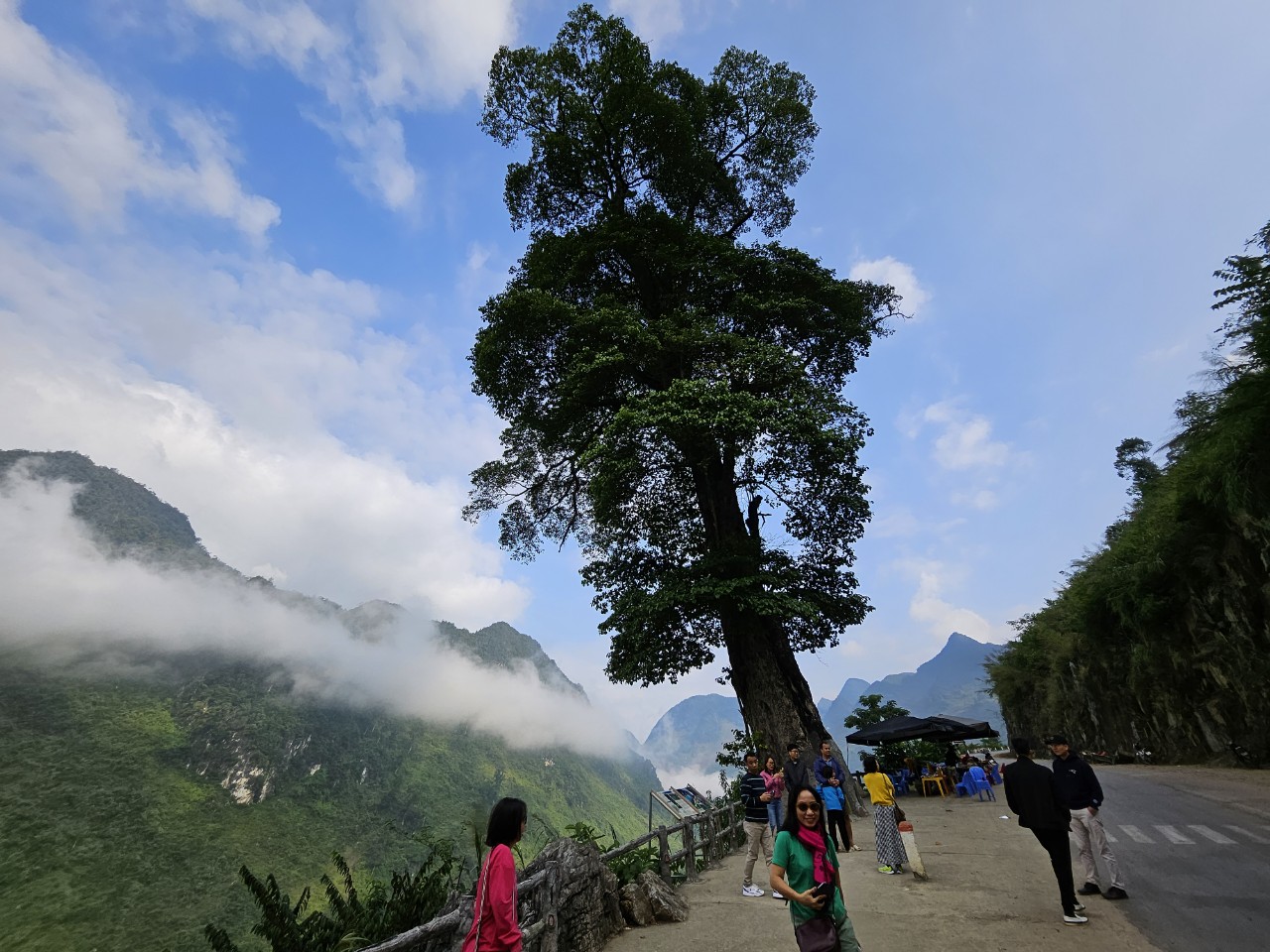 Day 2: Quan Ba ​​- Yen Minh – Lung Cu (130 km) – Dong Van (20 km)
The journey is full of excitement, taking visitors from one surprise to another. After leaving the homestay, we stopped at Trang Kim to eat chicken pho with special handmade pho noodles and the first view point was at the lonely tree.
The Lonely Tree is a tree about 40m high, more than 250 years old, with a trunk wide enough to hug 5 people, lying alone on Highway 4C, below is a deep abyss where the roofs of people in Can Ty commune, district are located. Quan Ba. From the lonely tree, visitors can see part of the Dong Van Stone Plateau…
The car takes tourists to Dong Van, but before visiting Sung La valley and Meo King's mansion, you must pass Tham Ma slope. The slope (actually a pass) with winding turns. From the top of the slope, where tourists stop to admire the scenery and take photos, they can hear the heart-warming melodies of H'Mong flutes from children. This place also has many children carrying flowers, holding the most colorful bouquets, wearing the most beautiful clothes to take photos with tourists. In addition, guests can also buy sweet pineapples to supplement nutrients for the next long journey.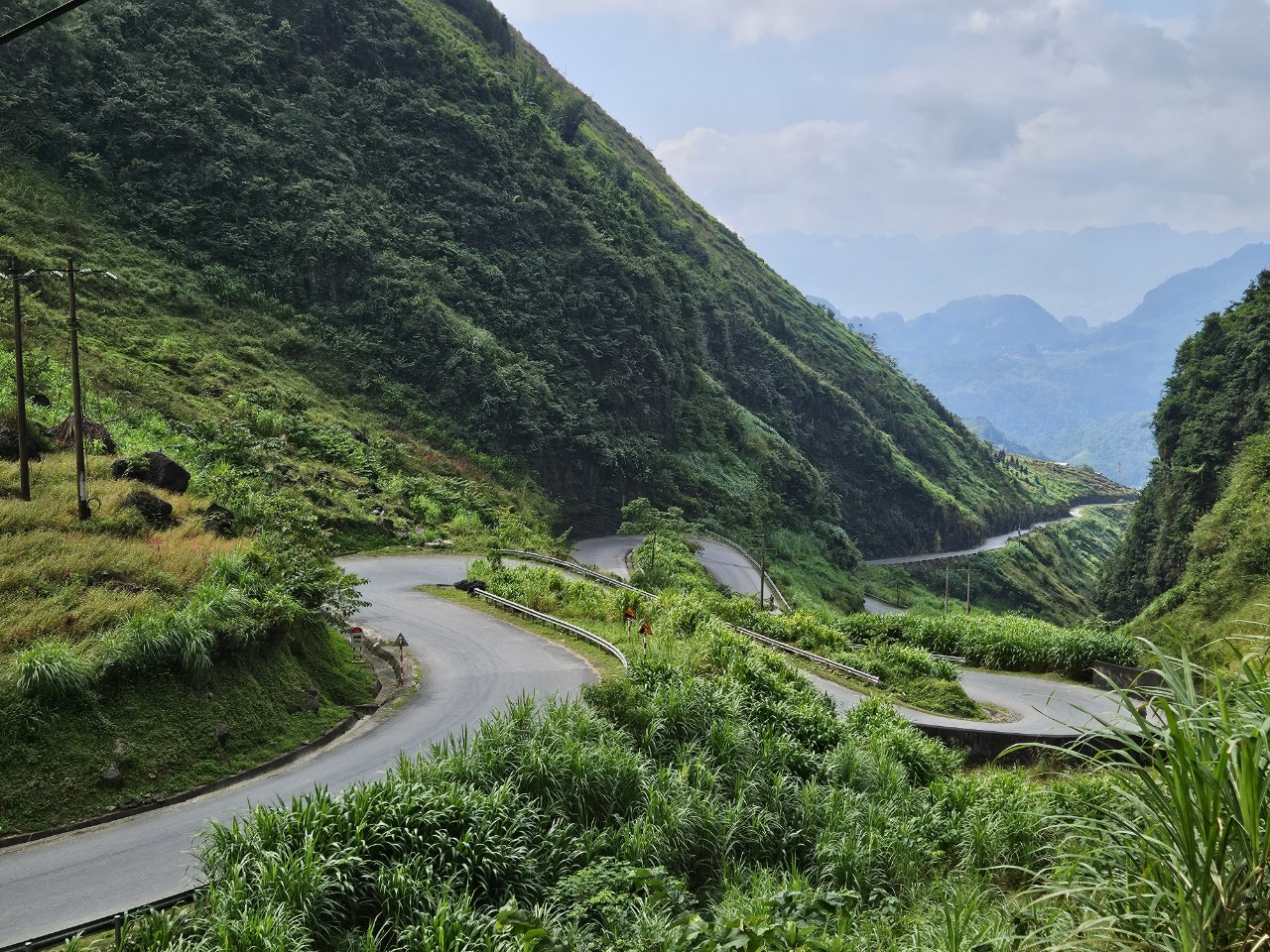 Sung La Valley appears enchanting with old walled houses, including Pao's famous house. Here, visitors can take pictures with H'Mong children, visit Pao's house, see the buckwheat flower fields in their most beautiful season and enjoy strange highland cakes…
Sa Phin "Moon Rock Beach" is a place that takes visitors into another world, the world of rocks. Cold and dry climate conditions at altitudes above 1,500m with little rainfall and high evaporation; The difference between day and night temperatures is very large, especially in summer; Frost, heavy frost in winter… are factors that accelerate the physical (mechanical) weathering process, causing limestone to quickly crack and collapse, forming unique valleys and deserts. The rocky desert in the lunar terrain can only be found in the Dong Van Stone Plateau. However, the rocky desert is still bright with the colors of corn and buckwheat grown by the people who work hard…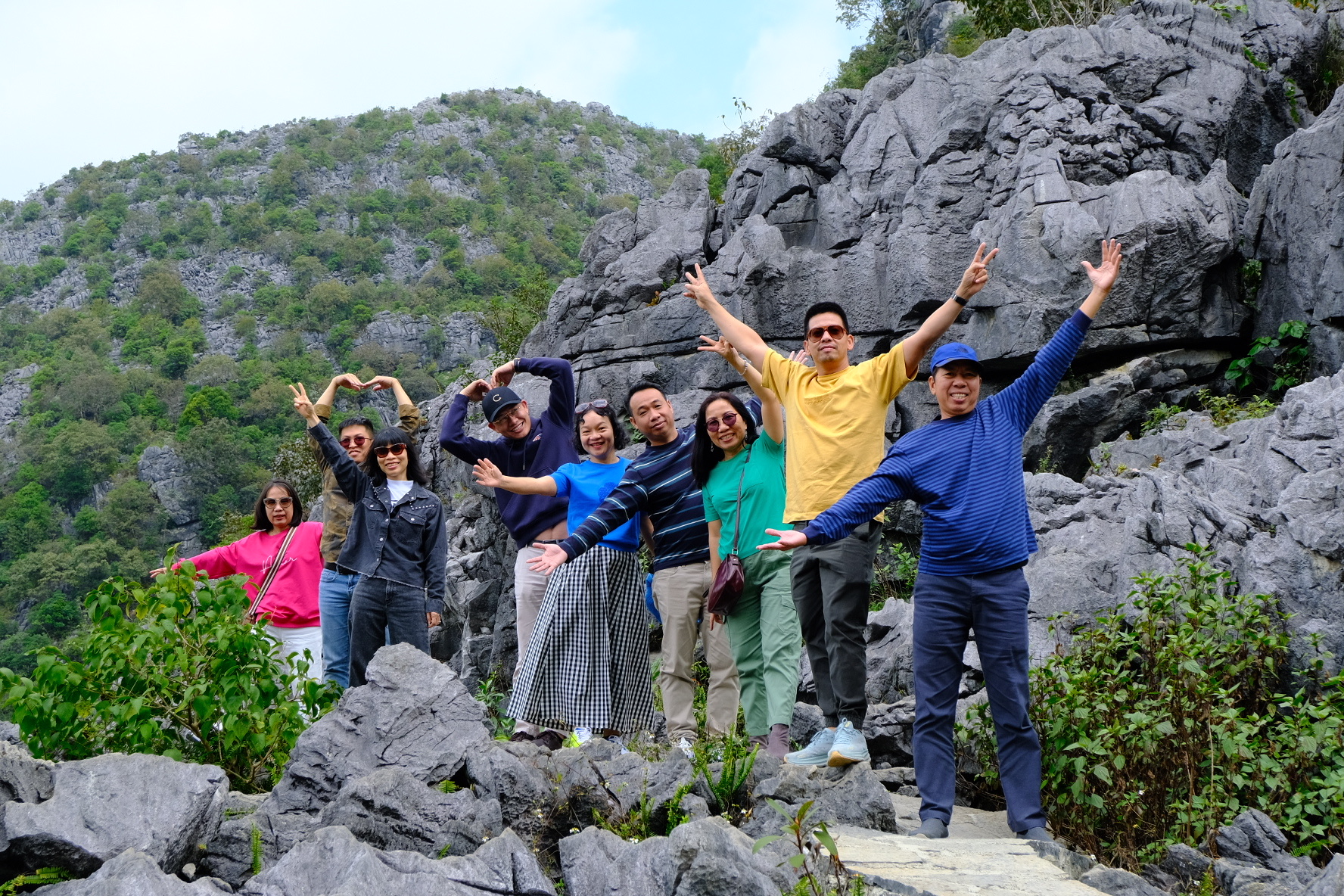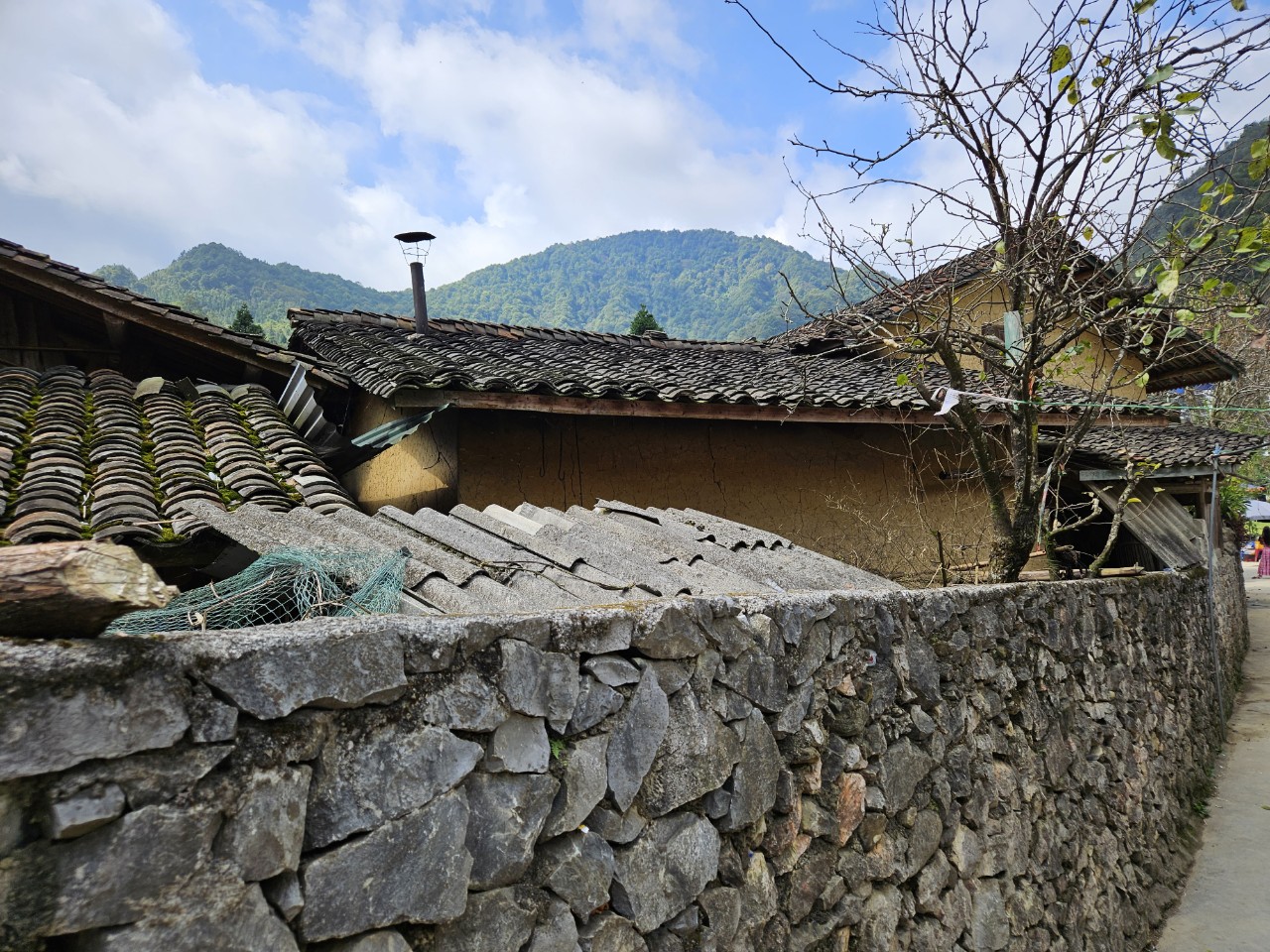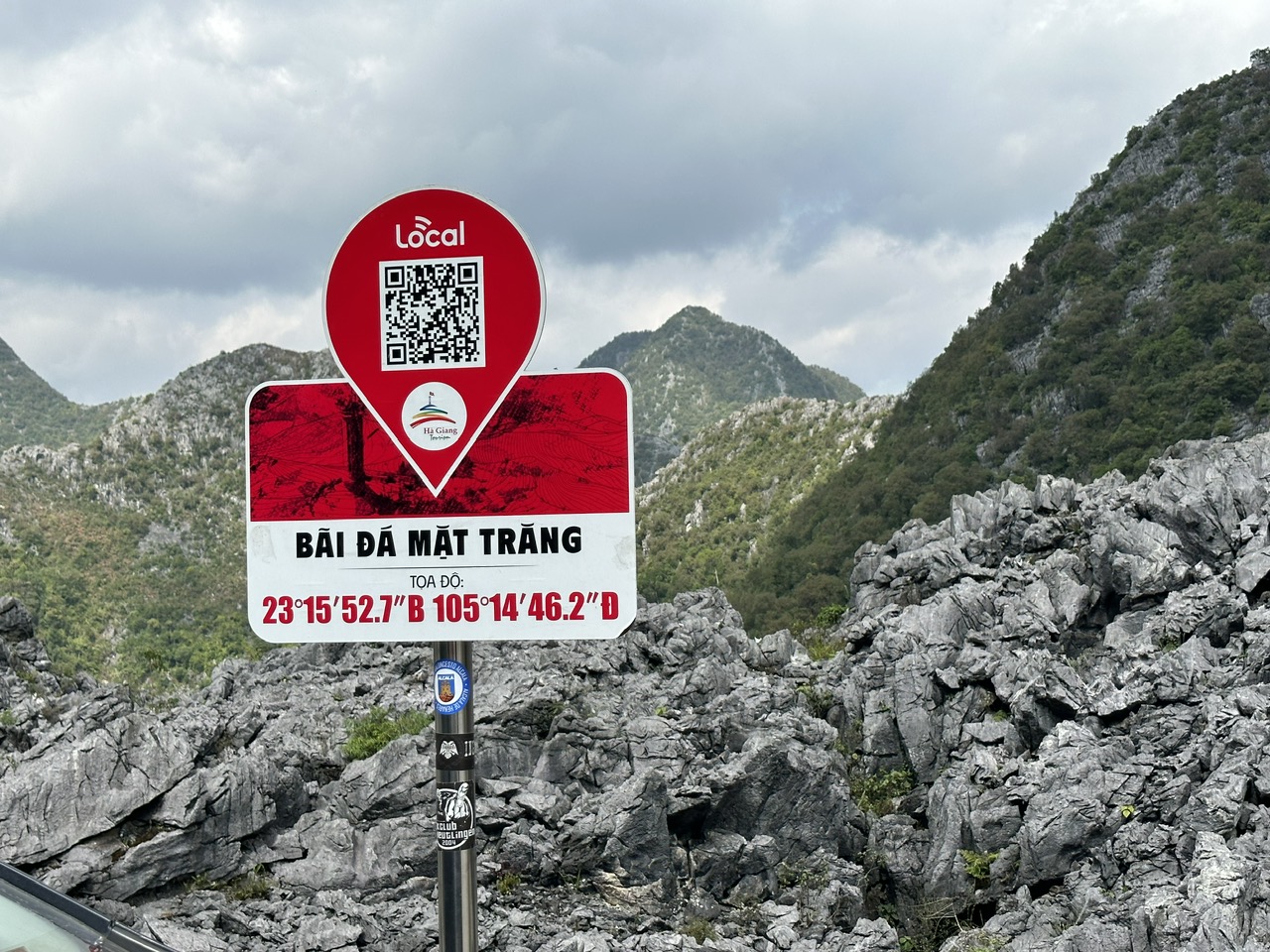 On the Dong Van rocky desert
Another destination on the journey is to visit the mansion of the Vuong family, also known as the Meo King in Sa Phin commune, completed in 1903.
The northernmost point of Vietnam today is in Lung Cu commune, Dong Van district, Ha Giang, with the Lung Cu flagpole symbol. From the Vuong mansion, visitors have to go through a steep mountain pass of more than 30 km to get there and then have to turn back to return to Ha Giang. Tourists not only visit Lung Cu Flagpole but can also ride a motorbike to the northernmost landmark of the country.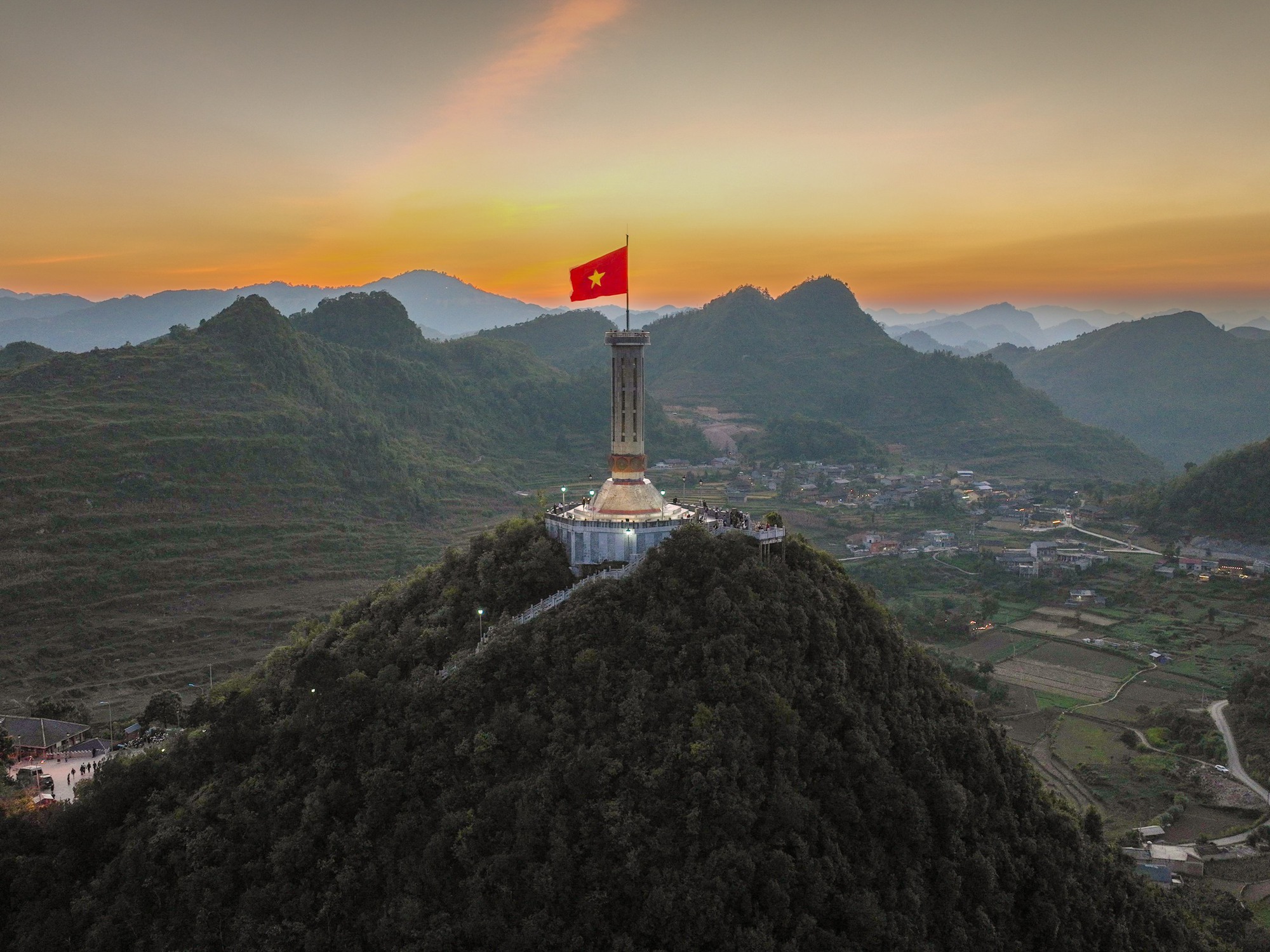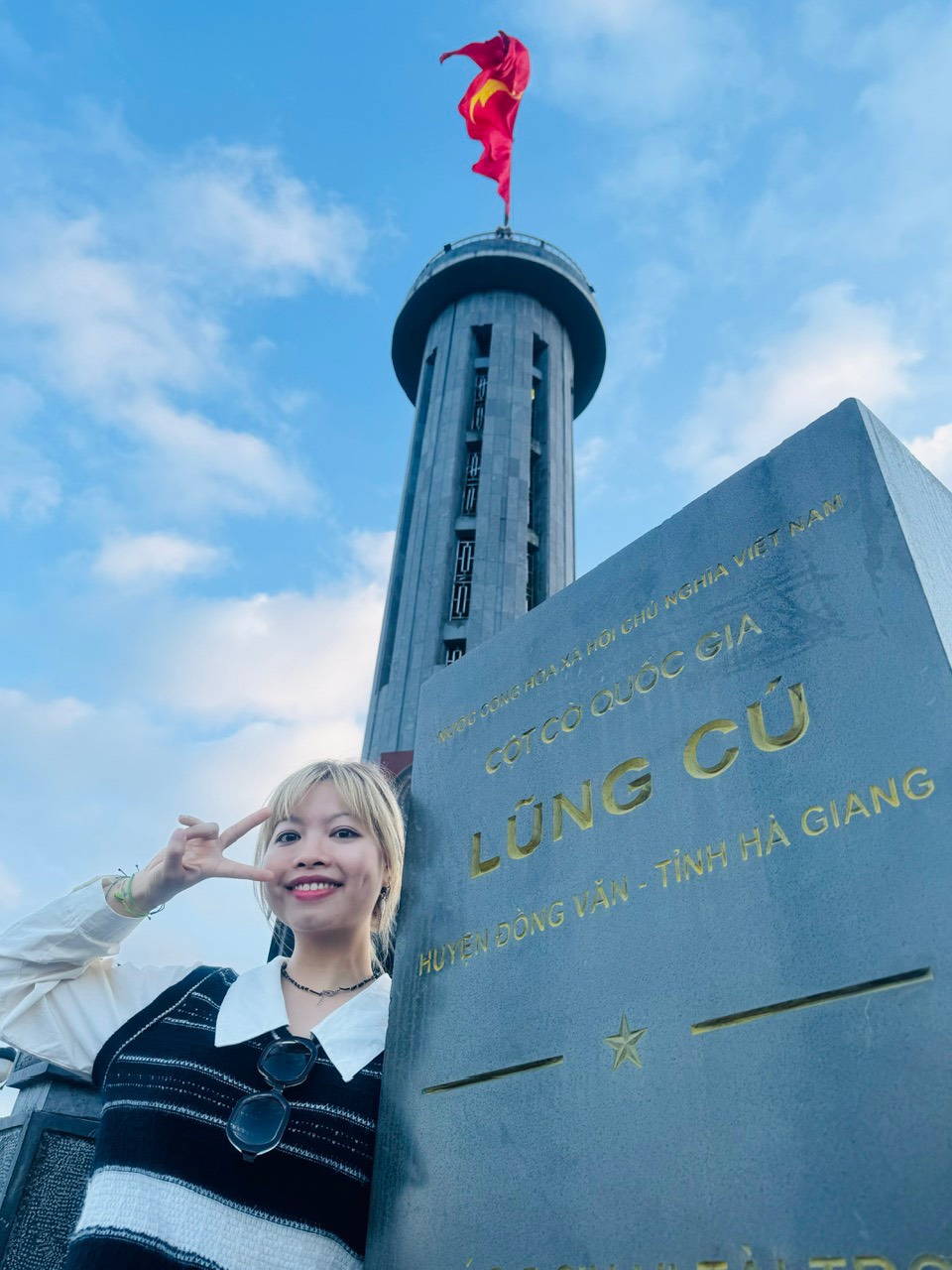 Lung Cu flagpole is built in an octagonal shape, with a height of 33.15m, around the pole is mounted with 8 faces of Dong Son bronze drum, at the foot of the flagpole are 8 relief panels illustrating the historical periods of the country.
INDEPENDENCE – QT
Dong Van welcomes visitors with a unique look. This highland town is as bustling as a small urban area in the lowlands, where shops play blaring music and crowds of people pass by… At night, in the old town, groups of young indigenous people gather to dance. The most modern music next to the red fire. In the morning, visitors can get up early to explore the trading scene at Dong Van market…
Day 3: Dong Van – Meo Vac (nearly 50 km)
Located in the northernmost part of Vietnam, including all four districts of Quan Ba, Yen Minh, Dong Van and Meo Vac on an area of ​​about 2,345 km2, Dong Van Karst Plateau is honored to be recognized by UNESCO as a Global Geopark. Vietnam's first since 2010.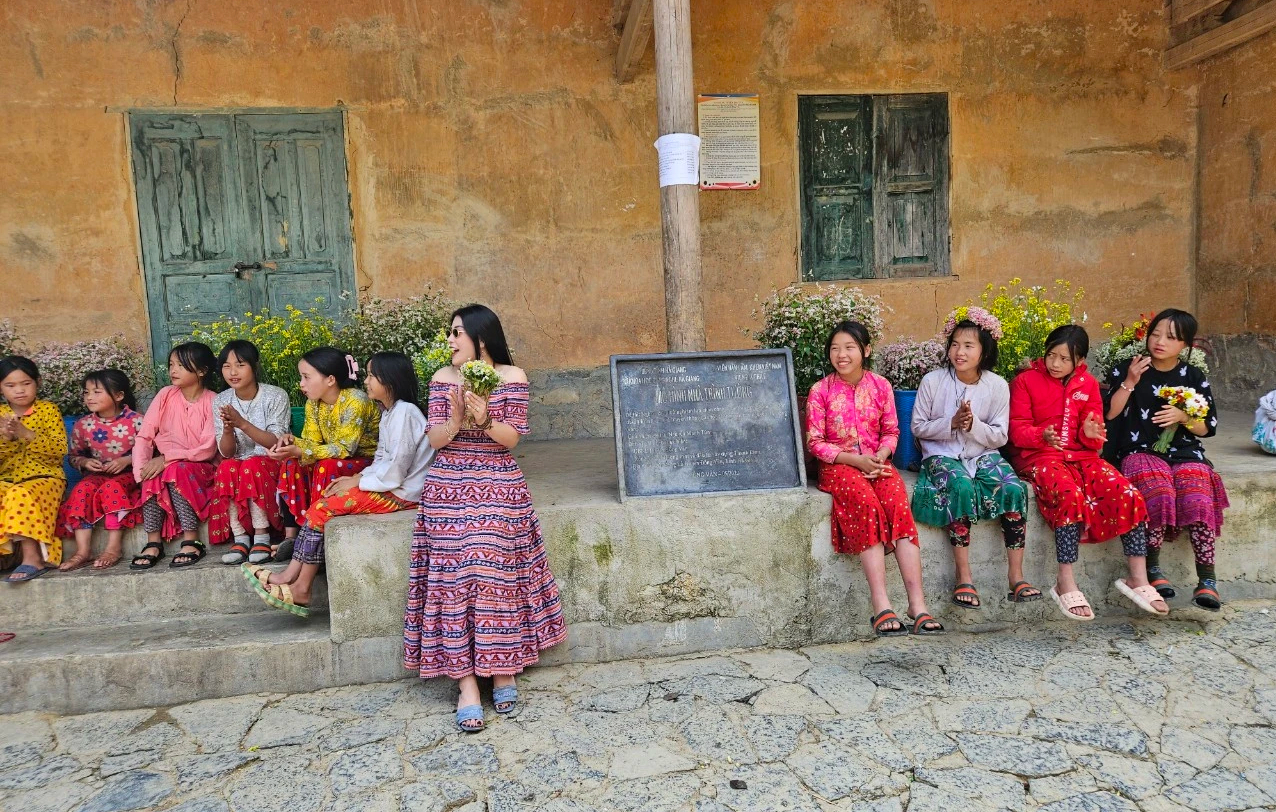 With over 60% of the area being limestone at an average altitude of over 1,000m above sea level, Dong Van Karst Plateau is famous for its deep canyons, steep cliffs, sharp peaks, and forests. rocks – a desert of jagged rocks, craggy roads hidden in the clouds… Famous as a "land of thirst" but the Stone Plateau is home to 17 ethnic minorities such as H'Mong, Dao, Tay, Nung, Giay, La Chi, Lo Lo, Pu Peo…
The stop on this leg is the Youth Volunteers monument on Ma Pi Leng pass, viewing the Nho Que river from the top of the pass and boating on the Nho Que river.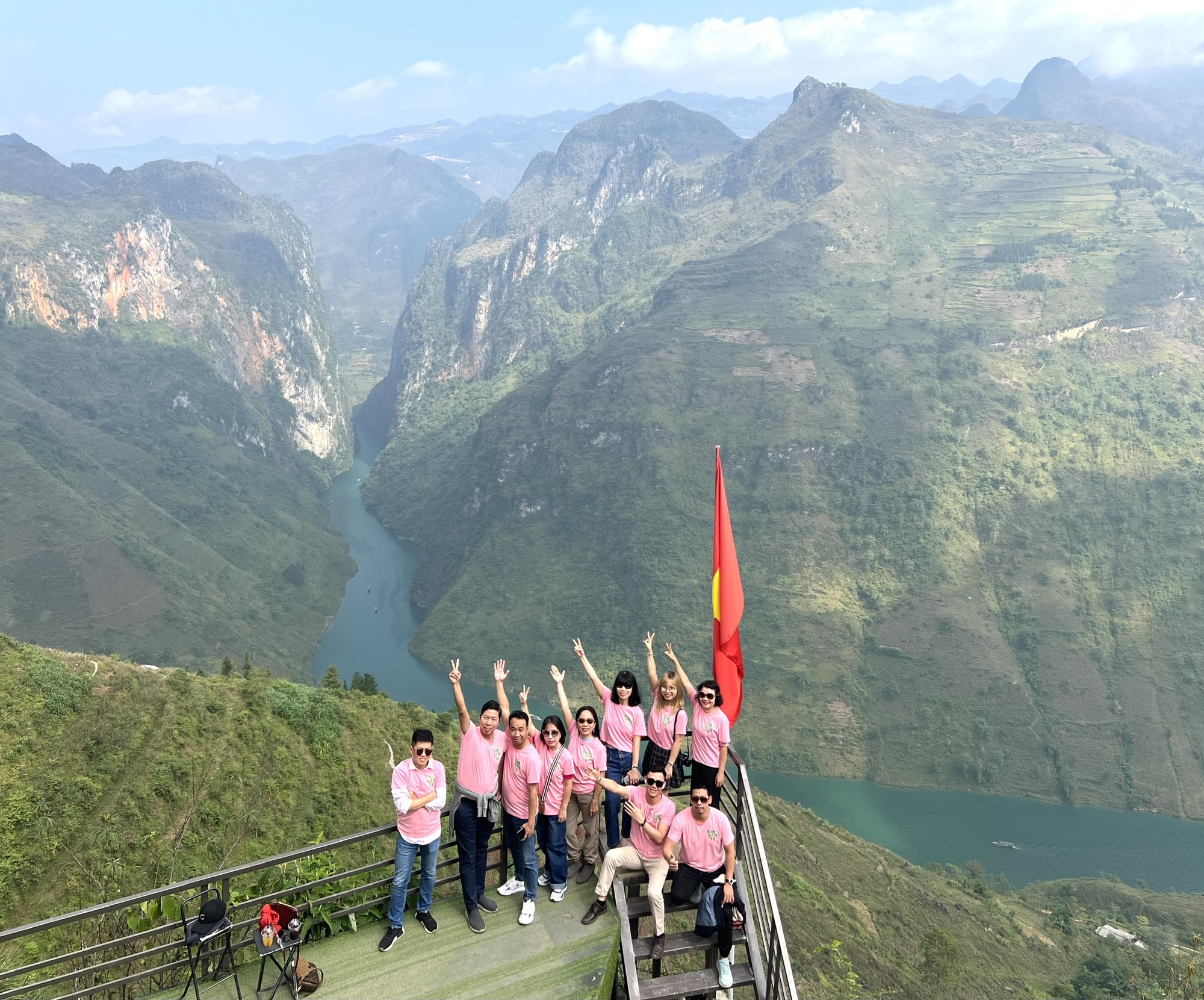 After viewing the Nho Que River, visitors can have lunch at a restaurant on the riverbank and start the long journey back to Ha Giang City. You can choose to stay one night in the capital city of Ha Giang province, explore this place at night to return to Hanoi on the last day.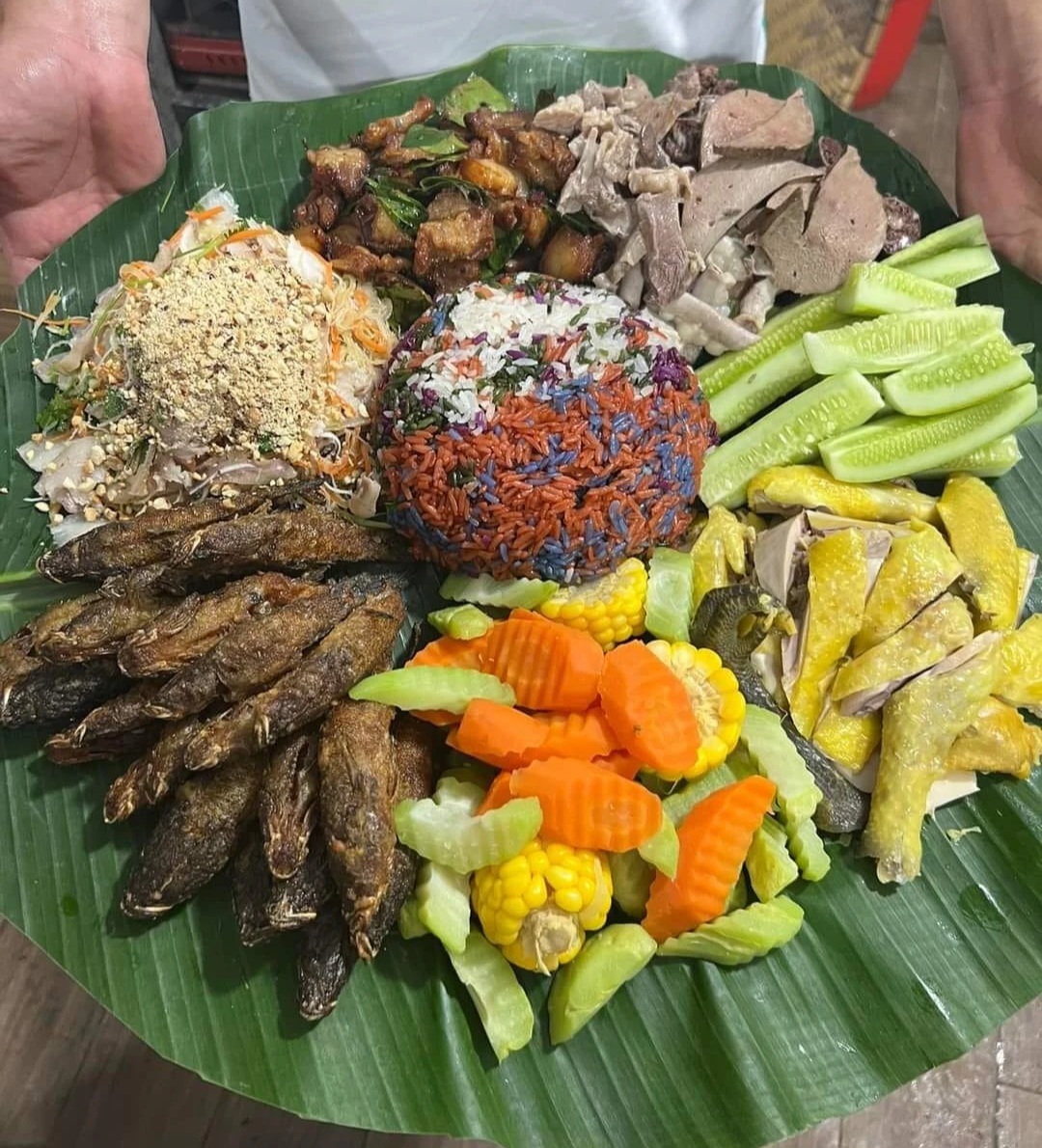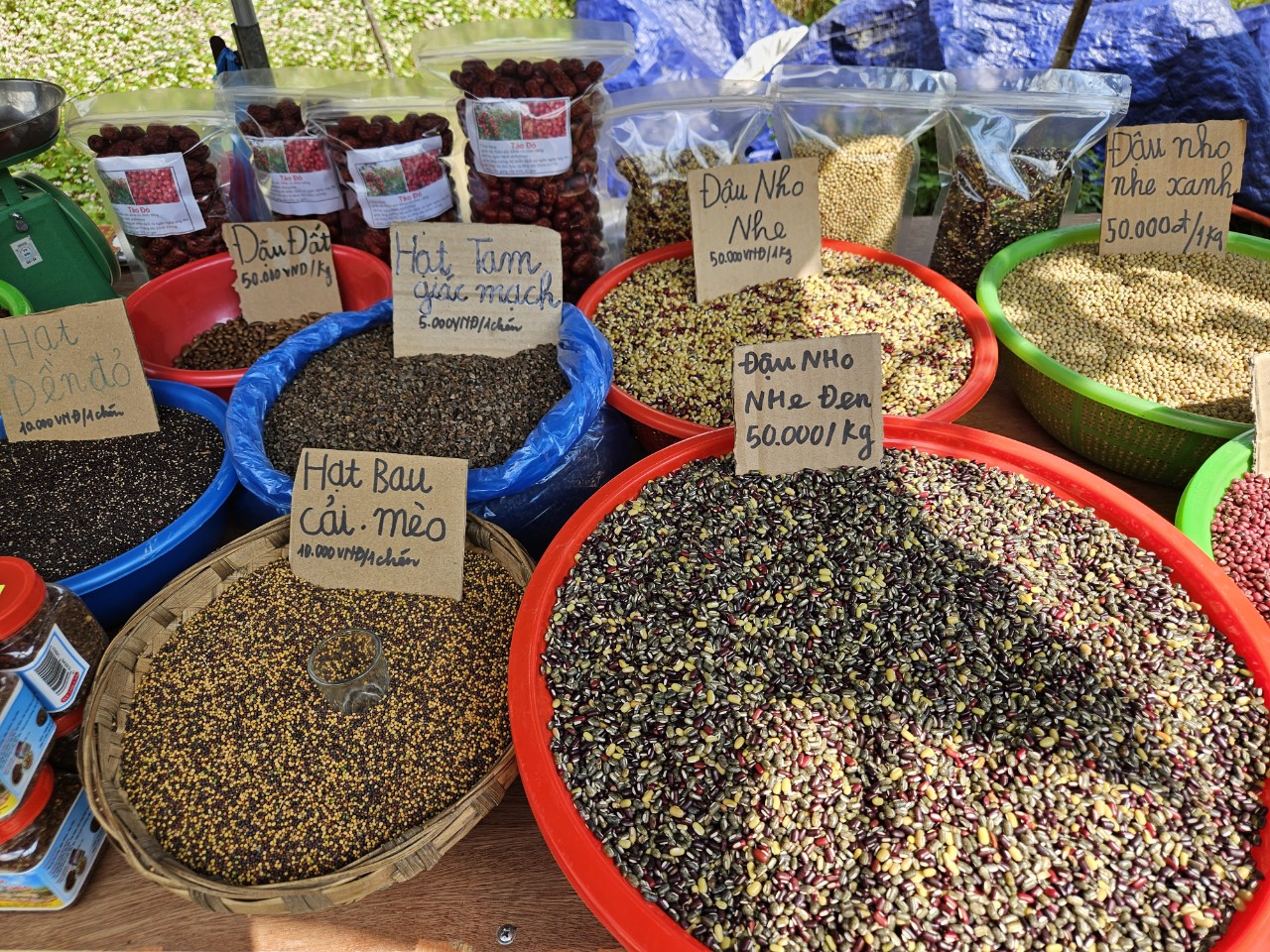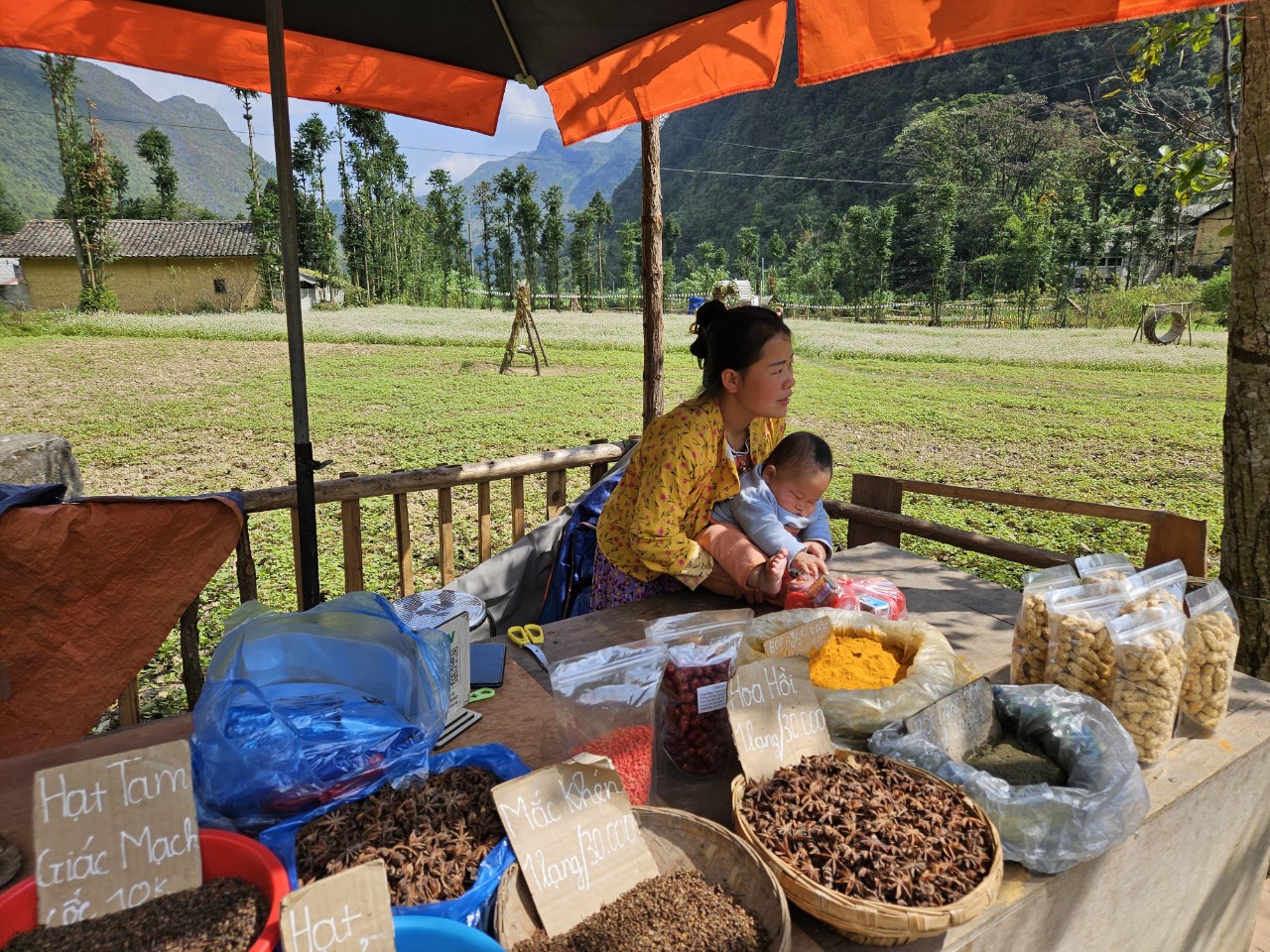 Ha Giang products
Day 4: Ha Giang – Hanoi (270 km)
On the journey, tourists can visit Vi Xuyen Martyrs Cemetery, then have lunch in Tuyen Quang City.
Ha Giang has many products that tourists can bring home as gifts for relatives such as buffalo meat, sausage, mint honey and many types of agricultural products such as sticky rice, black beans, red beans, mustard seeds…
($1=24,000 VND)
Photo,Video: Internet (Vinlove.net)