During a day of exploring Hanoi's food tour, Miss Ky Duyen and supermodel Minh Trieu enjoyed a series of delicious dishes after Tet such as vermicelli, crispy vermicelli, fried spring rolls, Korean barbecue, …
Enjoying the last day of the Tet holiday in Hanoi before returning to Ho Chi Minh City to continue working, Miss Nguyen Cao Ky Duyen and supermodel Minh Trieu took advantage of a day's food tour, visiting some places to enjoy a series of delicious dishes of Vietnam. The capital is in the middle of the cold weather.
In just one day, the queen had the opportunity to enjoy dishes such as bun thang, crispy vermicelli, fried spring rolls, Korean barbecue, … and drink coffee and cocktails. These are both dishes that the two beauties love.
Under the post, many fans also expressed their interest in the "boring" specialties after Tet that Ky Duyen and Minh Trieu enjoyed in Hanoi. Some people also enthusiastically introduced other delicious dishes that the queen should not miss when coming to the capital at the beginning of the year.
Bun thang
At breakfast, Miss Ky Duyen and supermodel Minh Trieu took advantage of the opportunity to warm up with a meal of bun thang at a familiar restaurant. Popular noodle dishes are served according to restaurant standards, decorated with beautiful ingredients.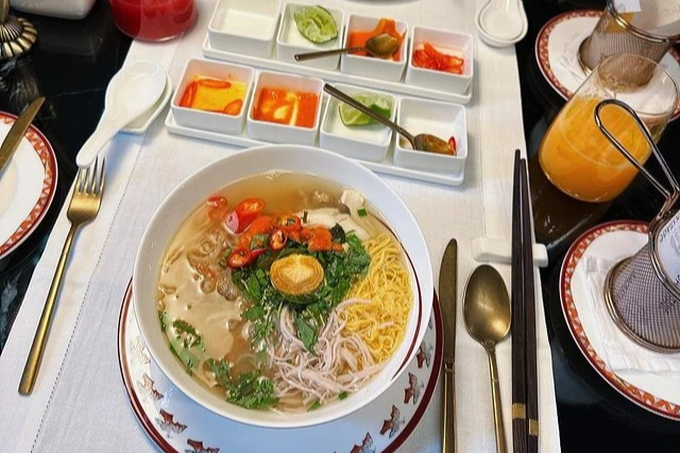 Bun thang is quite popular in Hanoi, similar to other vermicelli and pho dishes and very suitable to enjoy in cold weather days.
A bowl of hot bun thang, full of ingredients such as shredded chicken, fried eggs and sliced ​​pork rolls,… along with a sweet broth, a little chili sauce and lemon is also enough to stimulate the taste buds of all diners.
Au Trieu fermented pork roll
In the late afternoon, the couple went to Au Trieu Street, enjoyed famous snacks, loved by many young people when coming here. It's fried spring rolls.
This dish has an attractive aroma, tender meat, moderate acidity. Want to make spring rolls more delicious, people often dip them with spicy chili sauce.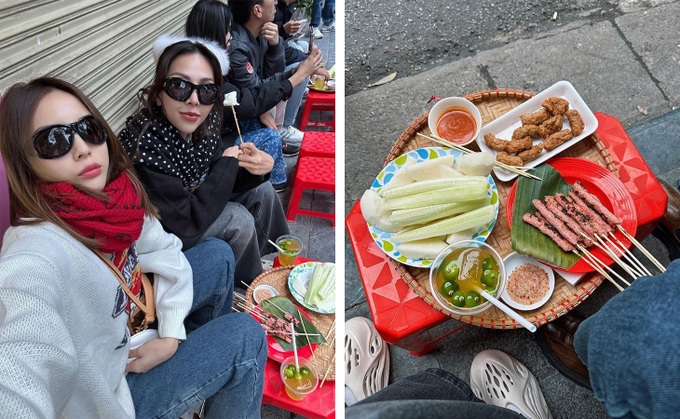 Crispy fried pork bun rieu
After the Tet holiday "flooded" of parties, the table, crispy vermicelli noodles have become an ideal "sickening" dish that is loved by many Hanoi diners. Ky Duyen and Minh Trieu also did not forget to enjoy this delicious dish in a day of discovering the capital's cuisine.
A hot bowl of vermicelli noodles, full of ingredients such as fried beans, rare beef, crispy sprouts, spring rolls, duck eggs. The broth has a sweet, sour taste from crab and tomatoes. Diners can taste a little more shrimp paste, served with crackers and raw vegetables.
The coffee
As a "big fan" of coffee, every time they go to Hanoi, Ky Duyen and Minh Trieu also have to spend time enjoying this famous drink. Even the girl born in 1996 knows quite a few beautiful cafes with delicious drinks in the capital.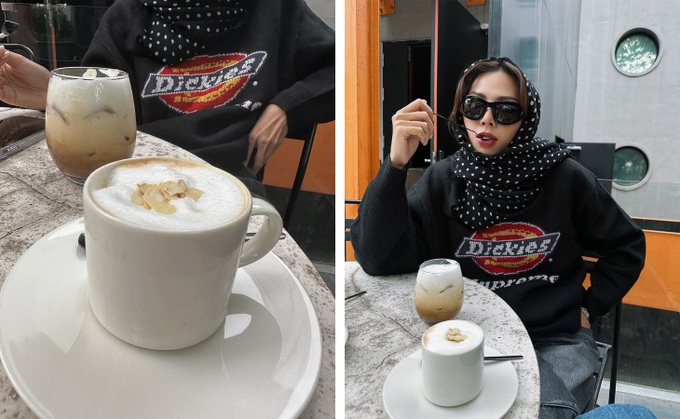 On this day food tour, the couple visited a cafe with a beautifully designed space on Hai Ba Trung Street. This is a complex with a multi-experience model including entertainment, F&B and art. Everything is selected to give visitors new and creative experiences.
Korean barbecue
In the evening, it was cold, the two went to a Korean restaurant to enjoy hot barbecue. They also order Korean style raw beef.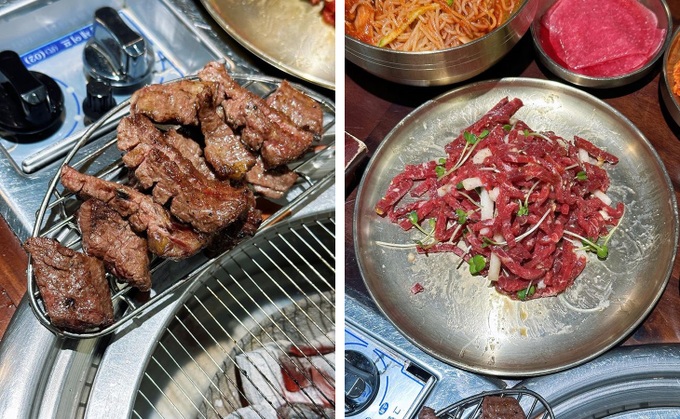 Premium beef still retains its freshness, mixed with a little fat and greasy taste, prepared in combination with raw eggs, few vegetables… This dish is delicious eaten raw or enjoyed with hot rice with seaweed. .
Cocktails
In the evening, Ky Duyen and Minh Trieu enjoy a relaxing time at a bar on Hang Ma Street.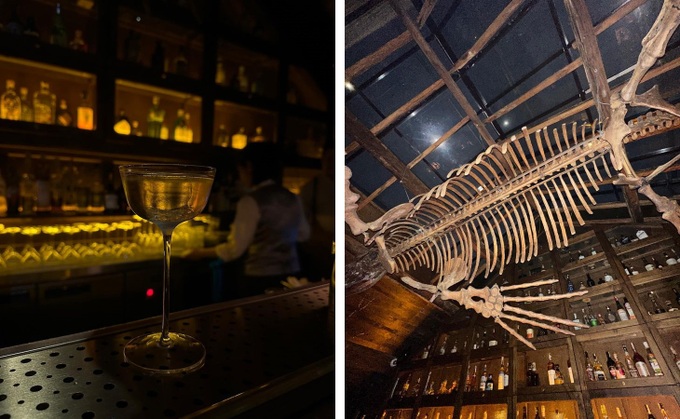 This place has a design inspired by ancient museums in England, bringing a cozy space, suitable for appointments between friends and lovers.
Photo: @kyduyen1311, minhtrieu