On the morning of October 13, the entire Ho Chi Minh City was again covered with a hazy layer of fog, this layer 'wrapped' high-rise buildings, the sky was also cloudy, and the weather was cool.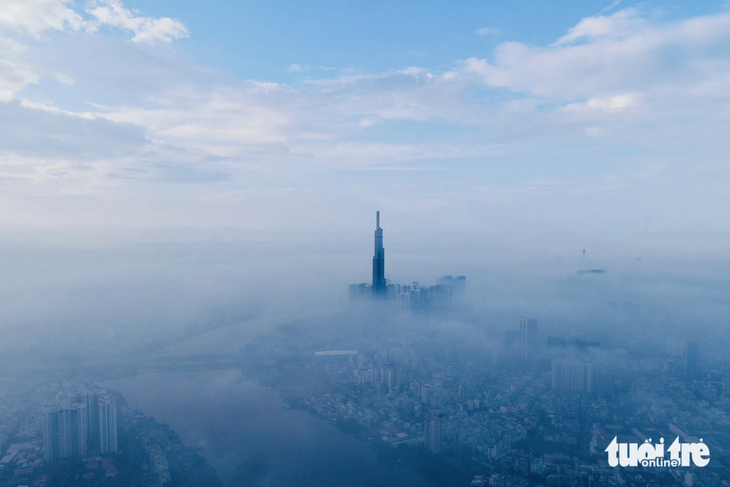 After heavy rain on the afternoon of October 12, air humidity in Ho Chi Minh City was high. Early in the morning, the sky was covered with mist and hazy clouds.
The cause of this phenomenon, in addition to high air humidity, is the wind convergence zone at sea moving and bringing moisture to the mainland. Therefore, in the early morning, the sky is cloudy and the sun is weak, so the city's weather is cool and pleasant.
According to the Southern Regional Hydrometeorological Station, the lowest temperature this morning in Ho Chi Minh City is about 25-26 degrees Celsius. This temperature level remains from night until about 7am.
Starting from this time to the end of the year, this phenomenon will appear more often when cold air operates steadily.
Explaining why it is called blindness and not fog, Mr. Le Dinh Quyet – head of the forecasting department of the Southern Regional Hydrometeorological Station – said that the physical nature of these two phenomena is the same.
"Flinty and fog are only different in terms of vision. Fog will have more limited vision, and when moving, you will feel steam clinging to your body. Blindness is not harmful to your health, but you need to pay attention to your vision. Especially Especially on high-speed highways," Mr. Quyet said.
Regarding the weather in the South today and in the coming days, Mr. Quyet said it will change from cloudy to cloudy with intermittent sunny days.
In the afternoon, widespread rain occurred, with some places having moderate rain, heavy rain and scattered thunderstorms. The rainy season is concentrated in the afternoon, evening and night. From October 19, the rain gradually decreased.
Some images of fog and hazy clouds in Ho Chi Minh City this morning: