The garden is located on the hill behind the house in Hoa Thach commune, Quoc Oai district of Ms. Thu Thuy with more than 10,000 inflorescences.
Ms. Ngo Thu Thuy (33 years old) is a person who has grafted many infrared varieties to sell in the market. Thuy has been hooked on infrared for 8 years, also from working on a rose garden project for companies. So she has the experience to make a huge rose garden, but it is not rambling. A few years ago, she came up with the idea of ​​​​making a garden of her own.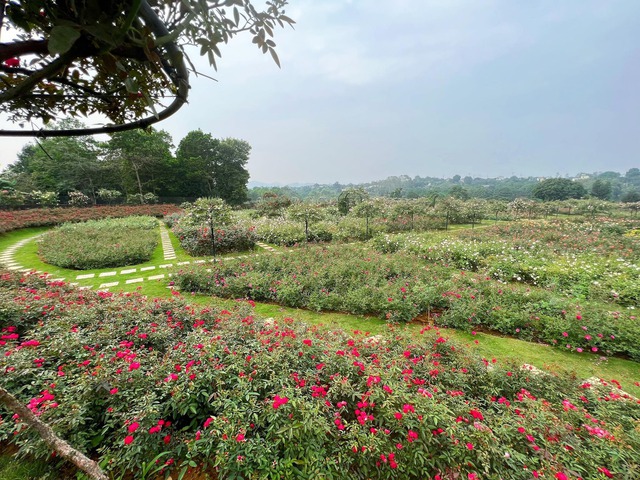 The 6,000 square meters rose garden of Hanoi women.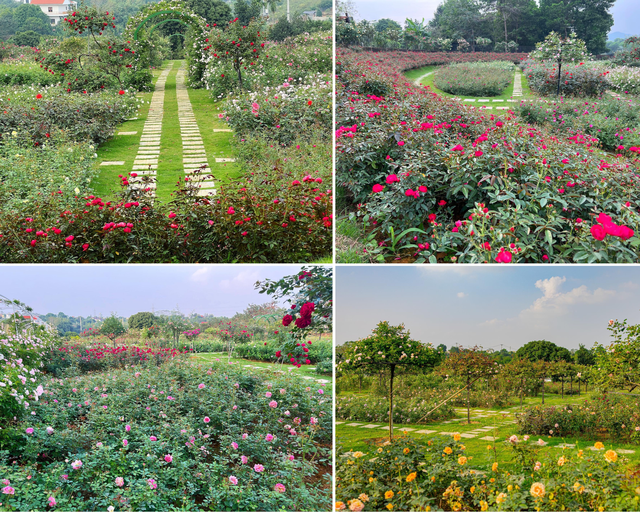 The rose garden is located on the hill behind the house, which is the place to show off more than 300 infrared varieties, grafted by Thu Thuy and her husband or collected in gardeners throughout Hanoi. It is known that Thuy's husband is also from the famous Me Linh flower village.
Ms. Thu Thuy shared: " The garden is 10,000m2 wide, of which 6,000m2 is set aside for me to plant a rose garden with more than 10,000 rose plants of 300 different varieties. This garden is located in Hoa Phu village, Hoa Thach commune of Vietnam. Quoc Oai district This is a suburban district of Hanoi.
At first, I did gardening mainly to satisfy my passion. Later, the area was larger and when posting to groups received positive feedback, so it was very exciting. I want people to experience first-hand the infrared varieties from all over the world grown in Vietnam. And want to prove to everyone that the roses that are difficult to care for, difficult to please only grow in Europe or Da Lat, Sa Pa … can still be grown in Hanoi ".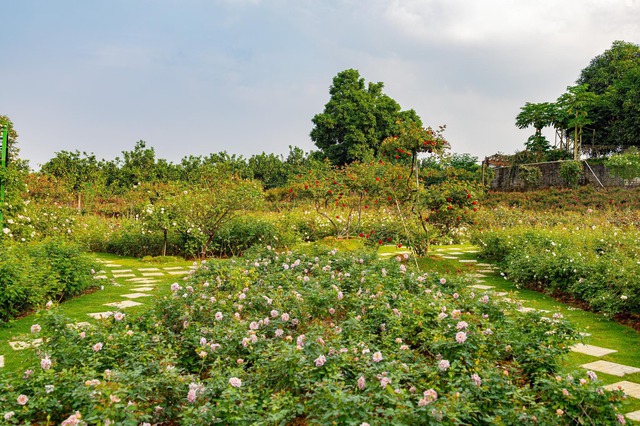 The garden is neatly laid out by Ms. Thuy, with a clean path.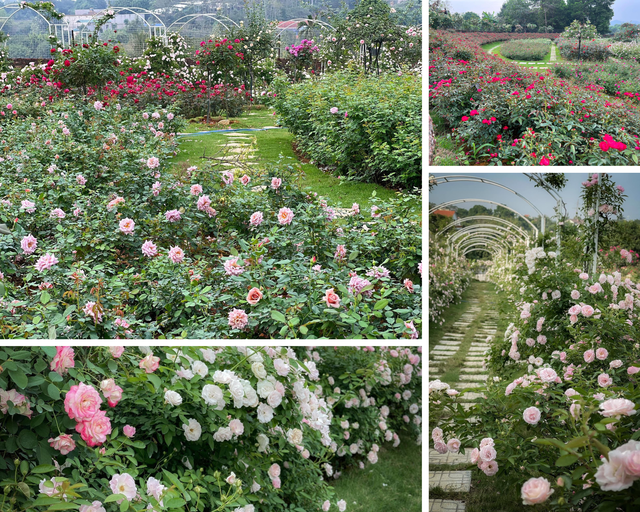 The garden has more than 10,000 rose plants of 300 different varieties.
Thu Thuy's family also has a house in the inner city of Hanoi. On weekends or on free days, she and her family will spend time coming to this flower garden to rest and take care.
The garden was previously owned by someone else who used the land to grow pomelos. The soil is therefore quite arid and rocky. To renovate persimmon cultivation, Ms. Thu Thuy has to add a lot of chicken manure, ash, rice husk… to make the soil more porous. Along the paths, Ms. Thuy planted grass and paved stones to create a landscape.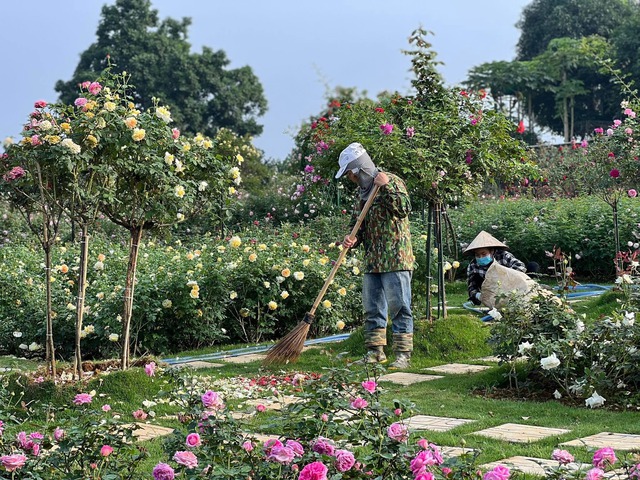 Thu Thuy hires more workers to help her take care of the garden every day.
After 4 months, the bare hill has turned into a flower hill. This place gathers more than 10,000 infrared plants. Flower varieties that seem to be grown only in cold areas such as pink Kate fluttering wings, Darby like a sweet candy flower in autumn, Sheherazad with strong fragrant wings, Golden, Blue sky, Blue bajou… reaching high, strong tops, blooming show the Beauti.
Each type of flower planted by Ms. Thu Thuy gathers in long or square strips, spreading, forming vivid color carpets in the overall large garden. On both sides of the garden are climbing roses. Thuy invested hundreds of iron arches for flowers to climb.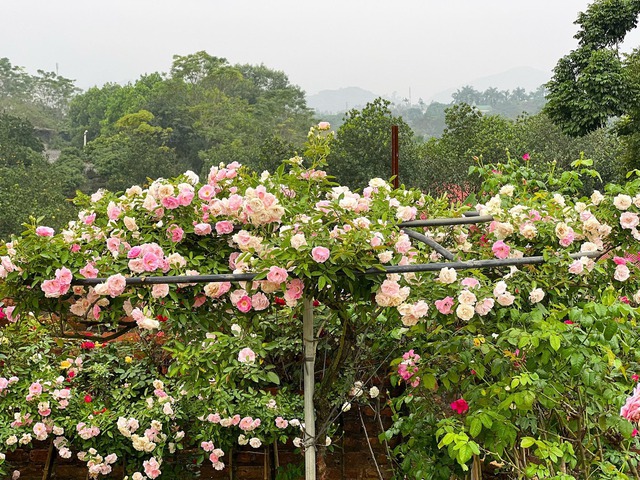 Thuy is not afraid to invest in more arches so that the flowers can climb comfortably.
To have a well-organized garden like today, Ms. Thu Thuy had to exchange a lot of sweat, effort and money. "In the beginning, I didn't know how to choose infrared varieties suitable for Hanoi's four-season weather, the plants were diseased and died a lot ," she said.
After a period of time building her own flower garden, Ms. Thu Thuy realized that creating a rose garden as brilliant as the West sky is not unrealistic, if you know how to choose the right variety, take care of it properly, in the right season and at the right time. " The important thing is that love and passion always come first. Effort and results will follow ," added Ms. Thuy.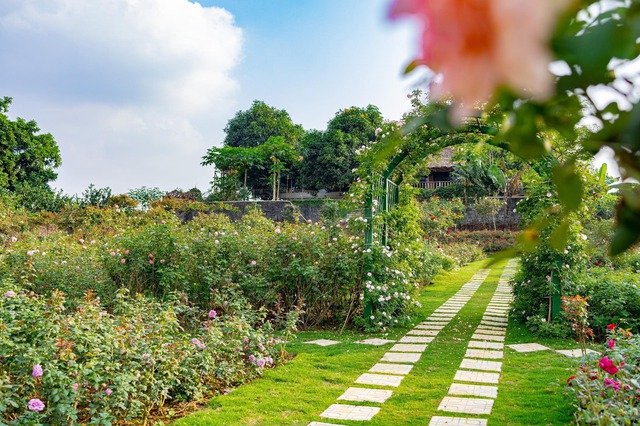 The green garden is full of colors and scents of Ms. Thu Thuy.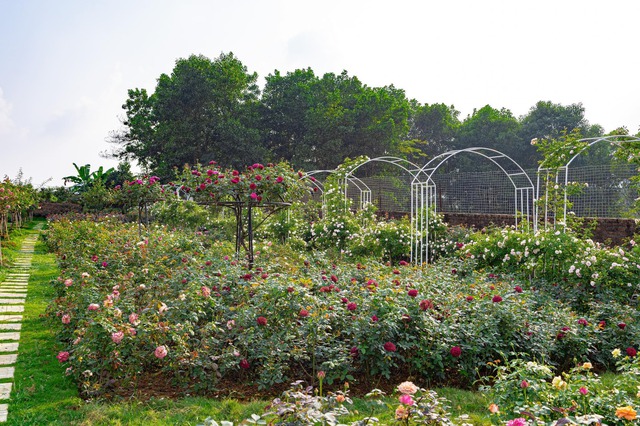 The different rose beds are evenly distributed.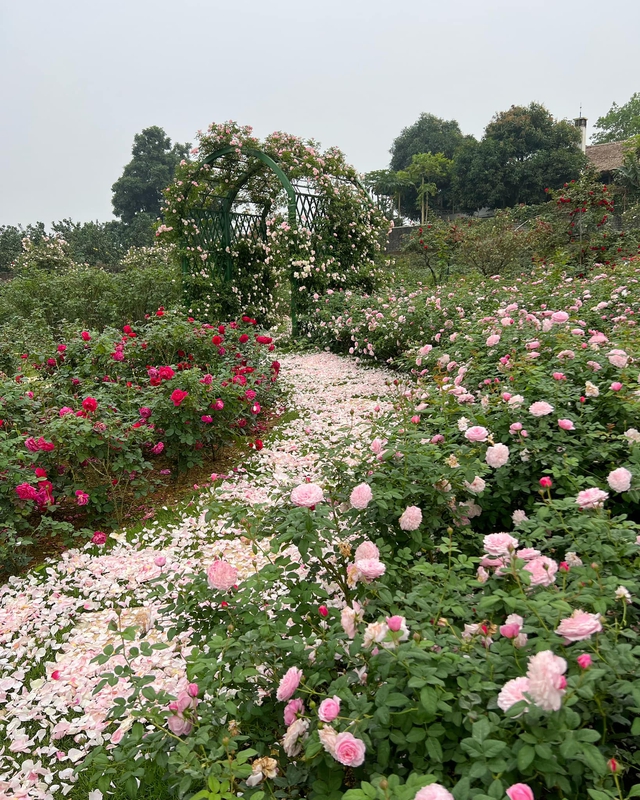 The scene is like in a fairy tale.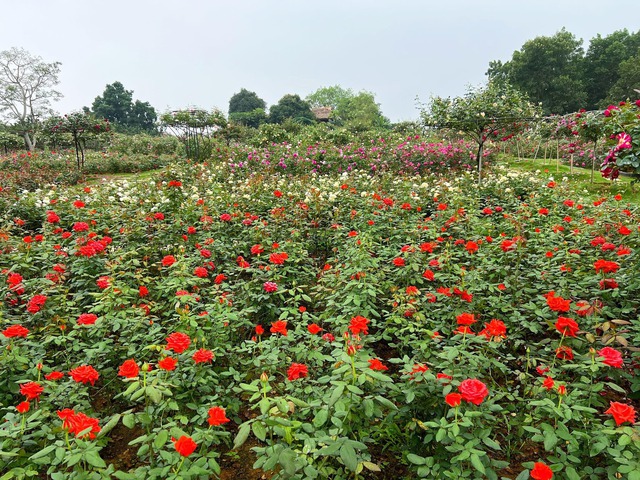 Various varieties of roses in the garden.
Thuy also revealed some more experiences in choosing and taking care of roses:
Roses belong to a temperate climate, especially the infrared line, when returning to Vietnam, many varieties are very fastidious. Therefore, the cultivation of persimmon requires selection of varieties.
Especially, roses with many diseases, with organically cared for women, need to spray preparations, not disease must also spray to prevent. Periodically every 10 days.
Every time the flower runs out, everyone needs to add nutrients to the plant.
If winter in Europe is the winter break for roses, in Vietnam it is summer.
Infrared varieties that are very suitable for growing in Vietnam can be named jubilee celebration, kellogg, monica, abraham darby, constance, summer snow, flamingo, friendship of stranger and ancient persimmons such as co Hue, peach persimmon, white tuft.. .