Each trip to exploit seaweed, a clean vegetable of the sea, coastal fishermen in Nui Thanh district, Quang Nam can collect 2-3 quintals of seaweed, earning millions.
In the last days of May, under the blazing sun, fishermen in Thuan An fishing village (Tam Hai island commune, Nui Thanh district, Quang Nam) are busy exploiting seaweed.
The seaweed season usually lasts 1-2 months, bringing fishermen a significant source of income.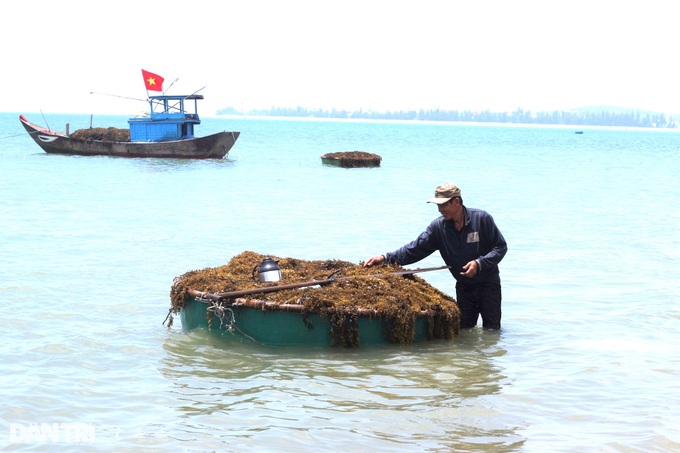 Fisherman Tran Van Cuong (48 years old, Tam Hai commune) said that the harvesting season of apricots is from May to July. If it is not exploited during this period, the seaweed will die off by itself.
According to Mr. Cuong, to pick apricots, the necessary tools are an oxygen mask, a blade, a small boat and a basket of bottles… When sailing to the sea about 1km from the shore, he dives under the sea about 3-5m deep to pick seaweed. The seaweed floated to the surface, his wife used a basket of bottles to pick up the seaweed and then loaded it onto the boat.
"Every day, my wife and I exploit and dry about 2 quintals of seaweed, selling 8,000 VND/kg, earning nearly 2 million VND. We both exploit and conserve to have a source of profit for the following seasons, not take advantage of it. destroy", Mr. Cuong shared.
Under the scorching sun of a summer noon, Mr. Nguyen Van Tap (57 years old, Tam Hai commune) quickly transported seaweed to the shore for his wife to dry. Mr. Tap said that each seaweed mining trip lasts several hours, usually from 7am to 11am daily.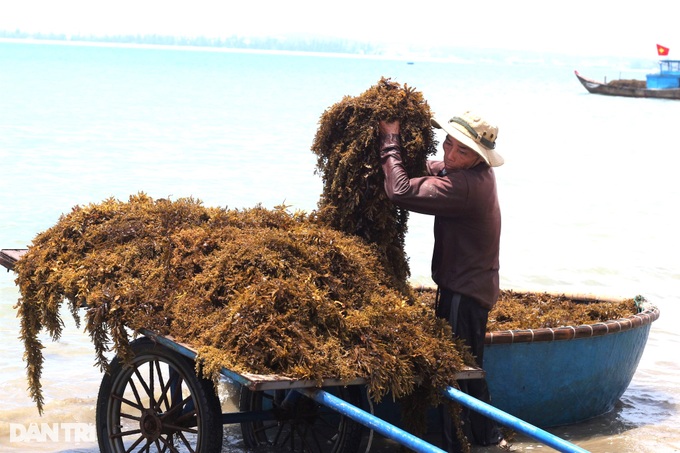 Mining apricots is very hard, to achieve high yields, divers must have endurance. The scuba diving is usually done by men. Women pick up the seaweed and dry it. The elderly and children of the fishing village also have extra income by collecting seaweed near the shore and helping to dry the seaweed.
"Every time I go scuba diving to pick seaweed, I earn from VND 700,000 to VND 1 million. Even though it's hard, my income is quite good to help my family live. Picking seaweed is also less risky than going to the sea to catch fish. offshore," said Mr. Tap.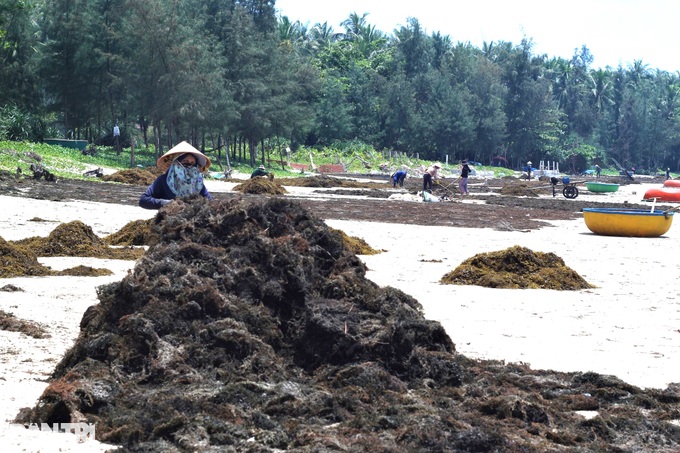 Ms. Ho Thi Thuong – Vice Chairman of Tam Hai island commune – said that people working as apricots are mainly concentrated in Thuan An village with nearly 100 households. In addition to Tam Hai commune, people in Tam Quang commune also come to Tam Hai sea to dive and pick apricots. Thanks to seaweed, coastal residents have a decent income to cover their lives.
According to Ms. Thuong, in the past, seaweed resources were abundant, but in recent years, they have declined sharply. If in the past people could exploit thousands of tons per year, in the past year, the output has decreased by nearly half.
To conserve seaweed, the commune government informs the people about the regulations on seaweed harvesting before each crop. When harvesting apricots, people must leave at least 20cm long stalks of seaweed and make sure there is a canopy for the seaweed to maintain life and grow and develop when spring comes. People also need to keep 25% of the seaweed area in the exploitation area so that seafood and coral species can live.
"It's very encouraging that people maintain a sense of protecting seaweed, organize harvesting in the right season and time. This not only helps coastal residents get an annual income, but also creates an environment . favorable environment for all kinds of seafood to live and reproduce," said the leader of Tam Hai island commune