The price of peeled green mangosteen can be up to 500,000 VND/kg. Ten times more expensive than ripe mangosteen, but the shops still can't sell it in time, thanks to the "hot" mangosteen salad.($1=24,000 VND)
Every day sells tons of green mangosteen
Less than a month, Ms. Thu Ha (owner of a fruit shop in Thu Duc City, Ho Chi Minh City) has sold dozens of tons of green mangosteen (young, unripe fruit). Ms. Ha said that the trend of making mangosteen salad "killed" is becoming popular on social networks, helping her shop to sell goods without time to rest.
The price of unpeeled green mangosteen is 85,000 VND/kg, while the peeled version costs up to 500,000 VND/kg. Every day, her facility has to hire 30-35 workers to peel 500kg to 1 ton of mangosteen.
This is also the number of goods sold each day of Ms. Ha's shop. Customers buying mangosteen mostly come from the southern provinces, especially around Ho Chi Minh City. Not only retail customers, Ms. Ha also gave up termites for wholesalers and restaurants in the area.
Ms. Dieu's shop selling green mangosteen (living in Binh Phuoc province) has also made a fortune in recent days. According to Ms. Dieu, ready-cut green mangosteen, grade 1 can be up to 550,000 VND/kg. Meanwhile, the price of ripe mangosteen is only 45-65,000 VND/kg.
"The price is so high, but the buyers are all "ok", don't be afraid because this dish is 'hot'. Crispy, delicious and novel mangosteen salad is on the throne", Ms. Dieu said.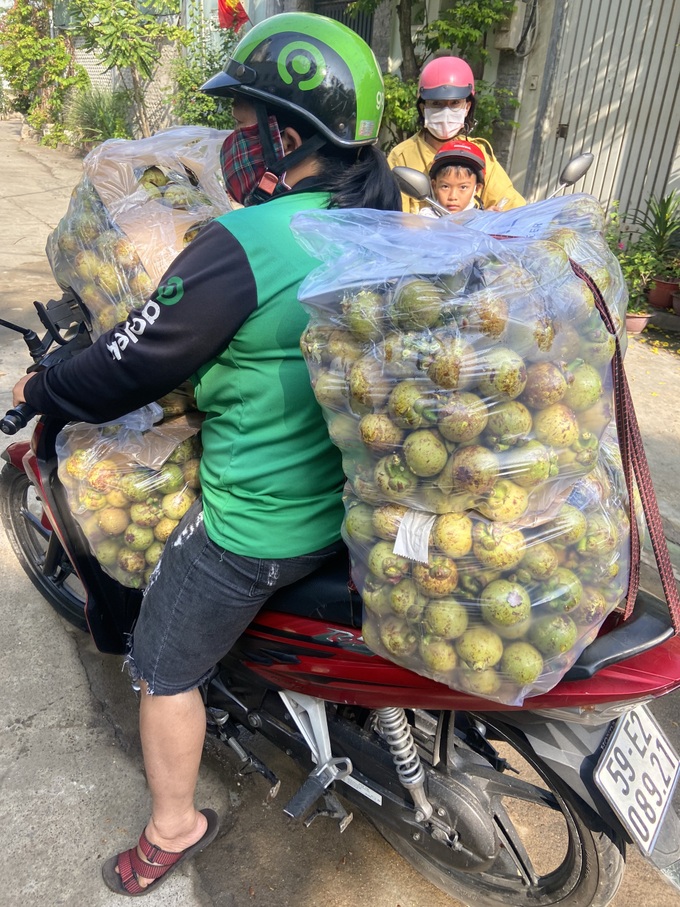 For every 100kg of mangosteen, you need to hire 4 people to peel it every day. Everyone who works has to work hard to cut from 6am to 8pm.
As the owner of a garden specializing in wholesale "killing" mangosteen in Ba Ria – Vung Tau province, Hoai Linh admitted that the price of mangosteen at this time is higher than usual. The reason is that at the beginning of the season, mangosteen is still rare and cannot be gathered in large quantities to supply it in time. In particular, this year, the trend of eating mangosteen salad is in vogue, small traders buying ready-made mangosteen for sale, making this fruit even more thirsty.
The demand for green mangosteen is currently increasing compared to the same period last year. In just one week, Ms. Linh's garden sold 2 quintals of green mangosteen.
"There are customers who come to order 100kg at a time, sometimes I am afraid that the mangosteen will not be able to produce fruit in time to sell," Linh shared. Before that, Ms. Linh was one of the first to post content introducing how to make green mangosteen for salad on social networks. Ms. Linh said that when in the main season, mangosteen prices will drop a lot.
"I post content about the green mangosteen salad to attract buyers. Many people see that they can eat raw or cooked mangosteen. The new dish makes the mangosteen 'hot' tingly, helping the seller. keep the price," Ms. Linh said.
Sophisticated processing
According to Ms. Ha, mangosteen "killed" is sold at a high price because the peeling process is very hard. More than 30 workers at her facility have to work all day, completely by hand, unable to use any kind of supporting machinery.
During the processing process, the mangosteen must be peeled under running water continuously to remove the pus clinging to the fruit. If you let the pus stick up, the fruit's intestines will be dark, and the taste will be acrid. In order not to get calluses, the parer also had to wear gloves for many hours.
But for every 4kg of green mangosteen, 1kg of intestine is obtained. Sellers must choose quality mangosteen, with white, clear flesh, 7-10 peeled fruits per kilogram.
It is known that quality green mangosteen can be kept for 3-5 days, in low temperature conditions. Therefore, buyers are always advised to keep mangosteen in the refrigerator, when using it, take it out.
Today, green mangosteen is used as a salad, eaten mainly with chicken. This is a traditional dish of the Southeast provinces. The flesh of green mangosteen is mixed with chicken, chili, fish sauce and other vegetables, really addictive at first try.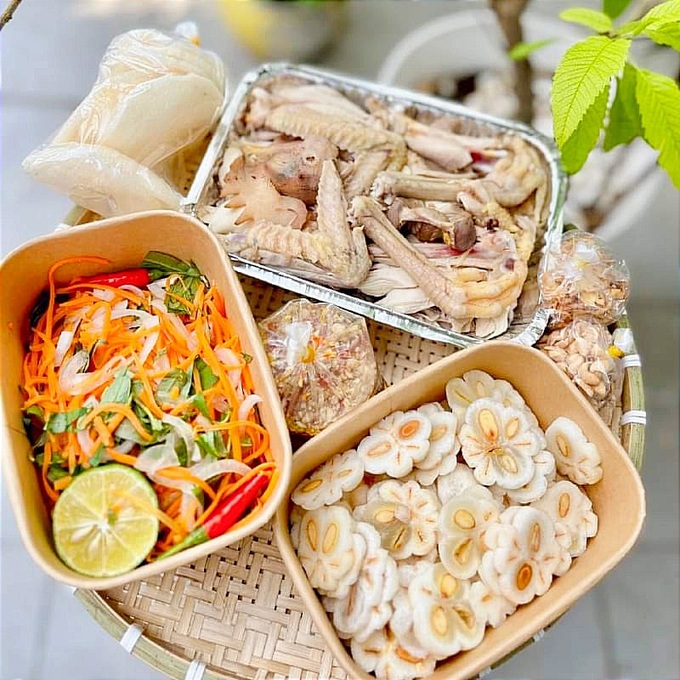 Ms. Truc Tien (living in District 10, Ho Chi Minh City) shared, because she saw that mangosteen salad was "hot" online, she also wanted to try it. At first, because the price of peeled mangosteen was too high, she bought the peeled version herself.
"But when I peeled the first fruit, I was tired. Also, this peeling was not easy because I had to do it under running water continuously. After trying for the first time, I had to buy a ready-made mangosteen for convenience. It is true that this dish is very delicious, the taste of the sweet mangosteen is very strange and crispy, unlike the salads I have eaten," said Tien
Photo: Internet (Vinlove.net)