If you are too familiar with Ba Na Hill, Linh Ung Pagoda, and Cu Lao Indigo… then don't miss the beautiful wild check-in places in Da Nang to live virtually without having to queue.
Although not completely new and known by many "travelers", these places still retain their wild beauty, promising you super shimmering check-in photos.
Hoa Trung Lake is about 20 km from the center of Da Nang City, in the territory of two communes Hoa Ninh and Hoa Lien, Hoa Vang district. This is an artificial lake that provides domestic water for people and irrigates fields and crops. A special attraction is Hoa Trung Lake surrounded by artificial floating islands, as beautiful as a steppe with green grass stretching.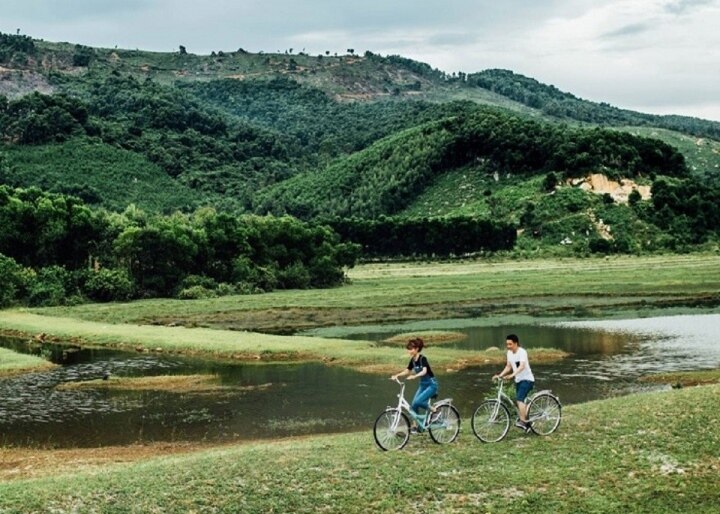 Coming here on summer days, you can participate in the experience of canoeing on the green river. The lake has not been exploited by tourist companies, the boats are made by fish farmers. They use boats to visit fish farming, and move across the lake. Therefore, the lake still retains its original wild beauty, and has not been touristed or commercialized.
Da Nang Black Rock (Obama Rock) If you are looking for a beautiful place to check-in to live a "magical" virtual life, you definitely cannot ignore Obama rock.
This is a pristine rocky beach on the Son Tra peninsula, Da Nang City. The rocky beach has a wild beauty full of charm, a little bit of peace and relaxation. The attraction of "virtual fans" is that there are many black rocks lying close together, looking like a breakwater.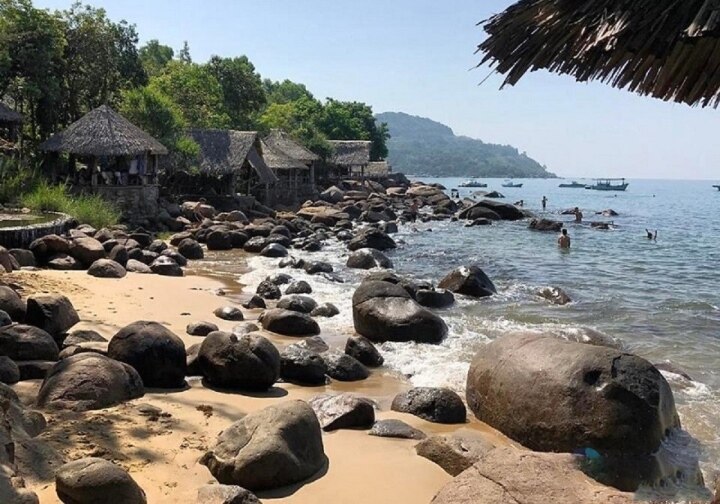 The seawater here is so blue that in some places you can easily see the deep coral reefs or your own reflection in the water. Not only rocks, the sea, Obama rocks also have many beautiful wooden bridges and windmills for you to enjoy the scenery and check-in.
Nam O Reef is only 17km from Da Nang city, Nam O Reef is about 2ha wide, located in the middle of a clear blue sea. Coming to Nam O Reef on summer days, you will admire the beautiful scenery and breathe in the fresh air.
The main feature of Nam O coral reefs is the convex reefs and large rocks stacked on top of each other, which is an arm's length above the water's surface. Rocks of all shapes and sizes, especially in the first months of the year, these rocks will be covered with beautiful green moss, creating an extremely magical scene. Not far from Nam O Reef, there are many rocks large enough for people to rest and enjoy the scenery.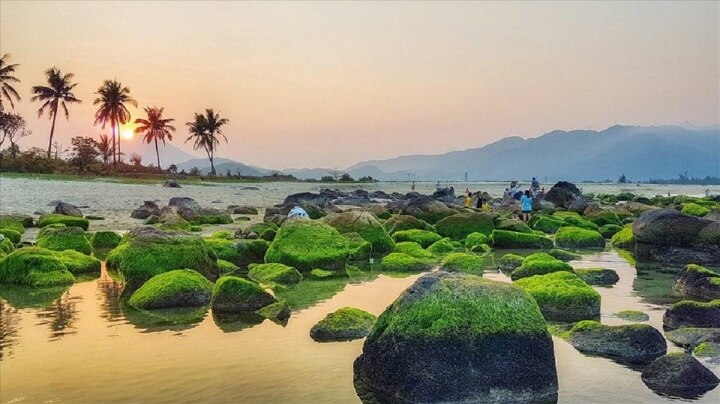 Standing on these large rocks, looking to the East, you will see the Son Tra peninsula and Hai Van pass. If you want to admire Nam O reef at the most beautiful moment, please wake up early to come here at the dawn of the day, you will admire the beautiful scenery sparkling and colorful, when everything around Very quiet and peaceful around. This is also a great experience and check-in point.
Bai Chay Son Tra in Hoang Sa, Tho Quang, Son Tra, Da Nang. Just like Nam O Reef, Chay Son Tra beach to this day still retains its wild features and rare majesty.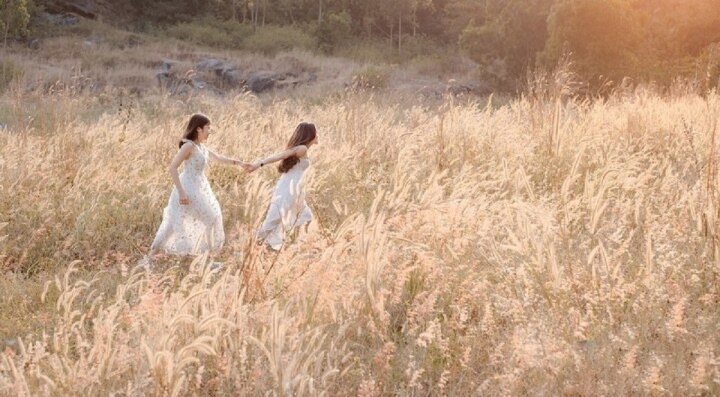 From the beach, we can zoom out, looking at the vast green lake area, green with a peaceful color. Visit here to experience a little rustic, natural and great check-in.
Hai Van Pass is known as "the most majestic landscape in the world", located in the middle of Lang Co town (Phu Loc district, Thua Thien Hue province) and Hoa Hiep Bac ward (Lien Chieu district, Da Nang).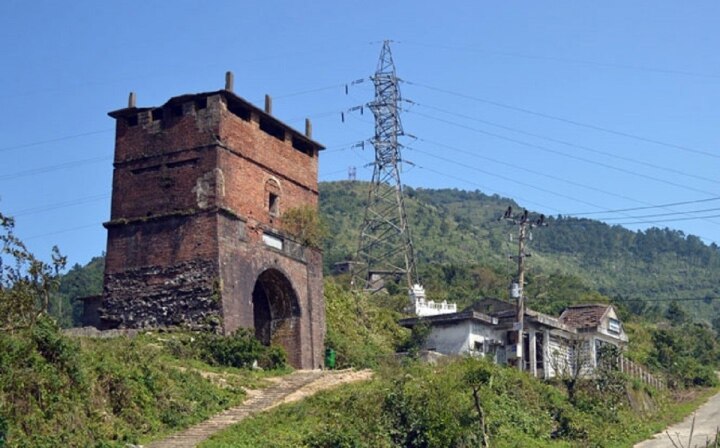 Majestic mountains, magnificent scenery, from Hai Van pass you can see the full beauty of Lang Co fishing village, the poetic features of the clouds covered, like a dreamland.
Ghenh Bang is located on the Son Tra peninsula, about 20 km from the center of Da Nang. This is considered an ideal destination for those who love to explore and like to go "phishing".
The characteristic feature of Ghenh Bang is the scattered large rocks embracing the coastline about 2km long. Along with that is the image of two vertical cliffs 3-4m high forming a natural gate to welcome the crashing waves.
In addition, behind the large and rugged rocky ridges is a long beach with blue sea, golden white sand and shaded coconut trees. The trees here are always lush all year round, especially if you are lucky enough to come in the season of changing leaves, the scenery here will make you amazed. This is also a great check-in point in Da Nang.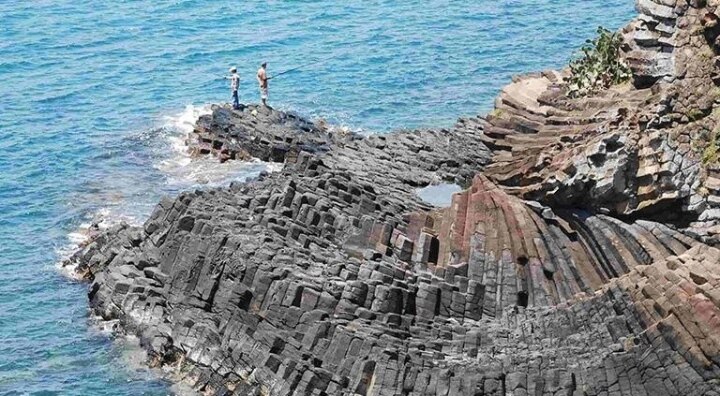 What's more, hidden under the clear blue sea in Ghenh Bang is a kingdom of coral and seaweed with many vibrant colors and an ideal check-in point.
Diving in Ghenh Bang, you don't need to be a professional diver, just know some basic steps to be able to dive to admire the beauty of the scenery under the sea here.
(According to VTC News)