In 2 months of starting a business selling salted coffee, Mr. Duong Thanh Long has opened 12 branches, some of which sell 3,000 cups/day.
Start a business with a number of… 200 million VND in debt($1=24,000 VND)
At 3:30 am, Mr. Duong Thanh Long (56 years old, from Ho Chi Minh City) left home to start a new working day. Although only starting his business for 2 months, this man has opened 12 branches selling salted coffee and franchised 4 small coffee trucks.
Every day, the number of visitors comes continuously, a branch must have about 10 employees to serve. On average, with just one coffee shop on Cong Hoa Street (Tan Binh District), his salted coffee can sell 3,000 cups. The estimated revenue of all branches is up to hundreds of millions of dong/day.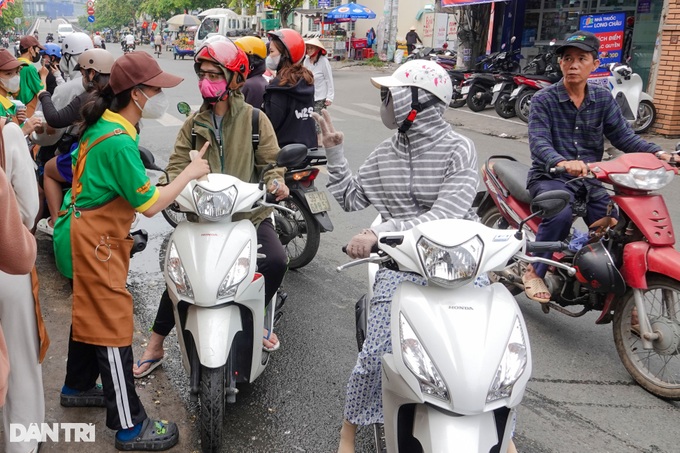 "I'm still not fully awake. Thanks to the clips posted on social networks, young people feel sorry for them, so they come to support", Mr. Long appreciated.
Without saying a word, guests came to buy nuoc nuoc. Mr. Long and 5, 6 other employees have a few cups of coffee ready in their hands, and customers who come to buy them will give them immediately. Some people come to buy 5 cups, some people buy 10 cups at a time.
Here, coffee is processed by him in the style of "coffee stock", that is, the seller burns the coffee in an earthen pot, then brews it on the stove for a few hours. Therefore, the coffee here is very strong, but does not contain many stimulants because it has partially evaporated during the firing process.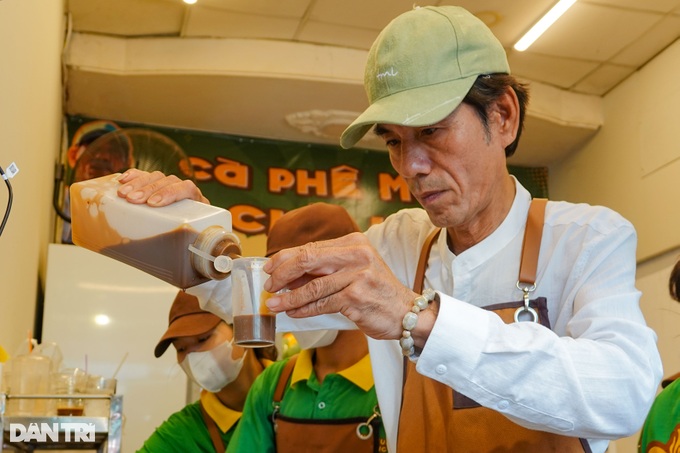 Every day, the coffee carts are open for sale from 5am to 9am, 11am or all day depending on the point of sale. Here, the most popular dish is salted coffee, in addition, there are other dishes such as coconut coffee, iced milk coffee, etc.
Although expensive, Mr. Long still kept the price of 15,000 VND/cup. "Many people think that salted coffee is an expensive, high-class drink, but for me everyone can drink it, it's just a cup of coffee. So I try to make the right cup of coffee at a reasonable price. so that everyone can buy it," Mr. Long shared.
"Uncle Long is so cute. I accidentally saw a clip about his late-night start-up, so I came to buy and support him. The coffee he brews is very carefully and has a strong taste, so I drink it every day," Minh Nhan (21 years old) ) share.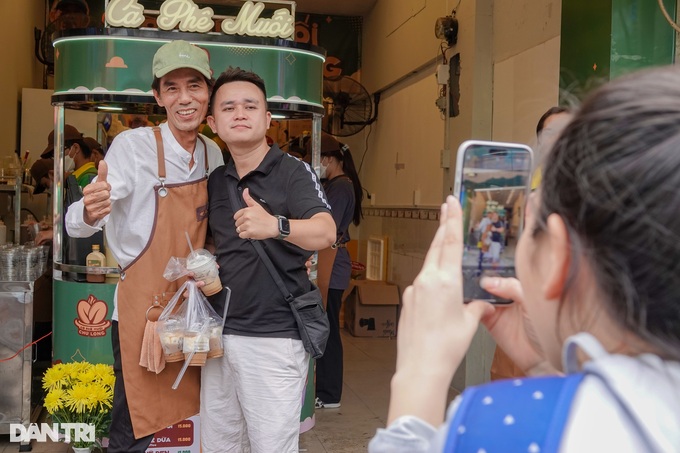 Busy all morning, the U60 man always keeps a smile on his lips. However, few people know that Mr. Long has experienced countless life events, until he started his business, he still owed 200 million VND.
Motivation of a father
Mr. Long was originally a poor freelancer . Having dropped out of school in 9th grade, he left his hometown of Quang Ngai to go to Ho Chi Minh City to help his relatives sell coffee. Knowing the secret of making braised coffee, the 14-year-old boy then soon "fallen in love" with this special drink.
Growing up, he lived with a woman as husband and wife. They had a child together, but not long after that, the two broke up. Mr. Long suddenly became a "rooster raising children".
At that time, whenever anyone hired anything, he did it, from bricklayers to bricklayers, to installing doors, he worked hard to earn 200,000 VND/day to raise his children. For decades, father and son lived in rented accommodation, many times had to move because they ran out of money.($1=24,000 VND)
In 2019, Mr. Long "clicked his belly" to borrow 200 million VND in capital to start a business selling coffee. Work had just started when the Covid-19 epidemic in Ho Chi Minh City broke out. Exactly 1 week after opening the shop, Mr. Long had to close the shop, holding the debt that had increased to 400 million dong.
On the bus ride back to his hometown, he couldn't stop crying and blaming himself. "At that time, I felt guilty because I didn't leave anything for my children, except for the debt that I had to pay for them," said Mr. Long, tearing up, recalling.
During his time in the countryside, he was like a lost soul, rushing to work as a hired worker to forget his mistakes. "My daughter both has to pay the debt and send money back every month to "feed her father." On the outside, I'm smiling, but my heart is heavy. I think about everything and find a way to move on," said Mr. Long. speak.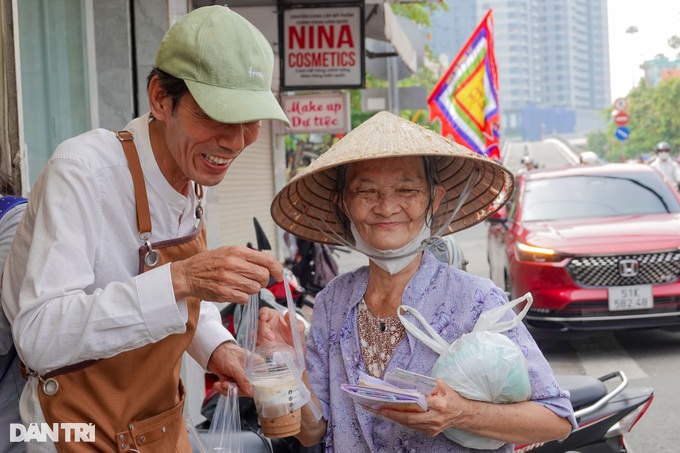 After a while, during a trip to Hue, he happened to stop by an old coffee shop. Here, he drank a cup of salted coffee for the first time in his life. Drinking was delicious, Mr. Long returned to test it and found it very interesting.
In early 2023, Mr. Long returned to Ho Chi Minh City with the hope of starting a business again. He began to drink salted coffee in large and small shops but still not satisfied. He came up with the idea to apply the experience of making coffee stock, combined with adding cream to the coffee cup.
After that, Mr. Long gave the coffee he made to his daughter's friends and colleagues for testing. On the fourth try, it was so delicious, many people came to ask his daughter where that salted coffee was sold.
"When I heard that sentence, I knew I had a successful experiment and decided to start everything," Mr. Long said.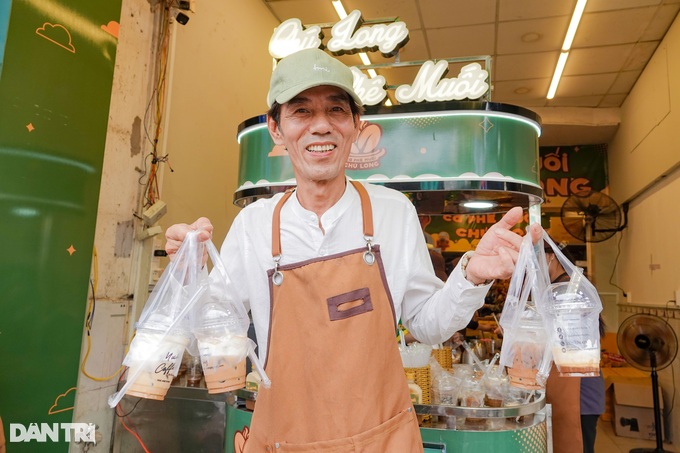 Quickly, the U60 man himself went to find the premises, came up with the idea of ​​​​designing signs, … with a capital of only 10 million VND. On the first day of the sale, Mr. Long's niece accidentally posted a clip of the owner's salt coffee shop U60 on social networks. Unexpectedly, the clip attracted tens of thousands of views. Many people seem to be quite fond of this coffee.
On the first day of opening, Mr. Long sold only 30 cups, but the next day the number increased to 120 cups in… 1 hour. Seeing that, he increased the quantity and bought more ice cream machines. The number of cups sold increased to 500 cups/day, and then gradually rolled over the thousand-cup milestone.
Having achieved the success he is today, he realizes that his biggest motivation is his only daughter. "I always remind myself to try to the end to make up for my daughter's shortcomings," he said.
For Mr. Long, in the late afternoon, he realized that starting a business is a process of acquiring knowledge, studying it carefully and then persisting with it. "I always advise young people to never give up. Just experience everything, fail, and then it will be time to find the right path. Start-ups should not focus on profits, because it will make you unsteady." , single dad is interested
Photo: Internet (Vinlove.net)