Vietnam, the gold forest, the silver sea, where the beautiful nature touches people's hearts, each place always brings new things waiting for nature lovers to discover.
If in the upcoming trip you want to find a place to feel the majestic beauty of the mountains and forests, then travel to Ta Dung Dak Nong – A place that many travel lovers call with the impressive name "Ha Long Bay on the island". high" will definitely bring you a wonderful experience.
Ta Dung Lake – Ha Long Bay on high
When hearing that the Ta Dung tourist area is likened to Ha Long Bay on high, many people are still quite wondering why there is such a simile.
But this is not difficult to understand, when you witness firsthand the amazing beauty from a rare natural masterpiece when traveling to Ta Dung, it will probably make you think: "Why does it look like this? Ha Long Bay is so small!".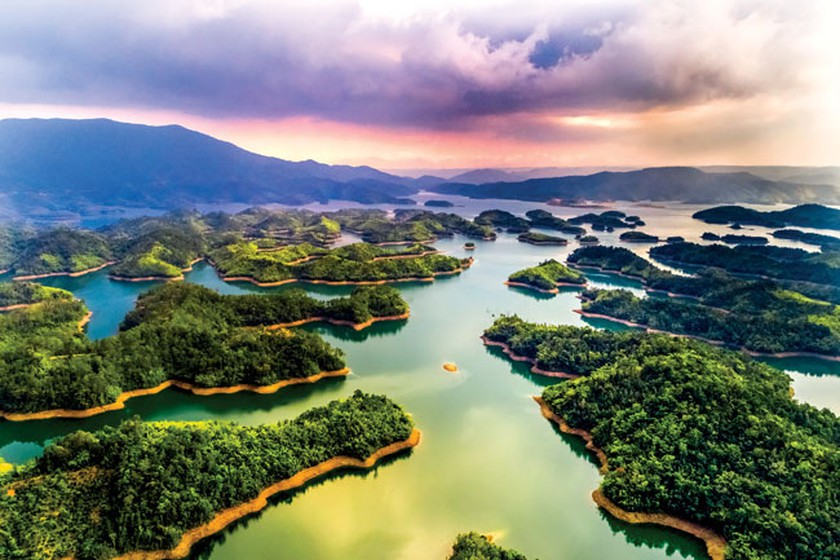 Ta Dung Lake is likened to Ha Long Bay in the Central Highlands – Photo source: Internet
In the midst of the vast sea of ​​water, the hills jut out like a pearl island created from basalt red soil, shining in the middle of the lake like a giant mirror, making many people exclaim in admiration. before this beautiful scene.
With a peaceful beauty in the open and equally unique nature of more than 40 islets with various shapes undulating softly in the middle of the lake, Ta Dung is compared as "Ha Long Bay". reasonable.
What is the most beautiful season in Ta Dung?
When traveling to Ta Dung, the biggest concern of many tourists when they do not have much experience is which season is the most beautiful in Ta Dung?
In Ta Dung with the typical climate of the mountains, each year is divided into 2 distinct seasons. Accordingly, the rainy season starts from May to October. Next, the dry season will start from November to April next year. Depending on your purpose, you can arrange the most suitable trip.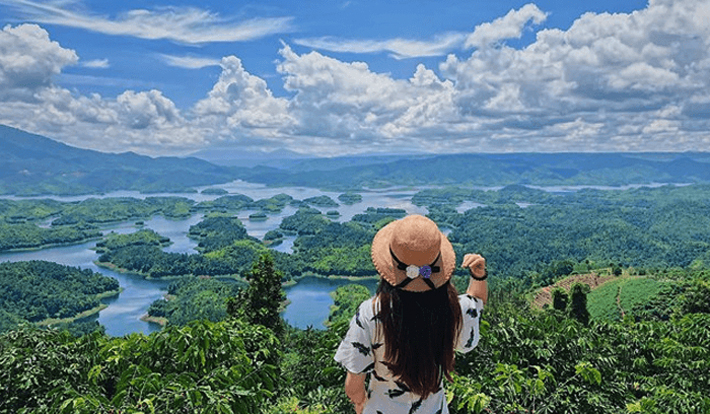 Ta Dung tourism should go in a beautiful season – Photo source: Internet
Despite saying that, but you do not need to worry too much about the rainy season can not come to Dak Nong tourism. Because of the weather here, the rain usually only appears in the evening.
For daytime rains, the weather is still mild, with sunny days. Before going, you can check the weather forecast in advance to have a reasonable consideration of the schedule.
A special feature when traveling to Ta Dung in the rainy season is that the water in the lake will rise, the trees will be watered and green. At this time, the scenery is more attractive, like a wonderful ink painting blending between clouds, mountains and rivers, making travelers fall in love.
If you come to Ta Dung on a weekend, on the right occasion of the fair, you will experience the traditional culture of the Mong community.
These are the people who migrated from the northern mountainous region, so many visitors come here to feel like they are participating in a market in remote Sapa.
Where is Ta Dung Lake?
Ta Dung lake is attached to Dong Nai hydroelectric dam, located in Ta Dung nature reserve in Dak Nong province. Geographically, Ta Dung Lake belongs to both Dak Som and Dak P'lao communes.
With an area of ​​up to 5000 hectares, including 40 different large and small islands, it is home to many endemic birds.
The lake area extends to Tiem Bao Loc, Lam Dong, therefore, this place not only has beautiful nature but also has cool and pleasant weather, which is very suitable for traveling and exploring.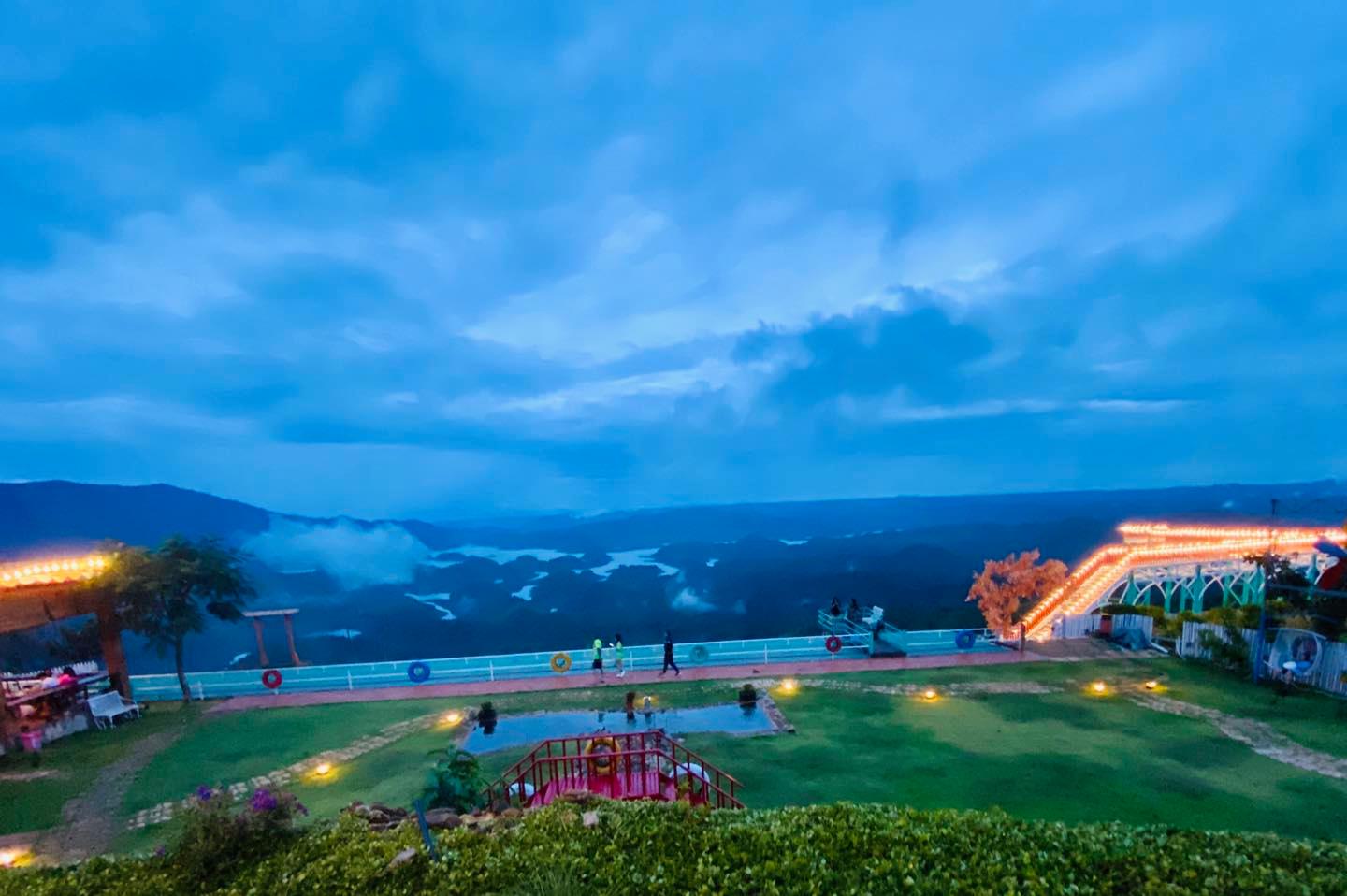 Go to Ta Dung lake to discover the beauty of nature – Photo source: Internet
Besides the name Ta Dung, because this is one of the main lakes in the hydropower system of Dak P'lao commune, it is also known as Dong Nai 3 hydroelectric lake.
After being blocked, this hydroelectric lake becomes very large and becomes a unique masterpiece of art, a combination of natural scenery and human hands.
How to move to Ta Dung Lake?
Ta Dung is about 300km from Ho Chi Minh City, about 160km from Buon Ma Thuot city. There are many ways to get to Ta Dung.
If you are in the North, traveling by plane and combining Ta Dung tourism with famous places in the Central Highlands will save more time and energy.
For those of you in the city. In Ho Chi Minh City, traveling by bus will save a lot of money with more than 5 hours by car. You can go to the Eastern bus station, then take the bus to the city. Buon Ma Thuot like Kim Chi, Hung Kien, Minh Long, An Khanh…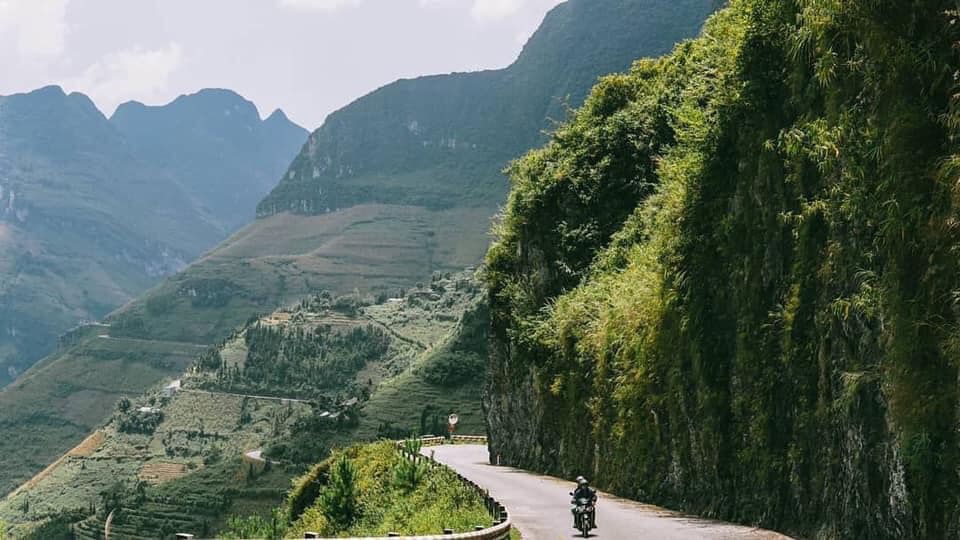 Instructions on how to move to Ta Dung Lake – Photo source: Ta Dung tourist area
Or another way, you can take the car to Highway 14 to go straight to Gia Nghia town. Here, you continue to turn onto Highway 28 to reach Dak Som commune.
From the center of Dak Som commune, you follow the Google map, turn right next to Nguyen Van Troi primary school, go to Highway 28, pass through Quang Khe district to Ta Dung lake, or you can ask the people here to guide you. easier to imagine.
In addition, you can contact motorbike rental locations to leisurely admire the natural scenery along both sides of the road and enjoy the cool breeze here. With a motorbike, you can go to the camping area at the lake at a reasonable price of only 150-200k / person (refer to depending on the time).
What to do in Ta Dung tourism?
Chill in the middle of nature, no high-rise buildings, no dust, no noisy cars with the two words "wild" and "charming" is probably the best experience when coming to Ta Dung.
Because this is a new place, still not explored much, so here are mainly experience activities, exploring nature is the main, very few amusement parks.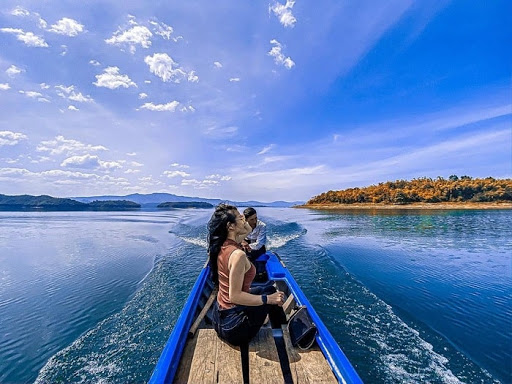 "All around me is water!" Chill in the middle of Ta Dung lake – Photo source: Internet
But it is also for this reason, that Ta Dung still retains its lush green beauty and is not too crowded for you to leisurely feel the fresh beauty of the beautiful picture of mountains, rivers, and clouds.
Ta Dung Lake is like a giant blue mirror, outstanding among the green colors of the mountains and forests of the Central Highlands. To feel the most authentic beauty here, you can contact to rent a boat to visit close-up on the lake bed.
How wonderful it is to sit on a boat on the lake, gently wriggle through each green island, take a deep breath, and let yourself wander amidst the poetic, fresh and exciting scenery.
The cost of renting a boat to visit the lake is about 1 million VND for a group of 15 people. If you do not have enough members, you can refer to the information to join the group, saving costs.
The boat will take you to visit all the beautiful scenery around the lake and to a fixed camping site, which has been set up overnight. After that, the boat will pick you up the next day for guests who want to experience camping here.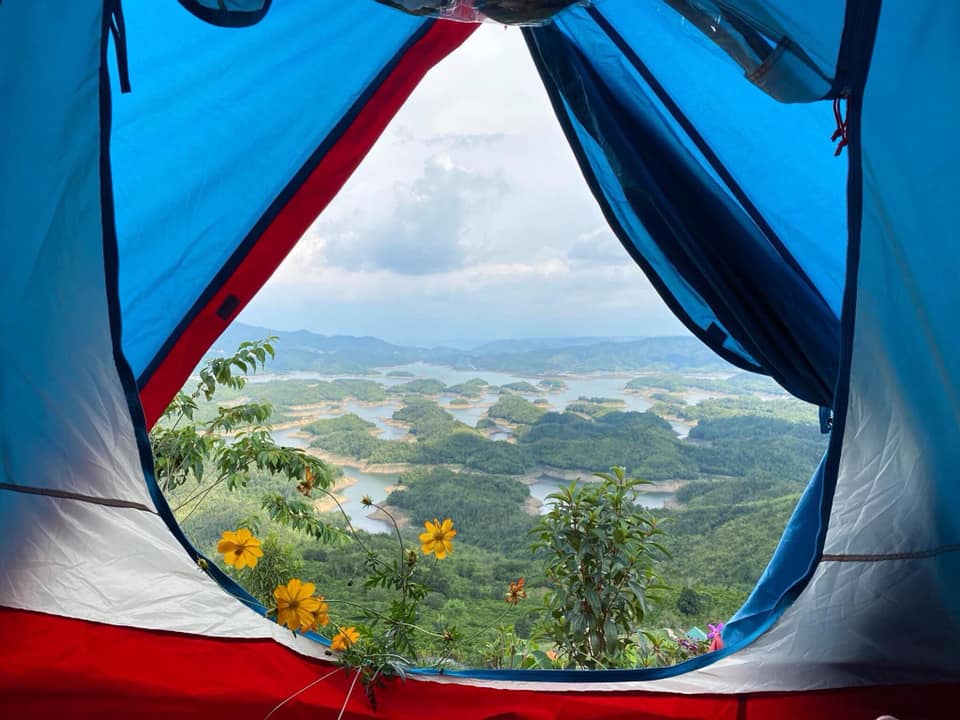 Camping at Ta Dung Lake – Waking up early in the morning in the midst of immense mountains – Photo source: Ta Dung tourist area
Camping overnight in Ta Dung Lake is an experience worth trying once. At night, in the middle of the wild mountains and forests, looking up is the starry sky, the bright moonlight printed on the sparkling lake, gathering with a group of friends, having a BBQ party, or simply eating a hot baked potato together. sharing stories of everyday life that sometimes we don't have time to sit together to share our hearts.
Or sit by the flickering light of the fire, hold a guitar and sing in the middle of the vast sky, forget all your troubles, sometimes listen to feel the enveloping silence, and then get up very early tomorrow morning to meet the sun The sky in the middle of the lake is very refreshing… Perhaps every experience, every story at Ta Dung Lake will be unforgettable memories after the trip.
In addition to exploring Ta Dung lake, if you have more time, visit Chu Bluk cave which is one of the longest volcanic caves in Southeast Asia with many interesting things waiting for you, or the poetic beauty of the waterfall. Dieu Thanh hidden in the majestic nature, Ea Sno Ta Dung lake with peaceful beauty is also a great place to stop when coming to the Central Highlands.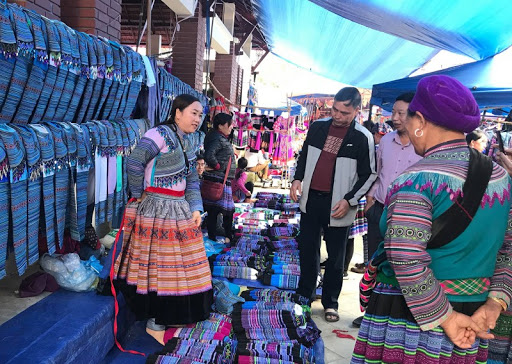 Discover the beauty of the fair when traveling to Ta Dung – Photo source: Internet
Dak Nia traditional craft village less than 10km from the center of Gia Nghia town is also a place worth exploring. This is the place to preserve and promote the traditional weaving of the ethnic minorities here.
Coming to the craft village, you will experience the process of hand-woven brocade or knitting, visit, choose to buy small and beautiful souvenirs as a souvenir..
What to eat at Ta Dung Lake?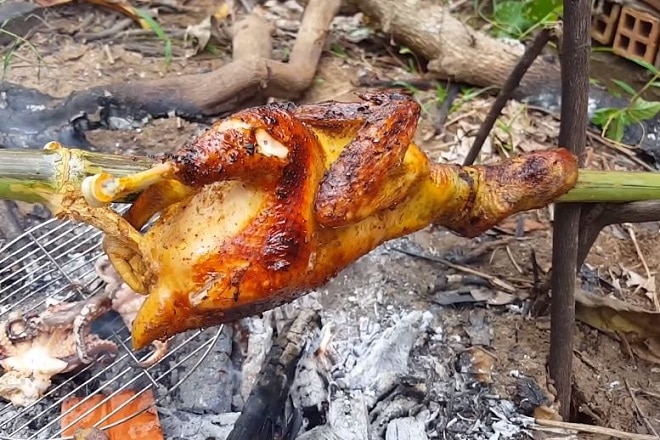 Currently, Ta Dung tourism is still quite primitive, although there are also some restaurants and eateries, you need to pay attention to prepare more food, fill your hungry stomach before entering the world of mother nature, Ho Ta. Don't be. In addition to self-sufficient camping in the style of "survival", you can eat at some restaurants such as:
K'Jang . Restaurant
Address: Bon Pang so, Dak Som commune, Dak Glong district, Dak Nong (Located on Highway 28, 1.5km from Ta Dung tourist area)
Phone number: 0932 689 968
Opening hours: 9am to 22.30pm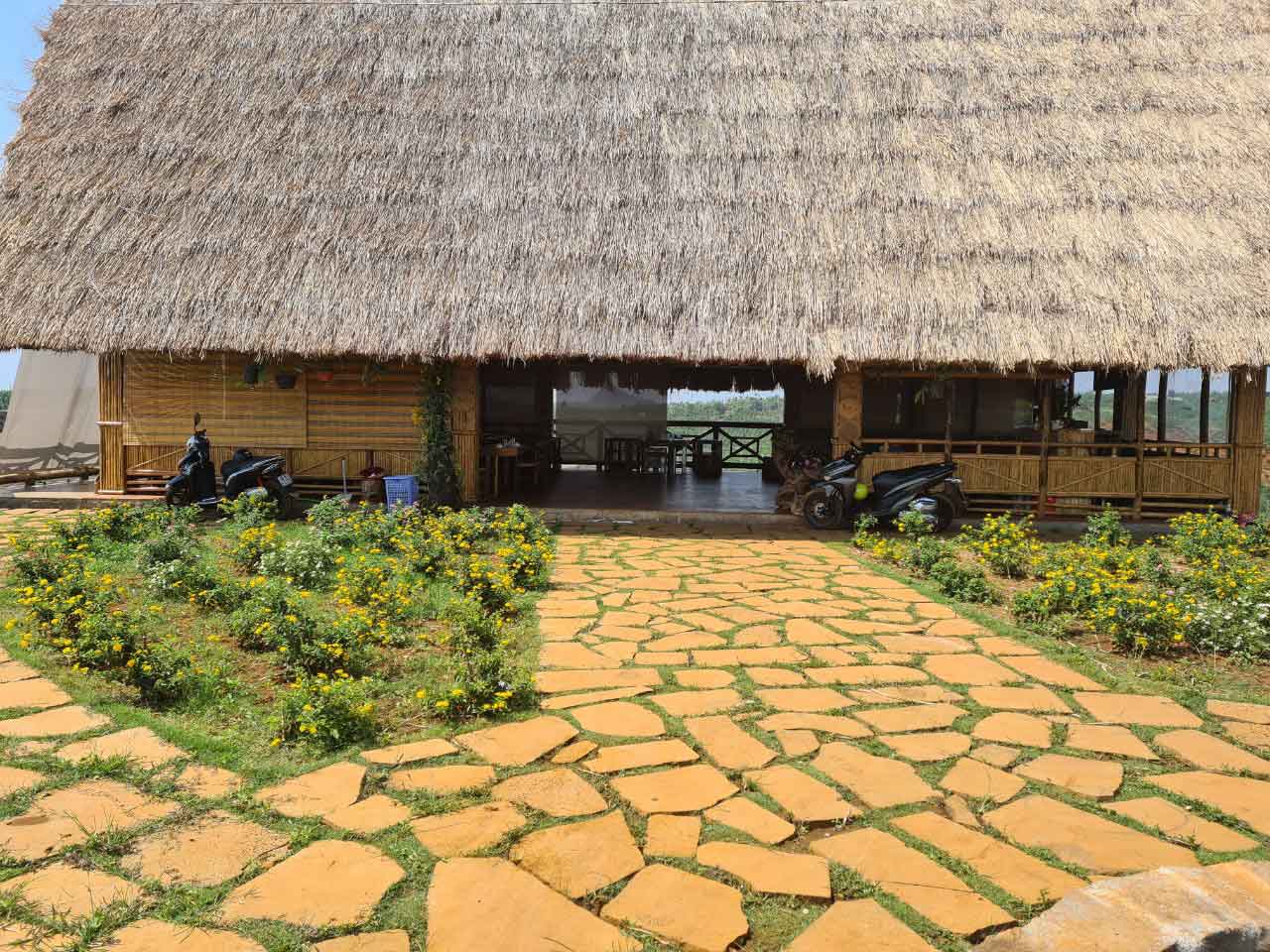 Spacious restaurant space with car parking, very nice view for guests to check in and take photos.
Coming to Dak Nong without once experiencing the unique culinary specialties here is a waste. Don't miss the opportunity to visit K'Jang Restaurant to once enjoy the dishes imbued with ethnic culture of the Central Highlands.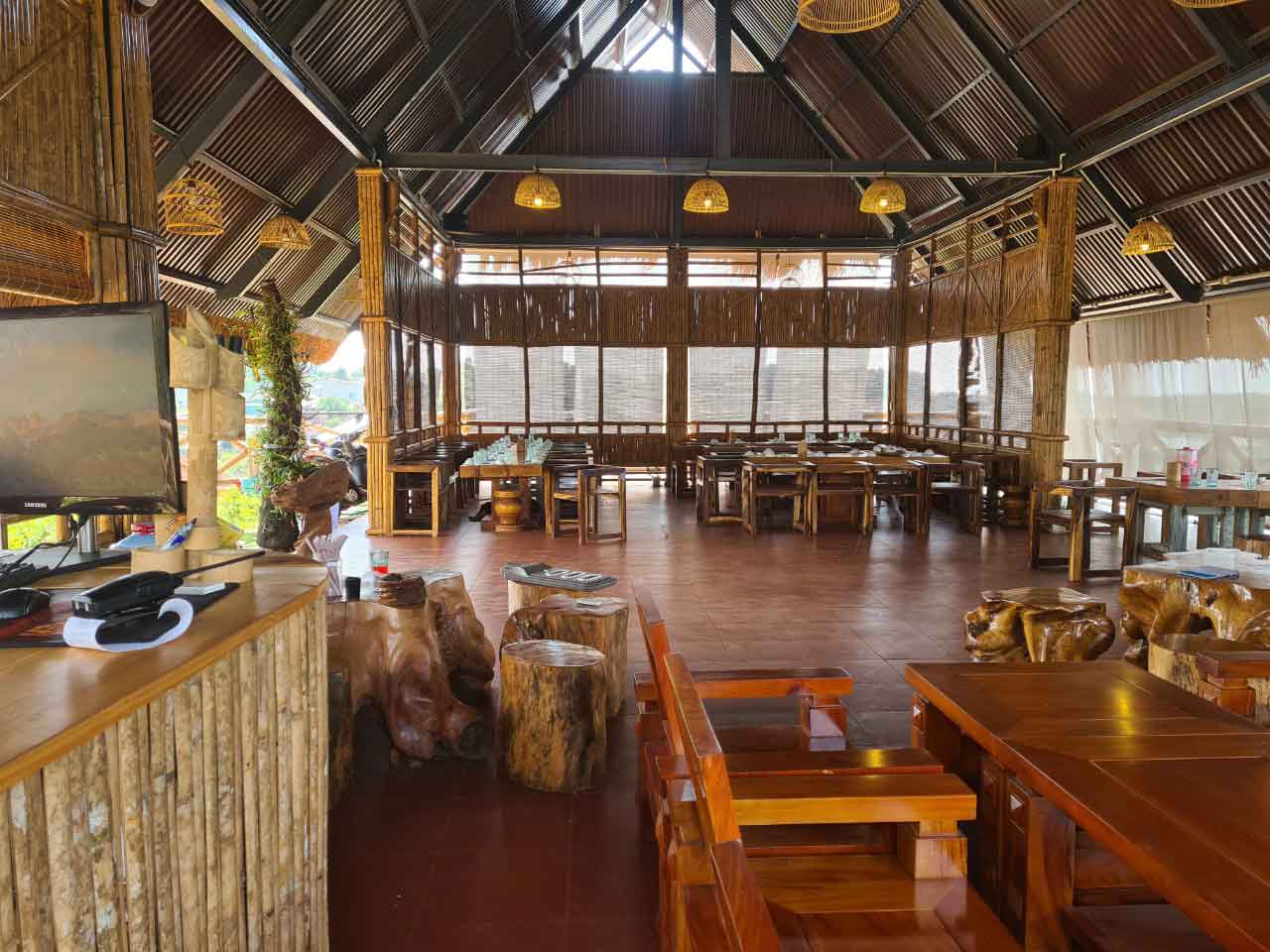 K'Jang restaurant specializes in serving specialties of the Central Highlands such as rice lam, hill chicken, local pigs, wild vegetables, can wine… There are also shrimp and pincerfish which are specialties of Ta Dung lake. The restaurant serves group meals for pre-ordered guests.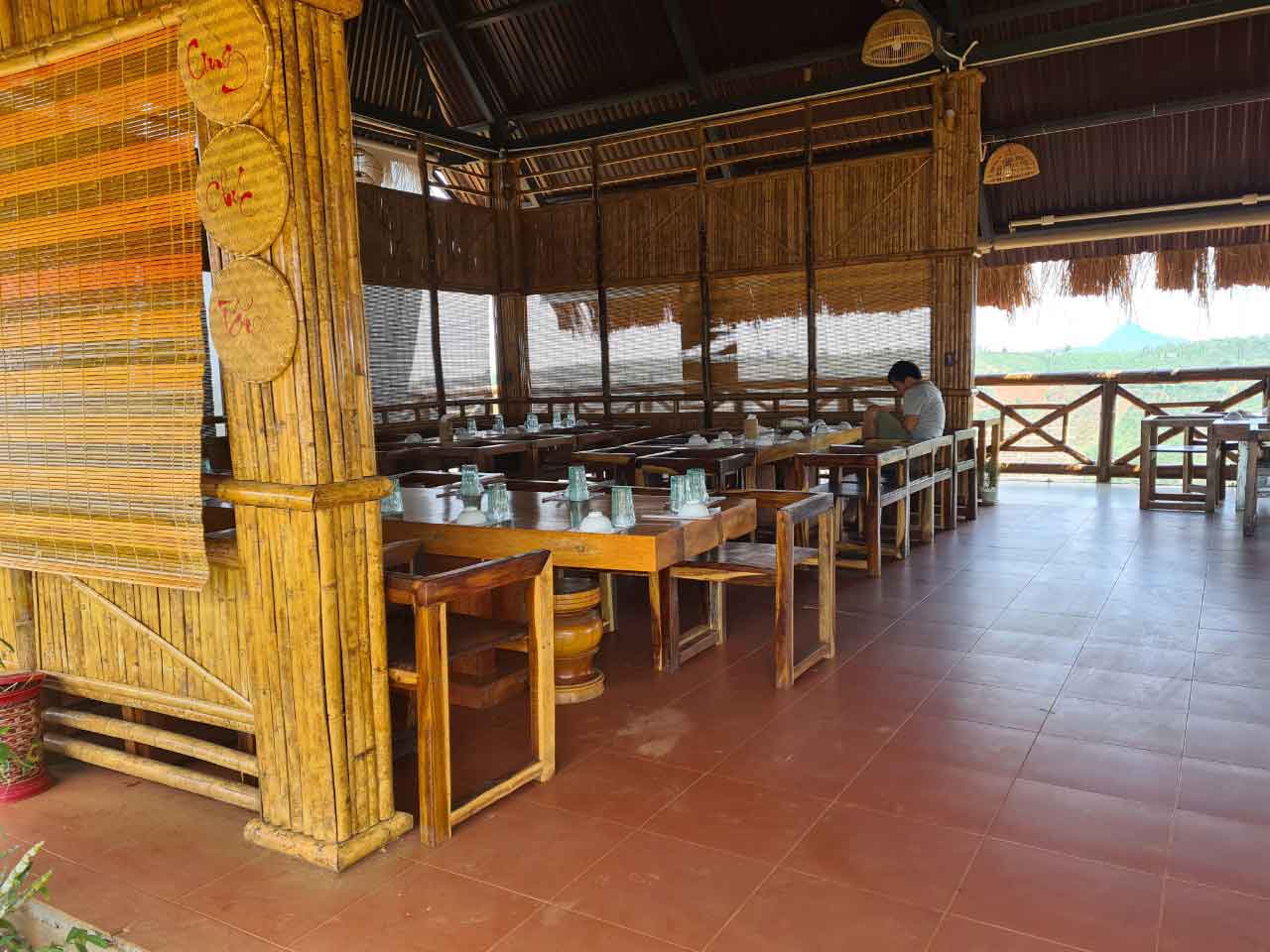 Tables and chairs are designed with pure rustic, spacious and airy seats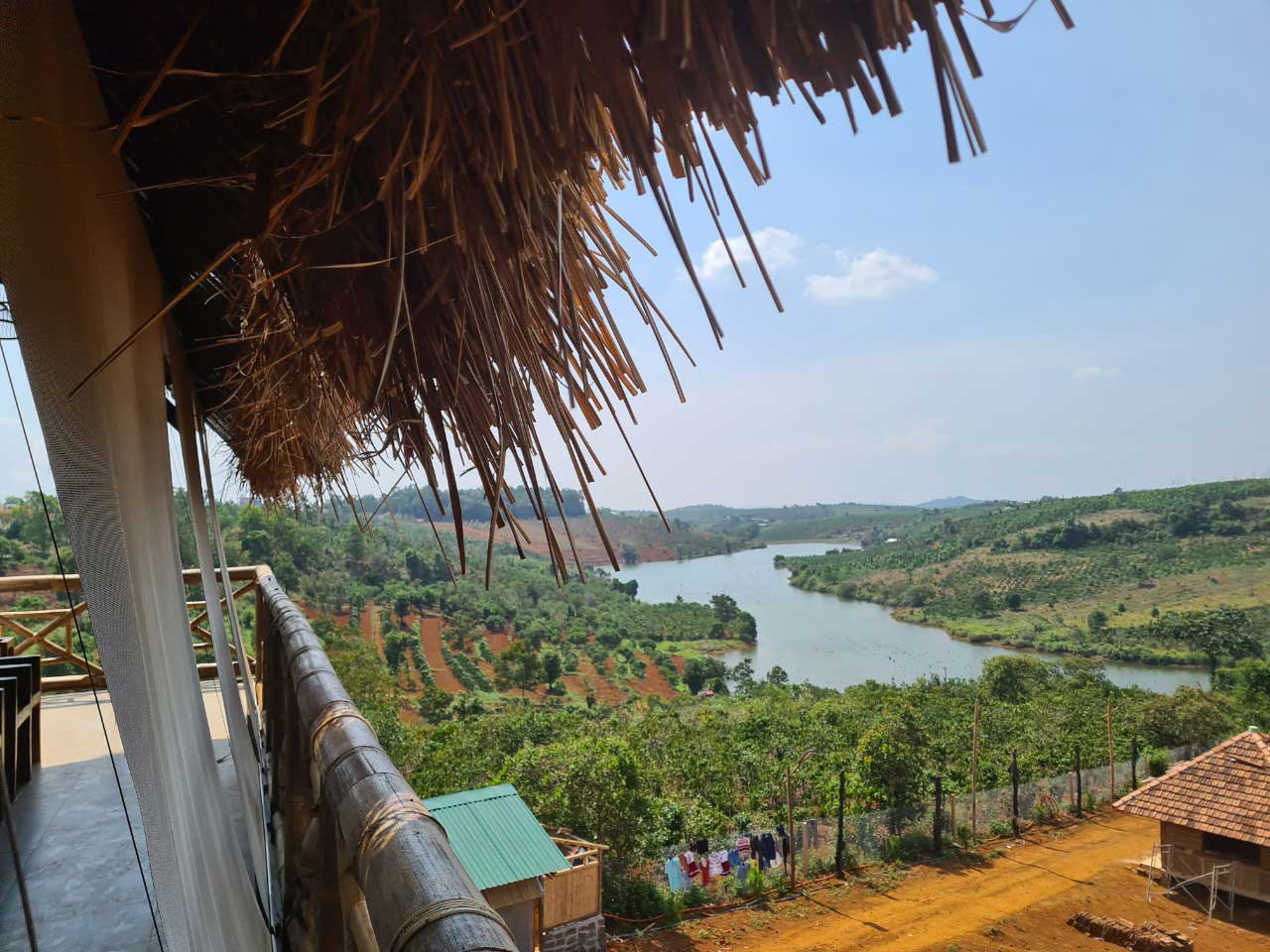 Nice view is a plus at this restaurant hàng
Where to go to Ta Dung lake?
In addition to camping overnight on Ta Dung Lake, if you want to find a more comfortable place to stay, you can refer to the nearby homestays.
Although there are no luxury hotels here because it is not a key tourist destination, the fully-equipped homestays will also be an ideal place for you.
The most prominent is Topview Homestay, also known by the familiar names of Uncle Dong's House. At Homestay, there is a variety of choices such as private rooms, dormitory rooms with prices from 700,000 VND/night or more. Besides, there is also a camping tent rental service with prices from 300,000 VND/tent.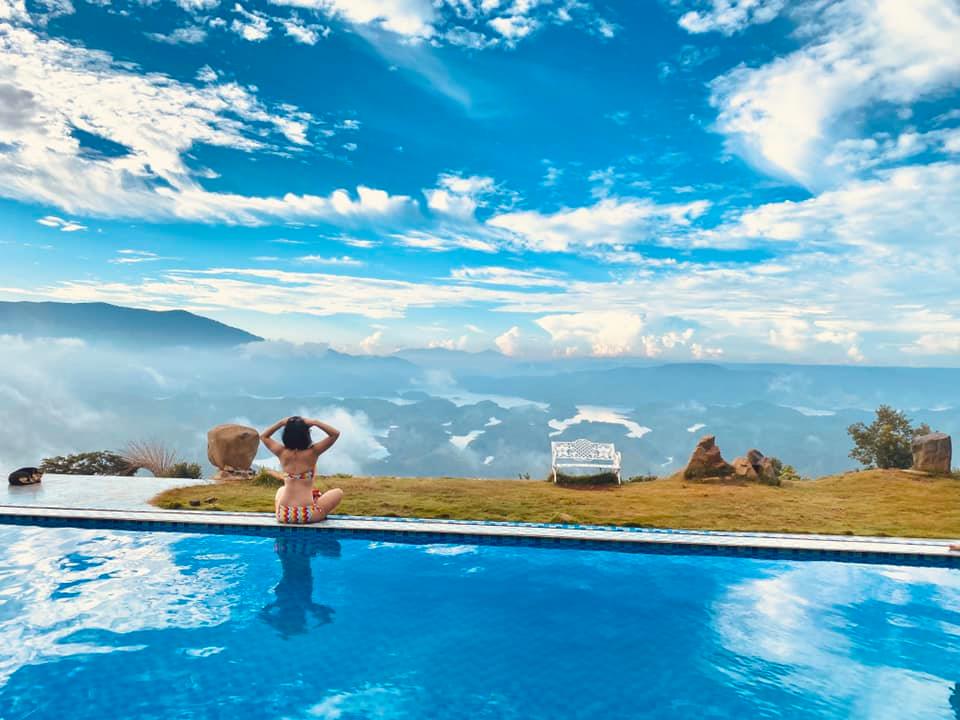 The infinity pool has a great view of Ta Dung – Photo source: Ta Dung Topview Homestay
A great advantage of Topview homestay is that it has an infinity pool with a beautiful view overlooking Ta Dung Lake from above, to fully capture the charming beauty of the lake surface hidden in the mist every morning.
If you don't stay here, you can still visit, drink coffee, check in for just under 100,000 VND/person.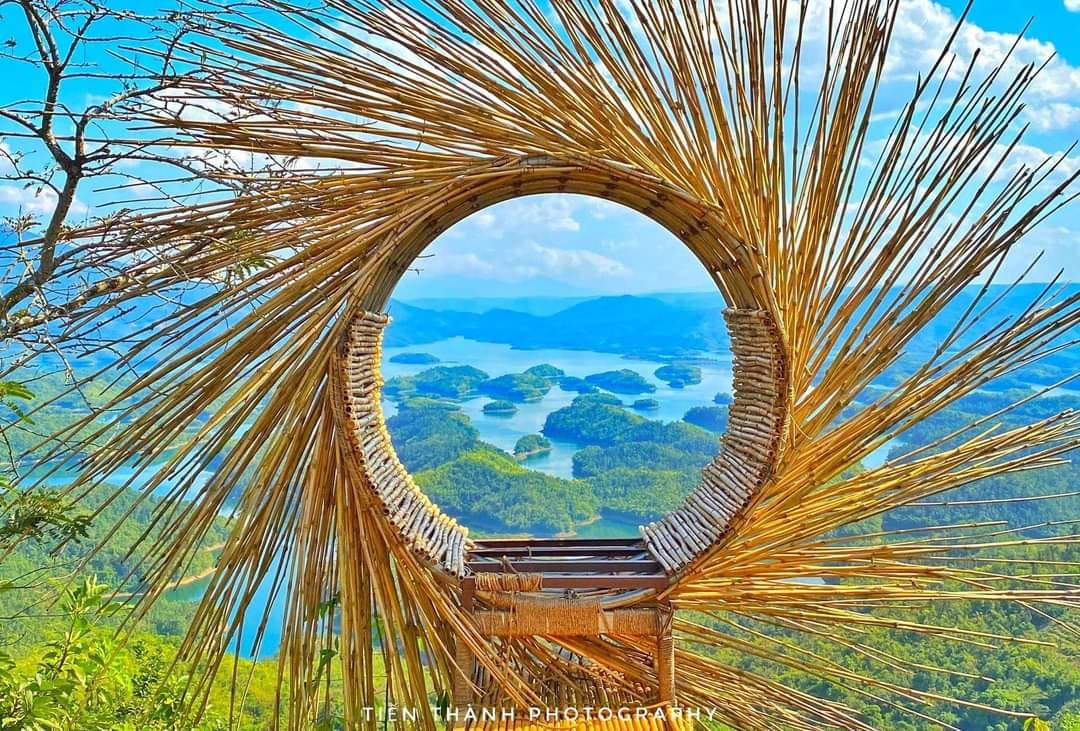 Virtual living corner for the photography team – Photo source: Tien Thanh Photography
Besides, there is the Ta Dung tourist area, which is also a place with a beautiful view, overnight rooms overlooking Ta Dung lake. The resort also invests in many virtual living spots such as angel wings with a background of nature, in the distance are islands jutting out in the middle of the lake.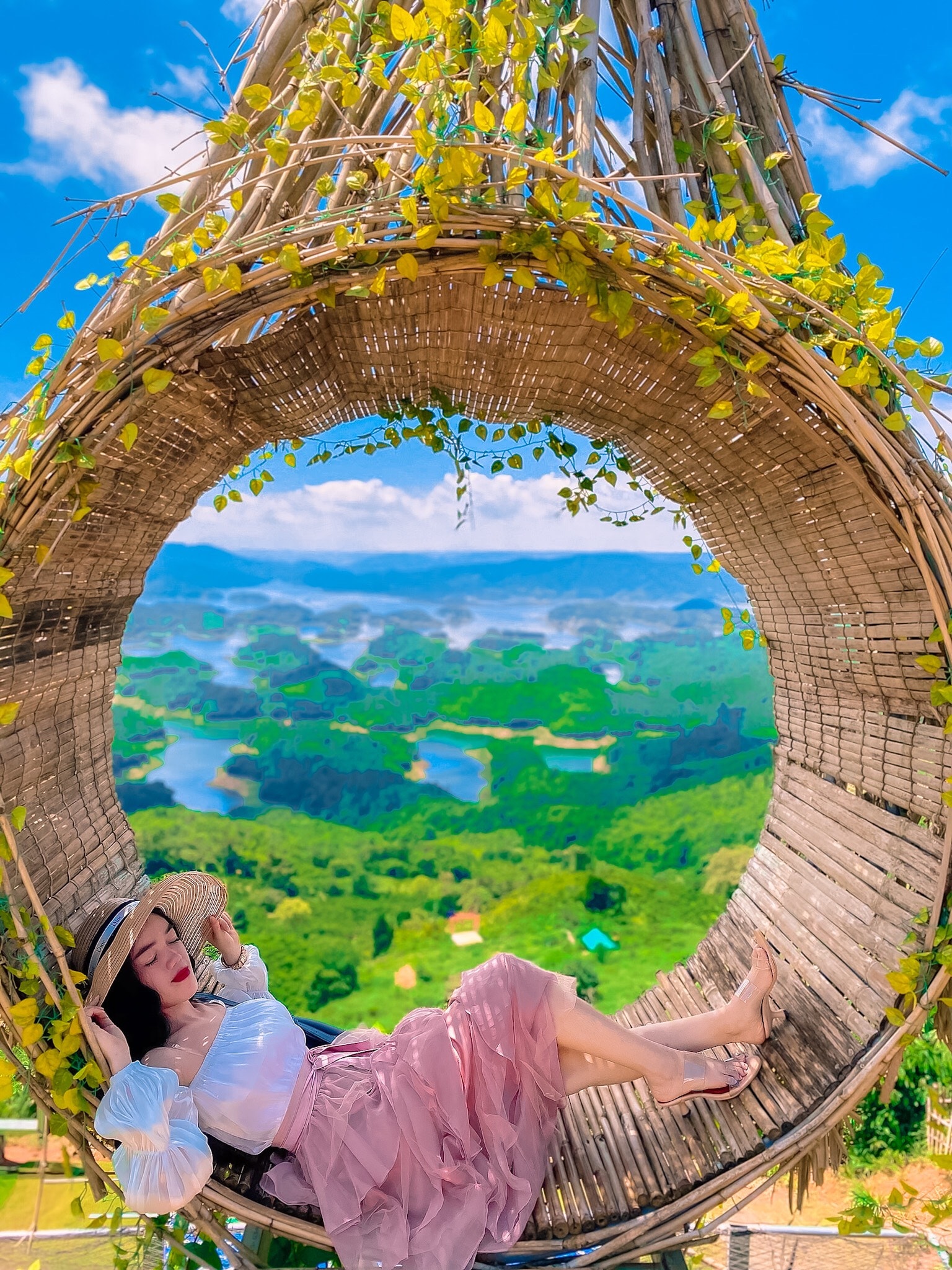 Favorite check-in point at Ta Dung tourist area – Photo source: Ta Dung tourist area
Besides, there is also a virtual living corner "bird's nest" with the idea of ​​​​a bird's nest in Bali made from bamboo, looking from afar like a giant "eye" standing out in the middle of the lake, freely dropping the "so deep" shape without any problems. wait in line for your turn.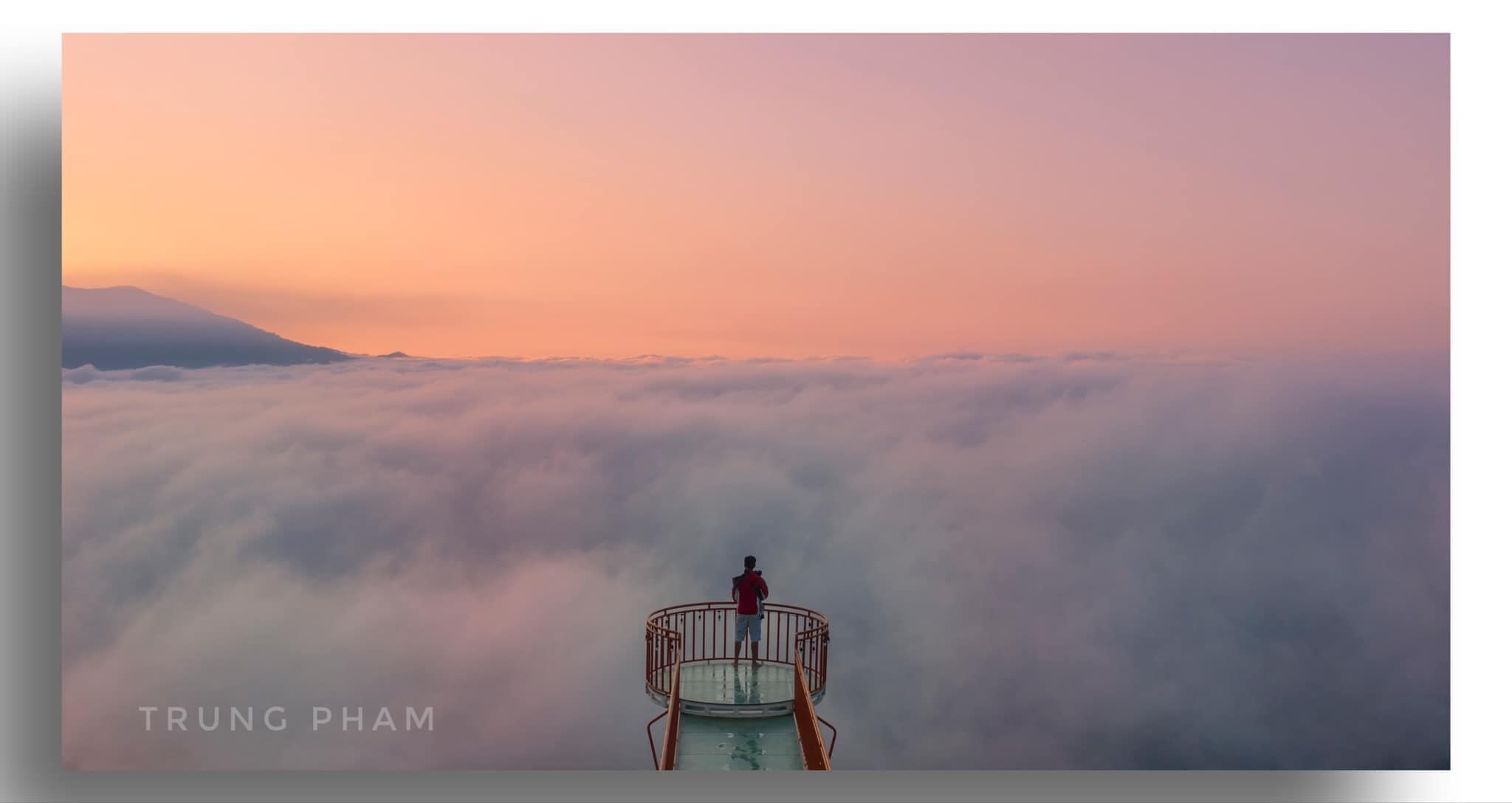 Ta Dung glass bridge is blurry in the mist – Photo source: Trung Pham
An equally "hot" check-in point for virtual life enthusiasts is a transparent glass bridge from above that makes many people feel like they are walking in the vast air. The last place not to be missed is a small observatory with a beautiful view of the majestic Central Highlands.
Hopefully, through this article, I have shared with you the most useful Ta Dung travel experiences, making it easier for you to plan a perfect trip to the Central Highlands.