A campsite located separate from Da Lat city, nestled in the middle of the natural mountains is receiving the attention of tourists this summer.
Why is this campground suddenly of interest?
This place has been "chosen to send gold" by female singer Amee as the venue for "Dreamee Live Acoustic Show", not only those who participate directly in the music night experience and love the space here but also those who watch it. Amee's show through recorded videos was also attracted by the image of an extremely romantic space. After that, people began to search for the place, when they learned that this place had camping services and served coffee, visitors began to come more and more to enjoy the experimental space similar to the fantasy.
Due to being built in the middle of wild mountains and forests, DaLat Camp has an extremely large, airy, close to nature. In addition to the green color of the vast stretching forest, this place also impresses visitors by the brilliant sunflower garden, the small stream flowing around the Camp. The campground is embraced by nature, with the sound of heaven and earth interspersed with peaceful beauty, easy to understand why this area quickly reached the top places worth checking in when coming to Lam Dong.
Located in the valley of Lat commune, Lac Duong district, Lam Dong province, Dalat Camp is a unique combination of camping model in wild and poetic mountains with interesting activities and fun.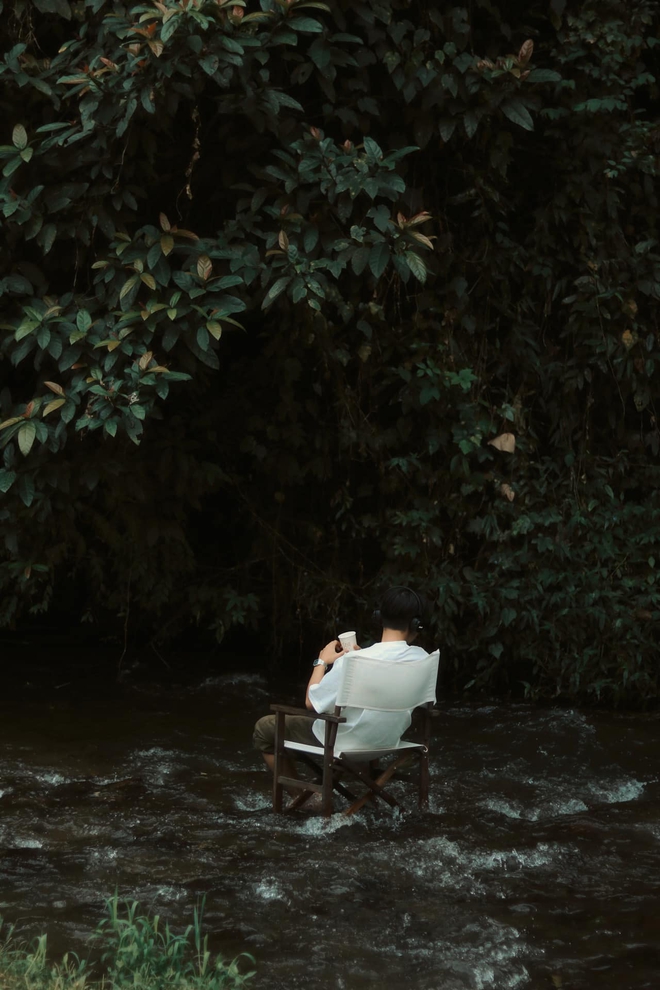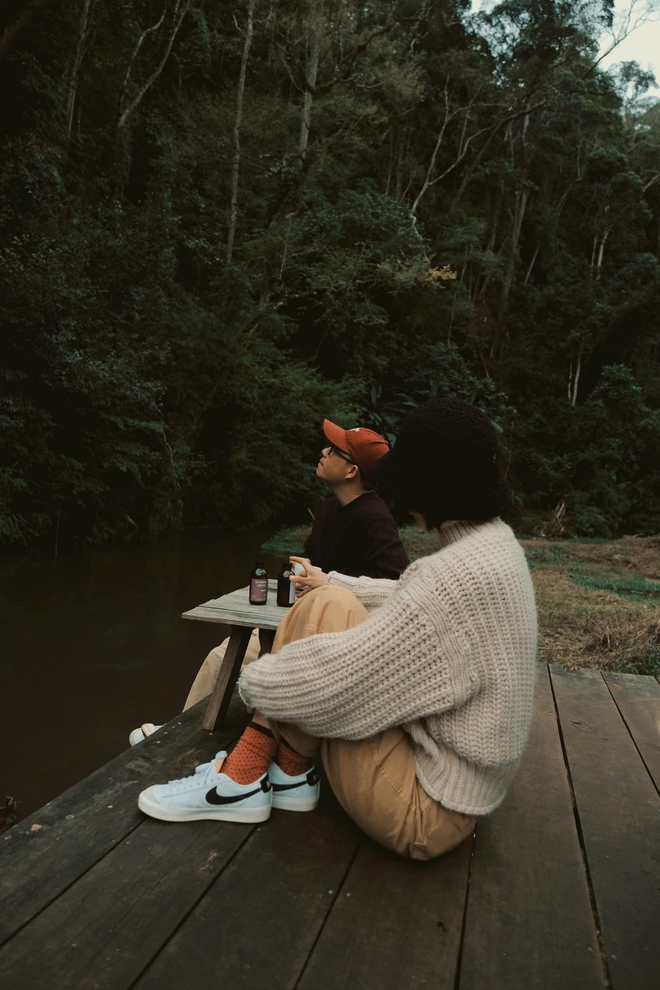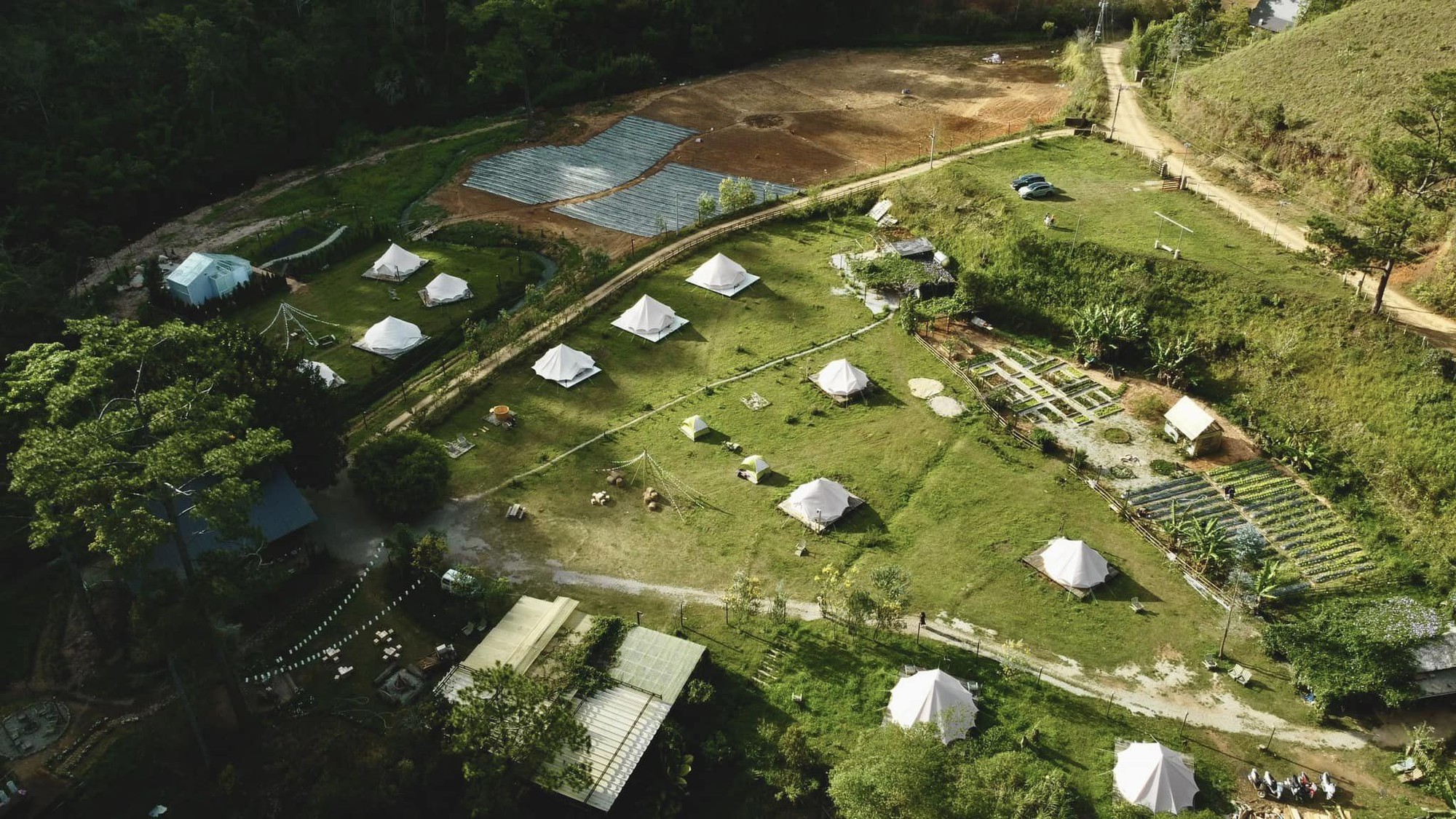 Move
To get to the campsite, visitors go from the city center. Da Lat along the road Dinh Tien Hoang – Xo Viet Nghe Tinh – Ankroet and then run to the junction with Thao Nguyen restaurant, then turn left up the hill. After going on to the fork in front of the Ma Rung Lu Quan section, turn left down the valley to arrive.
Because the campsite is far from the city and nestled in the middle of the forest, to move quickly and safely, you can choose to take a taxi for about 200,000 VND / 1 4-seater car.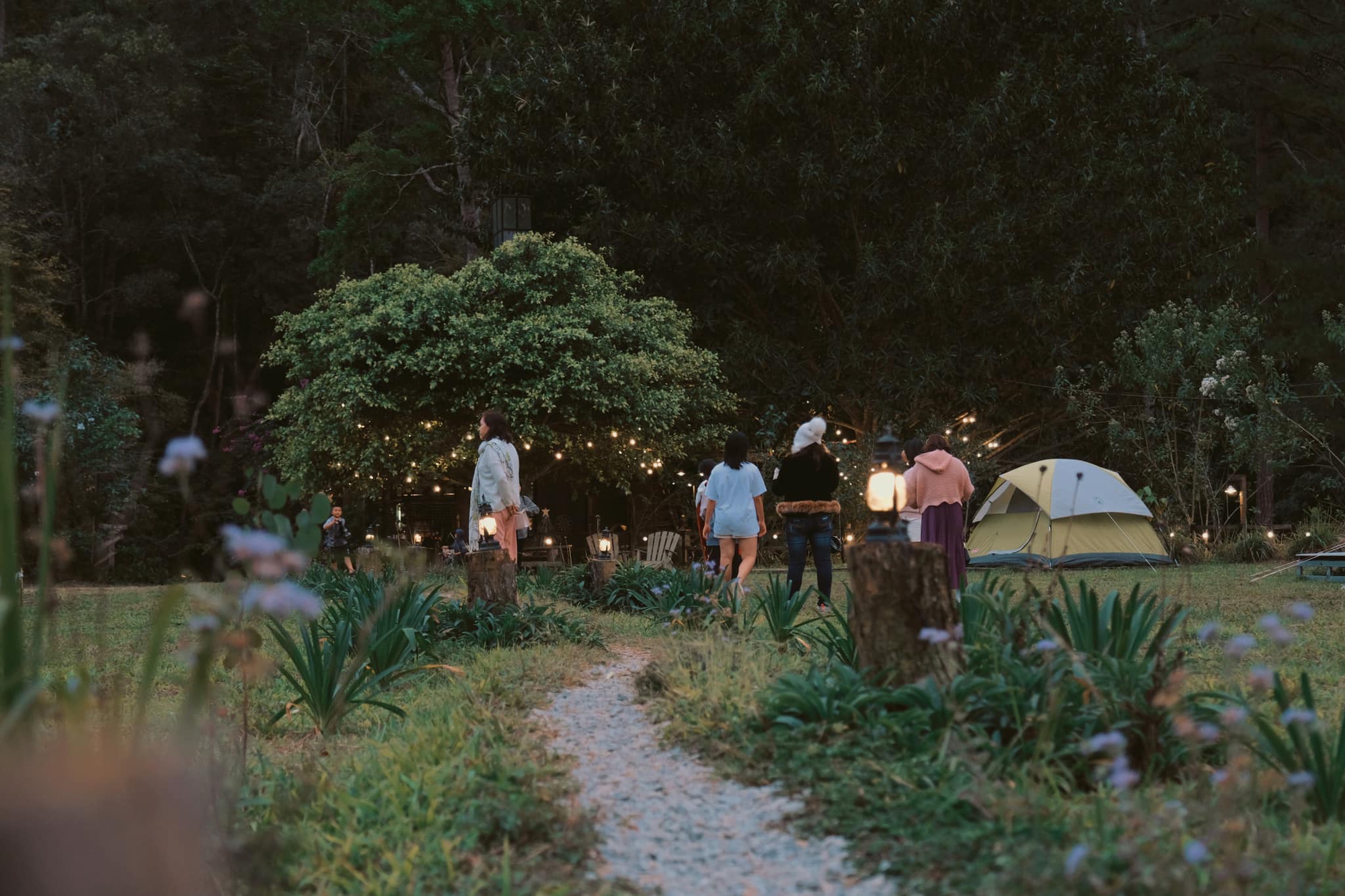 Interesting activities for tourists
Camping activities
As a campsite combining accommodation – entertainment – coffee shop, Dalat Camp has a lot of interesting activities. In addition to sleeping in tents, making campfires and interacting with each other with musical instruments is one of the activities not to be missed when coming here.
Under the starry night sky, in the chilly air, by the flickering campfire, everyone enjoying a cup of hot tea, listening to the piano and singing together… would be ideal. A special feature is that musical instruments such as guitar or piano will be prepared by Dalat Camp for you to use.
Sightseeing bike ride
DaLat Camp was built in the middle of the vast space of the mountains and forests, very suitable for you to cycle around and admire the scenery. Relaxing your muscles, releasing your mind, watching the vast nature and enjoying the fresh air will help you regain your "plasticity" after stressful and tiring working days.
Strolling among sunflowers
At this campsite, it is famous not only for the small stream gurgling around, but also because the sunflower garden is always full of colors. People often come here, walk around the hill and then go to the flower garden, take some memorable pictures to bring back.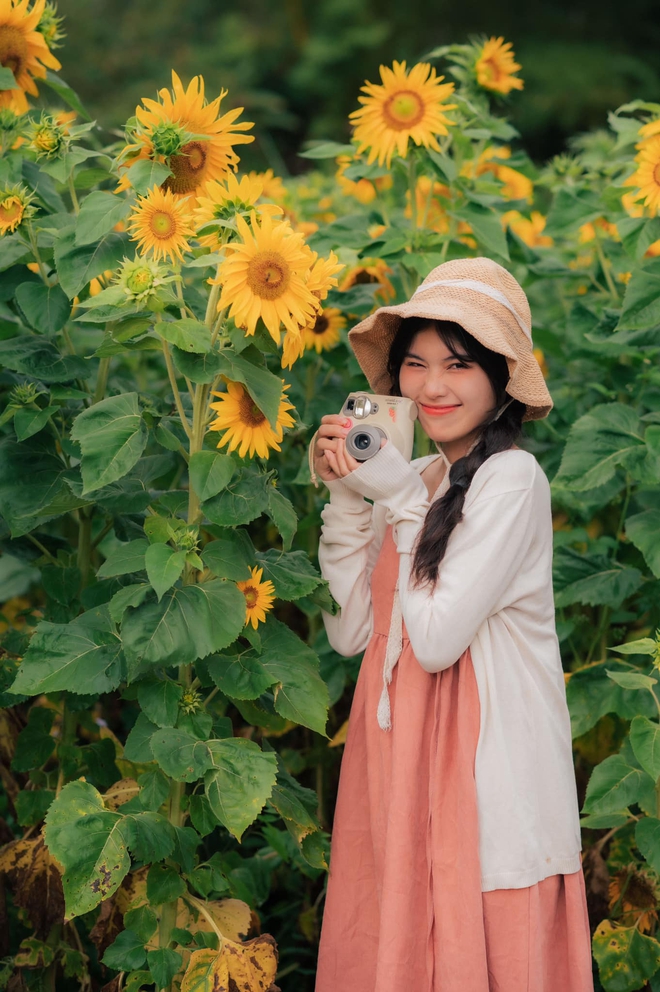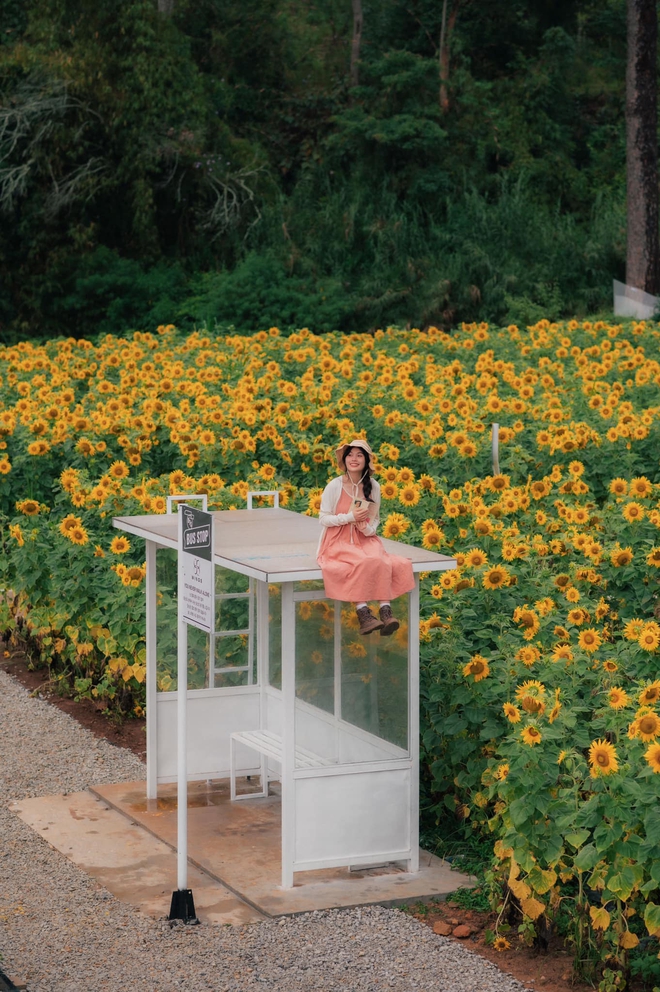 Pick vegetables and prepare meals
The unique feature of the way of living here is that you have to do everything yourself. You can enjoy processing everything in your own way such as making your own drinks, harvesting your own vegetables in the garden and making your own food… even cleaning up yourself after eating.
The managers at this self-sufficient campsite are extremely enthusiastic and friendly, so in the process of preparing food and drinks, if you don't understand any problems, you can signal "for help".
Join the game
There is no wifi here and the 3G network is also very weak, so you will experience a separate life from the virtual world, social networks. Instead, you will participate in sports games such as badminton, football, kite flying, discus throwing… with family, friends or other tourists. This not only helps you improve your health, but also can make many new friends.
In addition to sports activities, there are many other interesting experiences such as making scented candles, drinking coffee by the stream… for you to choose from.
"Chill" at the bar & coffee
The bar and coffee shop here is located right below the old green banyan tree with a youthful industrial style that is very suitable for young people. The spacious, airy and close to nature space will be an ideal meeting, chatting and acquaintance point when coming here on a dark afternoon. At the counter not only serve drinks from coffee to alcohol but also ice cream, arrange more attractive Board games to create the best conditions for visitors to connect – meet in the midst of favorable weather.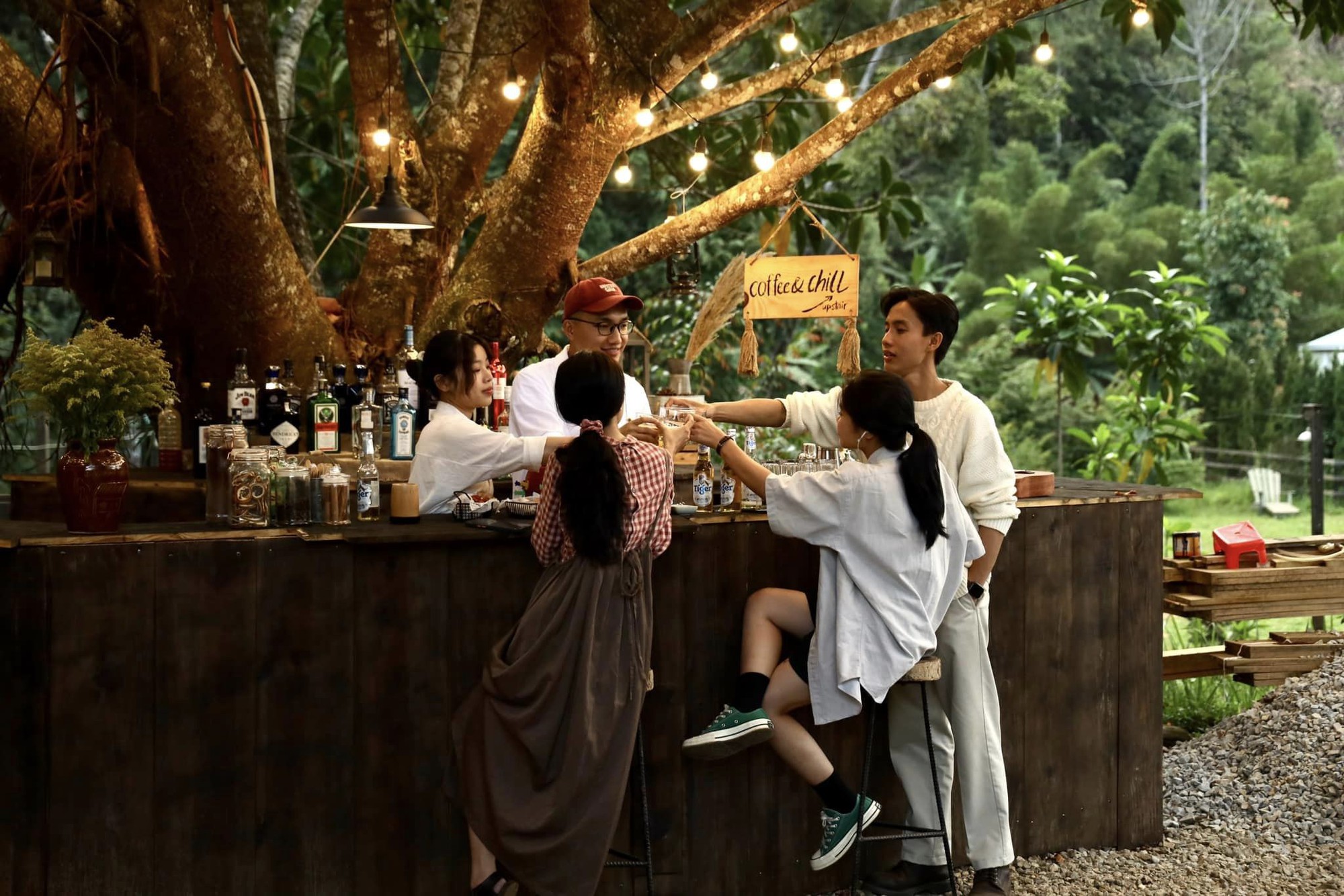 Reference cost
There are quite a few different accommodation packages from tents to cabins, depending on the type of customer, ranging from VND 700,000 to VND 2,000,000.($1=24,000 VND)
Catering services range from 540,000 VND – 840,000 VND/set including food and all kitchen utensils, spices… and full access to the open kitchen covered with flowers.
Here, the menu will be varied by evening, in the evening you will enjoy a great barbecue / hot pot, in the morning will have a buffet with bread, dumplings, cereals, jam, tea, coffee and fruit.. .
Photo: Internet (Vinlove.net)