It is no coincidence that female pearl Tang Thanh Ha and a group of close friends chose this homestay as a place to meet and celebrate.
Tang Thanh Ha is one of the Vietnamese stars with a great passion for tourism. Every year, Ngoc Mai spends time with her family and friends here and there, capturing memorable moments together. In particular, the land of thousands of pine trees, Da Lat, is the place that "Miss Truc" favors visiting many times. Almost a few months, people saw her return to Da Lat and share about this land on her personal page.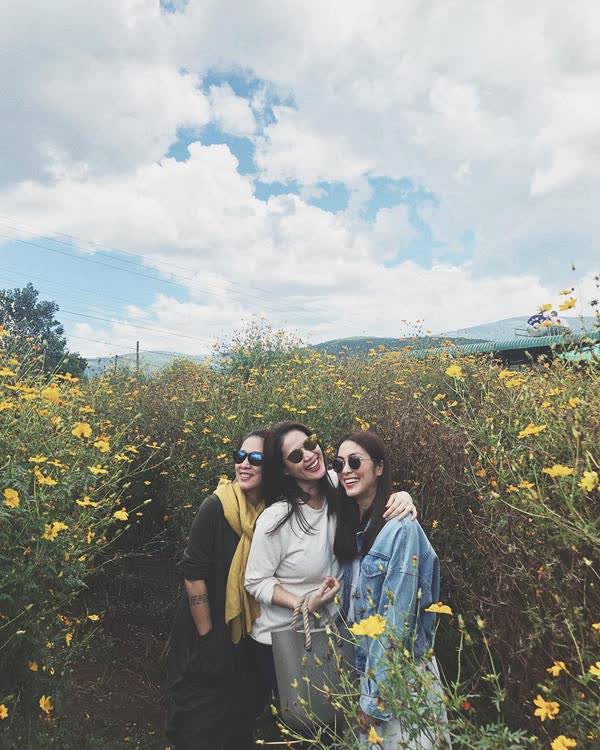 I thought that the pearl girl and her friends would have a trip full of luxury resorts, but for most of the trips, this beauty chooses places quite far from the crowded city to be able to fully enjoy the peace. the inherent stillness of the mountains. One of them is homestay In The Pines – where she had the opportunity to reunite with a group of close friends and party here during a short trip to Dalat in 2018.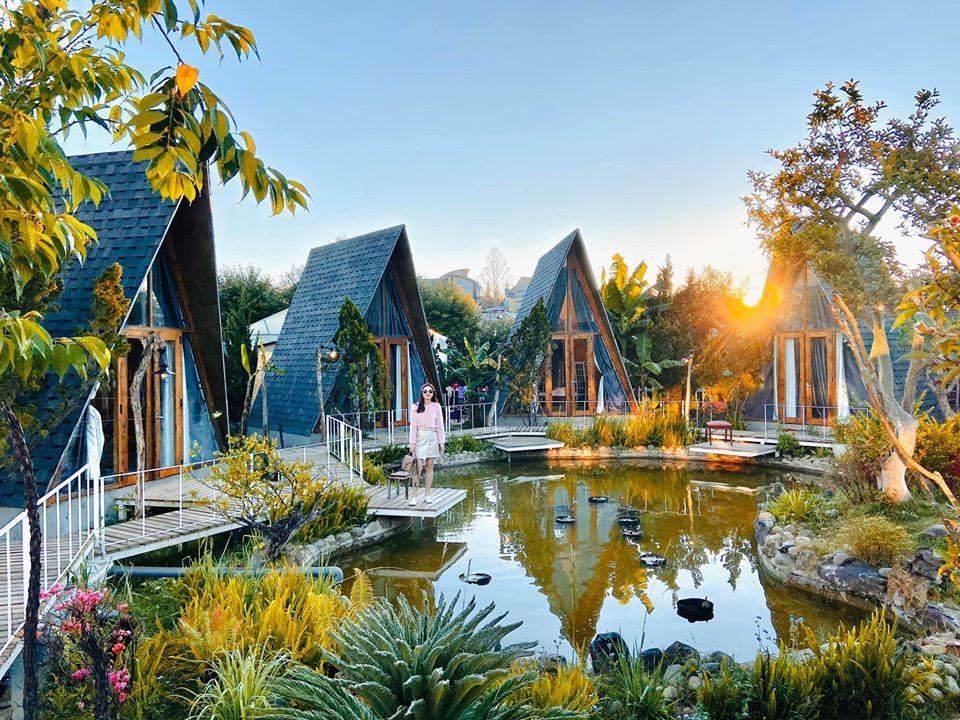 In the Pines is a small homestay about 4km from the center of Da Lat city. Considered a "fairytale place in real life", this place offers a poetic, peaceful living space with natural scenery that makes everyone "fall in love" at first sight.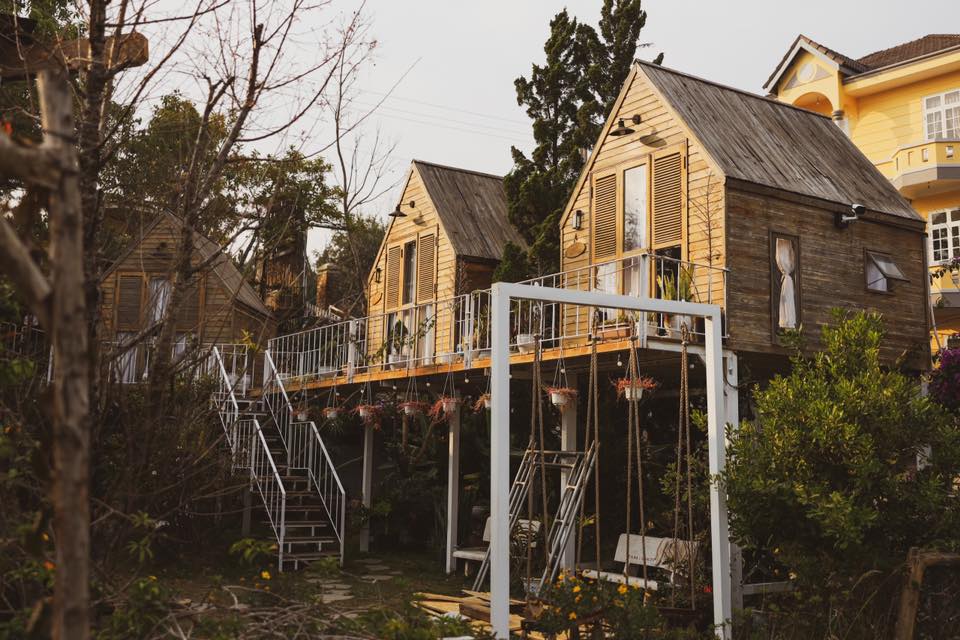 Beautiful small homestay with wooden houses designed in the style of stilts with a very unique triangular pyramidal roof. The rigid base layer is removed, all rooms are located on the 2nd floor, making the house seem to be floating in the air. For that reason, this homestay is also likened to a "house in the air" and is connected by a wooden corridor.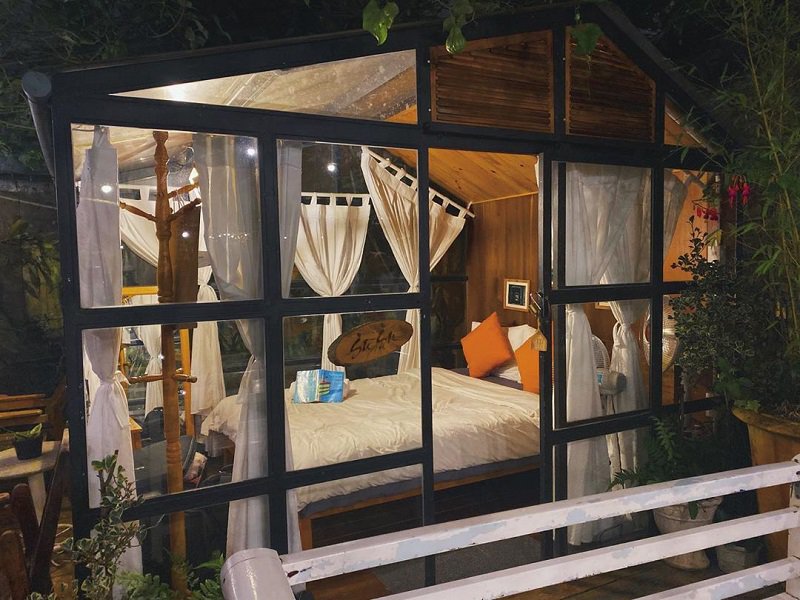 This resort has 2 types of rooms, including a private room for 2 people and a dormitory room to meet the needs and preferences of visitors. Room for 2 people includes 6 types with prices from 400,000 – 600,000 VND/person: susu room, purple phoenix room, stilt room, butter room, happy room and pink egg room.
The dormitory room is located on the hillside with 2 dorm bedrooms and 1 common room with a maximum capacity of 10-12 people, so you can comfortably "gather" overnight with your loved ones. Rent is 200,000 VND/person, the more you go with a large number of people, the cheaper the trip will be.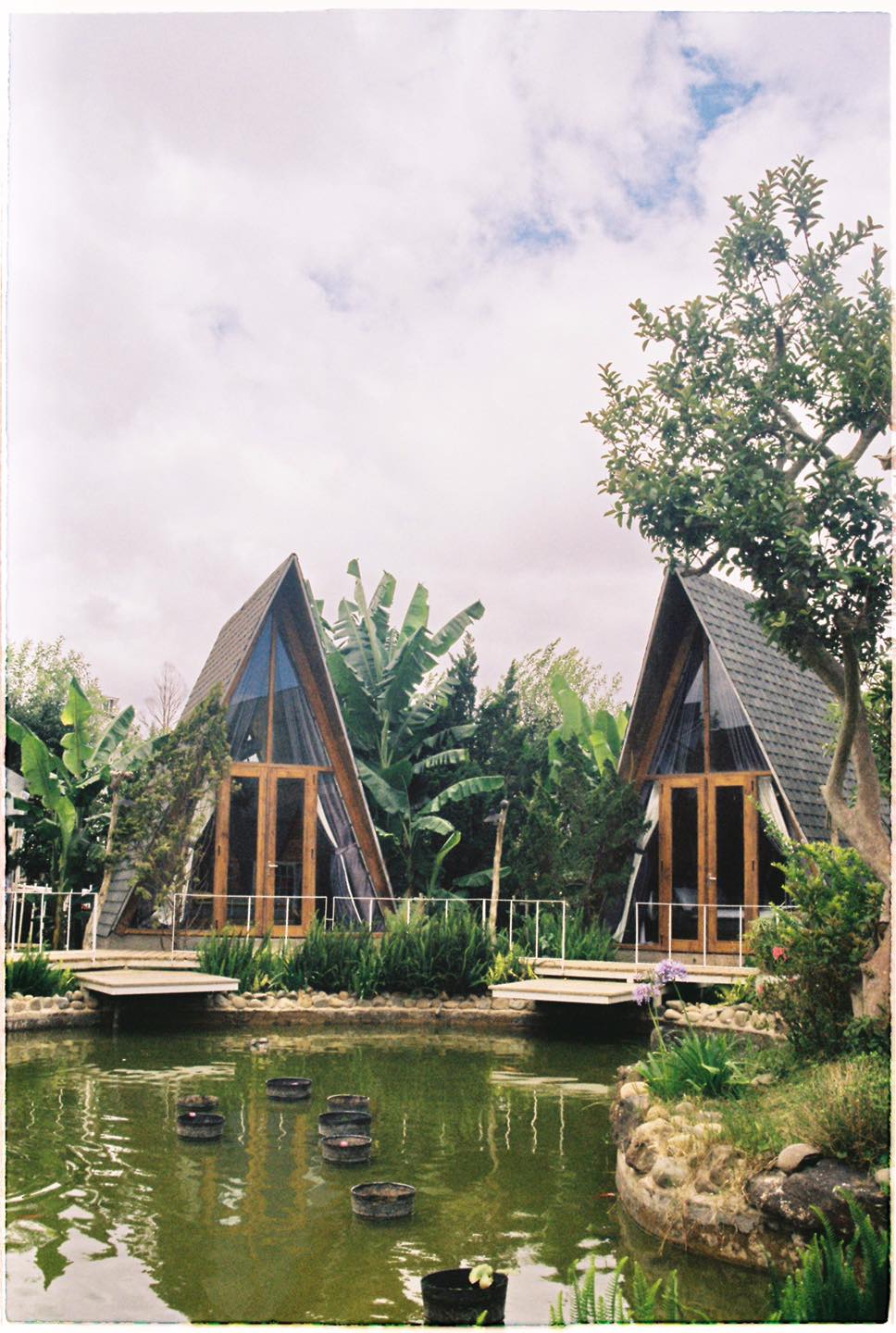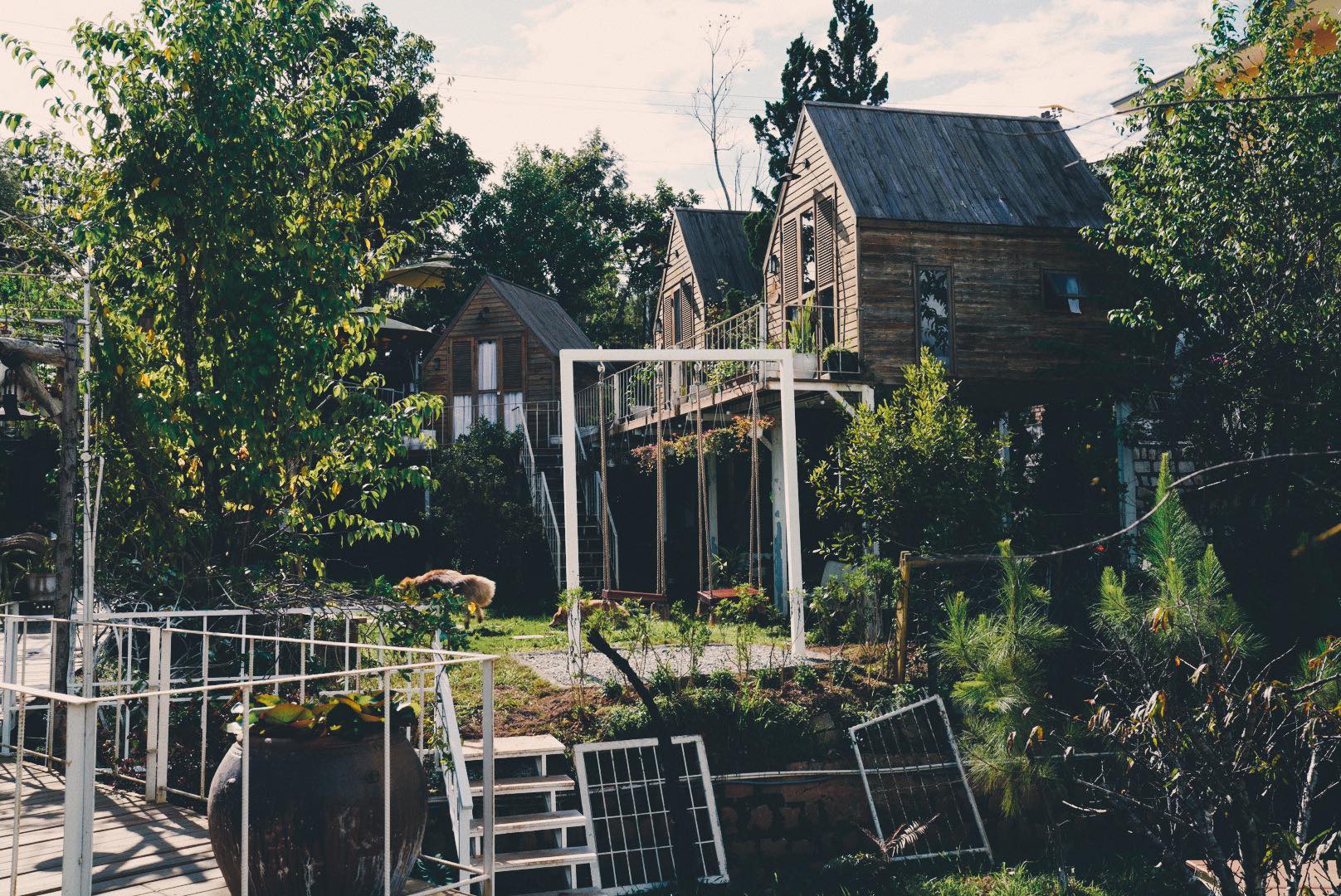 The houses are interspersed between the green pine trees, with many airy windows for visitors to enjoy the chilly air of the mountain town. Inside, the interior is decorated with minimalism but still comfortable and has a unique point, bringing a warm but also extremely "chill" space.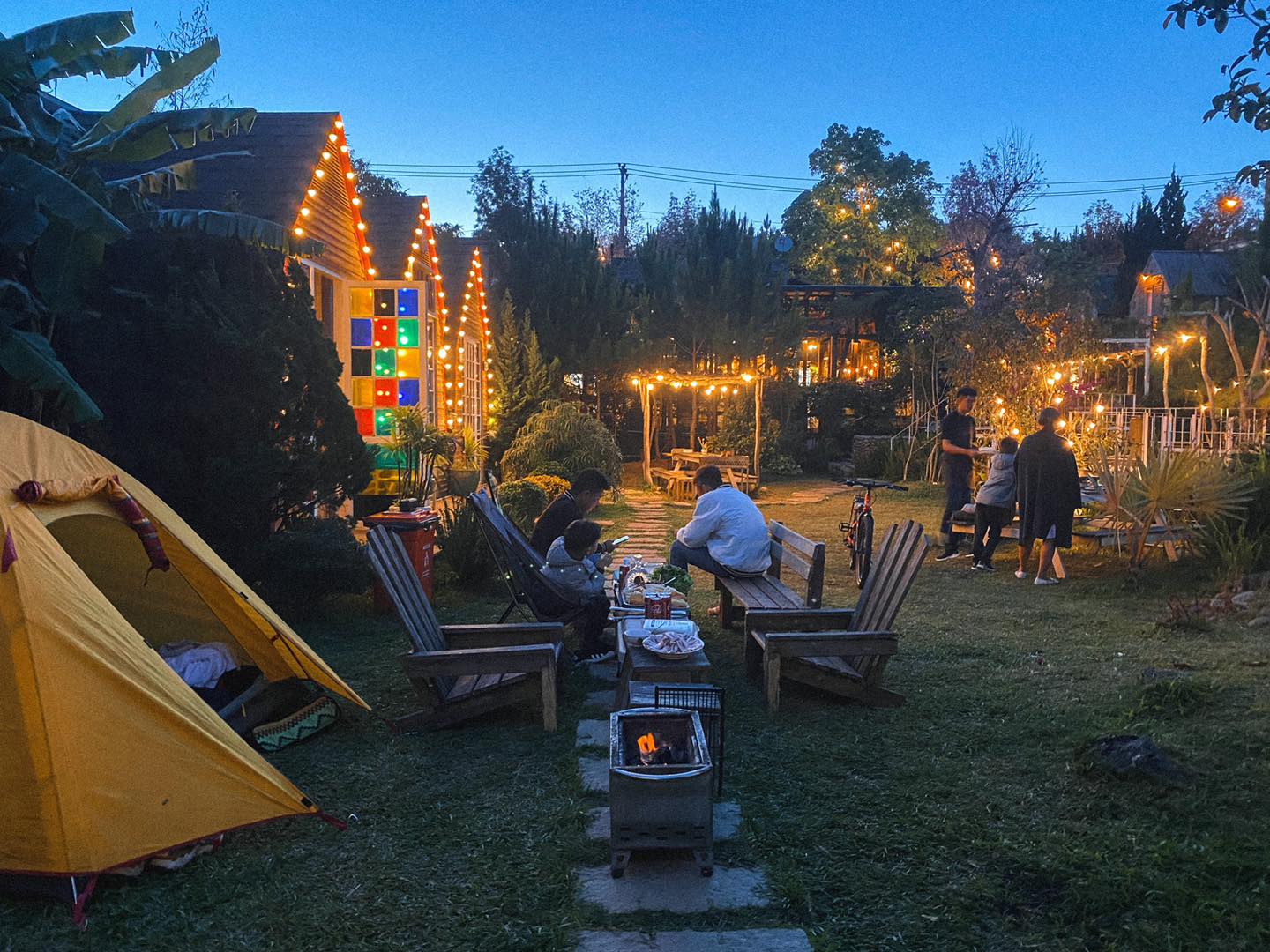 Besides, the homestay also has a garden space with full of green space. This is a place where you and your family or friends can freely live virtual, take photos as you like. In the Pines also has outstanding services such as a cafe, a bbq area, a shared kitchen, etc., which is an ideal place to organize attractive outdoor BBQ parties, campfires, etc. Or camp overnight.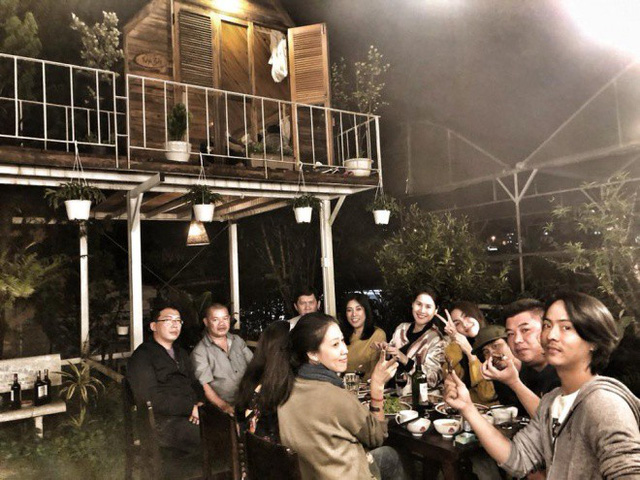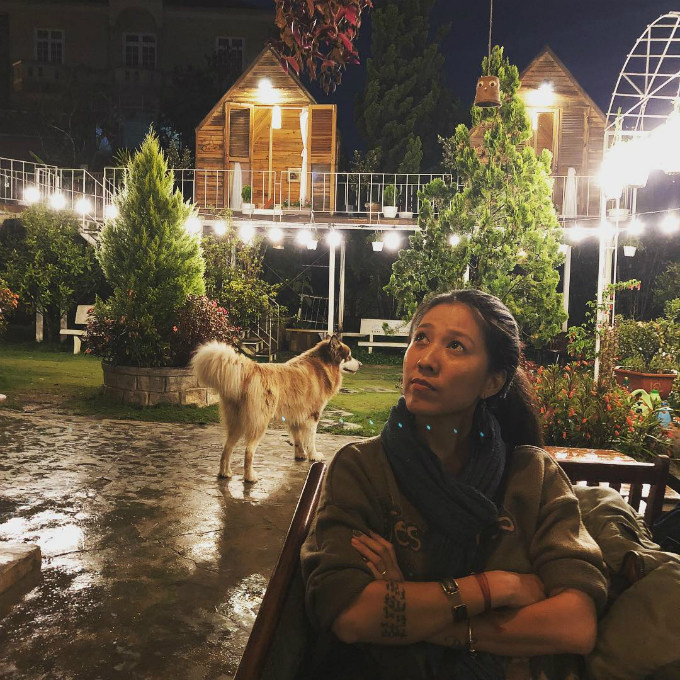 Possessing a peaceful space, completely separate from the outside, In the Pines brings a sense of peace in the middle of life, just coming, you immediately feel the fresh and fresh air, just like the scenery of a country. fairy place. Therefore, when coming to Da Lat, you do not need to stay in an expensive place, you can still enjoy the services and facilities of a true vacation.
(General: Reviewvilla.vn, agotourist.com)