Phan Thiet – There is no airport, and it takes more than 4 hours by car, but why do many people still choose as a destination?
Phan Thiet is a familiar tourist destination but has never been old, although moving here is a bit inconvenient, the resort services and natural scenery always compensate, making visitors satisfied.
For a long time, Phan Thiet city, Binh Thuan province has always been a prominent name among many beach tourism destinations in Vietnam. Although there is no airport, tourists in Ho Chi Minh City who want to go to Phan Thiet have to sit by car for more than 4 hours, or if they come from Hanoi, they have to take a plane in Ho Chi Minh City or Cam Ranh and move on for 4 hours. Road. Hard work, both time-consuming and laborious, but Phan Thiet still attracts a lot of tourists.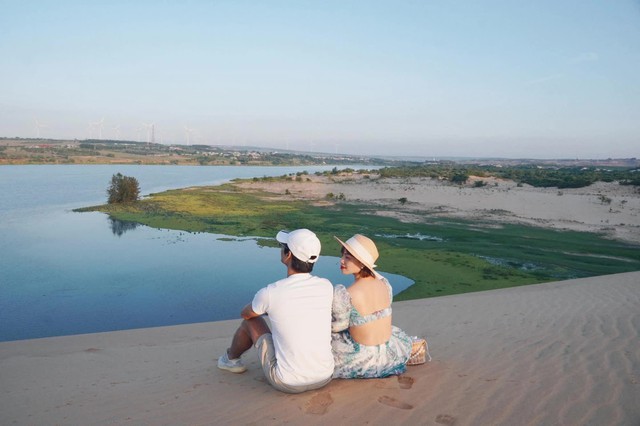 Photo: Ngoc Thuy
One of the main reasons is that Phan Thiet owns extremely beautiful coastline, long stretches of fine white sand, clear blue water and many soaring coconut groves. In addition, the immense white cut dunes, combined with the sun and wind, create an extremely typical tropical beauty. The next reason is the system of resorts here. Taking advantage of the sea and nature in general, the resorts build and exploit quite well the resort rooms, relaxation and entertainment services combined with beautiful views and favorable climate. And most of the resorts offer a great quality of resort, making visitors both relax with nature and enjoy attentive service. In addition, the places to visit in Phan Thiet city and more broadly in the area of ​​Binh Thuan province have charming scenery, still intact majestic beauty to explore.
How to move
Going from Ho Chi Minh City:
– Train: From Ho Chi Minh City to Phan Thiet, there is the SPT1 train line departing from 6:40 am, arriving at Phan Thiet station around 10:15 pm, taking about 3-4 hours to travel. Train ticket price to Phan Thiet ranges from 120,000 VND to 290,000 VND depending on the car and the type of seat.
– Passenger car: Compared with train, taking a sleeper bus to Phan Thiet will be cheaper, the time frame is more diverse, so there will be many convenient options for each person's travel plan. Usually it takes about 4 hours to travel. Some suggested bus operators such as Tam Hanh, Phuong Trang, Ngoc Hung … for about 180,000 VND.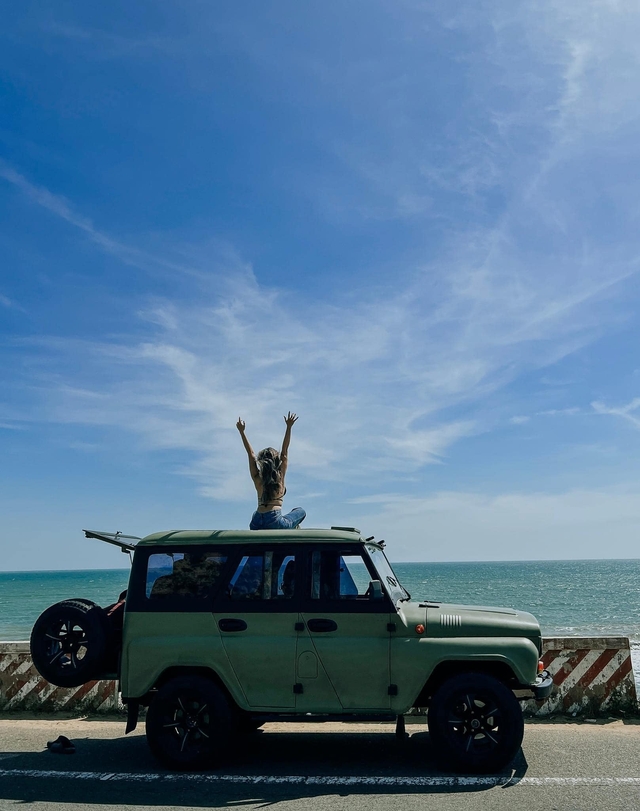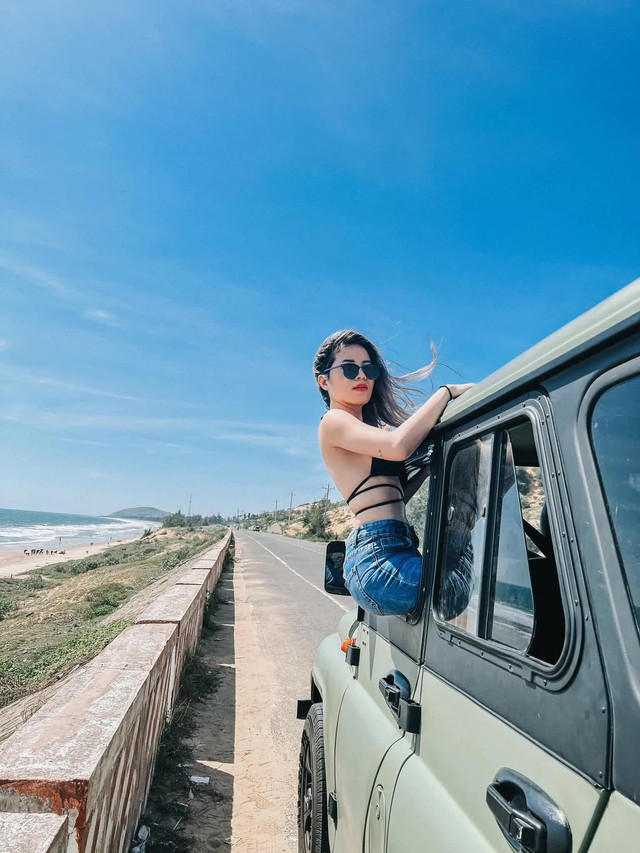 Photo: Tram Bao Nguyen
From Hanoi:
– Airplane: Because Binh Thuan province still does not have an airport, if you want to go to Phan Thiet City by air, you have to fly from Noi Bai airport to Tan Son Nhat or Noi Bai airport to Cam Ranh airport (Khanh Hoa). Hoa), then from Ho Chi Minh City or Cam Ranh will continue to take a bus or train to Phan Thiet.
– Bus: With a journey of more than 1500km, if you take a bus to Phan Thiet city, it will take a long time, about 30 hours. Some bus operators move such as: Hoang Long, Van Tuyen, Thu Trang, Ty Nghia, A Ba … with ticket prices falling in: 650,000 VND – 1,000,000 VND/ticket depending on seat and departure date/time.
Places to visit and play in Phan Thiet
Ong Hoang's Palace
Lau Ong Hoang is a place associated with poet Han Mac Tu because this used to be the dating place between Han Mac Tu and Mong Cam – the poet's lover. Poet Han Mac Tu wrote many poems about this charming landscape, so everyone can imagine the scene when standing here, looking out into the distance. Besides, Lau Ong Hoang is located at the top of Ba Nai hill, also known as a remnant from the villa of a French official in the past.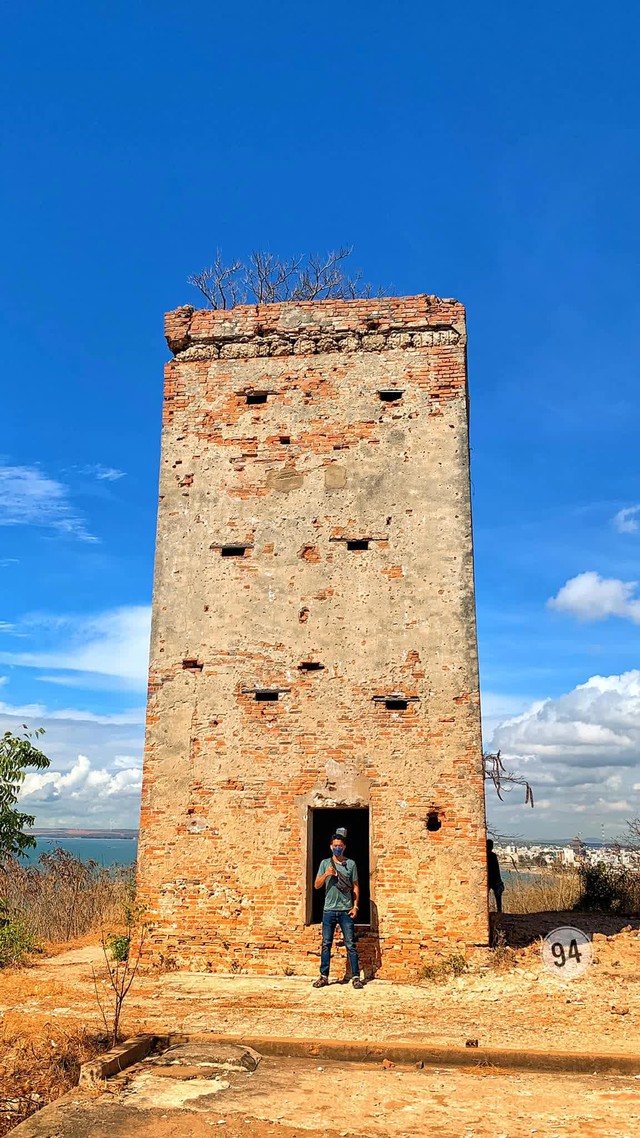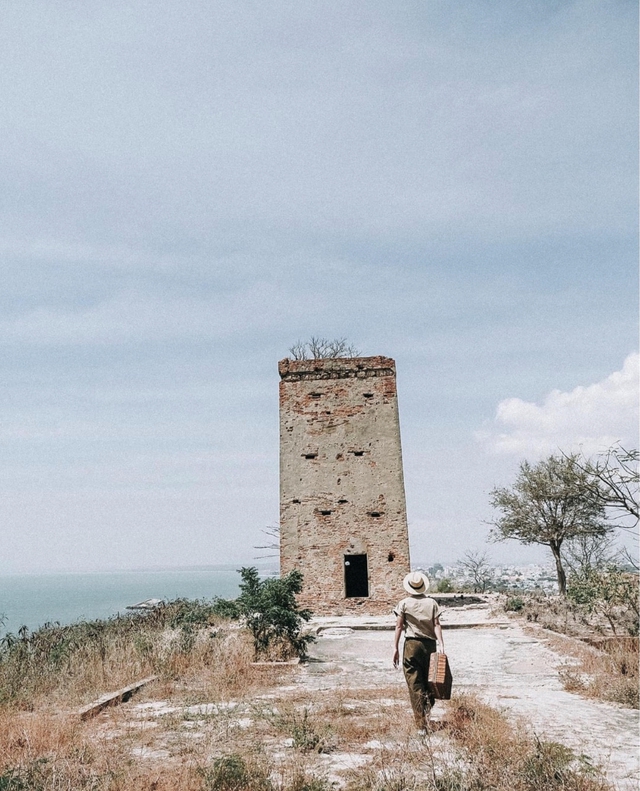 Photo: Van Hao, Henry Duong
Poshanu Cham Tower
Poshanu tower is 7 km northeast of Phan Thiet center, located on Ba Nai hill, Phu Hai ward. The tower existed from the end of the 8th century, was built as a place to worship Shiva, but later it was called Princess Po Sah Inu, which was very respected by the Cham people at the time. Currently, this is a group of remnants of the ancient Champa Kingdom, with Hoa Lai architectural style. Coming here, visitors will admire the majestic and mysterious beauty of the quintessence of Champa architecture and art.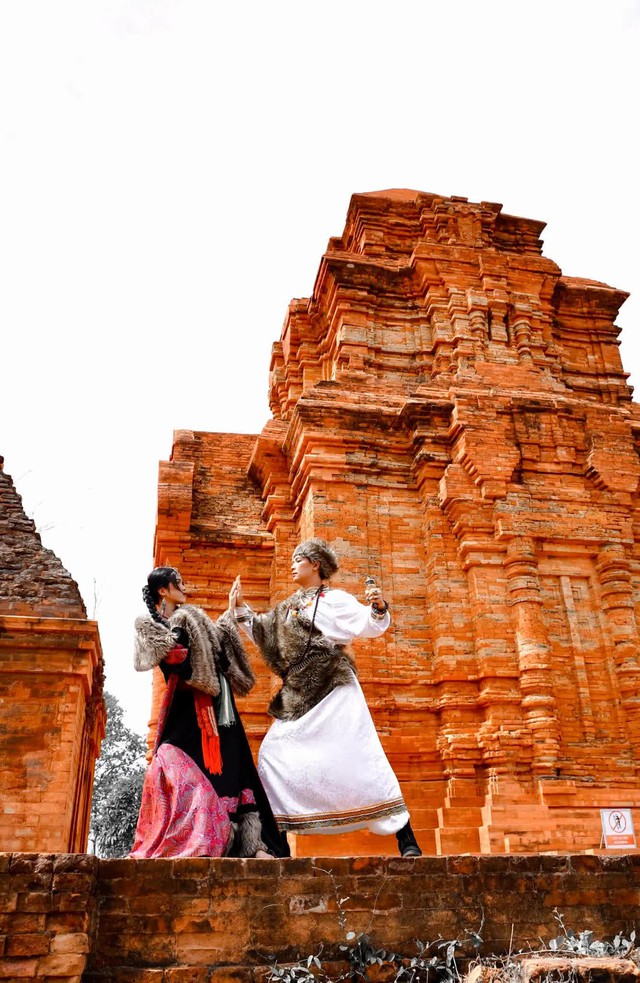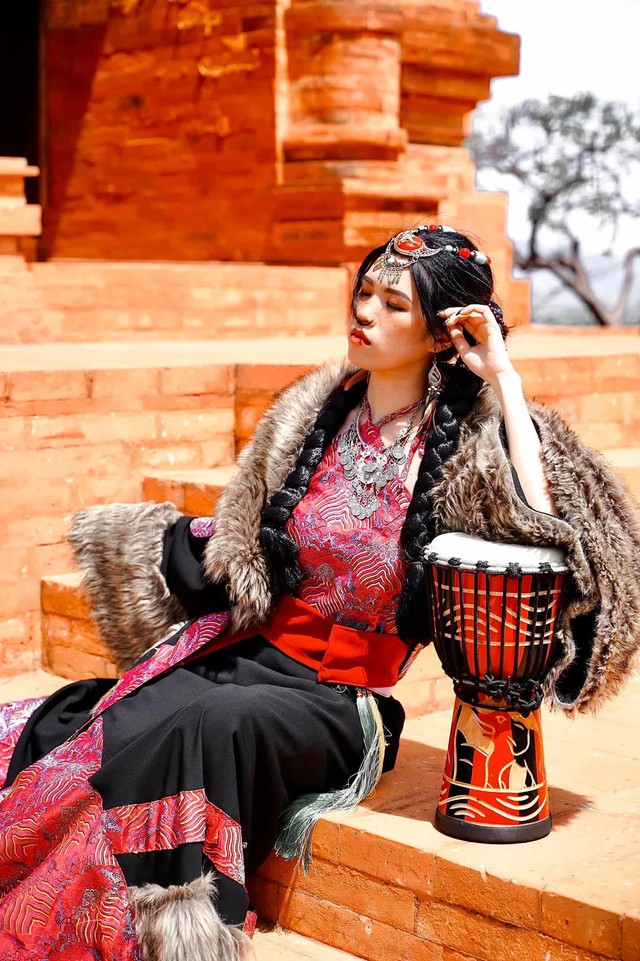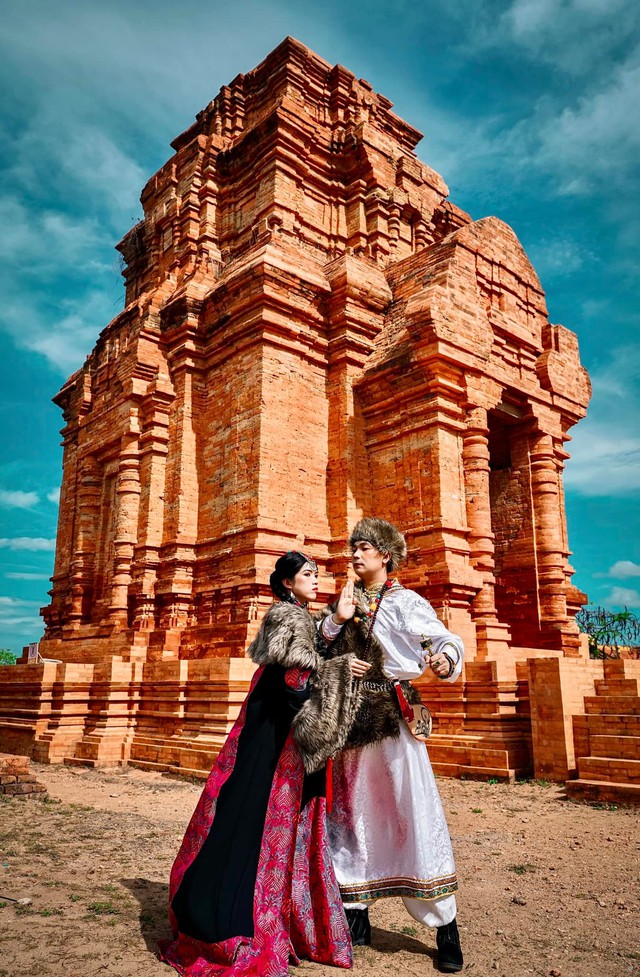 Photo: Binh Yen
Fairy Stream
Suoi Tien is located on Huynh Thuc Khang street, Phan Thiet city. When looking to Leviva resort on this road, going about 50 meters more will have to cross a short bridge across the stream, this stream is Fairy Stream. It's called a stream, but it's actually just a small creek hidden behind a sand dune that pours into the sea. The reason people love to come here is because the water is orange-red due to the color of the sand mixed with the red and white stalactite hills undulating along both sides of the stream. Especially when going upstream to the upstream stream, you will also see a small waterfall.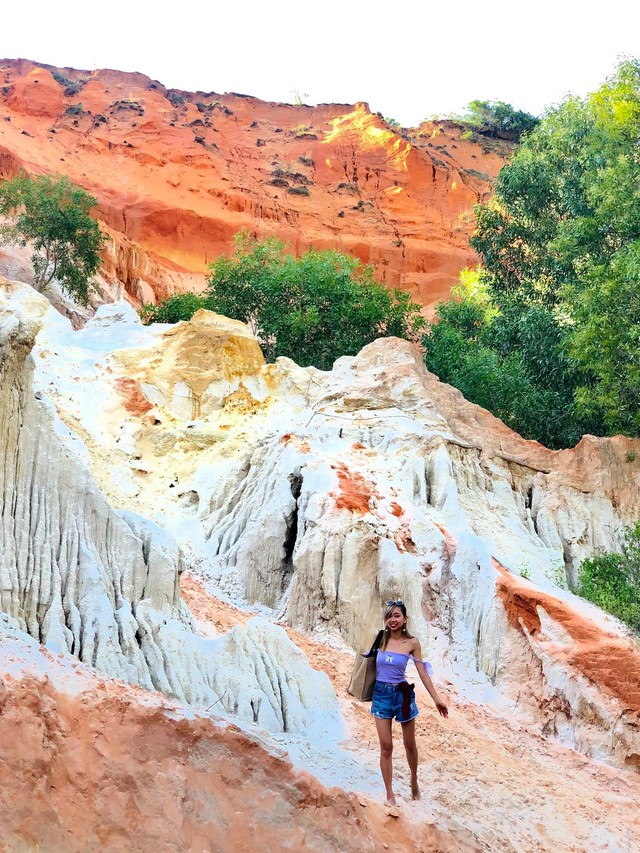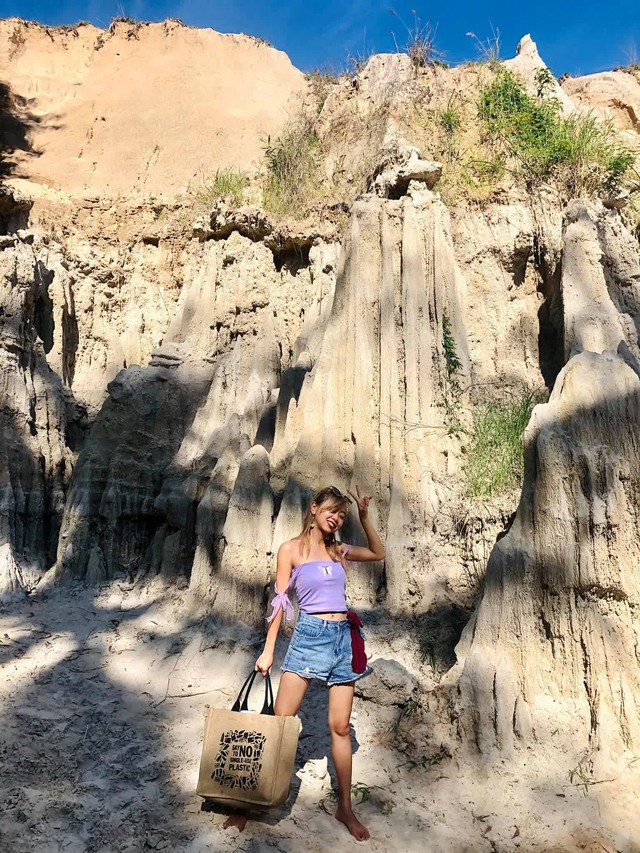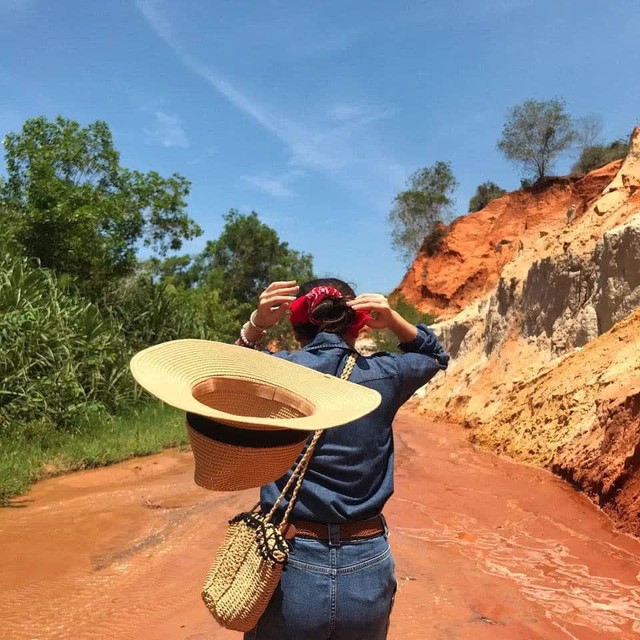 Photo: Ba No, Sunshine
Ong Dia rock beach
Ong Dia rock beach is a pristine, clear blue beach with many rocky beaches protruding out of the sea. Because the rocky beach is located in Ham Tien ward, Phan Thiet city, only about 10km from the city center, almost all visitors come here to enjoy the cool air with smooth sand, low and gentle seabed. shallow and calm waves.
If you come in the afternoon to watch the sunset, this is also the best time to see Ong Dia rock beach at low tide.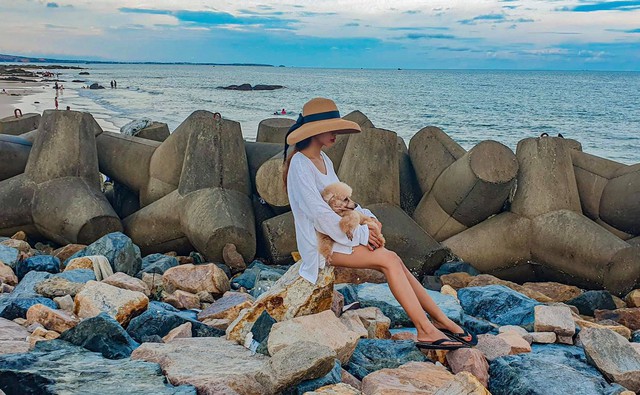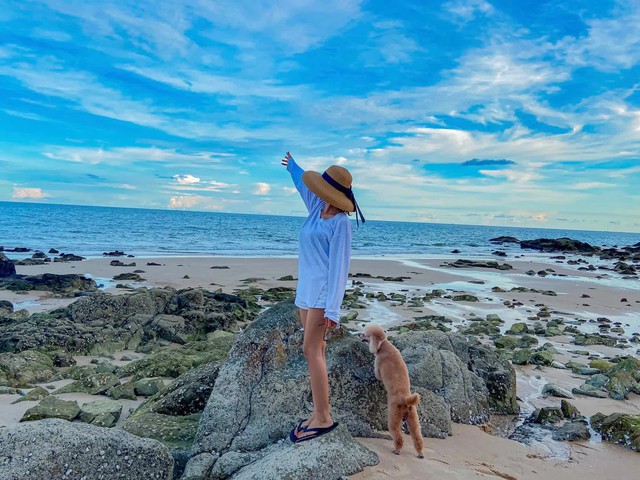 Photo: My Le
White intercession
This is a place that is not located in the center of Phan Thiet city, but almost everyone who comes here will definitely stop by. About 60km to the northeast, Bau Trang, also known as Bach Ho, Bau Sen, Bau Cat… was formerly a large freshwater lake covered by sand dunes stretching in Binh Thuan. When looking at the vast stretch of white sand dunes, the feeling is no different from a miniature Sahara. In addition to taking pictures to check-in, visitors often experience riding a jeep around, playing sandboarding or rowing when Bau Sen has lotus flowers in full bloom.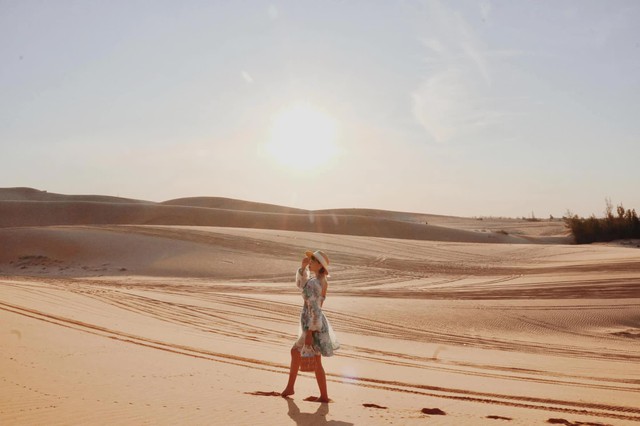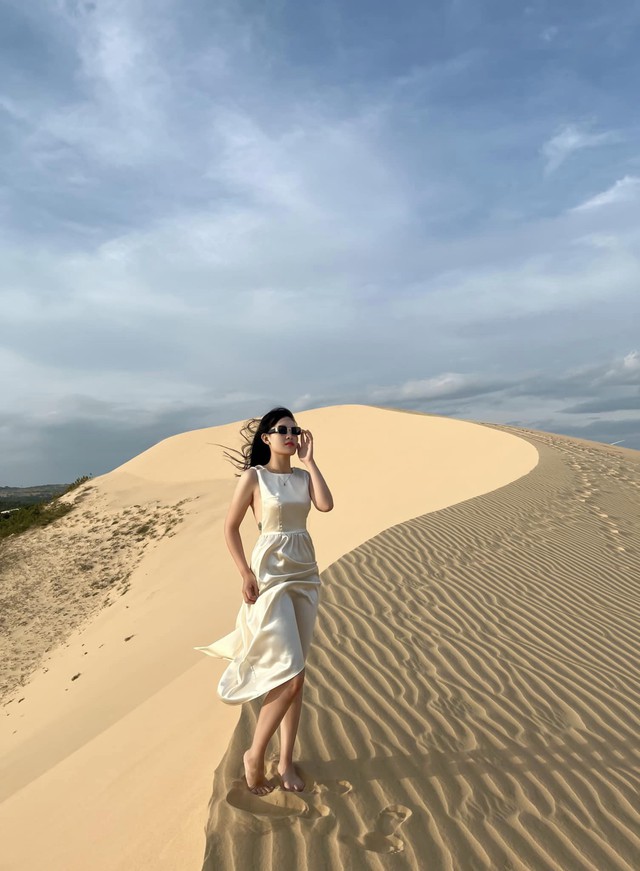 Photo: Ngoc Thuy, Phuong Thuy, Nguyen Van Anh
Ideal resorts
Radisson Resort Phan Thiet
Currently one of the most famous luxury resorts in Phan Thiet, especially when the couple Dieu Nhi – Anh Tu held an intimate party and took wedding photos right here, it was immediately interested and chosen by many people. your vacation destination.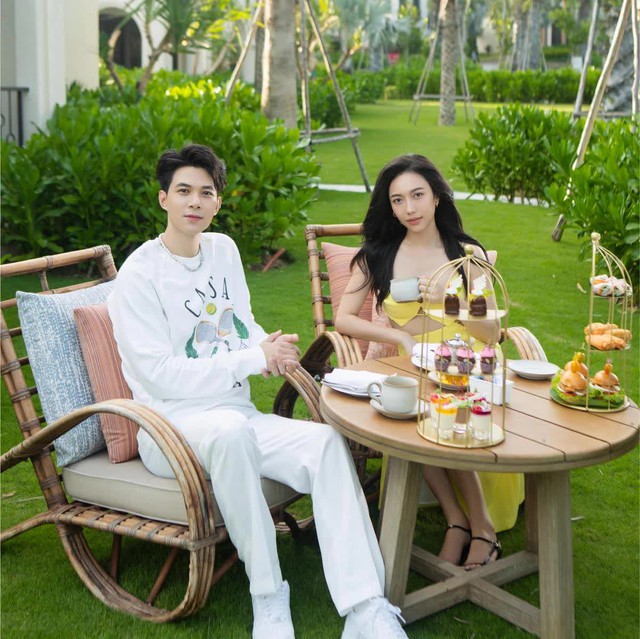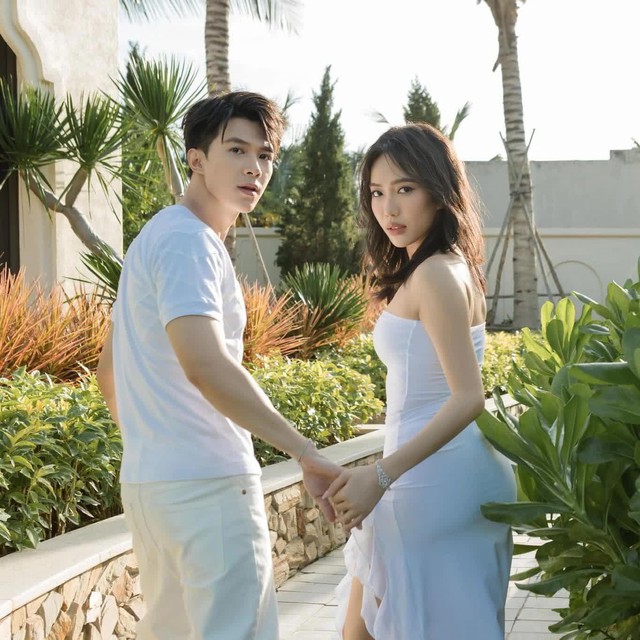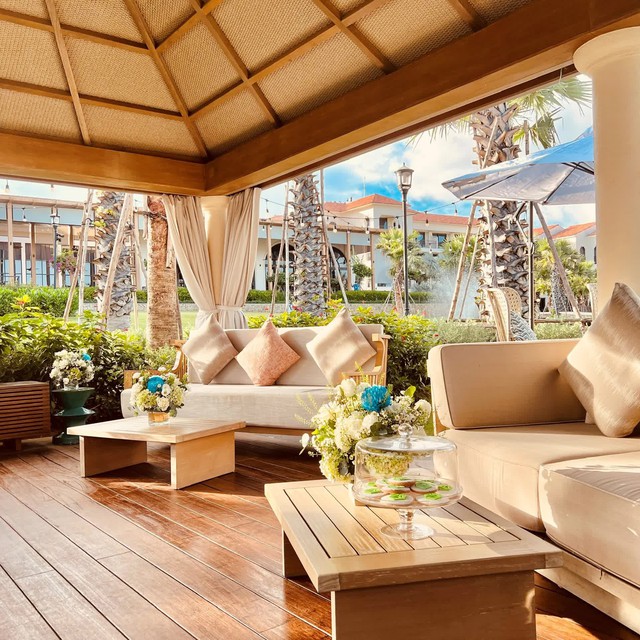 Dieu Nhi and Anh Tu took wedding photos here.Photo: Radisson Resort Phan Thiet.
This is a high-end resort but designed in a boutique style, bringing the breath of the Mediterranean region, creating a fresh and close feeling, suitable for couples or small families who want to stay in a place with an affordable price. right and without moving too far. Because from the center of Phan Thiet city, it only takes about 15 minutes by car, convenient for moving to any other tourist and sightseeing places.
The entire Radisson Resort Phan Thiet hotel has only about 76 rooms including luxury suites and separate villas, so even in the most crowded to full rooms, it still feels not too crowded, ensuring space to rest. , relax whether in the common areas such as the pool or the beach.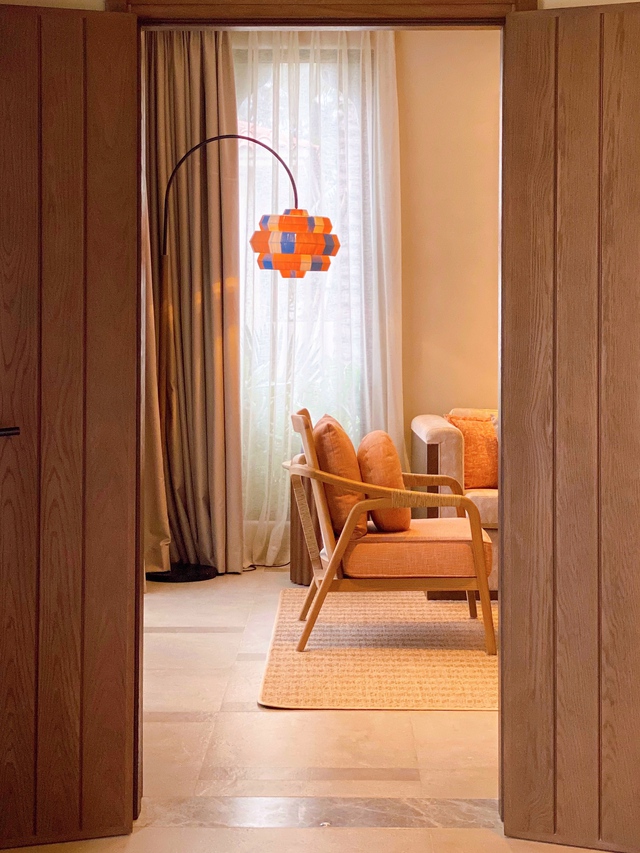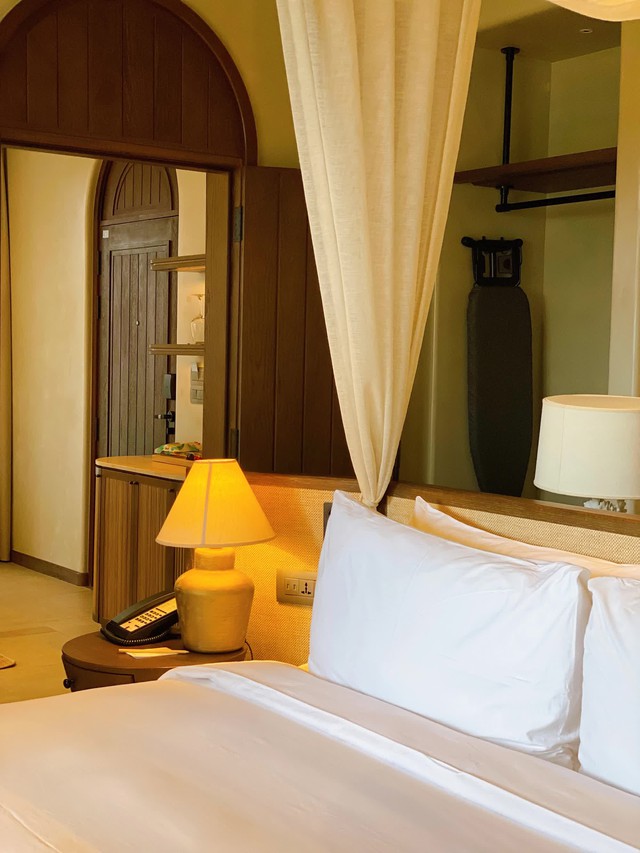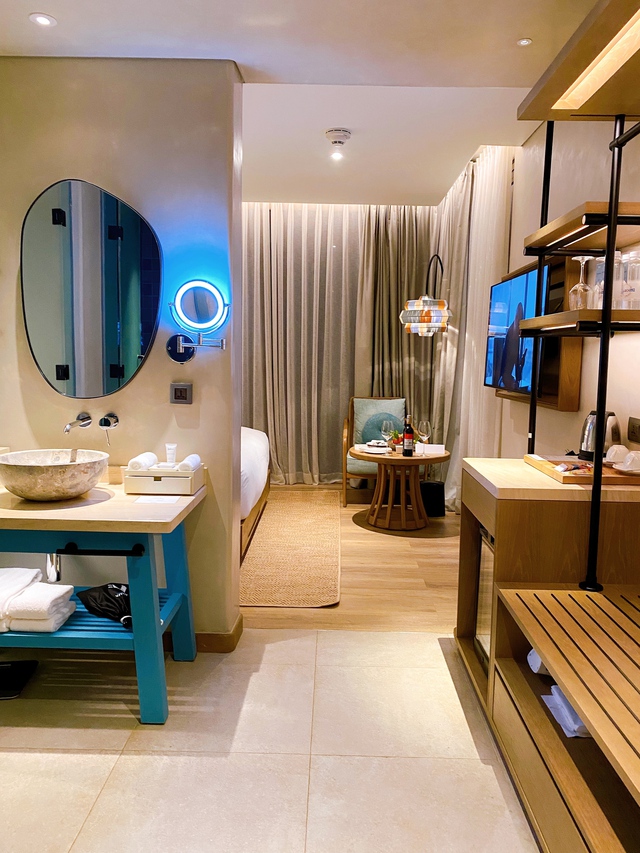 Inside the suites and villas with extremely cozy arrangement and colors create comfort and relaxation.Photo: Ngoc Mai
Talking about the beach, this place still follows the criteria of keeping the original wild and natural features intact, equipped with tents for people to sunbathe and rest. Especially, there is an outdoor spa experience or a foot massage right on the beach, which is one of the services that is not available everywhere and is extremely worth experiencing during the trip.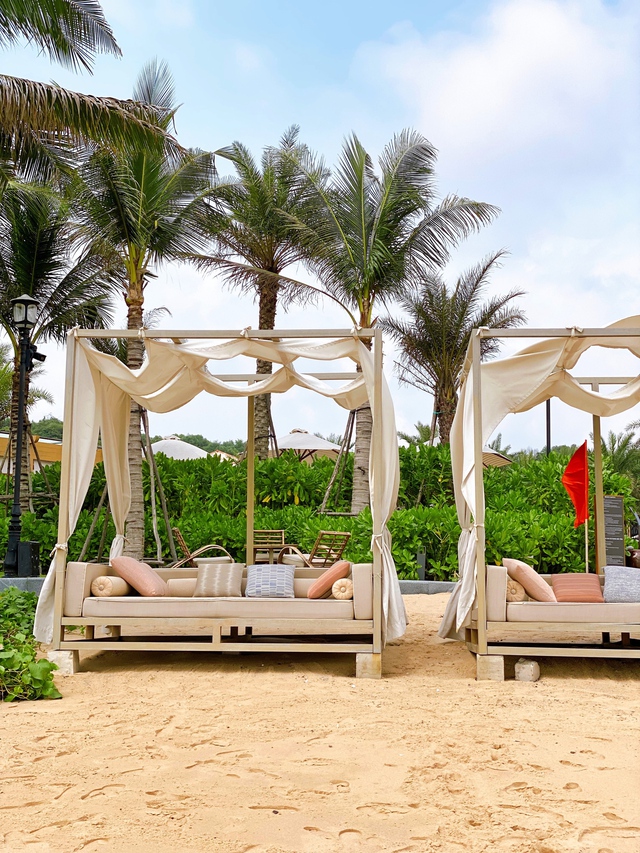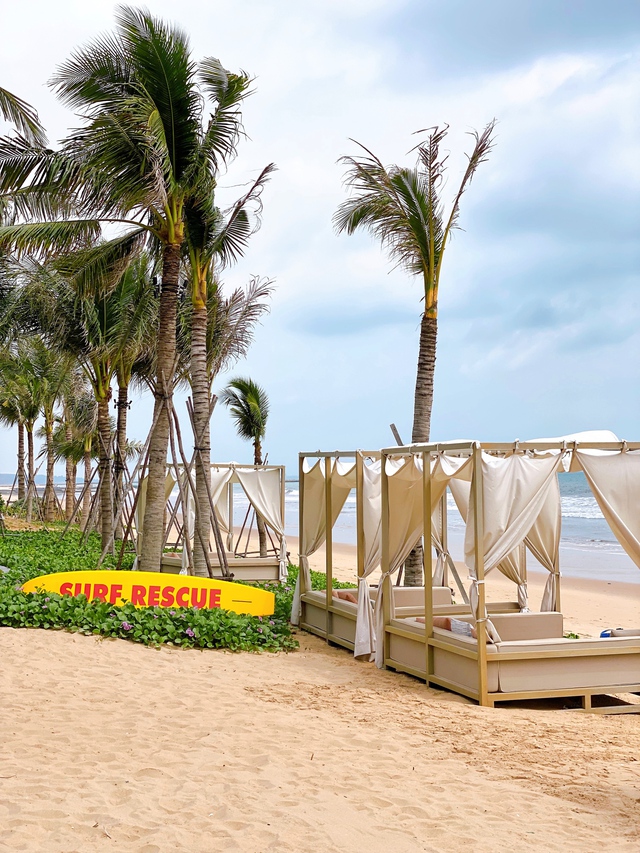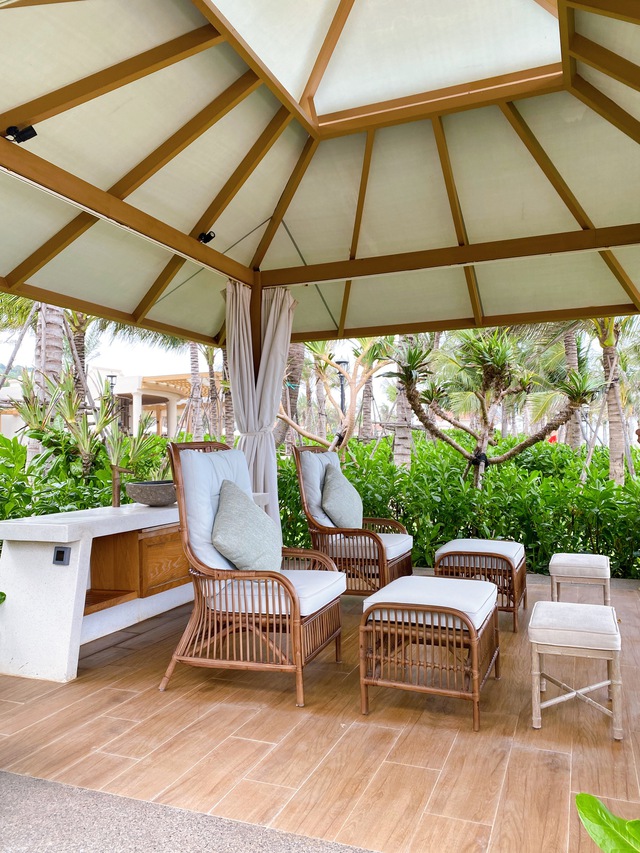 Outdoor massage area.Photo: Ngoc Mai
Radisson Resort Phan Thiet
Room price: 2 million – 6 million 500k/night (depending on the type of room and the price difference from time to time).
The Cliff Resort & Residences
This resort is located on Nguyen Dinh Chieu Street, Phu Hai Ward, Phan Thiet City. This place is a combination of bungalows and hotels designed in a modern, elegant Mediterranean style and suitable for the lively coastal landscape. Because it is located on a slope with a front facing the sea, The Cliff Resort is always windy and peaceful with the sound of waves crashing, so that you and your family have the most relaxing and relaxing vacation.
Only about 2 million/night, you will be in comfortable, private rooms from architecture to service style. A special feature in the design is that the interior of the room with the outside landscape is extremely harmoniously combined, creating a perfect resort feeling and watching nature. The accompanying services such as restaurant, spa, sports area, modern cinema room, swimming pool… are always appreciated.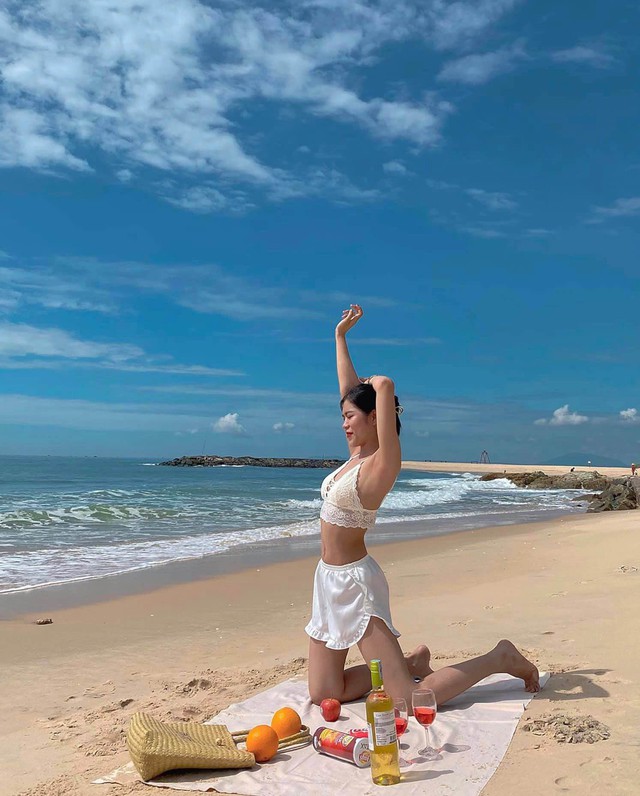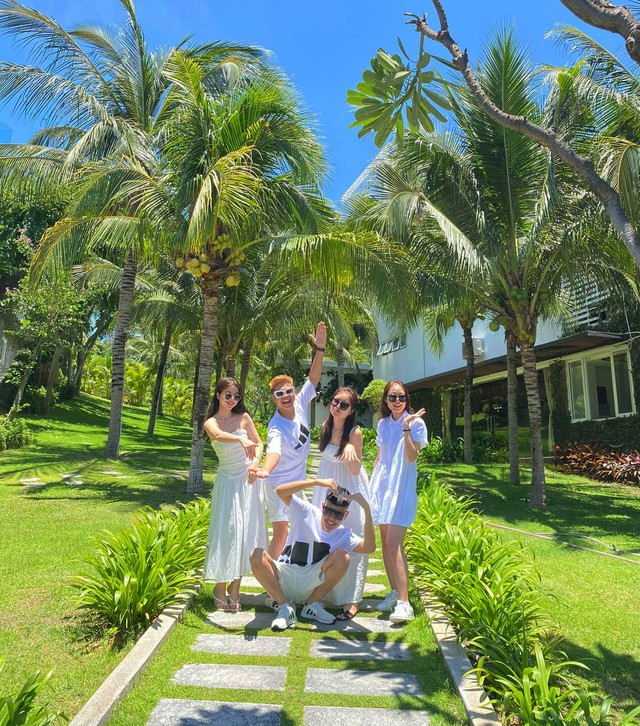 Photo: The Cliff Resort & Residences
The Cliff Resort & Residences
Room price: 1 million 800k – 13 million / night (depending on the type of room and the price difference from time to time).
Le Viva Resort
This is a 4-star resort located at 32 Huynh Thuc Khang, Ham Tien Ward, Phan Thiet City with an area of ​​​​nearly 3 hectares, spacious and airy. With a classic, aristocratic and luxurious design style, this place is like a miniature Greece located next to the blue sea. Room rates range from 1.2 million / night, this is quite an affordable choice for families who want to enjoy the beauty of the tropics. In Le Viva, there is a private beach connecting with the beach – Ham Tien coconut palm, in addition, the resort's campus also has 2 large swimming pools, the first swimming pool has a water play area and the second swimming pool is overflowing with water. The largest – second area is very suitable for families to rest together, enjoy the fresh air.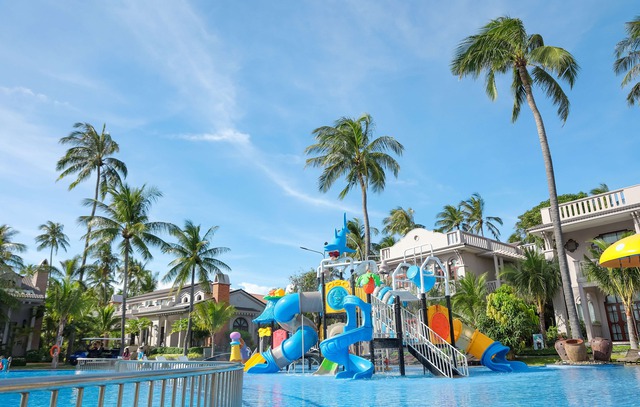 Photo: Le Viva Mui Ne Resort
In addition to the culinary and relaxation services commonly found in resorts, there are also entertainment services and water sports games such as windsurfing, kitesurfing, surfing, kayaking, fishing. recreational fish… for everyone to enjoy and relax.
Le Viva Resort
Room price: 1 million 800k – 9 million 500k/night (depending on the type of room and the price difference from time to time).
Blue Ocean Resort
Blue Ocean Resort is located at 54 Nguyen Dinh Chieu, Phan Thiet City, surrounded by coconut trees, next to a wide and cool beach. Blue Ocean Resort room rates fluctuate around 1.7 million / night with a structure located in the midst of extremely harmonious nature, either surrounded by a green garden, next to a swimming pool, or in front of the sea. splendid. Many families choose to come here to relax because of its central location, convenient access to many attractions such as wine castle, Ong Dia rock beach and local food spots.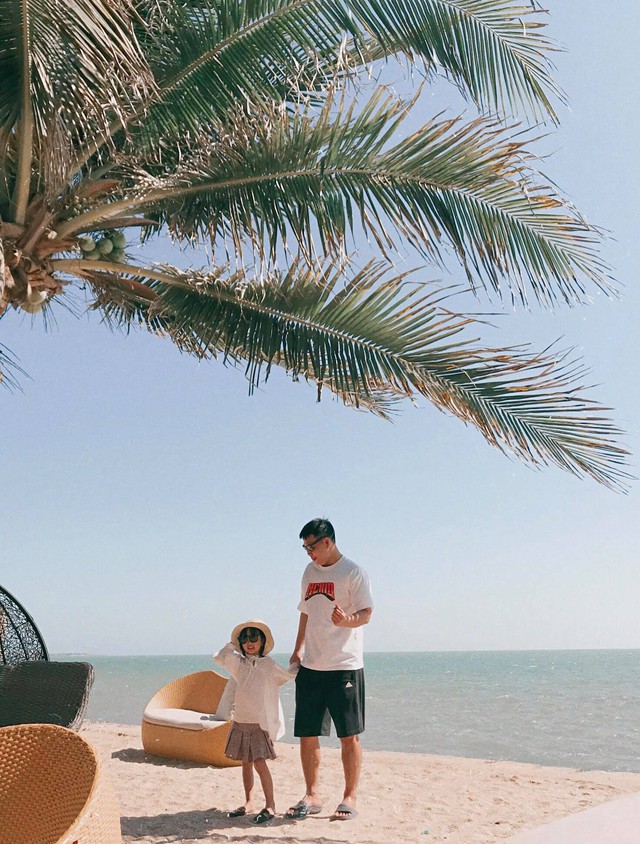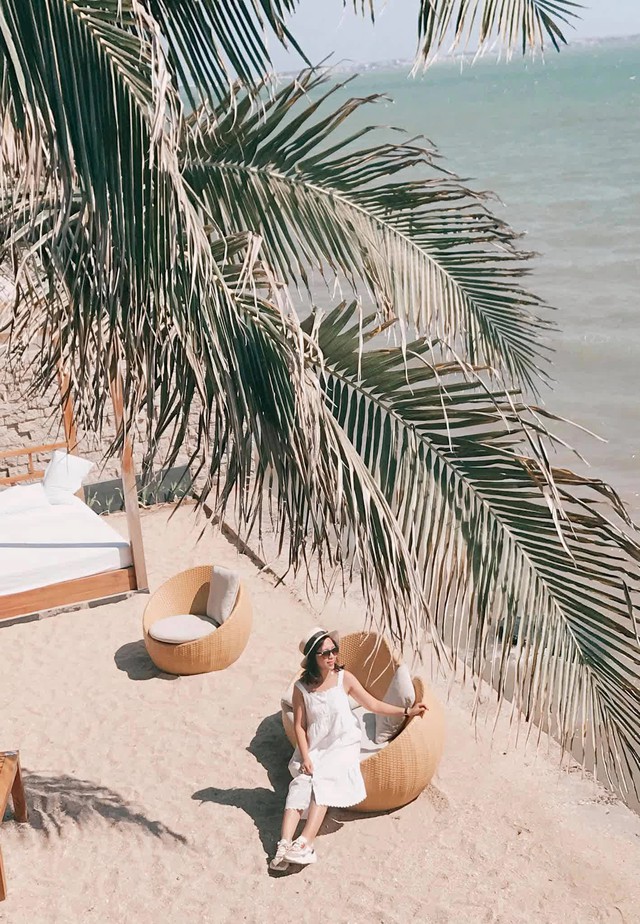 Photo: Ductien Dao, Hue Trinh
Blue Ocean Resort
Room price: 2 million – 4 million / night (depending on the type of room and the price difference from time to time).
Photo: Internet (vinlove.net)