Bui Hui steppe in Ba To district (Quang Ngai) is checked in by many young people along with very romantic purple sim hills. The steppe attracts young people by its green and beautiful fields. With Vinlove walking around the rich land through this article!
1. Introduction to the steppe of Bui Hui
Bui Hui steppe, Ba Trang commune, Ba To district, Quang Ngai, is located at an altitude of 628 meters above sea level. In addition to the wide grassland in the steppe, there is also a vast sim hill of 20 hectares. This is one of the most beautiful steppes in the mountainous province of Quang Ngai, away from the city. Quang Ngai is more than 50km southwest, located in the middle of mountainous areas.
This is the place where heaven and earth meet, the Bui Hui steppe always hides the mystery of the great, always inspiring visitors to explore. Therefore, even though you have come here once, visitors are still attached and will book your schedule to come and experience next time.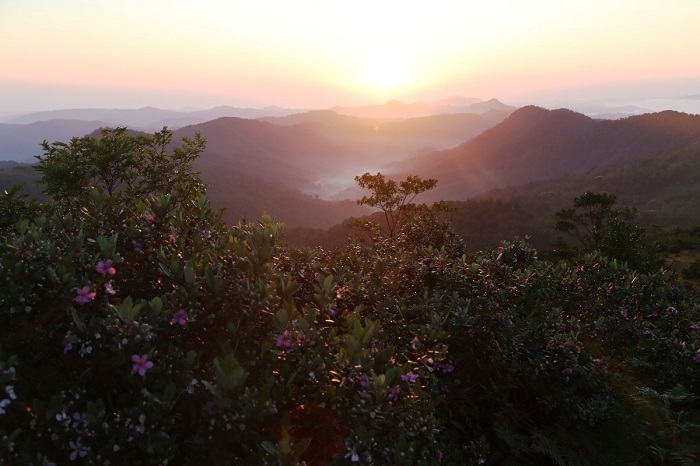 In addition to sim hill, Bui Hui steppe also has beautiful grass hills with cool climate all year round. This is a favorite destination for many young people in Quang Ngai during summer days because the steppe possesses a picturesque natural landscape, offering many poetic experiences that you should once visit in life.
2. Where is the Bui Hui steppe?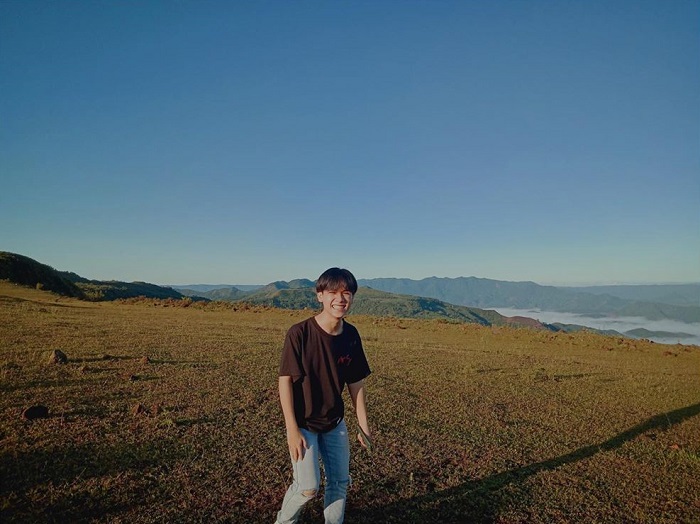 Referring to Quang Ngai tourism, everyone thinks of Ly Son Island, extremely beautiful and charming. But did you know that Quang still has a green grassland, located about 60 km southwest of Quang Ngai city center.
Bui Hui Quang Ngai steppe is located in Ba Trang commune, Ba To district, located at an altitude of about 700 meters above sea level, possessing a cool, mellow and pleasant temperature background. This place is also a steppe with many of the most beautiful sims in Quang.
3. Moving instructions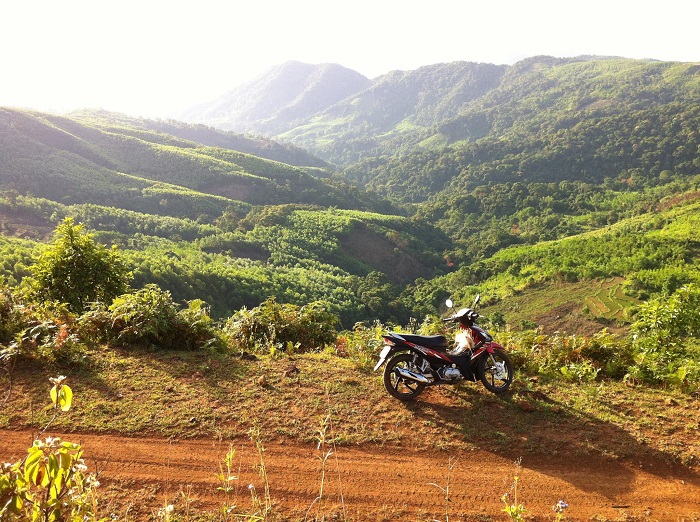 From the center of Quang Ngai city, it takes about 60km to reach Ba To district, about 10km further, crossing the winding, winding road of the hill will reach Bui Hui steppe in the middle of the sky.
4. Discover the beauty of the Bui Hui steppe
4.1 Fall in love with the beautiful picture of the Bui Hui steppe
If you are an enthusiast of moving and not afraid to explore, the journey to the Bui Hui steppe is really a wonderful and meaningful thing. It was not an expansively flat, paved highway. That is the road is a bit bumpy, winding up and down as if to test the spirit of young people.
Then when you come to this beautiful steppe, you will find that the 60km journey is a bit arduous but totally worth it. On bright sunny days, immense steppe appears in front of the eyes with the beauty "in love" that everyone who comes here also says "so beautiful!".
In front of you will be the rolling meadows, green hills one after another, and between them are peaceful valleys like a princess sleeping in the early morning. The higher you go up the hill, the cooler and more pleasant the air becomes.
In the early mornings, golden sunlight shines warm rays of sunlight on each branch of trees and grass, stretching on the green and green grass, creating a really fresh and peaceful beauty. The Bui Hui steppe just started a new day with a refreshing spirit, with a very pure and peaceful beauty that a lavish city can hardly find.
This beautiful steppe is considered a place of harmony between heaven and earth, hiding a little mysterious something of the great, creating an attraction for visitors who love to explore and learn nature. That is the reason that so many people come here once to "miss", want to come back many times and more times to fully feel the beauty of Bui Hui.
4.2 Enjoy the sim flower season "purple the whole sky"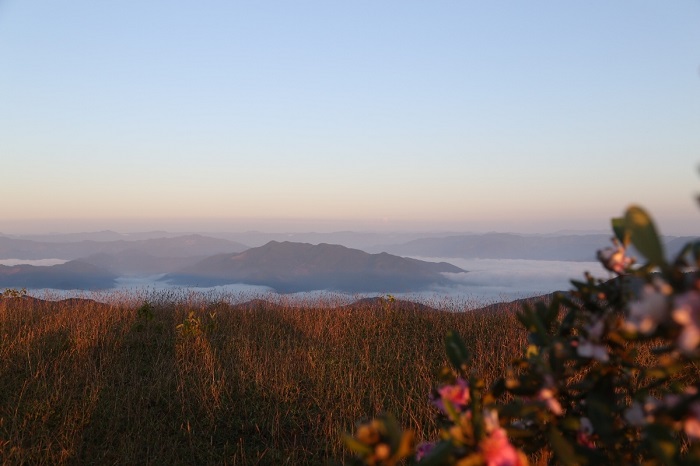 In addition to the green and immense grass hills, the Bui Hui steppe also has simulated hills with thousands of trees scattered around. From May to July, the sim flower hills here begin to bloom. This is considered the most beautiful and poetic moment of the Bui Hui steppe. Before the scent of thousands of purple myrtle flowers, when coming here, visitors feel lost in a vast steppe paradise.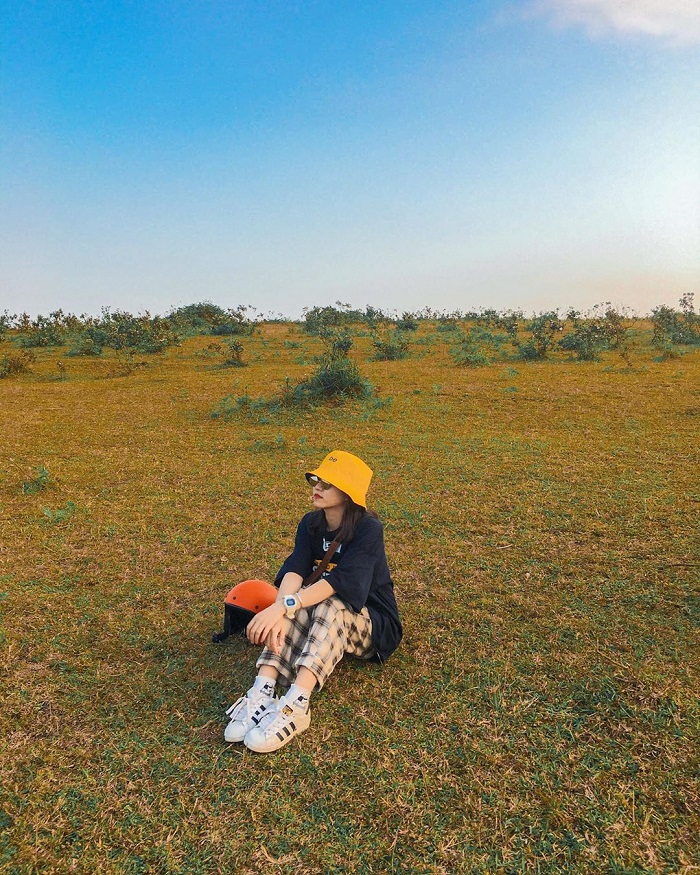 At this time, you will admire a whole green Bui Hui steppe as if wearing a new shirt with a tender, sweet purple color. Thousands of beautiful and slender flowers swing gently in front of the upland wind, creating a very poetic scene.
Lost in this steppe in the season of simmering, you will be overwhelmed by the scent of this tiny flower. Not too luxurious or arrogant, but the simmering purple has a unique charm, creating a very irresistible charm for this land.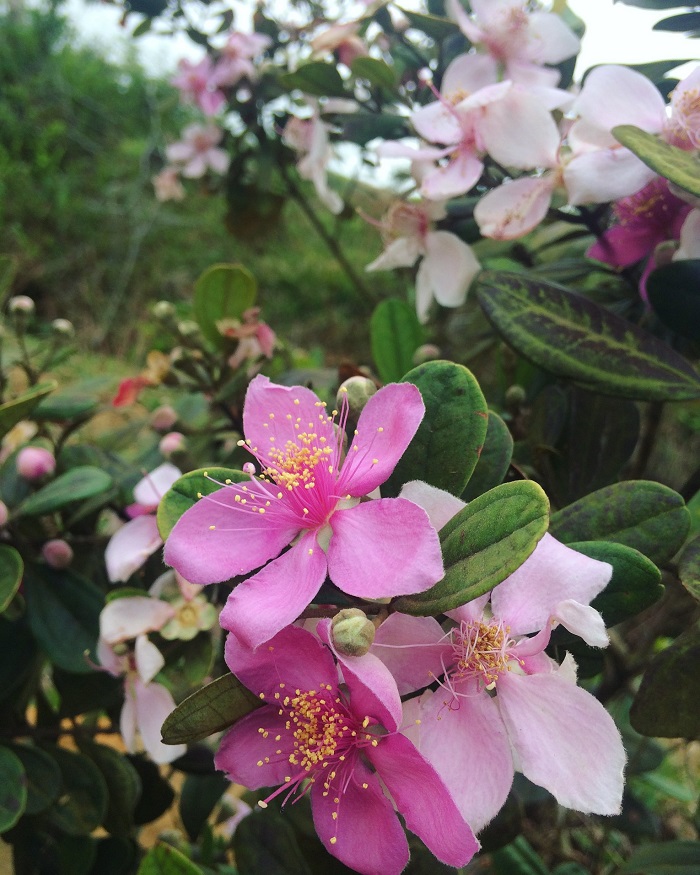 The sim flower season on Bui Hui usually lasts about 1 month. Purple myrtle stands out on the green grass, making the landscape of the mountains and hills even more poetic. In particular, the sim hills here are also cared for and protected by local people to harvest fruits.
When the simmering season is over, the sim hills in Bui Hui enter the stage of ripe sim harvest. People in the area will come to pick sims to use for processing sim wine, sim honey and sell to the market.
From July to the end of September, when the sim forest is in harvest season, the Bui Hui steppe is always bustling and bustling because many people come here to explore, experience and enjoy the new feeling. Great thousand wonders. Not only to enjoy the beautiful scenery, visitors also come to pick sims, to watch and take pictures, to mimic the purple color of wild sim and buy flowers.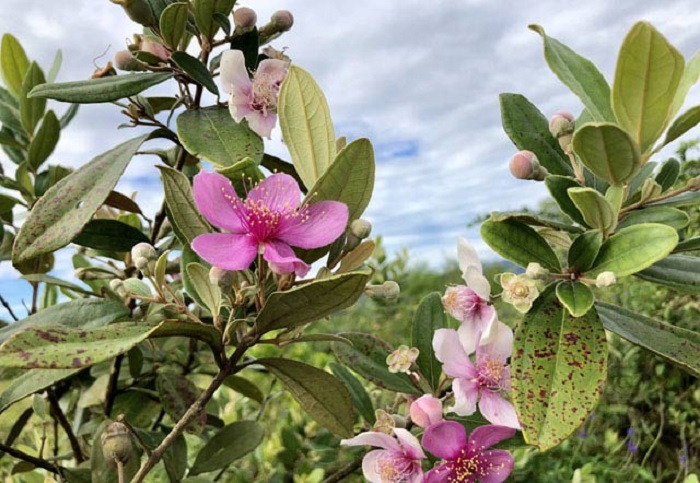 With about 20 hectares, the sim season on the Bui Hui steppe also makes the H'Rê village more bustling and vibrant. Young, old, boys and girls in the village are all busier at work during the matured season.
If you have the opportunity to visit the Bui Hui steppe at that time, you will be immersed in the jubilant and bustling space of sim hills. Here there are always people, tourists to visit, people come to pick sims, children come to the hill to have fun, … All create a cheerful, bustling, very peaceful scene of the countryside of Quang.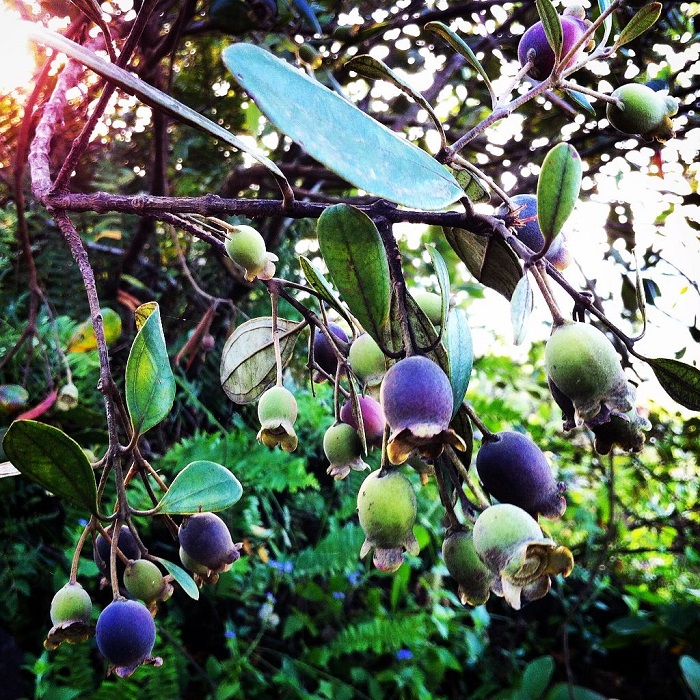 Especially, when traveling to Bui Hui Quang Ngai in sim season, you can also choose to buy sim wine as a gift for relatives and friends, celebrate a fun trip and filled with memories in a new land on earth. Quang.
4.3 Heaven on the steppe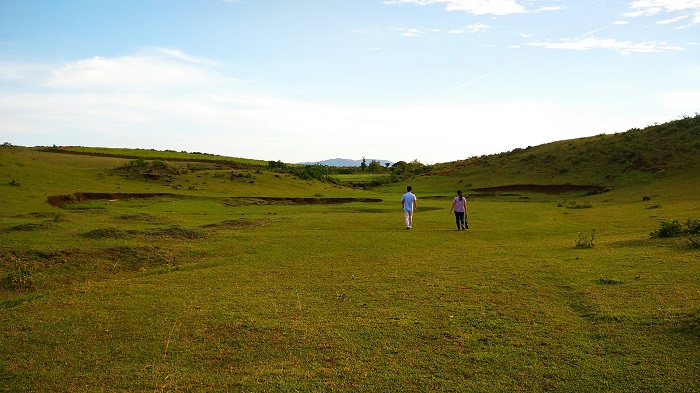 Located at an altitude of 700m above sea level, when you come here, visitors will be overwhelmed by a vast green color, the same message of the grasslands stretching out, far away from the successive hills. The table valleys are misty every morning. The beautiful natural scenery, cool and fresh climate make visitors coming here will not help surprised and excited.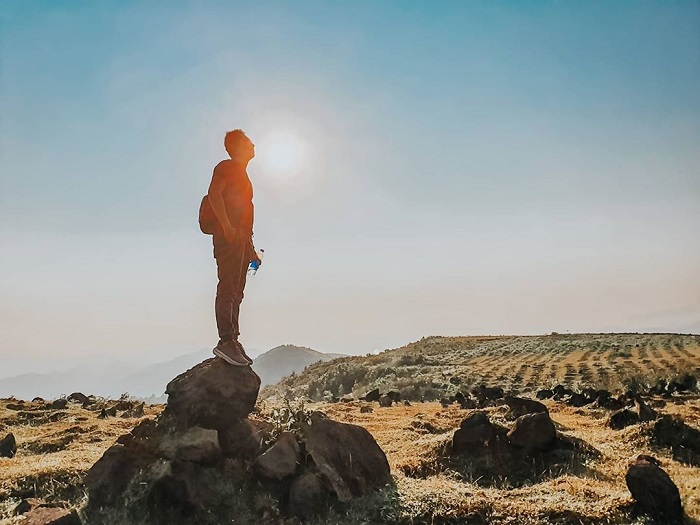 The Bui Hui steppe not only has green grass hills, purple sim hills but also guava hills that are nowhere to be found. In March, the forest guava (the fruit is only the size of a thumb) is ripe and fragrant, attracting birds everywhere to eat fruit. The call and song of the birds make the Bui Hui steppe more attractive and poetic.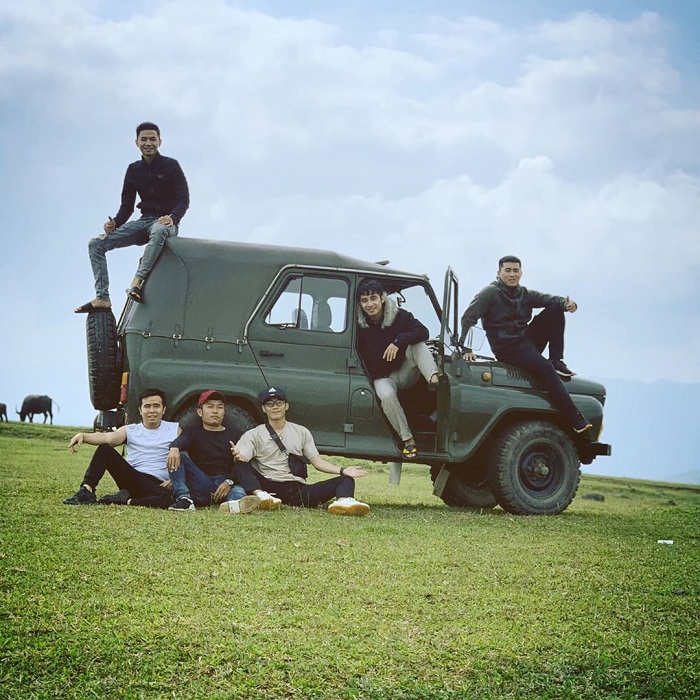 With the beautiful natural scenery, cool and fresh climate, the Bui Hui steppe has become the destination of many tourists, especially young people who like to hang out. Many young people have traveled hundreds of kilometers to here, to admire the beauty of the meadow with their own hands, pick sims and guava by themselves. Many people still stretch tents to sleep through the night, to catch the dawn on the steppe.
4.4 Coming to Bui Hui to hunt clouds – A poetic experience cannot be ignored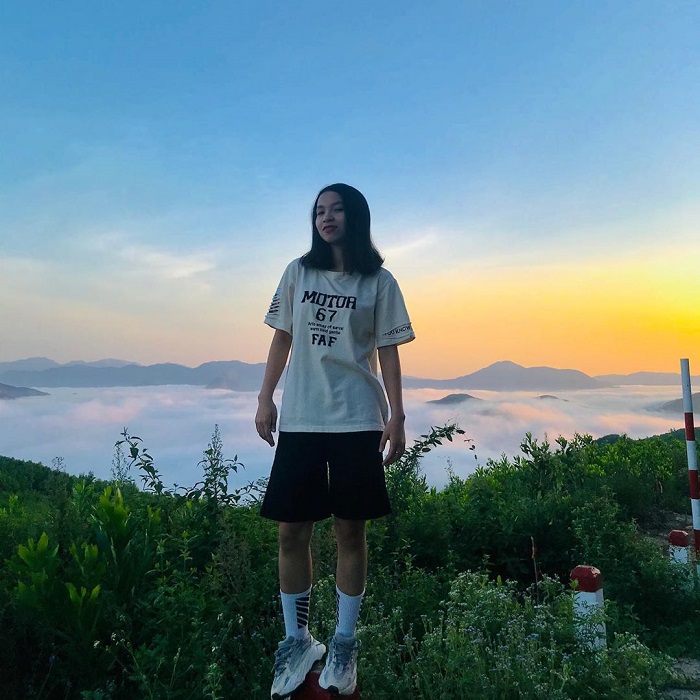 Amidst the mountains and greenery of Bui Hui, perhaps you will find it difficult to find entertainment activities. But Mother Nature will never let tourists come here and return empty-handed. And one of the most memorable experiences is cloud hunting in the Bui Hui steppe in the early morning.
Because it is about 700 meters above sea level, the Bui Hui steppe has high hills for you to hunt for clouds, immersed in a sea of ​​dense floating clouds in the early morning.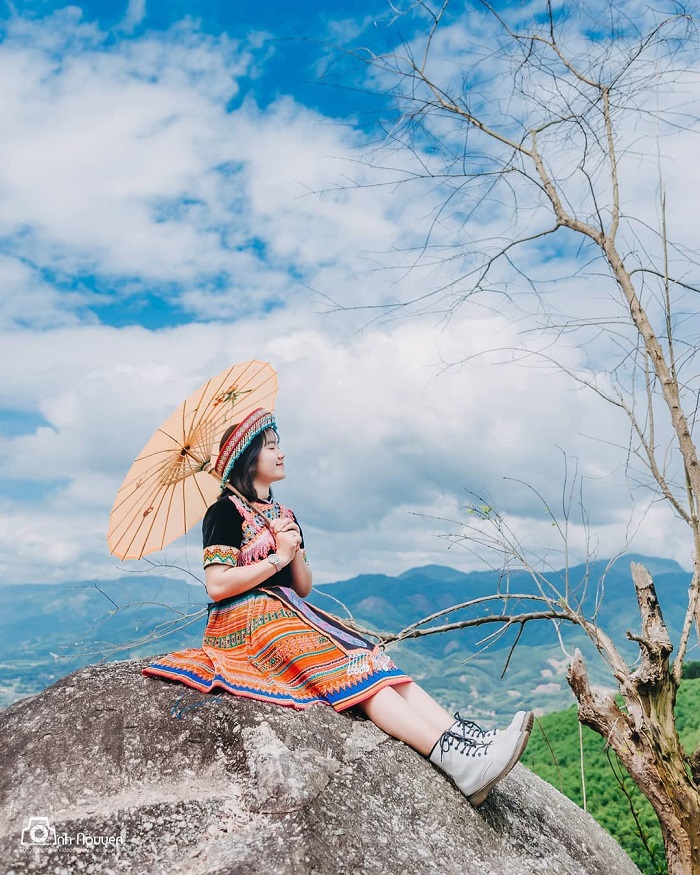 The moment the sun has not woken up, you will admire the layers of white clouds stacked on top of each other, as beautiful and romantic as the cloud-hunting paradise in Ta Xua and Y Ty. Then when the sun gradually rises, the warm golden rays of sunlight will alleviate the feeling of loneliness. A wonderful new day began at Bui Hui.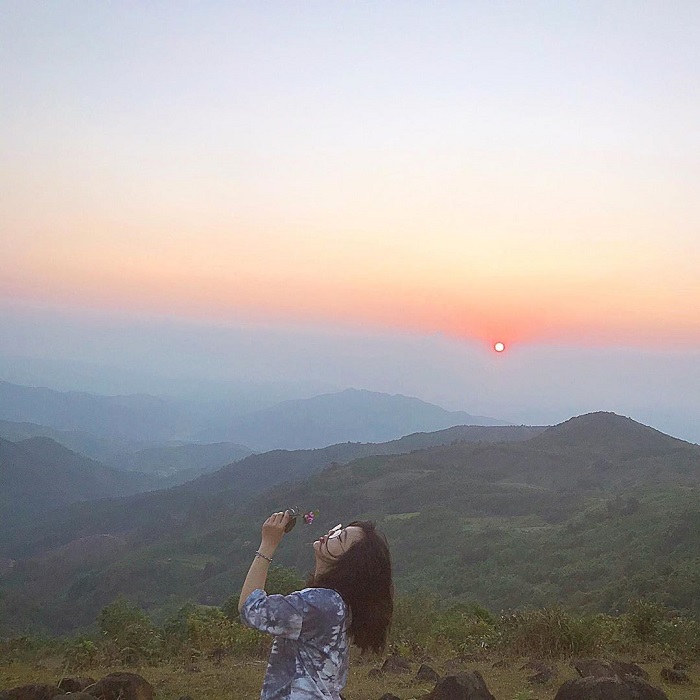 Coming to Bui Hui Quang Ngai steppe in the early morning to hunt for clouds, you will have the opportunity to take home beautiful virtual live check-in photos. The truly green and romantic scenery of this place will definitely bring you many memorable memories after your trip to Quang Ngai.
4.5 Other places to visit in Quang Ngai
In addition to visiting the Bui Hui steppe, when traveling to Quang Ngai you can visit other famous attractions and check-in such as Ly Son Island, Thien An Mountain, Lung O Waterfall, Minh Long White Waterfall, Dong Sa Huynh salt, Long Mon Pass, …
5. Delicious food should try in Quang Ngai
5.1 Goby in the Tra River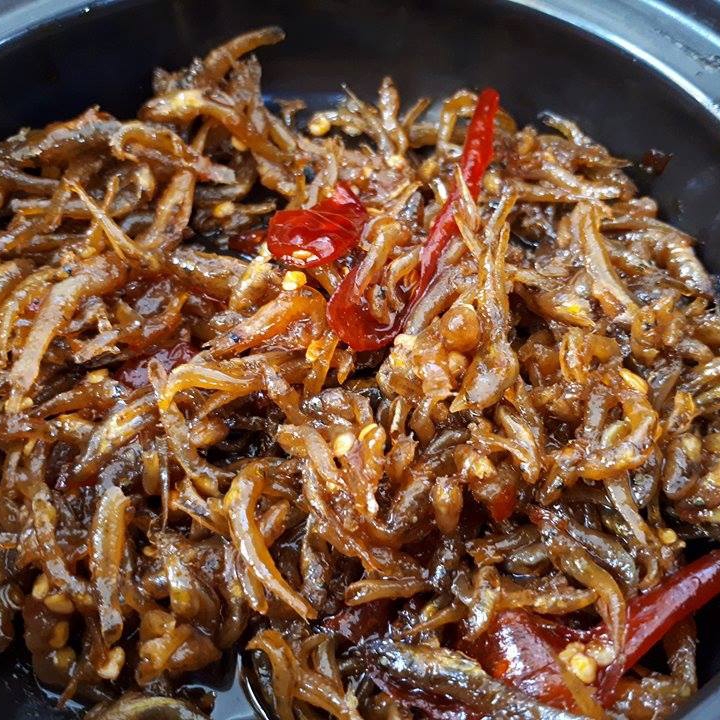 Goby is inherently a gift favored by nature for the land of Quang Ngai, fish often gather in the river Tra Khuc. Tiny, tiny fish are simmered with fish sauce and sugar, chili and pepper are added to glue until the fish is really hard and fragrant.
5.2 Banh Banh (Tree)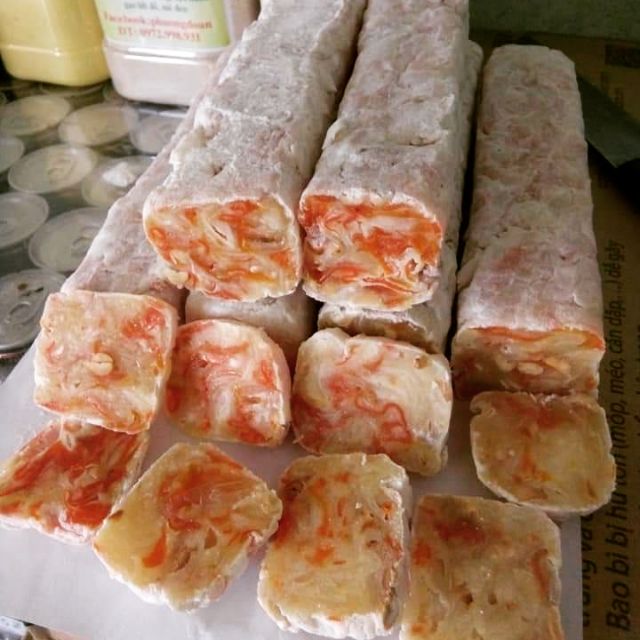 Banh Banh made from very "rustic" ingredients such as carrots, tomatoes, ginger, banana juice, pineapples and, importantly, the sticky rice used to make the dough must be the first-class sticky rice. After processing, pounded into flour, the remaining ingredients are simmered with sugar to low heat until firm. Use the batter and all the ingredients that have just been simmered into the tree.
5.3 Rubbish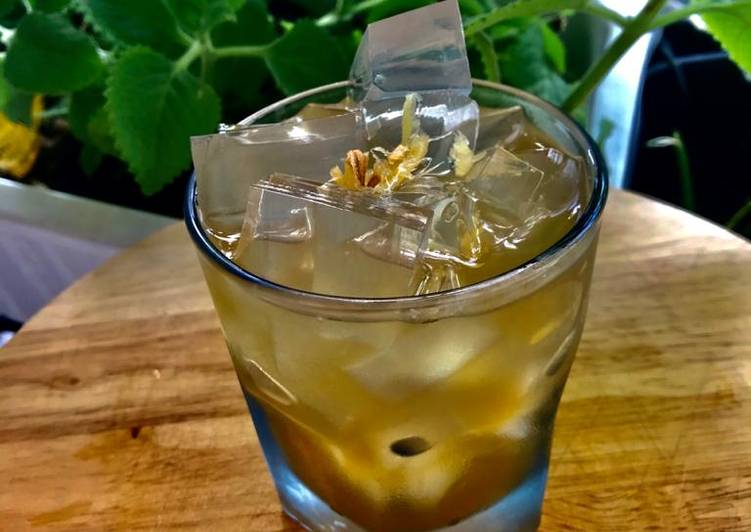 You can buy rubbing coins as a gift, as rubbing coins are only available in Quang Ngai, this is a special gift, served with ice and sweetened sugar with ginger, a summer cool off. Xu rub is not only a food, but it is also seen as the soul of Quang Ngai cuisine.
5.4 Anchovies
Anchovies are processed many dishes: Anchovy is simmered with pepper, chili to eat in daily meals; steamed anchovies. Due to the abundance of anchovies, people have devised ways to preserve anchovies such as drying them to take away, soaked and fried anchovies are crispy and delicious; Anchovy sauce is a delicious dish in cold winter, … delicious.
5.5 Cane
Quang Ngai sugar has been very famous for a long time. Cane is a bird with soft bones, delicious and nutritious meat. There is also no need to process anything, just bake it up to enjoy.
5.6 Ram of Quang Ngai corn
Quang Ngai corn ram is very delicious, crunchy and sweet. Quang Ngai has a kind of cake called thin rice paper used to pack ram which is great. The cake is made entirely from rice flour, coated thinly and very chewy, the ram does not break and when the ram on the stove does not burn, absorbs oil very quickly.
Ram must eat when hot with raw vegetables and delicious fish sauce, there is no better dish. People in my hometown often make their own corn ramen for holidays or certain happy occasions.
6. Staying in Quang Ngai?
Currently, Quang Ngai tourism is very developed, there are many hotels and homestays to serve guests with quality accommodation, beautiful views, and enthusiastic and attentive staff. Here, Vinlove will suggest some places to stop in Quang Ngai.
6.1 Muong Thanh Holiday Ly Son
With a location right next to the sea with many resort services such as spa, massage, you can be completely assured when coming to this hotel for relaxation. With spacious, fully equipped and clean daily rooms with sea views, Muong Thanh Ly Son Hotel is truly a good quality hotel in Quang Ngai for you to choose from.
Address: Ly Son island district
Room rates: 52 USD – 200 USD / night
Standard: 4 stars
6.2 Central Hotel
This is a 4-star hotel in the center of Quang Ngai city which is highly appreciated with many recreational activities and amenities such as spa, massage, sauna, sauna, outdoor swimming pool, tennis court, gymnasium, room karaoke, night club. In general, the hotel is located in the center, so traveling and eating are quite convenient. In the evening, the hotel has a nightclub for those who love the bustle.
Address: No. 1 Le Loi
Room rates: 33 USD – 68 USD / night
Standard: 4 stars
6.3 My Khe Hotel
As a My Khe beach hotel, Quang Ngai has an affordable price that many people choose when coming to My Khe beach to eat and play. From the hotel to My Khe beach, it is quite close, so you can walk to the beach at any time. For those who want to go to Ly Son Island, this hotel is also a reasonable choice because from the hotel to the pier to Ly Son is only about 5km.
Address: My Khe Beach, Tinh Khe, Son Tinh
Room rates: 25 USD – 43 USD / night
Standard: 2 stars
6.4 Hung Vuong Hotel
The next budget hotel, cheap price in Quang Ngai, the next thing that dulich9 wants to recommend to everyone is the Hung Vuong hotel located in the center of Quang Ngai city. According to the comments of tourists who have been to Hung Vuong Hotel, they all have the same view that the hotel is clean, the room is beautiful, the central location should go out, eat easily and especially breakfast at guests. Hotel is quite satisfactory.
Address: No. 45, Hung Vuong Street
Room rates: 21 USD – 38 USD / night
Standard: 3 stars
6.5 Sa Huynh Resort Quang Ngai
Sa Huynh Resort is a comfortable 3-star resort in Quang Ngai, with a beautiful location in front of Sa Huynh beach with an affordable price, so it is quite good for tourists. Although it is only 3-star quality, at this Quang Ngai coastal resort, you can still experience spa services, massage, sauna, sauna and swimming in the outdoor swimming pool. However, the downside is that the hotel is located far from the center, away from the pier to Ly Son Island and about 90km from Chu Lai airport, so travel takes a lot of time.
Address: Km 1117 + 600 Quoc Lo 1A, Duc Pho District
Room rates: 21 USD – 66 USD / night
Standard: 3 stars
7. Note experience when coming here
Around mid-May, myrtle flowers bloom purple the whole hill until mid-July, the sim will begin to ripen. You should go to the Bui Hui Quang Ngai steppe at this time to see the most beautiful moments of the steppe!