Ba Lien racket coffee is one of the oldest coffee shops in Da Nang. The feature is not only in the age of the shop but also in the old-fashioned way of making coffee, very unique.
Nestled in a small alley at the beginning of Pham Ngu Lao Street (Hai Chau District, Da Nang City), Mrs. Lien's Racquette Coffee for more 4 decades now remains in the heart of the bustling streets, where the old images and flavors are preserved. rarely found now.
Mrs. Vo Thi Bich Lien (59 years old) and her brother wake up every day at 3:30 am to prepare this familiar yet strange drink.
Familiar because most people start the morning with a cup of coffee, but strange because it is rare for any coffee shop to use this old concoction.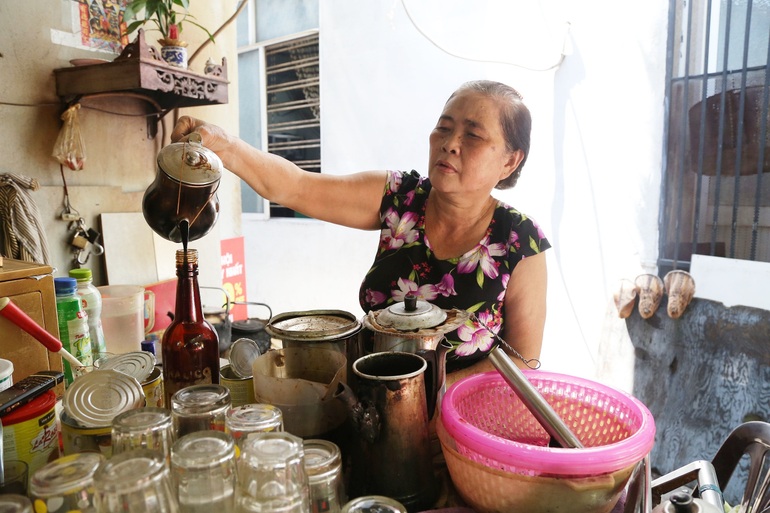 Called racket coffee because of the way this coffee is prepared with a fine, long, tightly woven racket. According to Ms. Lien shared, this type of racket must be ordered from Ho Chi Minh City because there are no in Da Nang.
Currently, there are many new coffee shops with many strange styles, attracting young people, but Mrs. Lien's toad shop after more than 40 years still has the aroma of coffee in an old kitchen corner.
Two coal stoves smolder regularly every day from dawn to dusk, the faint smell of kitchen smoke makes the space of the restaurant become strangely intimate and cozy, like bringing the guests back to the memories of the past. time is long gone.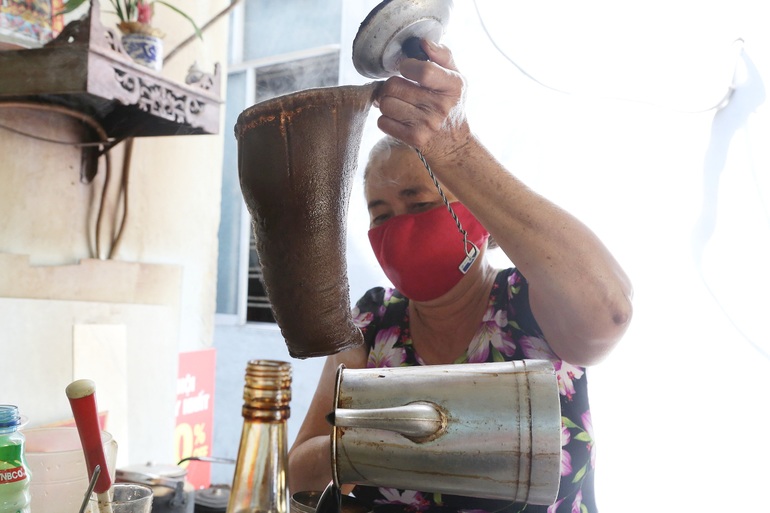 Ms. Lien confided: "This cafe has been attached to her grandmother since her grandmother's time until now. From the preparation of ingredients to the preparation, her grandmother learned it when she was a waitress at the cafe. racquet coffee in Saigon".
Over the past 40 years, regardless of rain or shine, during New Year's holidays, Ms. Lien has remained attached to this profession, bringing diners a strong and intimate coffee taste every day.
Each cup of coffee here is sold for 10,000 VND($0,4), both cheap and delicious.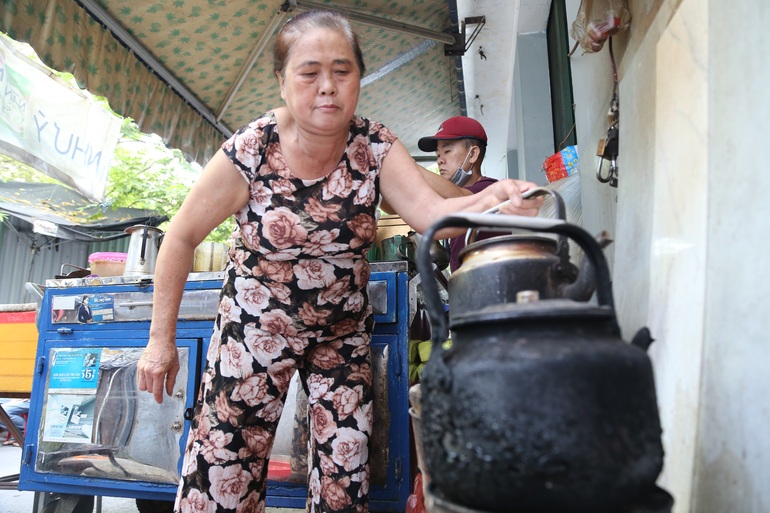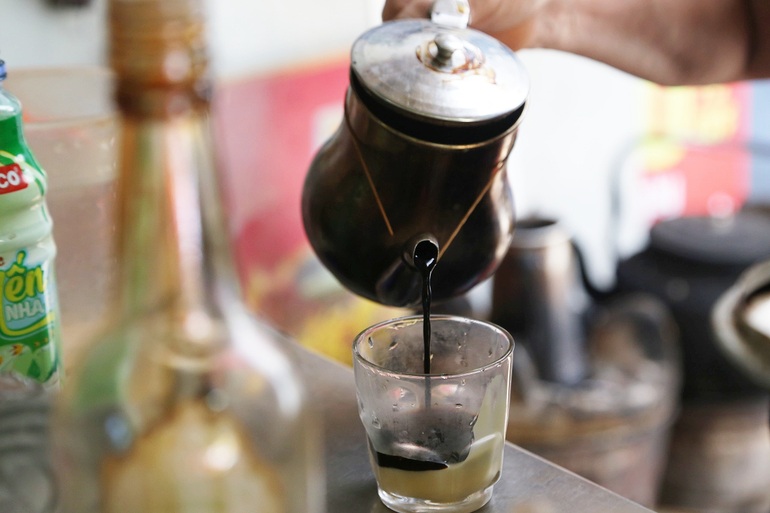 "Every day, 200-300 cups of coffee are sold. Sometimes there are too many customers to sell because of the manual preparation method and only two sisters. However, the customers are still happy to wait," Ms. Lien said. said.
Ms. Lien openly shared about how to make a strong cup of coffee. First, boil water and mix in the coffee powder that has been added to the racket, brew for a few minutes and then beat the coffee. Continue, use the first coffee extract to pour into the racket again, incubate for 5-7 minutes, then pour it into a cup for the guest. So there was a cup of strong, right-tasting coffee.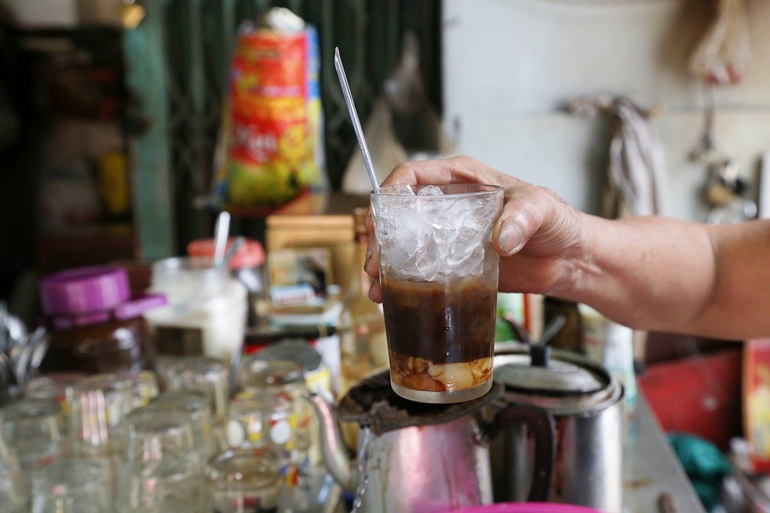 "The way to make it seems easy, but many people who come to apprentices, even family members can't make the correct and standard recipe for its taste," said Ms. Lien.
Like the classic style and taste of this coffee, most of the customers coming to the shop are middle-aged and elderly people. In addition, the rusticity and rich taste of the racket coffee also make young people pursue it.
Mr. Nguyen Quang Vu (29 years old) lives and works in Quang Nam. Every day, before starting work, he will wake up early to be at this familiar seat, sipping a delicious cup of coffee.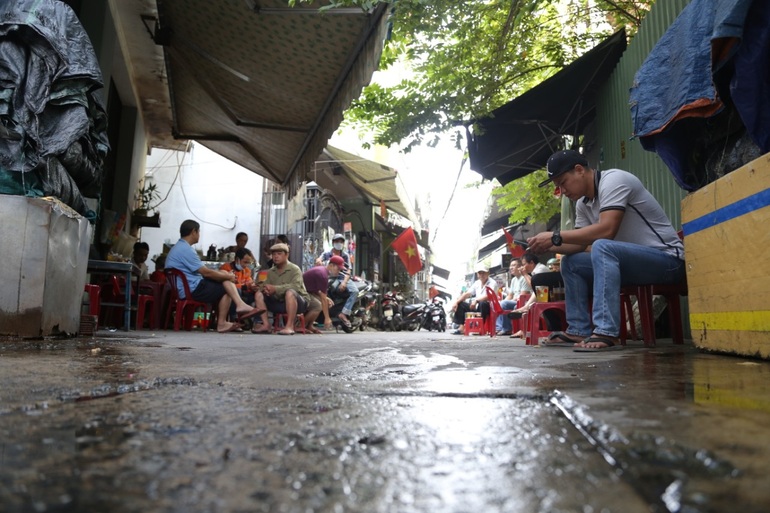 Anh Vu happily shared: "I've been sticking with this cup of racket coffee for 3 months, since I've known this cafe. I feel like I've found the right traditional coffee flavor. Before, I I have tried other restaurants but the taste is bland, it's very difficult to find a coffee shop that is both authentic and blends in with this street space. It's worth it for me to go from Quang Nam to here every day."
More than 40 years have passed, the thing that keeps customers at Mrs. Lien's racket cafe is not only the delicious cup of coffee. Here, strangers also transform into incarnations, through a cup of coffee and making friends, and confiding in trifles while living in Da Nang. Guests leisurely sit next to a cup of coffee, watching the pace of street life.
Photo: Internet (vinlove.net)