If you have the opportunity to visit Moc Chau at the end of the year, you will admire the beautiful scenery of white canola flowers.
Referring to Moc Chau, Son La, we will remember countless beautiful scenes, and charming mountains in the Northwest. Every time of the year, this place is beautiful in its own way. It is expressed through flower seasons, through specialties or through the weather.
At the time of the last month of this year, in Moc Chau, there is a flower season with a very distinct white color. It is known that in Vietnam, very few places have this flower, and it is still in a large area. It's white cabbage.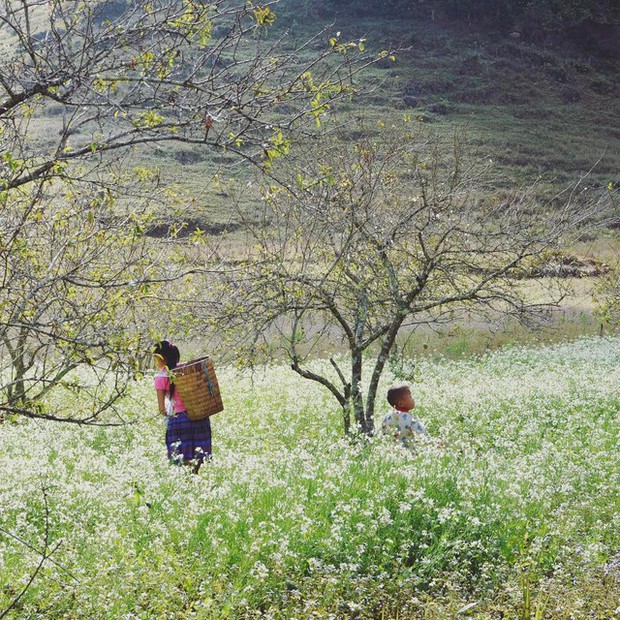 Canola flowers in Moc Chau have been known and loved by tourists for many years now.(Photo Mia.vn)
In fact, white canola flowers in Moc Chau have appeared for a long time. However, it was not until about 5 – 6 years ago, when the photos of the vast white canola flower fields in Chieng Xuan commune, Moc Chau became famous on social networks, passed on from hand to hand by backpackers. then the beauty of this flower is really known by many people.
Canola flowers are grown by people on a large area, mainly in the hills or valley edges. Around October, the mustard flowers will begin to bloom. But it is not until the end of November, to the first week of December every year, that the flowers begin to bloom, covering the whole sky. As seen from above, many visitors commented, it looks like a giant silk strip.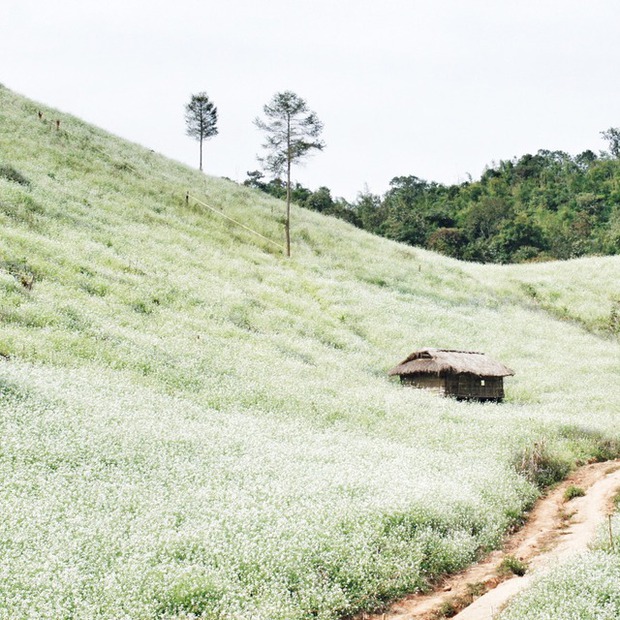 Photos of white canola flowers covered a corner of Moc Chau sky, causing a "storm" on the internet.(Photo Mia.vn)
According to visitors who have had the opportunity to experience, just "slow down" until mid-late December, the mustard flower will turn into … radish.
Currently, not only in the area of ​​Chieng Xuan commune, there are many other places in Moc Chau that are discovered by tourists, with beautiful scene of blooming mustard flowers.
The first thing to do, is to move to Moc Chau. Departing from Hanoi capital, visitors can choose the option of traveling by motorbike, car or bus. With a distance of about 200km, the travel time will last 5 hours.
However, due to the mountainous terrain, many slopes, twists and turns, if the weather is rainy or foggy, making it difficult to travel, the travel time will also be longer.
Once there, in order to reach the hills and valleys of flowers most easily, the recommended vehicle is still a motorbike.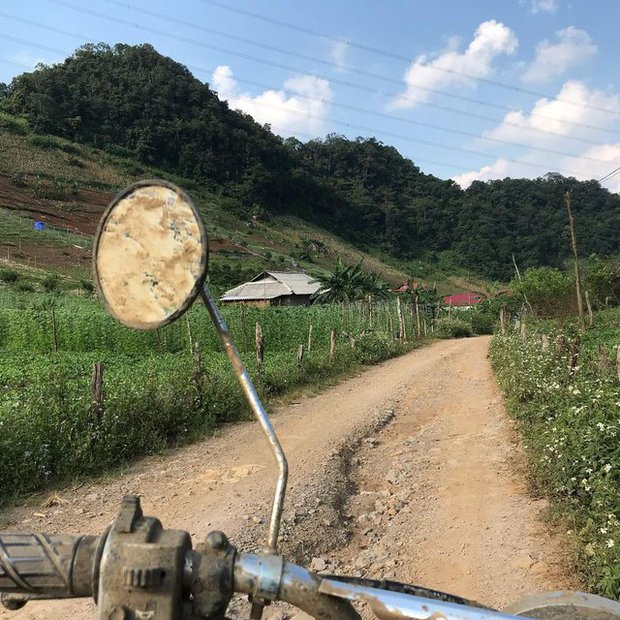 Due to the rocky terrain, many slopes and bends, motorbikes are still the best means to go to see canola flowers in Moc Chau.(Photo Mia.vn)
The places to see beautiful canola flowers today in Moc Chau are known to many people such as Moc Chau Farm town, Lon village, Na Ka valley, pine forest in Ang village, Pa Phach village, the road to Dai waterfall. Bib or the area near the Hammer village…
1. Moc Chau Farm Town
One of the names of the most famous tourist destination in Moc Chau is the town of Moc Chau Farm, in Moc Chau district.
The area of ​​rapeseed fields here is also classified as one of the largest. The whole has been planned into a flower garden and collects visitors' fees. Ticket price is 1 $ for one person and no time limit.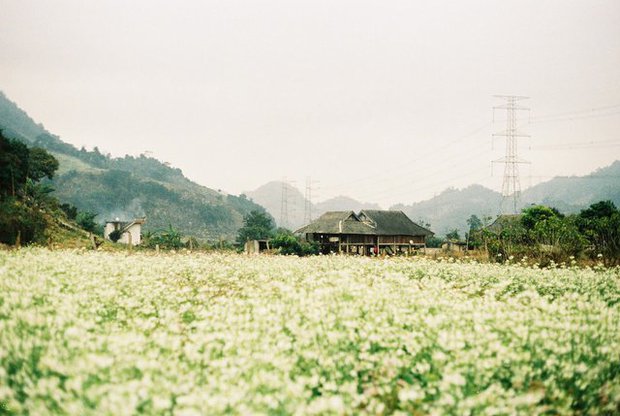 Canola flower garden serves visitors in the town of Moc Chau Farm.(Photo CheckinVietnam)
In addition, around this area, there are also many restaurants specializing in the specialties of Moc Chau, serving visitors to both admire the natural scenery and be a suitable place for tourists to rest on a long trip. .
2. Na Ka plum valley
Located on the way to Tan Lap commune, 16km from Moc Chau Farm town, Na Ka valley is famous for the beauty of plum flowers. It's called a plum valley, but it's not just plum blossoms here.
When canola flowers are gradually known more, local people planted more flower gardens, meticulously taking care of them to serve the sightseeing and photography needs of tourists near and far.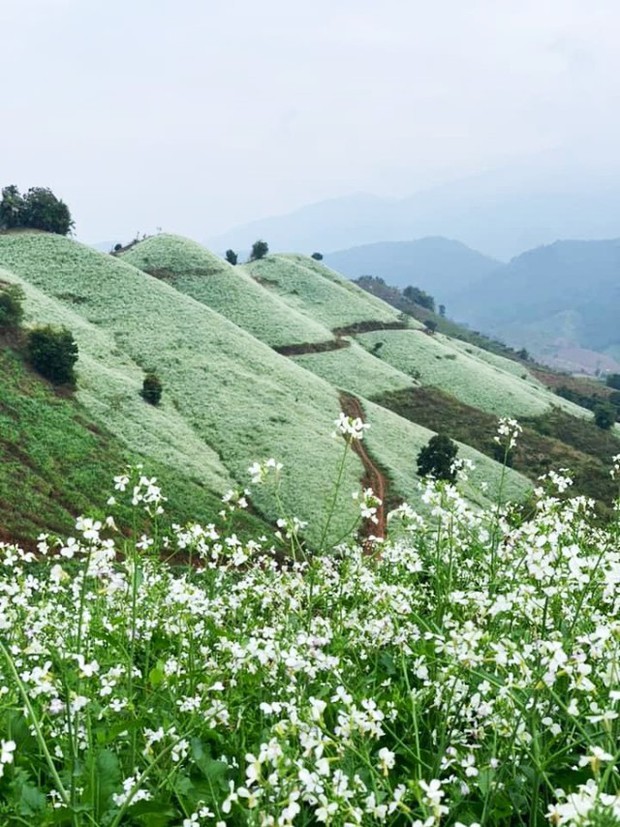 Photo: Dinh Quang Phuc
Similar to the town of Nong Farm, the ticket price for visiting the flower garden in Na Ka valley is also 20,000 VND (1$)/person.
3. Pine forest in Ang village
Ban Ang pine forest is located in Dong Sang commune, Moc Chau district, Son La province. This place is 2km from the center of Moc Chau town towards Highway 43.
This is likened to "Da Lat of the North" because of the cool weather all year round and the immense pine hills embracing a whole mountainous area of ​​Moc Chau.
Not only is there a large pine forest, creating the appearance of a miniature Da Lat, there are also extremely beautiful flower gardens.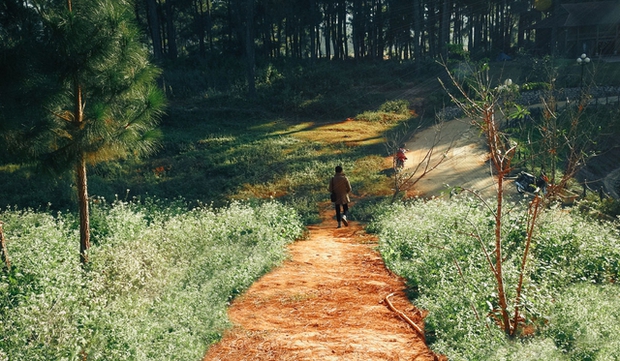 Photo: VOV
4. The road to Dai Yem waterfall
In the heart of the Moc Chau plateau, there is a place known as "hidden treasure". That is Dai Yem waterfall. The waterfall is also known as Nang waterfall or Ban Vat waterfall, located in Muong La commune, Moc Chau district.
In addition to the majestic beauty of the 100m high waterfall, this place also attracts visitors through the flower garden located on the road leading to the waterfall. Canola flowers grow white on both sides of the road, the road on the craggy hills is no longer dry because it is adorned with that pristine beauty.
5. Dwarf version, Pa Phach version
Unlike the places mentioned above, which grow canola flowers to serve tourists, in areas such as Lon village or Pa Phach village, people have grown a large area of ​​canola flowers for a long time.
Lon village, in Muong Sang commune, 7km from the center of Moc Chau town, towards Loong Sap border gate. This is the main residence and living place of the Thai ethnic group in Moc Chau. Canola flowers here are grown in vast fields.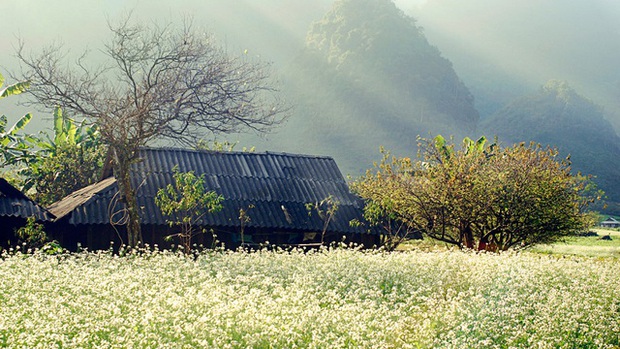 Photo: Vivu
Near that village is the Pa Phach village, in Dong Sang commune. The village is about 5km from the center of Moc Chau town, located on the mountain, hidden between two limestone ranges with dense and wild primeval forests. The population here is also mainly Thai and Mong people.
The beauties of nature brought to Pa Phach village, including fields of canola flowers. Just walking along the red dirt roads leading to the village, visitors will easily see fields of canola flowers alternating on both sides of the road.
Because of possessing the largest area of ​​canola flowers in Moc Chau, Pa Phach and Lon villages are both known as canola flower paradises.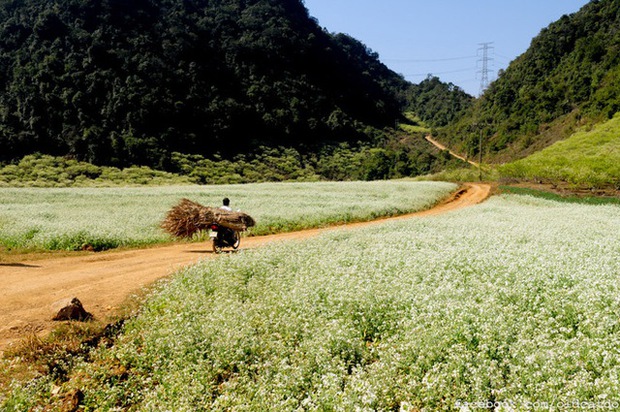 Canola flowers are flooded on both sides of the road leading to Pa Phach village in the middle of rocky mountains.
As mentioned above, the best time to bloom in Moc Chau is around the end of November, the beginning of December as it is now. So, if you want to admire the beauty of this flower, plan your trip to Moc Chau now.
Photo: Internet (vinlove.net)