According to the owner of the grilled banana sticky rice shop, she started her business with her heart, so she is lucky to have received everyone's support over the past 20 years. In order for the dish to make many people "love it", she has her own secrets when making coconut milk.
Rustic dishes reach out to the world
It was raining in Ho Chi Minh City, Phillip (Australian tourist) was still enjoying himself in a wet raincoat, standing in line with his family in front of the grilled sticky banana stall on Vo Van Tan Street (District 3, Ho Chi Minh City).
Holding in his hand a box of grilled sticky bananas, sprinkled with a little coconut milk and fragrant peanuts, Phillip couldn't help but quickly eat a hot piece. The male tourist exclaimed: "This is one of the most delicious dishes I tried when I came to Vietnam."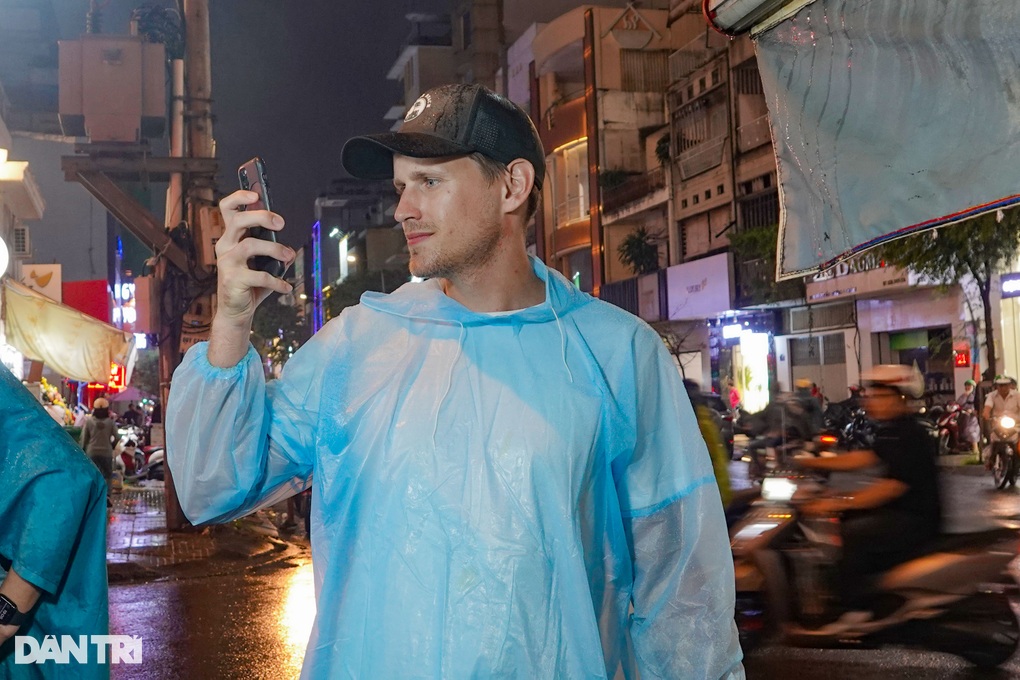 Around Phillip, there was another group of tourists of about 10 people. They wore raincoats to wait in a long line to eat the grilled sticky banana dish that had just been voted by CNN (USA) as "The most delicious desserts in the world", announced in March.
"The hot dish still has a light smoke and is delicious, even more attractive when enjoyed with fatty coconut milk and some roasted peanuts. This is a must-try dish when coming to Vietnam," part of the article reads. introductory newspaper.
The owner of the grilled sticky banana shop, Ms. Nguyen Thi Thu Mai (69 years old), said that every day there are many customers coming to buy. Among them, Indian guests or Muslims with vegetarian habits are the most frequent customers.
On peak days, grilled bananas can sell 1,000 bananas/day. On average, with prices ranging from 20,000 to 22,000 VND/fruit, the estimated daily revenue can be more than 20 million VND.
Here, Mrs. Mai chooses just ripe bananas. Every day, she has to wake up at 2 a.m. to prepare ingredients to serve her "huge" purchasing power.
She peeled the bananas and washed them in diluted salt water to clean them. The sticky rice is also carefully prepared to avoid sticking to the leaves, mixed with grated coconut to retain the full fatty taste. Mrs. Mai meticulously wrapped sticky rice on the banana so that it was thin and not boring to eat.
Finally, she rolled banana leaves around the outside so the cake wouldn't burn while baking. This banana leaf was imported by Mrs. Mai from the West to ensure cleanliness and softness.
While the sticky bananas are grilled, you can only hear the small explosion of charcoal, because Mrs. Mai specially uses mangrove charcoal that has little explosion and little smoke. Until you hear the fragrance and feel the crispy exterior, the sticky banana will reach "standard".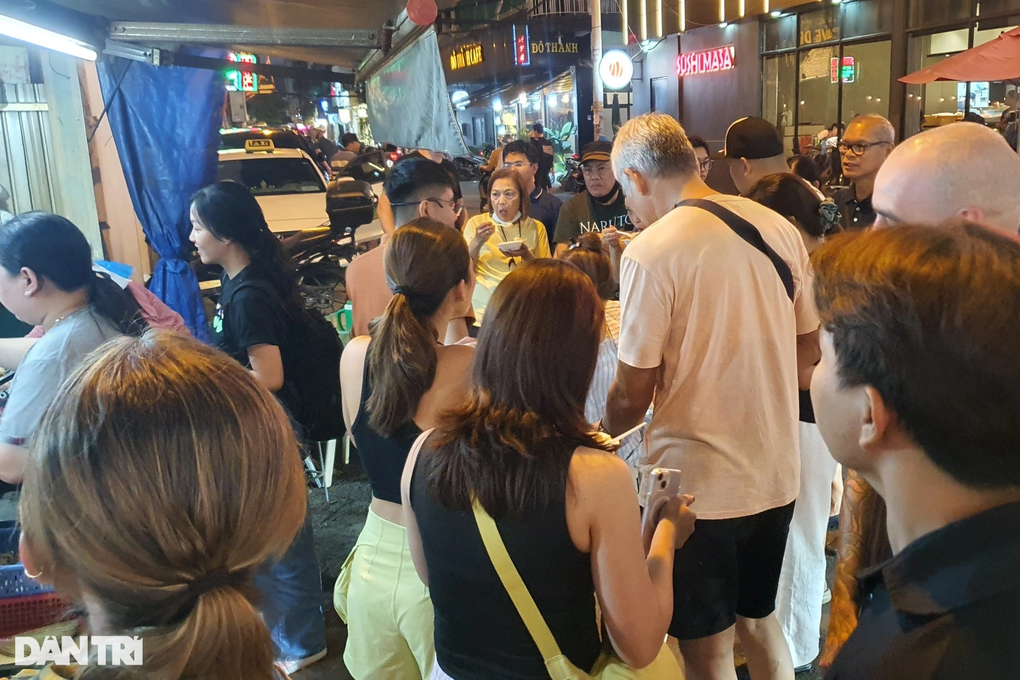 The "key" to this dish is the flavor of hot coconut milk. Mrs. Mai said that grilled sticky bananas are only delicious when eaten hot, so she specially keeps the coconut milk separate so that when guests get home, they can sprinkle it on later.
This part of coconut milk is also meticulously processed by her own hands, and can be preserved for about 6 hours.
"I do it very carefully in the process of preparing ingredients and pre-processing. Because if I'm hasty or careless, the dish won't retain its familiar delicious flavor and people will recognize it immediately. So for more than 20 years, I've always sold With my heart, I'm lucky to have everyone's support," Ms. Mai said.
Do business with your heart
Mrs. Mai's grilled banana shop must have 3-4 employees working in turns to be able to serve the constant flow of customers, whether it's sunny or rainy. Some other employees will stay home to prepare raw materials.
It is known that the employees are all descendants of Mrs. Mai, so it can be said that this banana stand is the main source of income for her whole family.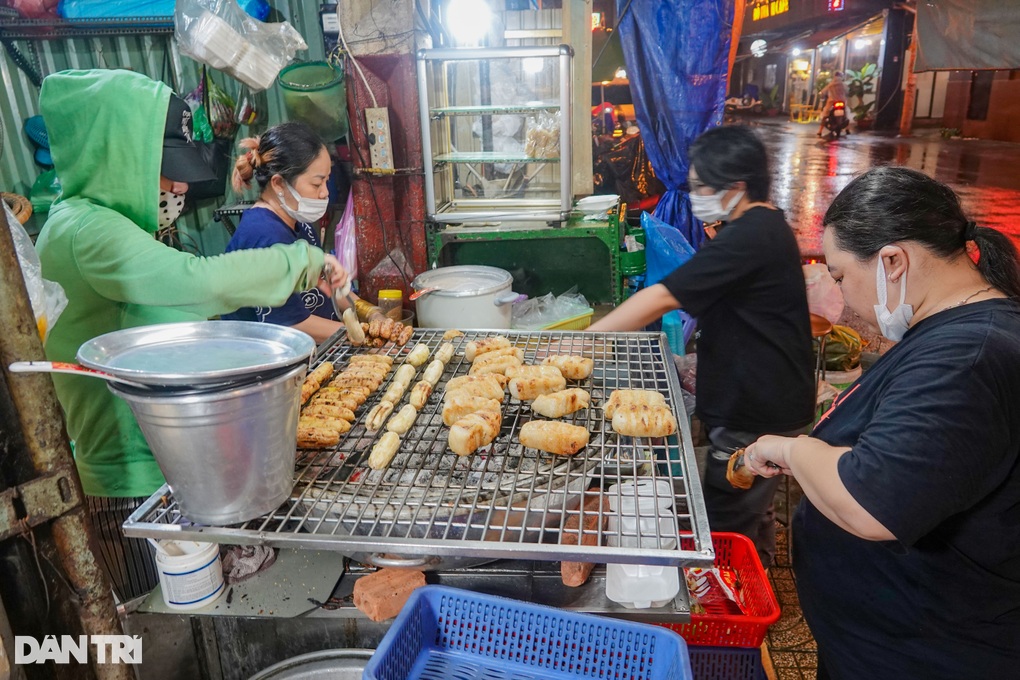 More than 20 years ago, Ms. Mai's family was not very well off, mainly living on a small cosmetics shop at home. When the supermarket model developed and prices became competitive, her family had to change careers.
At that time, to feed her family, Mrs. Mai came up with the idea of ​​selling dishes that could be used by rich, poor, vegetarians, and non-vegetarians. "I found the grilled sticky banana dish to be very delicious and rustic for Vietnamese people, so I tried selling it."
At that time, the banana stand was very simple, Mrs. Mai sat on the ground selling it but customers came in droves. Many people lined up tens of meters long. Sometimes they arrived a little late and had to leave because the goods ran out so quickly.
Seeing that her business was successful, she decided to expand her stomach, from 3 kg of sticky rice/day, she increased the amount many times until today. Thanks to his diligence, the grilled sticky banana stall located modestly on the corner of Vo Van Tan street has now become a restaurant that attracts diners around the world.
"During the Covid-19 epidemic, customers called every day asking "Is it sold yet? I'm so hungry I can't stand it". Then when I heard that the dish was included in the culinary rankings, I was really happy. Starting a business is the most important thing. perseverance, patience, especially outdoor business that can withstand the sun and rain. Even though I am old, I still have the strength to work and still love my job," the owner said, smiling
($1=24,000 VND)
Photo,Video: Internet (Vinlove.net)