Having failed to raise pigs, Ms. Lang switched to starting a business with water hyacinths. This right direction not only helps her have a stable income but also helps hundreds of rural workers earn 200,000 VND/day.
From failed pig farming to cooperative director
Ms. Son Thi Lang (46 years old, Khmer ethnicity) is from Soc Trang but then followed her husband to Co Do town, Co Do district, Can Tho. The family has 5 people, her husband and her two children, and her 80-year-old mother. If she only relied on her husband's salary, it wouldn't be enough for her expenses, so she was always wondering what to do to have more income.
In 2006, Ms. Lang participated in a knitting training course organized by the Women's Union of Co Do Town for ethnic minority women. After 6 months, Ms. Lang became proficient in weaving handicraft items from water hyacinth.
Realizing the potential market, in 2007, Ms. Lang opened a cooperative group to produce 3 main products: rice wine, pickles and handicrafts woven from water hyacinth. Among them, water hyacinth weaving is a model that she is extremely enthusiastic about with 20 participating women.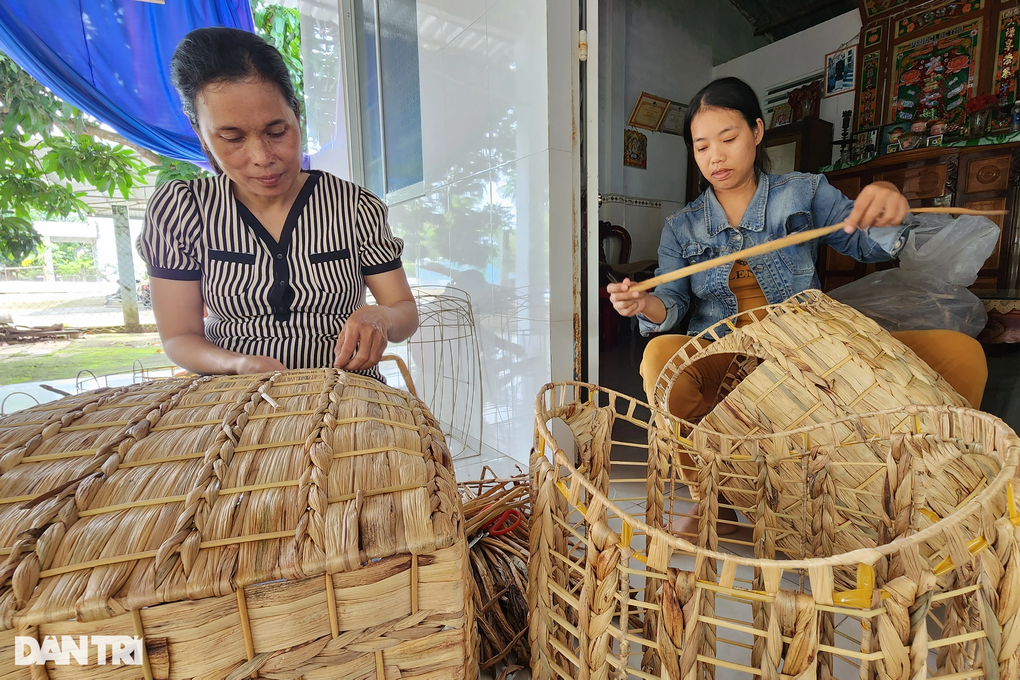 According to Ms. Lang, the hamlet she lives in has more than 80% ethnic minorities, whose main income is farming or working as hired labor. Since the water hyacinth weaving profession was introduced, one person spread the word to another, so the new vocational training class became more and more crowded. The number of students sometimes reaches more than a hundred people.
In addition to U40 and U50 age groups, Ms. Lang's facility also trains people aged 50 and older. In Ms. Lang's words, students come to the water hyacinth weaving class to take advantage of their leisure time to earn extra income.
"Training water hyacinth weaving is not too difficult when the raw materials are available locally. The products made are baskets and rough baskets, so the process is even simpler. Fresh water hyacinths are cut in the river and then dried. Then we weave the fabric into items as required. Students study for about 10 days to graduate," Ms. Lang said.
In addition to Co Do town, Ms. Lang's water hyacinth weaving model has also spread to many neighboring communes such as Dong Thang, Thoi Xuan… with 1-2 groups/communes, including Kinh and Khmer people participating.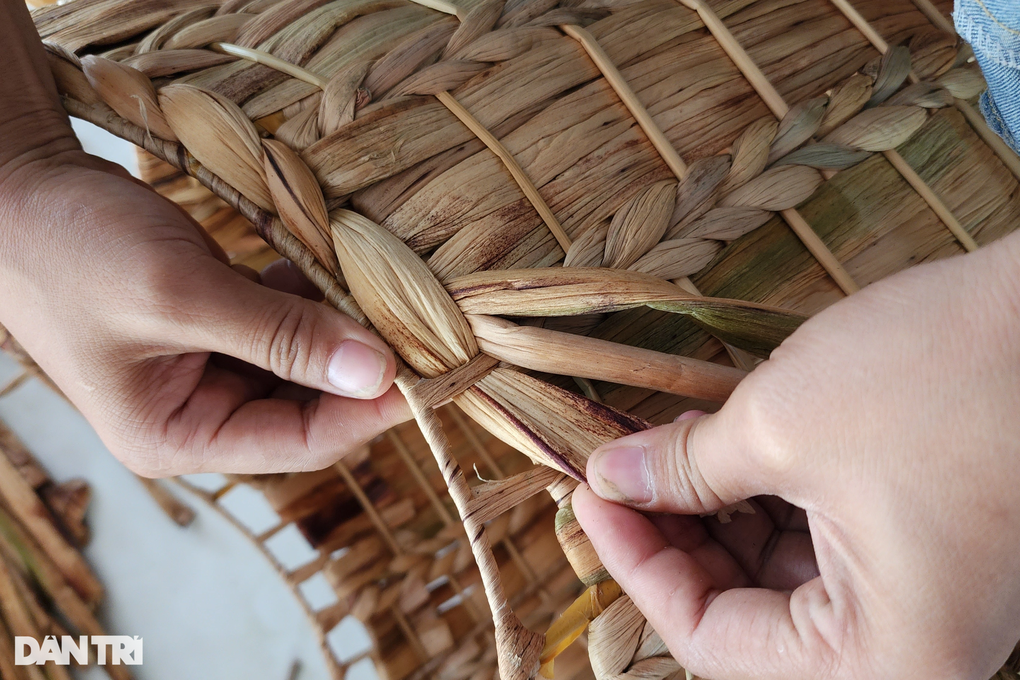 Let the water hyacinth "take off" to the West
In 2020, Ms. Lang established the Village Craft Cooperative with 38 members participating in the water hyacinth weaving model. In addition, the cooperative has linked over 100 women throughout the district, supplying about 3,000 products/month to businesses.
"After the workers have finished weaving baskets and baskets, I will collect them and deliver them to the company. The company takes the raw baskets and baskets to add glue to prevent water, mold, and decoration and then export them to some countries such as England, Germany, France…", Ms. Lang said.
Ms. Lang said that thanks to the water hyacinth plant, Ms. Lang's life has changed quite a lot. In 2015, she built a spacious house for her family and currently has enough money to raise her two children who are studying at university in Can Tho. 
"Besides me, the women in the cooperative also have a better life. Spending a few hours a day weaving water hyacinth can earn 100,000-200,000 VND. The income, although not large, is stable all year round. The rest of the time They can take care of the house and children…", said the female Director of the Craft Village Cooperative.
In addition to processed products for businesses, Village Craft Cooperative also produces products such as hats, handbags, decorative lanterns, flower vases… to supply to markets inside and outside Can Tho City, creating diversity for water hyacinth weaving products.
In particular, in early 2023, Ms. Lang received good news when woven water hyacinth products were recognized as meeting OCOP 4 standards, helping the cooperative's handicraft products gain a position in the market.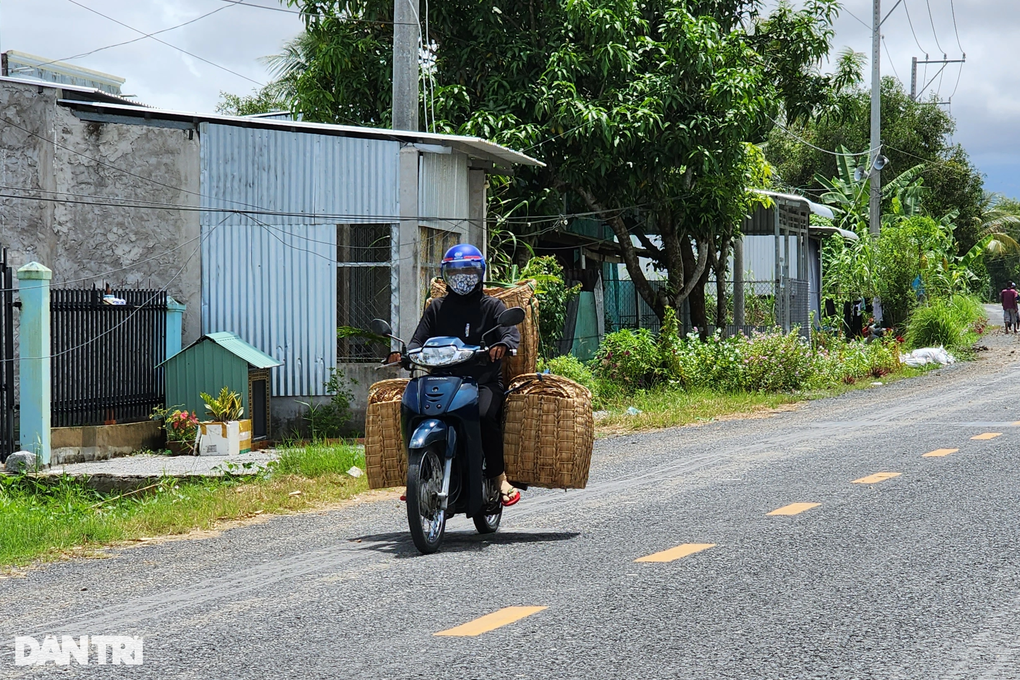 Ms. Nguyen Ngoc Tham, Deputy Head of the Mass Mobilization Committee of the Red Flag District Party Committee, assessed that the water hyacinth weaving model is not only effective in transforming careers, but also helps local women improve their lives.
From the economic value that water hyacinth brings, if we invest in infrastructure and science and technology in production to increase product value, connect output for water hyacinth weaving products, and maximize exploitation. This type of tree will create a stable economic source for farmers.
($1=24,000 VND)
Photo,Video: Internet (Vinlove.net)