During rush hour, Ms. Ha's Bun Cha Gam Cau restaurant (Hoan Kiem, Hanoi) is crowded with customers. Every day, the shop sells more than a quintal of vermicelli and 50kg of pork patties.
Salty pho restaurant on Gam Cau street (Hoan Kiem) used to be a famous address for gourmets in Hanoi. Although the pho is richer, "saltier" than many places and the price is "high" (80,000 VND/bowl of beef core), the restaurant is still crowded with people coming in and out, customers are willing to wait 30-40 minutes on weekends.
However, after the Covid-19 epidemic, this pho restaurant suddenly "disappeared". The place that originally sold pho became a place selling bun cha. Many diners come from far away, regretting that they no longer have the opportunity to enjoy salty pho. But many of them took the trouble to find it so they tried to experience bun cha and from then on became "regular customers" of the restaurant.
"Actually, ten years ago, my family still sold pho in the morning, sold vermicelli noodles at noon, and sold grilled foods in the evening, but many people didn't pay attention. Now, I'm old and "lazy" so I haven't reopened the pho restaurant yet. Trung and his children make bun cha", Ms. Tran Thi Thu Ha, diners often call "u Ha meo", the owner of the restaurant shared.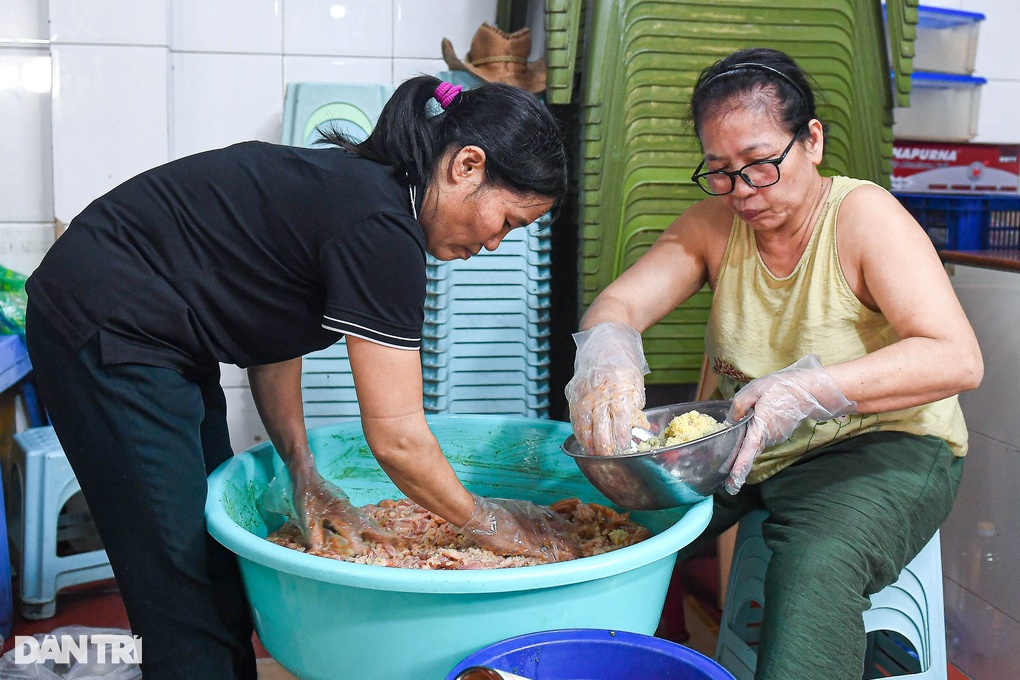 Ms. Ha's family's restaurant is located on Gam Cau street, at the intersection with Hang Giay. The restaurant has been selling pho since 1981. In the past ten years or so, it has also sold bun cha at lunchtime.
Similar to salty pho, currently, Gam Cau bun cha is also crowded with customers, from 9am to 2pm. Ms. Ha's son and daughter-in-law are the main chefs. They calculated that each day the restaurant sells a few hundred meals. Each meal costs 50,000 VND.
Every day, Ms. Ha is still the main person in charge of marinating meat and making dipping sauce. The recipe for this dish and previous pho dishes were all passed down by her parents.
Mrs. Ha said that her family uses pork from the countryside and only chooses pork belly, lean and fatty. The meat is machine-sliced ​​to uniform size. "I marinate the meat very simply, using oyster sauce, sugar, dried onions, salt, and no lemongrass. Once marinated, the meat is kept in a bag and stored in the refrigerator before grilling. Most importantly, the meat must be fresh and delicious. , slaughtered during the day. In the morning, they do the surgery, transport it, we wash, prepare, filter out the fat, marinate and grill right away," Ms. Ha said.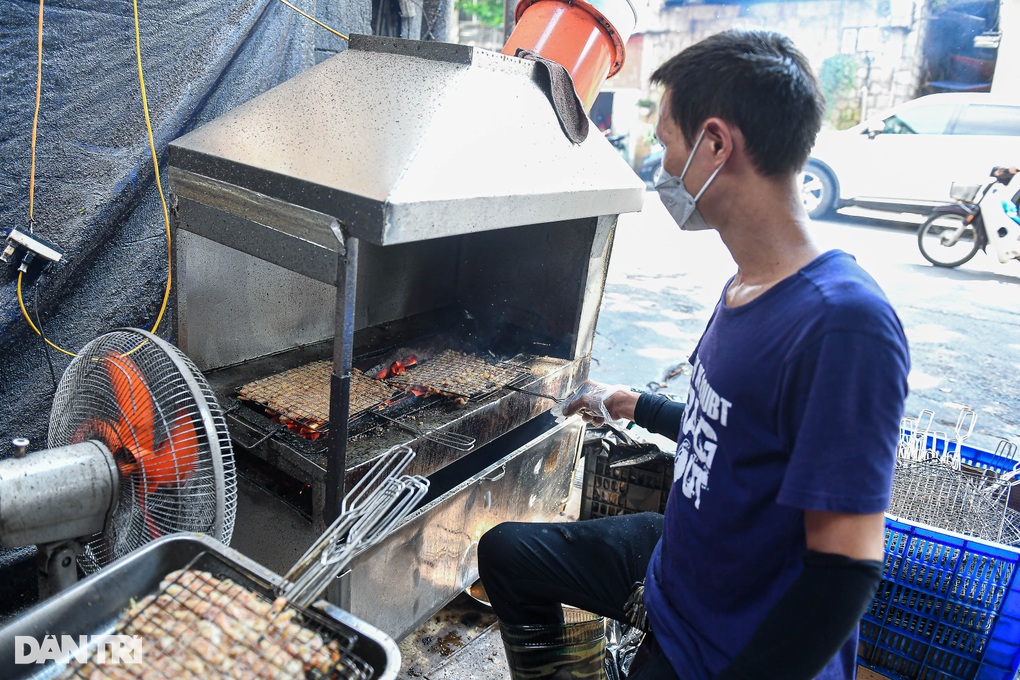 Also according to Ms. Ha, a piece of pork belly usually only takes half to make patties. In the remaining half, the meat and fat are often separated. When sliced ​​for grilling, it will no longer be beautiful or delicious.
"This type of pork belly is expensive but cut into pieces. The meat is neither too greasy nor too dry, crispy on the outside, soft on the inside, soaked in spices," Ms. Ha said.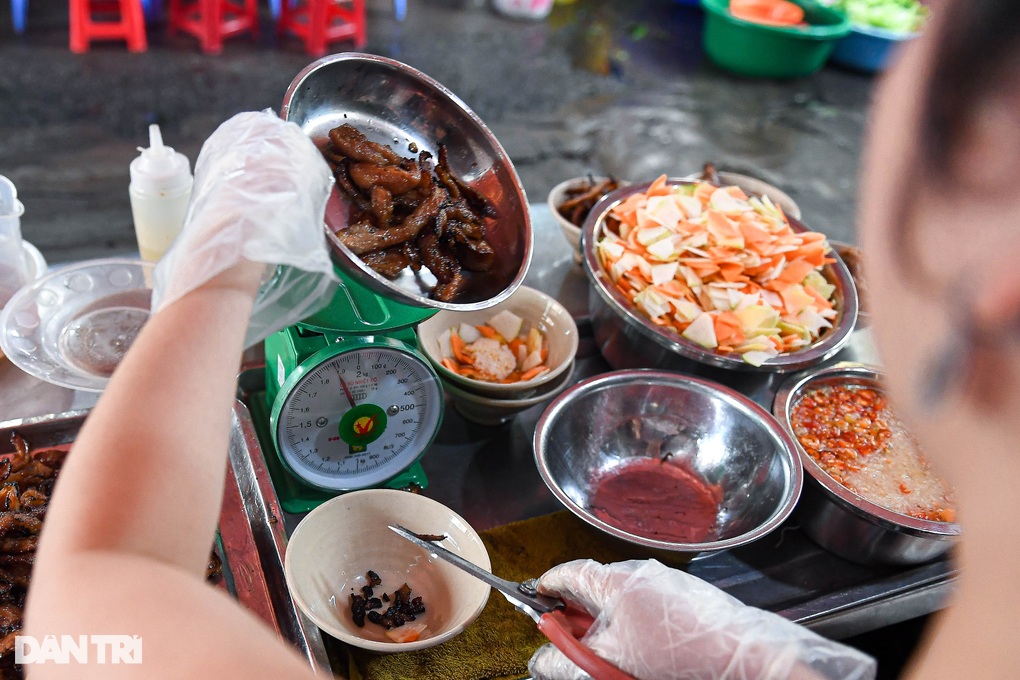 The meat is marinated in batches, then clamped on bamboo sticks, grilled once, until about 60% rare. Every step takes place right outside, so diners can watch. Before serving guests, the meat is grilled a second time, until the outside turns golden brown, slightly scorched, and the fat sizzles.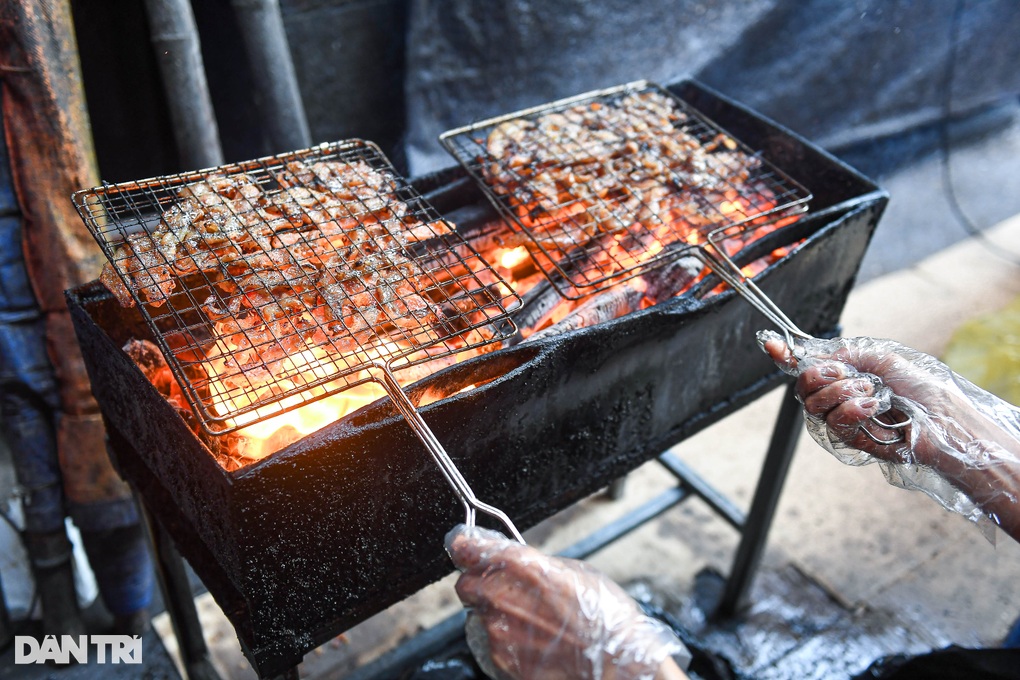 With minced pork patties, the meat is minced with enough fat and lean enough, marinated with spices and then rolled into round balls. When placed in the grill, the chef adds chopped pieces of cassia leaves to help increase the aroma.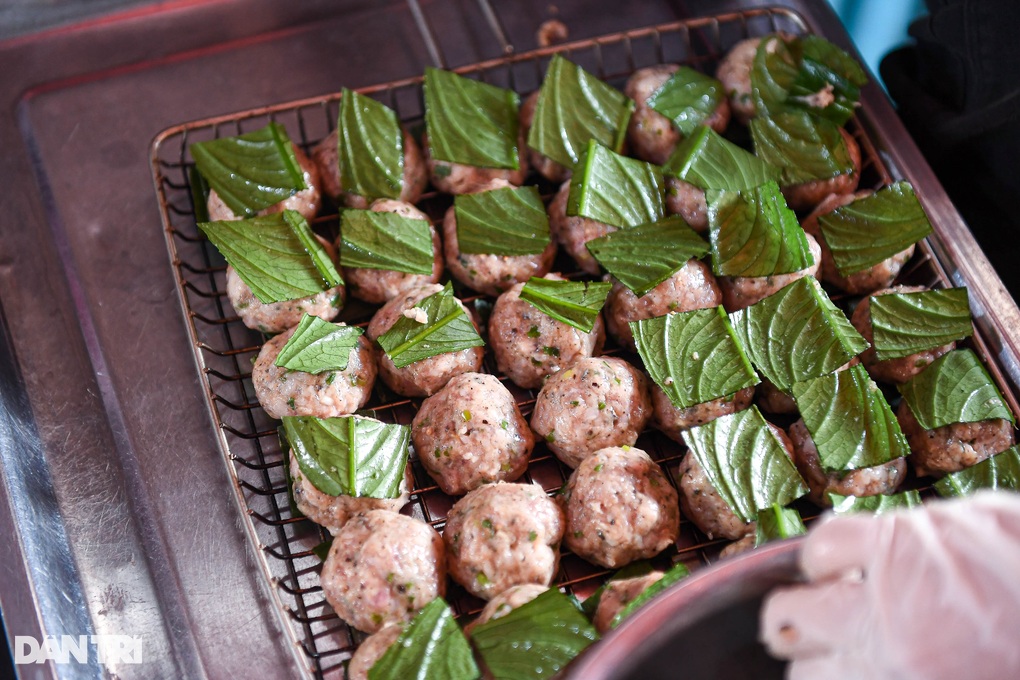 Ms. Ha estimates that every day, the restaurant sells a quintal of vermicelli noodles and 50kg of finished meat.
Ms. Ha did not share the recipe for dipping sauce. However, the shop owner affirmed that the fish sauce must be delicious. She often chooses Phu Quoc or Nha Trang anchovy fish sauce, protein level 30-35. Ms. Ha uses Hue's bell peppers, which have a unique aroma and spicy taste. Her family bought garlic and peeled it themselves.
"The dipping sauce is made from fish sauce, sugar, boiled water, vinegar, garlic, chili… All those spices blend together to create a sour, sweet and refreshing dipping sauce," said the owner. .
Around 11:30 a.m. – 1:00 p.m., the restaurant attracts a lot of customers, especially office workers. Guests filled the restaurant. Delivery people also gathered around the counter to wait to pick up items and deliver them to many places.
Last September, during a visit to Hanoi, "chef king" Christine Ha also came to enjoy Bun Cha Gam Cau. Christine Ha is the first blind contestant to participate in the American "MasterChef" competition and is the only blind champion of the American "Masterchef" to date.
The female chef of Vietnamese origin commented: "The restaurant's pork is grilled to perfection." Christine Ha also introduced on her personal page that when eating this dish, diners dip vermicelli and herbs into a bowl of light fish sauce.
"The pork belly here doesn't have too much fat left, so it's not greasy. The meat is firm on the outside, but soft on the inside, absorbing the spices. The pork patties are fragrant and fresh. For my taste, the broth is a bit bland and sour." , a regular customer at the restaurant said.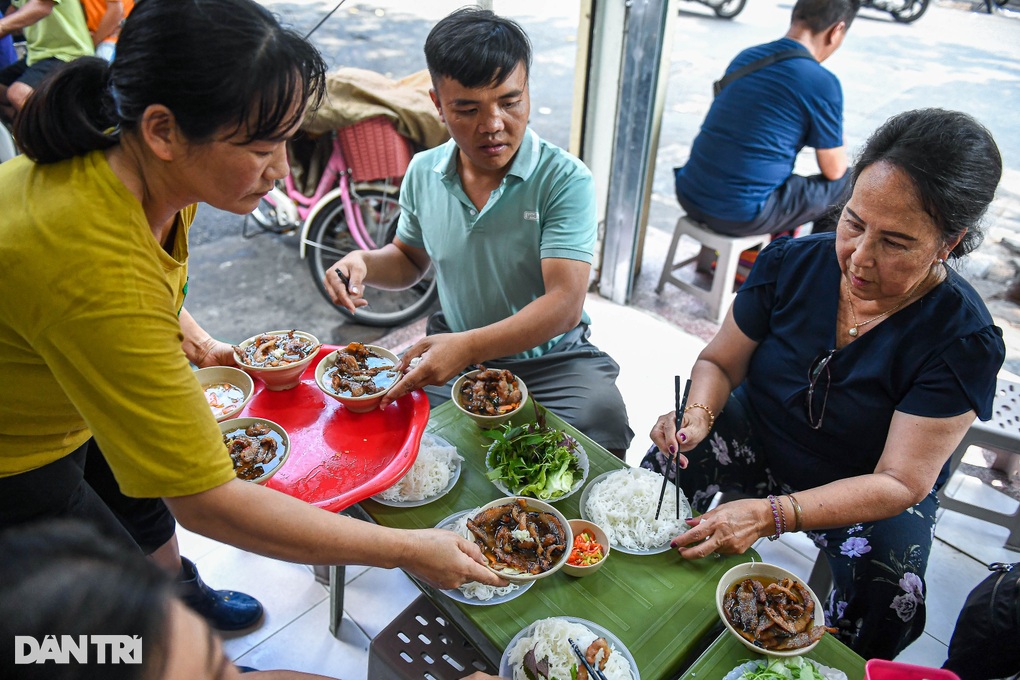 ($1=24,000 VND)
Photo,Video: Internet (Vinlove.net)