Located right next to the economic center of Vietnam – Ho Chi Minh City, this area has rich resources that attract a large number of tourists, especially foreign tourists.
Not far from Ho Chi Minh City, in the lower reaches of the Mekong River, the Mekong Delta is a rich land with diverse resources, suitable for ecotourism development. This land is located in the southernmost part of Vietnam, also known as the Southwest region or the West region, including 1 city and 12 provinces. These are Can Tho city, Long An province, Tien Giang, Ben Tre, Vinh Long, Tra Vinh, Hau Giang, Soc Trang, Dong Thap, An Giang, Kien Giang, Bac Lieu and Ca Mau.
Unlike the economic center – Ho Chi Minh City, developing tourism in the direction of large amusement parks, entertainment and shopping centers, in the Mekong Delta, the favorite form of tourism is community tourism. field, ecotourism based on the natural landscapes and existing facilities of the region. The outstanding elements of regional tourism can be mentioned are the vast rivers, vast orchards, rich products, national parks, bird sanctuary with countless species of birds and animals, plants and animals. treasure. In addition, there are traditional folk festivals, typical folk art forms of the river region such as cai luong, lyre tunes, songs or songs and dances of the Khmer people.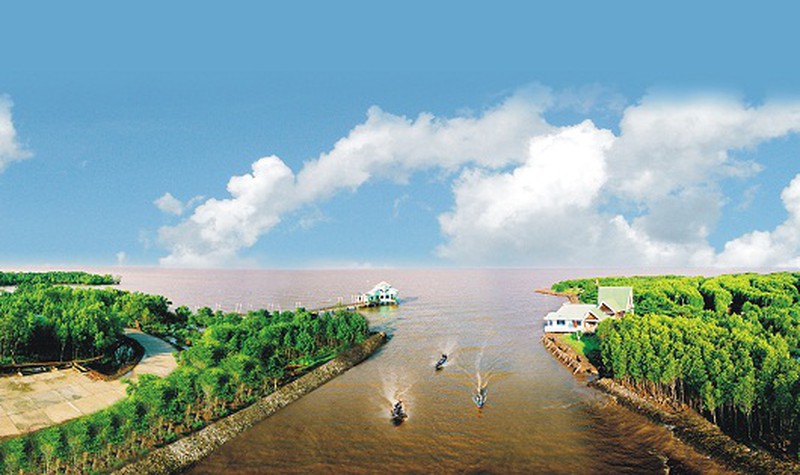 The Mekong Delta is located right near the economic center – Ho Chi Minh City. (Illustration)
It is these factors that have made the Mekong Delta to be commented by The Travel – a famous travel magazine in Canada as a "hidden gem".
It can be said that, just a short distance from Ho Chi Minh City, this place is worthy to visit and is known and more interested by tourists, suitable for believers who love to be in harmony with nature and culture. native. Below is a list of destinations that The Travel recommends for visitors to have a complete trip to the Mekong Delta.
1. Can Tho
Can Tho is the 4th largest central city in terms of area and population of Vietnam, but it is not too crowded and cramped. It has a relaxed atmosphere, giving visitors a peaceful feeling like a small town. Can Tho is also a city chosen by tourists when starting their journey to explore the Mekong Delta, because of its size and accessibility to everything this city has to offer.
With a diverse culinary culture, Can Tho is an interesting city for visitors to experience the variety of dishes of the river region here. For easy transportation, visitors just need to rent a motorbike and roam the streets. Besides, don't forget to go to Cai Rang floating market, sit on a boat floating along the canals, choose fresh fruit or enjoy a bowl of noodles in a different way.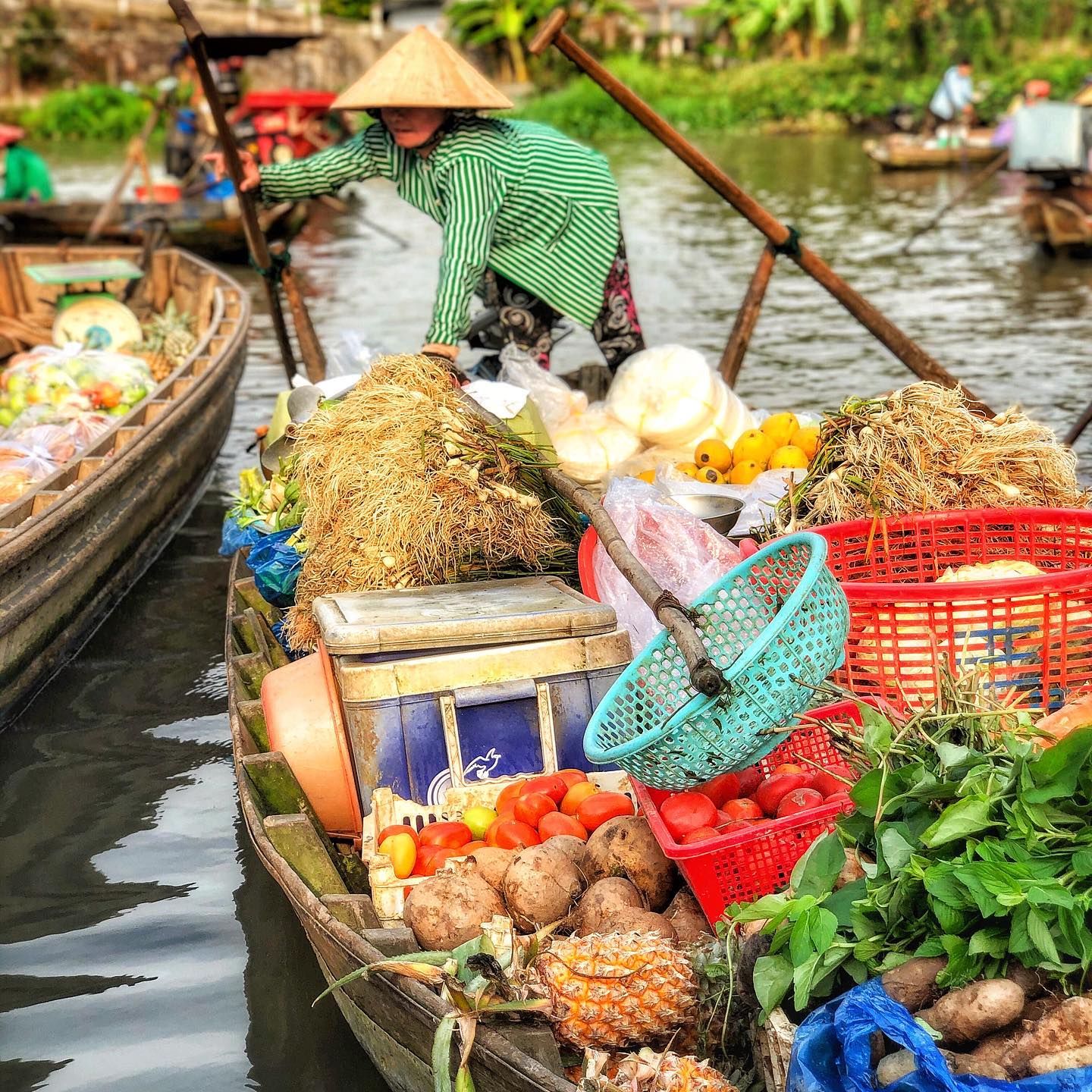 Floating market in Can Tho. (Photo @martafacchini)
Some other famous places recommended by The Travel for tourists to visit and also loved by many previous visitors are Ninh Kieu Wharf, Thuy Binh Ancient House, Ong Temple… And the specialty is fruits. such as mango, mangosteen, rambutan, dragon fruit, longan,…
2. The Raft
As a small district, belonging to Tien Giang city, little known to tourists, Cai Ra has many quiet charms. The most prominent is Tan Phong Island, which is completely surrounded by the Tien River. Coming here, most visitors will have to take a ferry. This is also a popular form of transportation and is the best way to explore the tributaries of the river.
Just like in Can Tho, Cai Be also has a floating market of the same name, typical for the river culture of the Southwest region. Visitors can rent sampan boats, or cycle on small dirt roads to discover all the beauty of this place. The delicious dishes in Cai Be introduced by The Travel are peanut ginger candies, bananas with coconut or snakehead fish soup…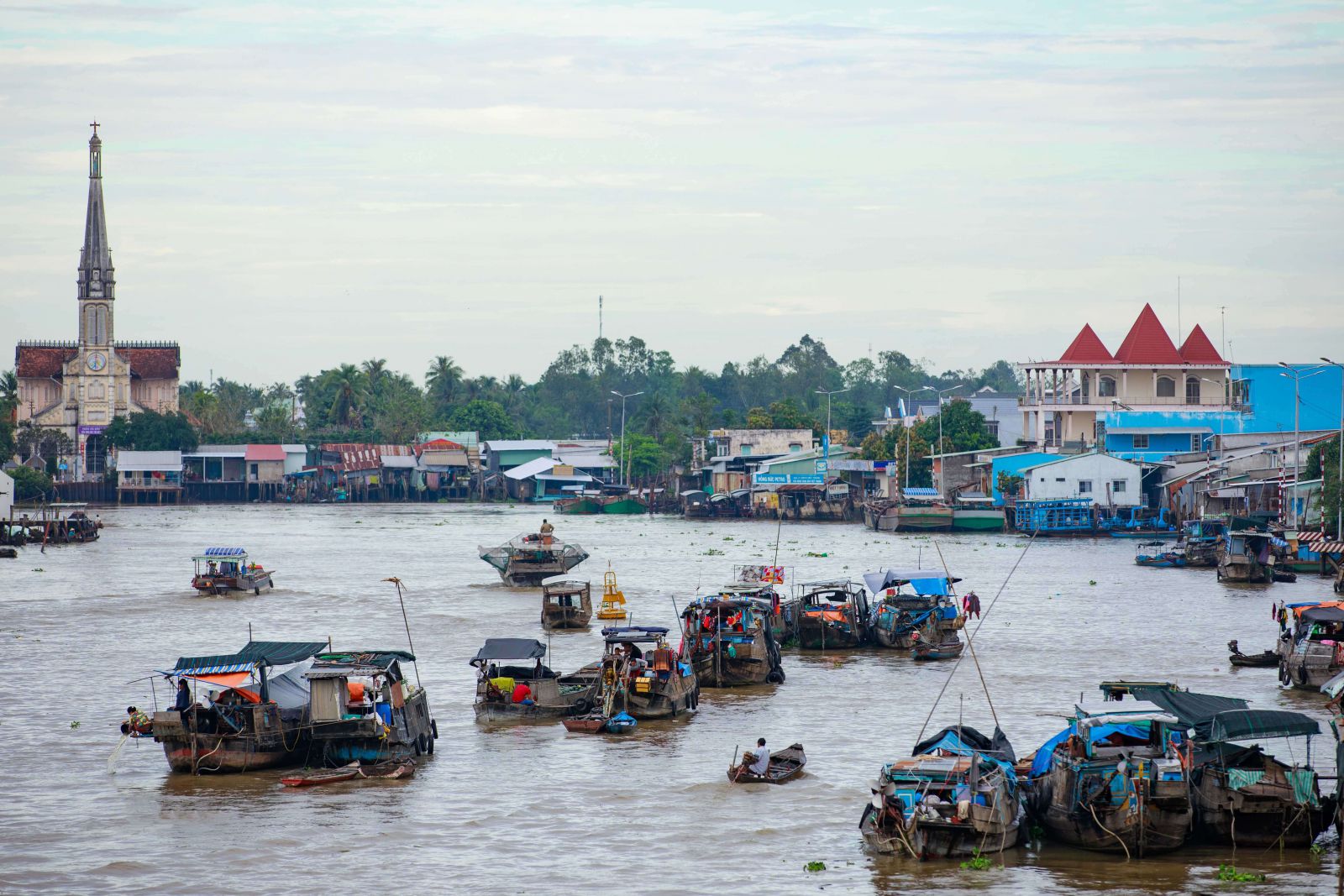 Cai Be floating market.
3. Chau Doc
Chau Doc is a town in An Giang province, bordering Cambodia. The biggest tourist attraction in Chau Doc is also the floating aid, when busy merchants sail down the river to sell goods to tourists.
It also possesses a variety of cultures and religions, with many spiritual sites with unique architecture and interesting stories behind. These include Jamuil Azhar Mosque, Hang Pagoda or Ba Chua Xu Temple…
Coming to Chau Doc, visitors should not miss the famous specialty dish called fish noodle. Fish vermicelli in Chau Doc is made from a kind of vermicelli and yellow water like turmeric, combined with garlic and fermented fish sauce. River fish meat with fresh vermicelli, banana flowers, bean sprouts and crispy mad flowers, creating a perfect dish overall.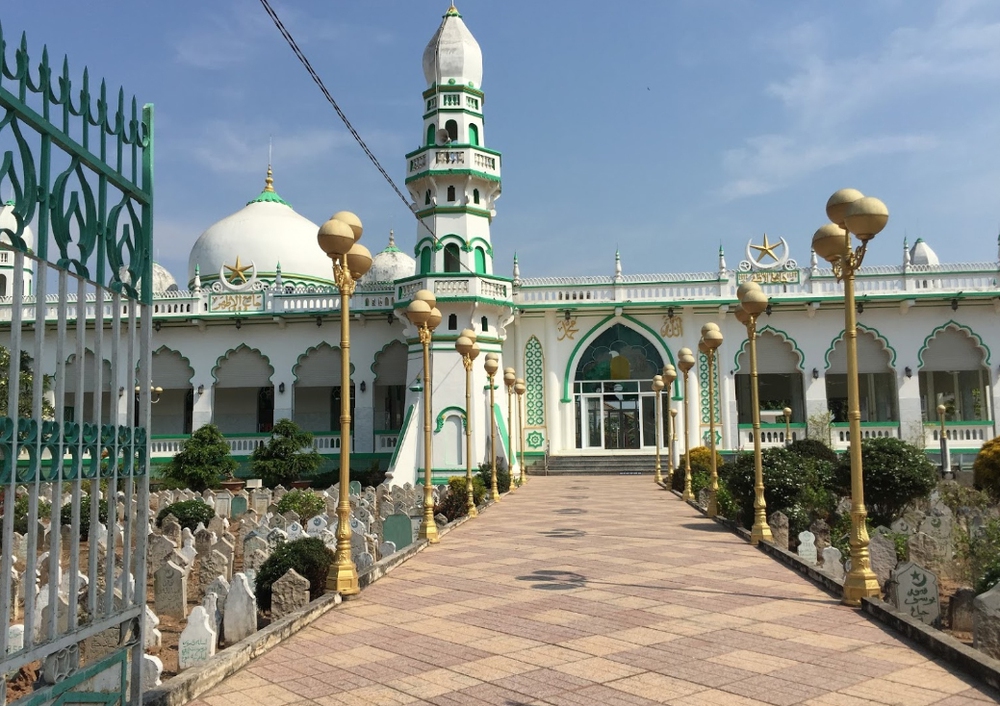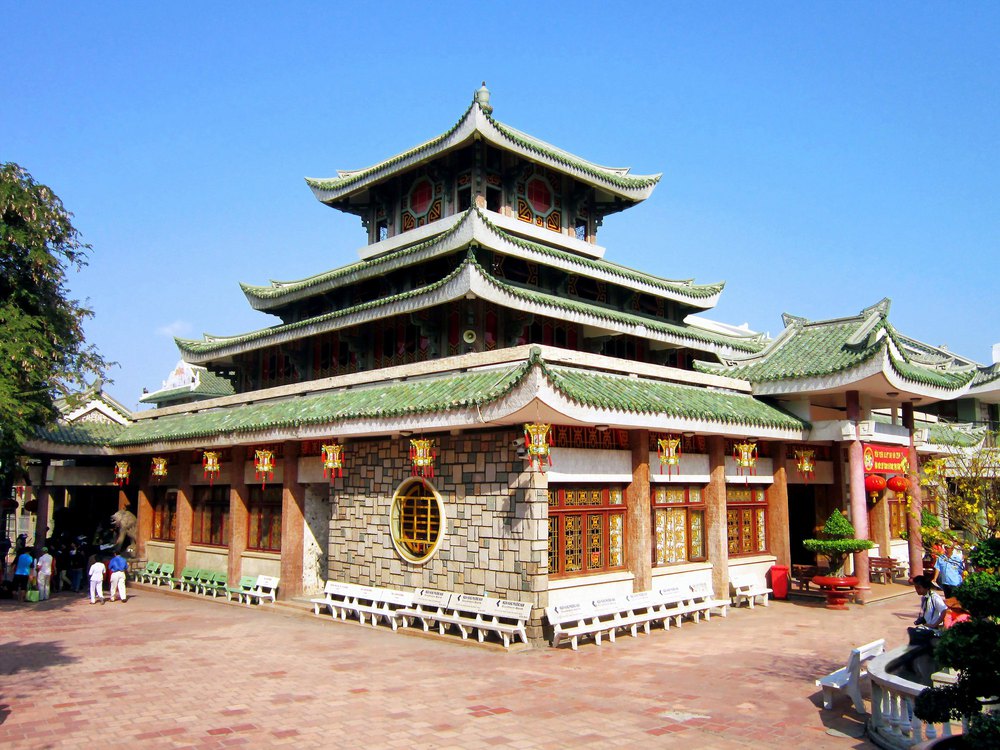 Jamuil Azhar Mosque or Ba Chua Xu Temple are famous spiritual tourist destinations.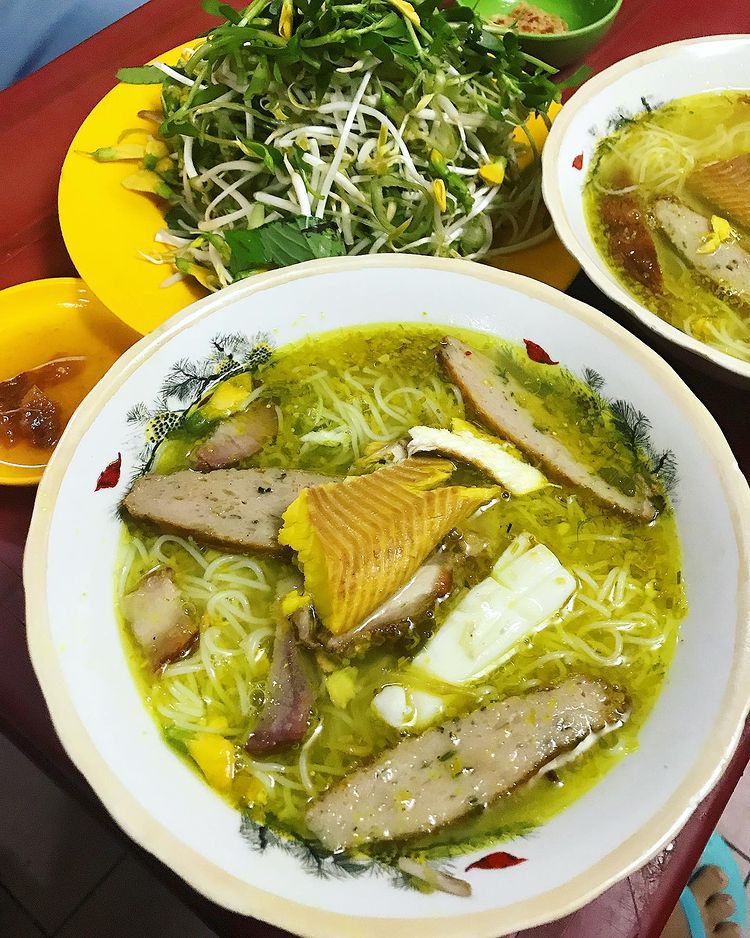 Fish noodle soup in Chau Doc, An Giang. (Photo @jinnytasty)
4. Sa Dec
Sa Dec is a city in Dong Thap province of our country. The Travel commented, it has many connections with the French, when it owns many European architectures, with French romantic features. Besides, the riverside roads or the canals and canals scattered around the villas are equally interesting.
The place that is considered the center of Sa Dec city is Sa Dec market, with a variety of goods or specialties, serving to sell to tourists to buy as gifts. Besides, there are also attractive dishes such as Nam Vang noodle soup, My Tho noodle soup or Tet cake. In addition, when coming to Sa Dec, visitors should definitely not miss Sa Dec flower village, or flower nurseries and greenhouses, nurturing thousands of tropical plants.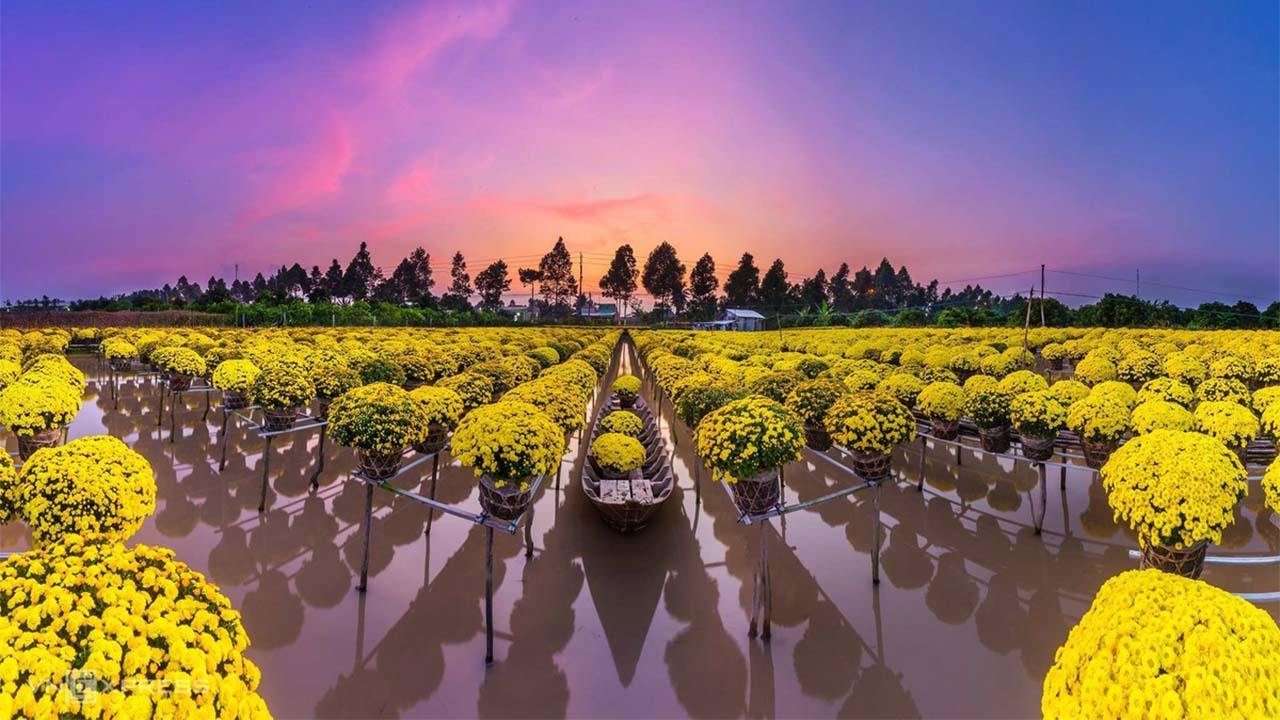 Sa Dec Flower Village.
5. Ben Tre
Of all the places, towns and cities listed, Ben Tre is the closest to HCMC. Ben Tre is also the most popular destination for day trips to the Mekong Delta.
Visitors departing from Ho Chi Minh City will only take about 1 hour by car, can move during the day, or choose to stay overnight in riverside houses. The famous tourist activities in Ben Tre are boating or sightseeing by boat along the canals lined with nipa palm trees.
Delicious dishes not to be missed at this place include coconut candy and fried whale ear, rolled with cucumber, pineapple, herbs, served with vermicelli and dipped in rich fish sauce.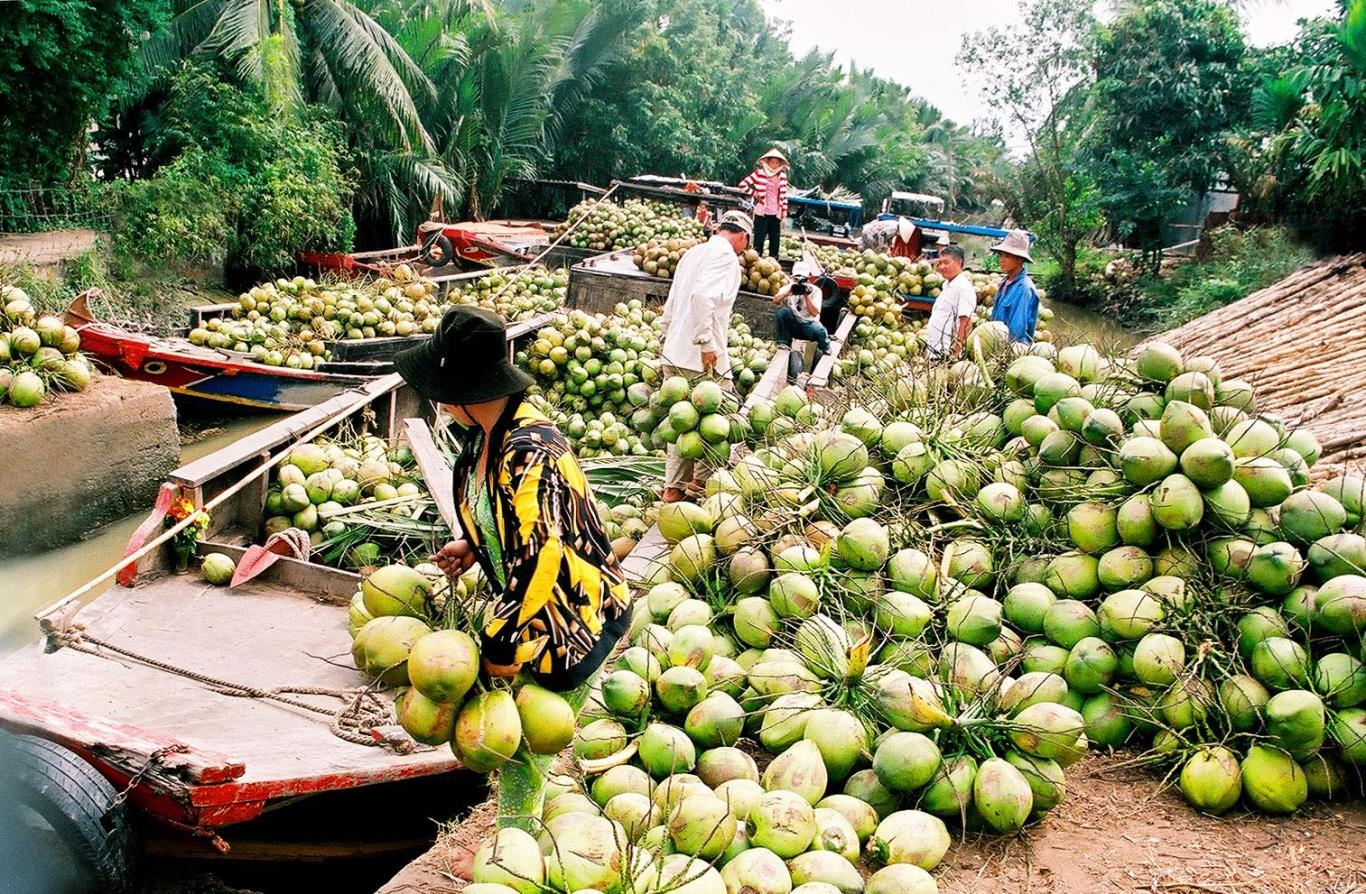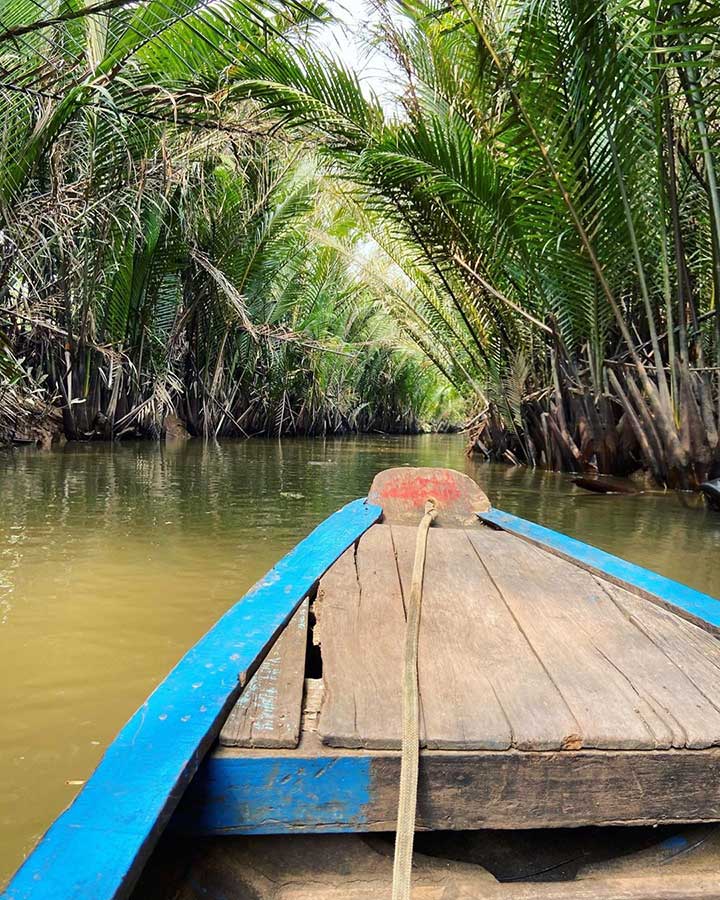 Ben Tre is famous for its rows of coconuts or fresh coconuts.
Theo The Travel