Not only in Japan or Korea, but Vietnam also owns many fresh and delicious dishes, but not everyone can eat these specialties.
Vietnamese cuisine is extremely rich which makes many people passionate, but among them, there are also dishes that make many people shudder. Especially the dishes that are completely uncooked, still fresh. These raw dishes also challenge many visitors because not everyone can eat them. Sometimes many dishes use ingredients that have just been caught, or even ingredients that are still… crawling on a plate. However, the attractiveness of these raw dishes is not reflected in the appearance, but thanks to the delicious, strange, and unique flavors that are not mixed. For those who have a love for freshness, especially raw food, these are the most delicious dishes they have ever tried.
Coconut worms bathe with fish sauce
If you have the opportunity to go to the western provinces, visitors will encounter a specialty dish made from this worm living in the trunk of this coconut tree. At first glance, the appearance of this dish will make many diners "cry". But this is a favorite dish of the people of the river region because of its fatness. The common way is to put coconut worms in a cup of spicy salty fish sauce to enjoy. The dish is a combination of greasy flavor mixed with salty taste combined with the pungent taste of chili. Although the way to cook coconut worms with fish sauce is not difficult, not everyone has the courage to eat the worms swimming around in a cup of fish sauce.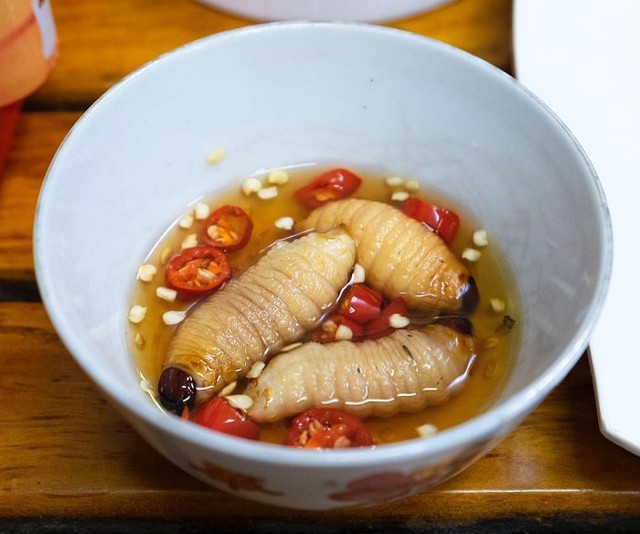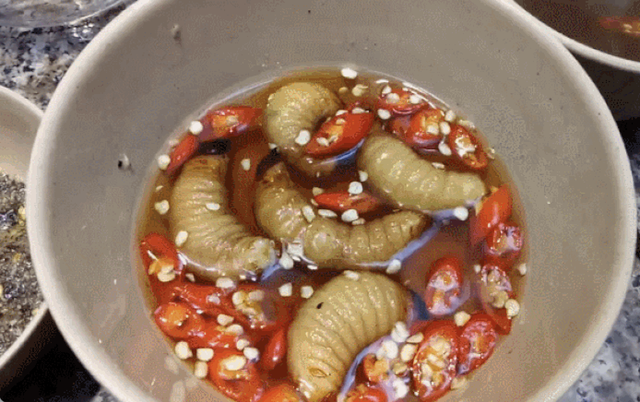 Northwest dancing fish salad
The Northwest is indeed home to many specialties that are both strange to the ears and also strange to the mouth, in which it is indispensable for the jumping fish salad, a specialty with a slightly "scary" appearance but extremely attractive. To achieve the freshest taste, the caught stream fish must be processed and eaten at the table and must be carefully selected. People usually only choose the small fish with their fingertips, then mix it with spices and a variety of fresh banana core vegetables and herbs to mask the fishy smell. In addition to the basic seasonings, it is indispensable for Mac Khen seeds to create dishes with acidity, spicy, strong, sweet and characteristic aroma.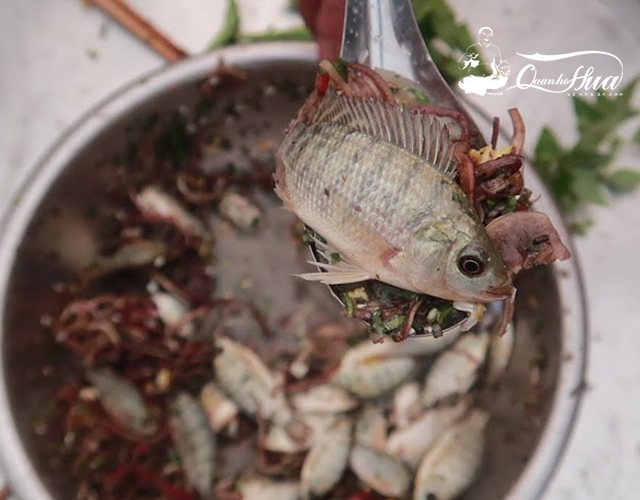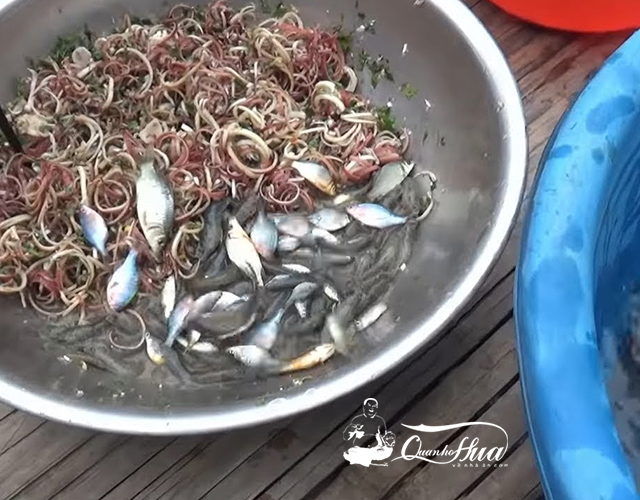 Photo: Hua family restaurant
Live Noodles
Sea urchin is a very popular seafood in our country's seas with a rough appearance, but inside, it has extremely nutritious sea urchin meat. Sea urchin contains high nutritional value, so it is often processed into many different dishes. Most of them are grilled urchin with onion fat, porridge, … but there is a specialty that not everyone dares to try, which is raw or rare lemon urchin. Eaters only need to split the sea urchin in half, wash the blood veins inside, then squeeze a lemon or put a little mustard on it to be able to enjoy. This dish is also considered extremely nutritious because it retains all the nutrients inside.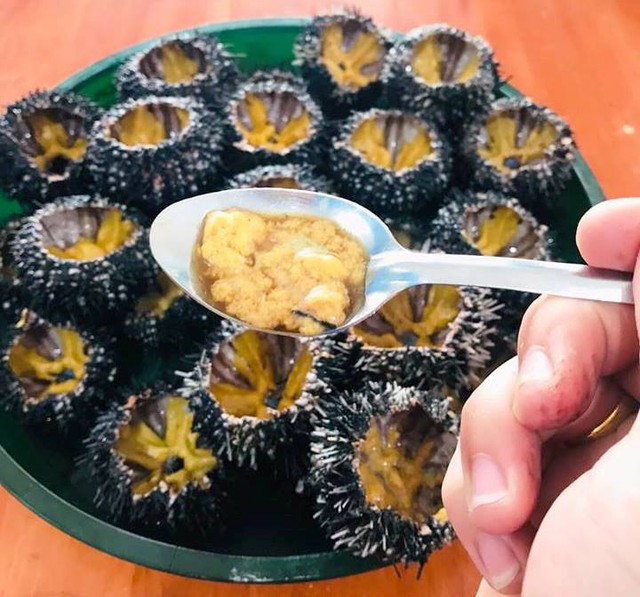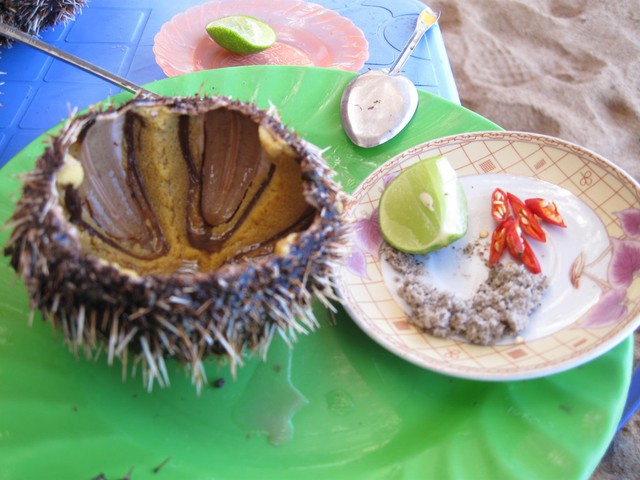 Photo: Flikrt, Con Dao Express high-speed train
Kon Tum yellow ant raw fish salad
The specialty dish in the mountains has a really "cry" name, but when it comes to knowing that this is a salad made from completely raw fish, many people do not dare to eat it. However, if you taste it once, diners will be fascinated by the delicious, nutritious and extremely special flavor of this dish. The processing of the salad is also very sophisticated, just like the jumping fish in the Northwest, the Central Highlands people also choose stream fish with firm, fresh meat so as not to be fishy when enjoying. In addition, there is also ant meat and ant eggs, which are also made finely and then dried in the sun to shrink. The sweetness of the eggs mixed with the fat of the ant eggs brings a very new flavor.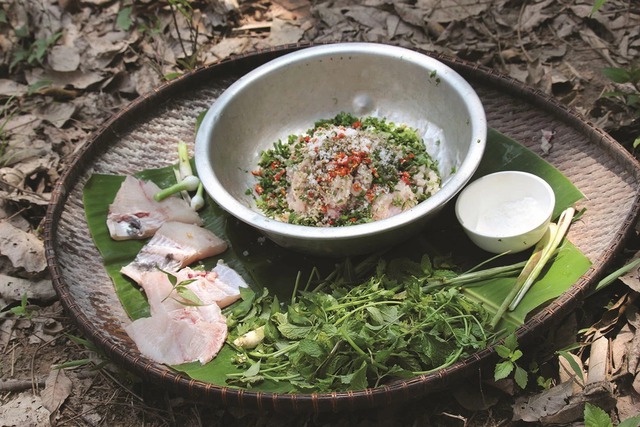 Photo: mia.vn
Nha Trang squid and fish sauce
Nha Trang has a special dish that almost all fishermen or locals know, but many tourists from other places have never heard of it. Freshly caught squids are quickly processed by cutting them into bite-sized pieces, then boldly spicy with garlic and chili and then added to pure fish sauce. Just wait 5 minutes for the squid to absorb the fish sauce to be able to eat delicious dishes, when eating, you can also take the broccoli leaves to roll the squid, the delicious taste will be doubled. Nha Trang people just need to listen to it, they crave for the spicy taste of chili, the zesty of garlic, the salty taste of the fish sauce and each piece of fresh, crispy squid. Every time I eat it, I get addicted to it every time I eat it, I want to eat it once.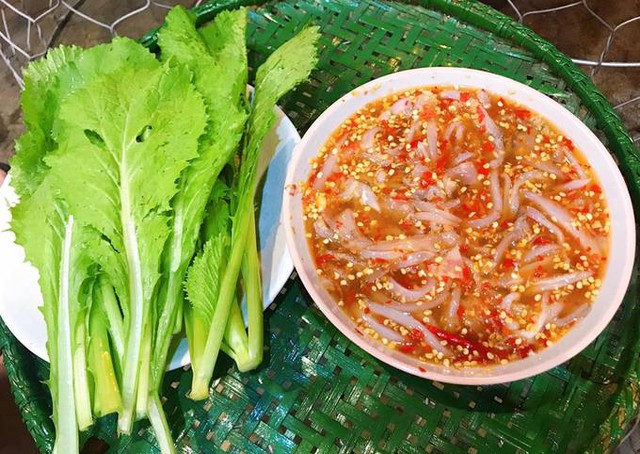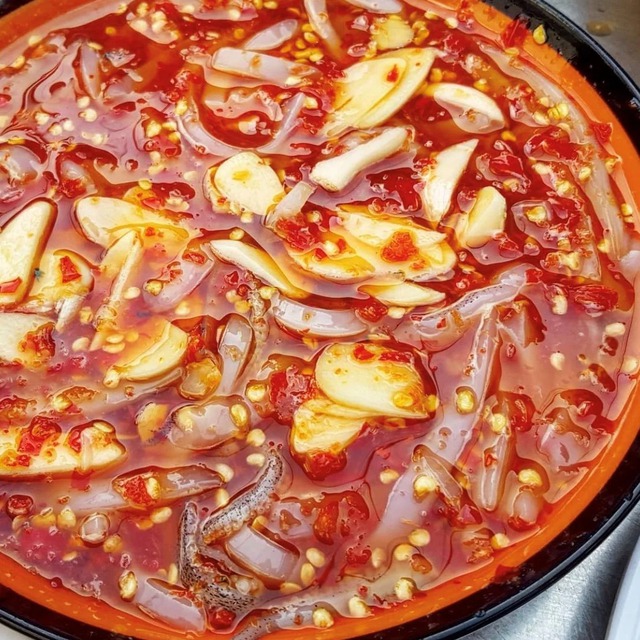 Photo: cookpad, fishi
Squid dance Vung Ang
The famous squid dish in Ha Tinh with the funny-sounding name is jumping squid, this nickname comes from the fact that these squids when caught ashore often snap very high, along with a very happy crackling sound. ears. Jumping squid has a sparkling appearance, transparent body and eye-catching flashing spots. This type of squid is used by many people to make sashimi or to eat directly because the squid is lived in the ideal salinity of sea water, resulting in a distinctive, richer flavor than other regions. Pieces of fresh, chewy and crispy white squid mixed with the spicy taste of mustard bring a new feeling to diners.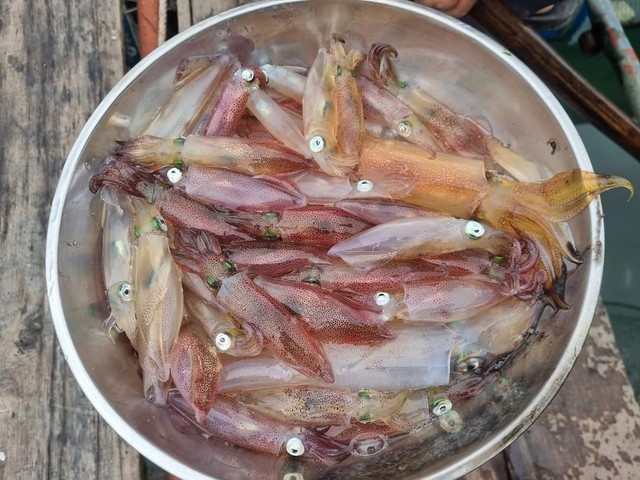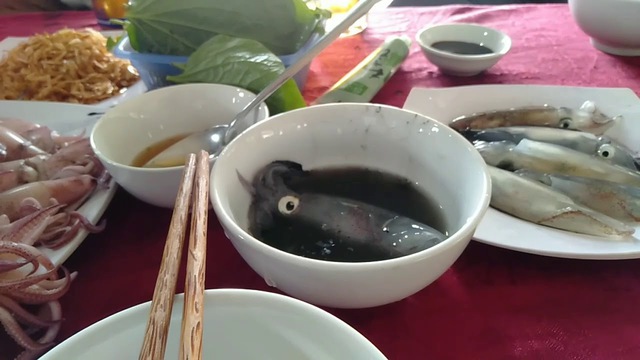 Photo: The land of Phu Quy – Nghe An
Raw sauce
The West is known as the kingdom of fish sauce with a variety of fish with strong river flavor. The most famous are the types of fish sauce that are cooked in hot pot, vermicelli or braised, but the only way that only some visitors to the West can eat is raw fish sauce without processing. The kinds of fish sauce that people love to eat raw are usually made from linguine fish, choke fish, catfish, etc. The fish sauce is mixed with spicy garlic and chili, squeezed a little lemon and served with sour coriander, boiled sweet potato or sweet potato. White rice is "standard".